Nestled into New York's vibrant SoHo neighborhood, the Crosby Street Hotel offers guests a hiatus from the hustle and bustle of shoppers and streetside runways strutted by off-duty models. Owned and designed by the award-winning Firmdale Hotels's Tim and Kit Kemp—a power couple in the world of hospitality—the 86-room boutique is an amalgamation of the posh eclectic style that British designer Kit has long championed, and the service, too, is fit for a queen.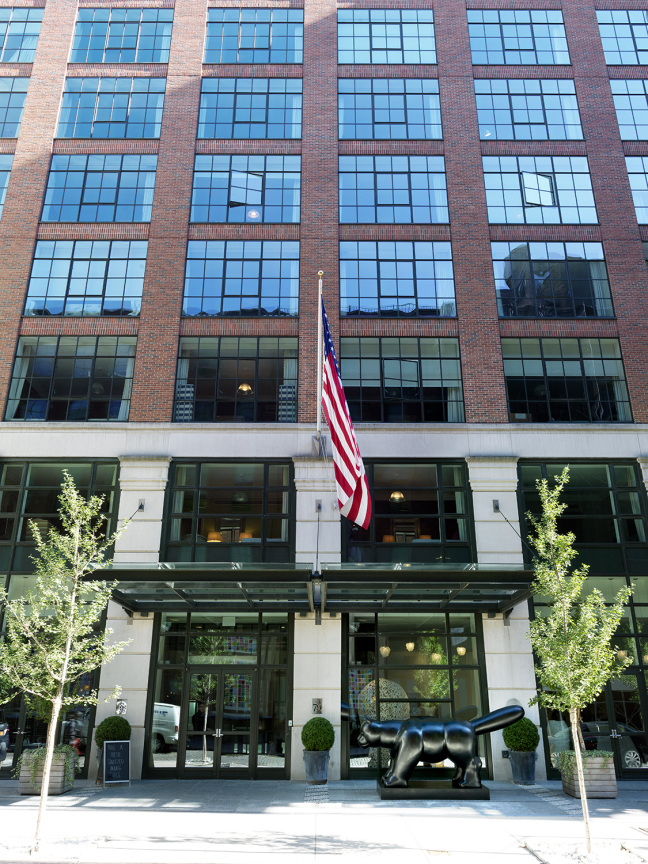 Upon arrival, guests are immediately tended to by hospitable staff in a lobby adorned with striking contemporary artwork and expansive glass windows that pull sunlight into the space even during the coldest of months. Adjacent is the charming Crosby Bar whose design feels akin to a London living room: Chairs and sofas are upholstered in chic striped fabrics in retro shades of orange and yellow that are paired with their color wheel contrasts, deep blues and greens. Artworks here range from an oversized wooden dodo bird sculpture to a Peter Clarke collage of vintage telephones. While the psychedelic colors of the banquettes and the giant bird could turn heads alone, Kit knows the perfect formula to maximalist decor that is not overwhelming, but rather comfortable and tasteful.
Upstairs, all guest rooms feature warehouse-style windows complimented by high ceilings that create a light and airy feel to the spaces. These floor-to-ceiling windows treat guests to a view of the stunning downtown New York skyline—an inspirational sight for our founder and editor-in-chief Sarah Harrelson before she headed to a dinner party hosted by Cultured with Maison Margiela and Chloë Sevigny at the start of New York Fashion Week this month. Textured wallpapers and curated contemporary artworks vary in each unique room design. The interiors are imbued with a sense of warmth though some feature bold colors and patterned walls while others have a more sleek and neutral appearance. An eclectic mix of antique, contemporary and custom furniture gives each room classic Kit Kemp charm.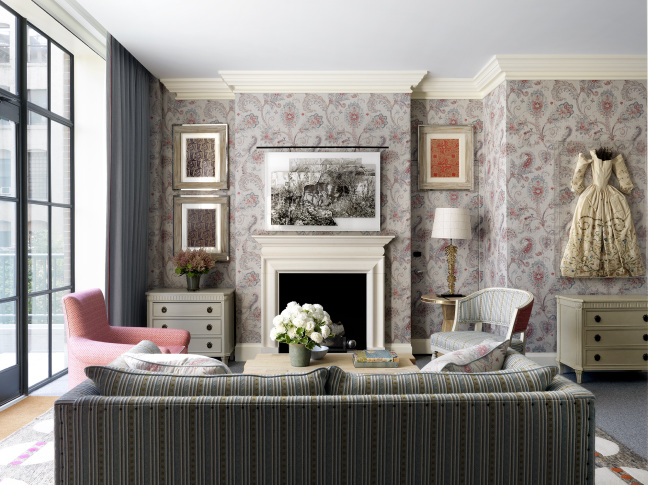 The Crosby Street Hotel is an oasis of vibrant greenery. Its exterior walls are covered in twining vines and sculpture gardens blossom with native plantings and colorful flowers. Guests can relax among fruit trees on the north side of the building and the kitchen is stocked in part by a rooftop garden and a vegetable patch on the 12th floor, which provides seasonal produce year round and houses a coop of four chickens.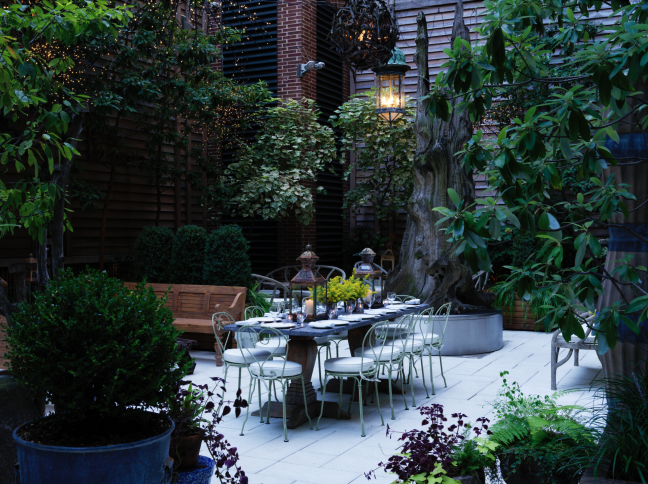 Kit Kemp is known for taking on one project at a time to be able to give it her all. The Crosby Street Hotel exemplifies that care and commitment.