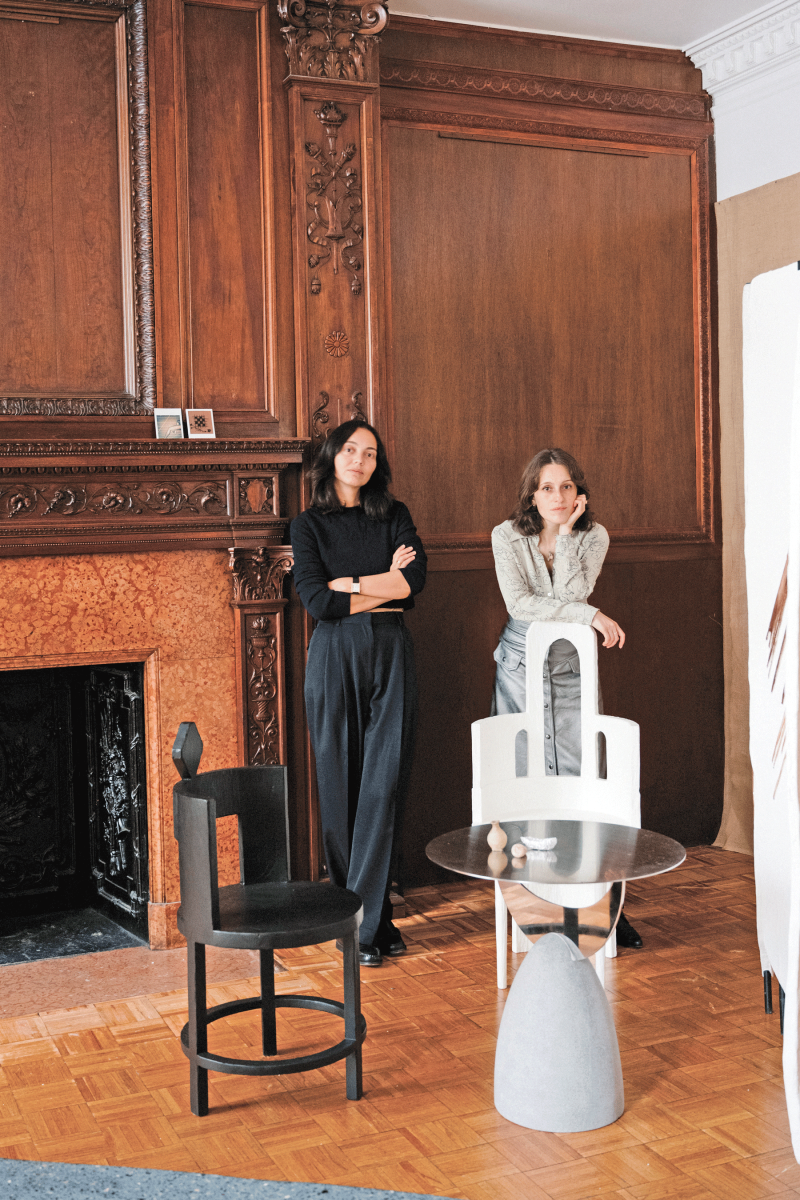 Rooms
I don't mean to be crass but Nata Janberidze and Keti Toloraia, co-founders of Rooms Studio and the doyennes of contemporary design in Tbilisi, have impeccable taste. Since establishing their practice in 2007, the duo has consistently reimagined Georgian design vernacular, presenting it to international audiences in a modernist-inflected dialect. They've shown with Rossana Orlandi in Milan and The Future Perfect in New York—indeed, Rooms were the first among the present coterie of Tbilisi-based talents to put Georgian design on the global map. Nearly every young designer I talked to in the capital cites them as a source of inspiration.
"We work with almost all the same artisans that we've worked with for years," explains Janberidze. "We really have a partnership." Most of Rooms's pieces are custom fabricated in Georgia, a commitment to local production that is part and parcel of their insistence on collectivity as a driving agent of their design work.
The studio's largest United States exhibition to date, "Distant Symphony," opened at Emma Scully Gallery on New York's Upper East Side last October to widespread acclaim. Among the pieces shown were the results of Rooms's search for a way forward from the forced isolation of the pandemic: to refocus on collaborative and collective work. The main gallery space featured highlights of Rooms's recent design output: a wax chair, redolent of Georgian church candles, designed in collaboration with artist Shotiko Aptsiauri; a wooden chair that evokes the geometry of medieval Georgian thrones from Rooms's Wild Minimalism collection and a sculptural room divider with rope stitches by artist Salome Chigilashvili. The antechamber displayed trinkets and personal effects chosen by the designers for their emotive qualities, a curatorial maneuver intended to underscore the same logic present in Rooms's choice of name—they're interested in interiority, both spatial and personal.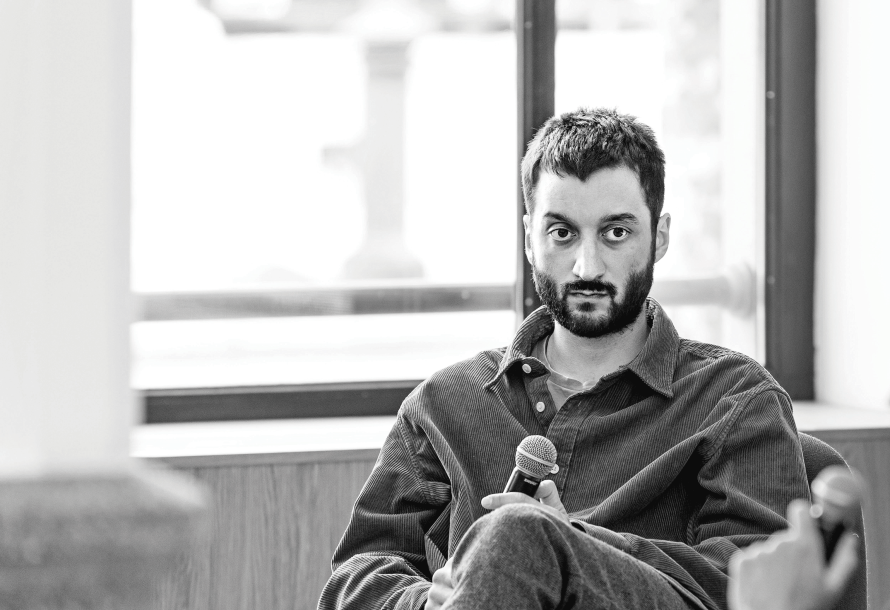 Wunderwerk
Gigi Shukakidze, founder of Tbilisibased research and design studio Wunderwerk, is at the multi-tasking, multi-hyphenate vanguard of contemporary Georgian architecture. Not only does he helm the design, research and publishing operations at Wunderwerk, he's also a co-founder and co-curator of the Tbilisi Architecture Biennial (whose third edition debuts fall 2022) and a studio professor amongst the architecture faculty at the Visual Art, Architecture and Design School of Tbilisi's prestigious Free University. He sees all of these interrelated avenues of architectural engagement as "shelters" that serve to mediate the impact of Tbilisi's real estate boom on his practice, with its ensuing financial pressure to produce apolitical, generic work for developers. During a studio visit this past summer, Shukakidze summed the situation up with characteristically wry humor: "I want to not do evil shit."
Established in 2013, Wunderwerk serves as a kind of umbrella organization for Shukakidze's lines of inquiry—many of which seek to re-evaluate the significance of Tbilisi's Soviet-era architectural patrimony. The studio's design projects exist on the boundary between private property, a kind of national obsession in the post-socialist milieu, and public space, a legacy of Georgia's Soviet era. Take, for example, the Bagebi housing complex on Tbilisi's outskirts: a rectilinear block that references the geometries of adjacent Soviet-era mass housing projects and was nominated for a 2022 EU Mies Award.
The Tbilisi Architecture Biennial, co-founded by Tinatin Gurgenidze, Oto Nemsadze and Natia Kalandarishvili, is an outlet for the speculative, research-driven projects that emerge from the same preoccupations. The first edition, staged in 2018 and titled "Buildings Are Not Enough," revolved around the question of contemporary solutions for the Soviet-era housing estates that ring the Tbilisi outskirts. Building on an all-online second edition staged during the pandemic, the 2022 iteration is in the works. Between practice, teaching, research and exhibition-making, Shukakidze proves that alternatives to the expected norms exist if you design them for yourself.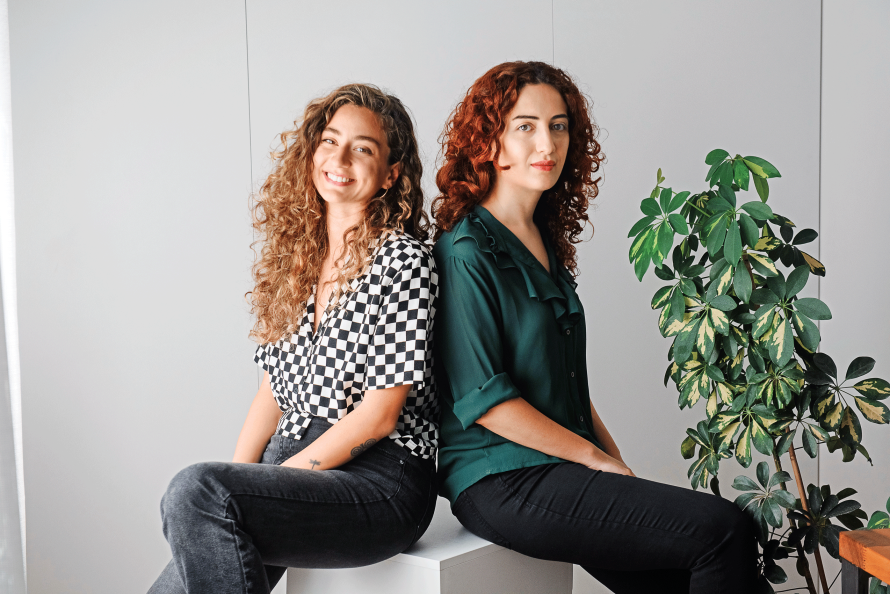 Material Editors
Mariam Gvazava, who co-founded Tbilisi-based architecture firm Material Editors with Ana Grigolia in 2019, will have you know that she was born to be an architect. It's not so much that her grandfather, a practicing architect, or her mother, an architecture and architectural history professor, expected her to enter the career—she's simply always loved it. Grigolia, who spent much of her childhood observing the studio practice of a sculptor uncle, also decided well before puberty to pursue creative work. The partners—both under 30, remarkably young by the field's standards— approach their myriad building-design projects at Material Editors with an aesthetic rigor and knowing sensitivity to context that bespeak how long they've been preparing to produce architecture on their own terms.
Gvazava and Grigolia had met prior but became better acquainted four years ago when they worked as architects at MUA - Architecture & Placemaking, discovering immediate simpatico on matters of taste and design process. Gvazava moved to Spain shortly thereafter to pursue yet more architecture training, assuming she'd take up her post again at MUA upon returning to Georgia with a master's degree. Her eventual homecoming, however, triggered so many inquiries from friends and acquaintances about commissions that she called Grigolia to collaborate. They weathered the pandemic building a portfolio of apartment interiors; more recently, Material Editors's operation has scaled up. Current design projects include a chain of Tbilisi gelato shops and a vineyard complex in the village of Armazi. "We're not using brick; we're not using ornament," Gvazava explains of the vineyard. In their search for a contemporary material language that eschews the traditional typology, they settled on a concrete structure with geometric light wells to direct circulation.
Finding new work has at times been easier than convincing some clients and contractors that they're able to do it. "One potential client told us that because we're 'girls'—not even women—he wasn't going to hire us to design his house," says Grigolia, "but he'd call us to do the interiors." Their refusal to accept belittling attitudes is paying off: "When we start talking about construction details and show we know how to build, it's the best feeling," says Gvazava. "When they realize what's going on, they have this minute of silence."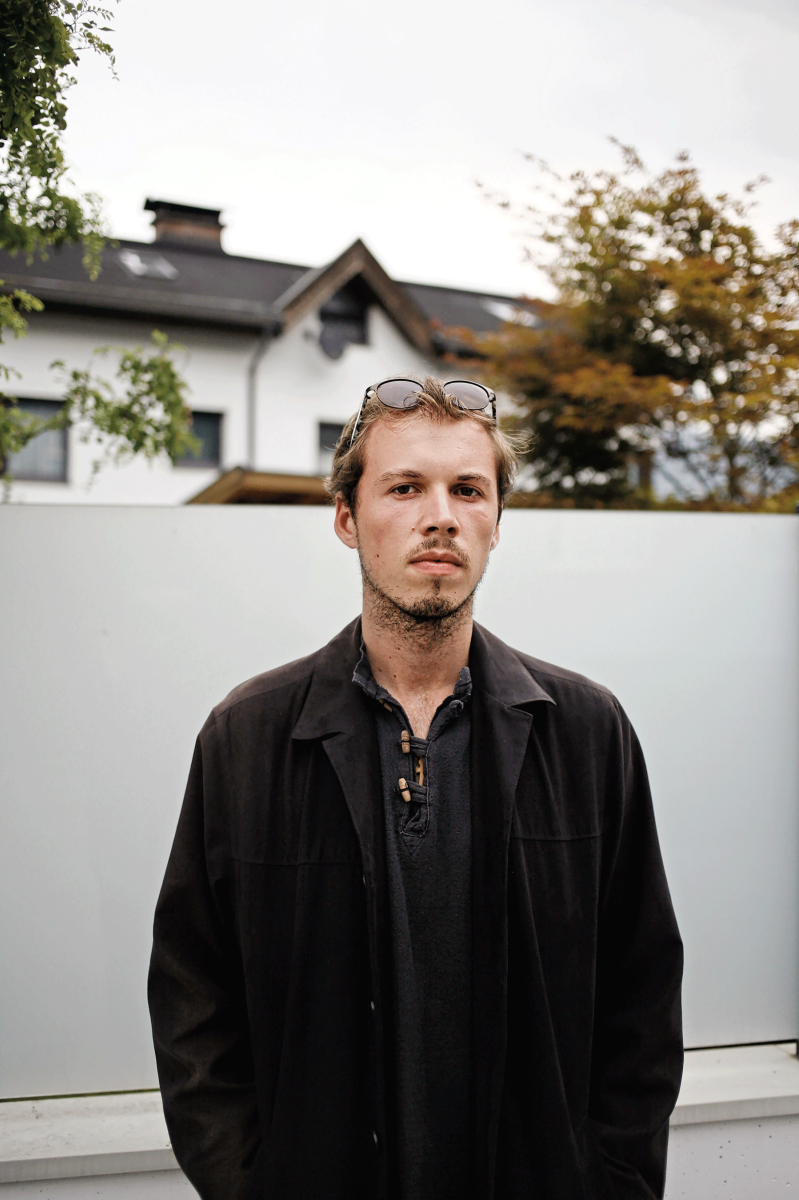 Lado Lomitashvili
Lado Lomitashvili—designer, interior architect and artist—represents a new generation of multihyphenates who work across disciplines with much the same ease that they navigate between the Georgian and Western-European creative contexts. Lomitashvili established Tbilisi-based Studio Gypsandconcrete in 2020, and leads its practices in furniture, exhibition design and sculpture. Yet the 27-year-old polymath is far less interested in categories as such than he is in reconfiguring them. "If I'm making a chair," he asks, "why can't I say it's an art piece?"
When we talk, Lomitashvili is installing his work for the Georgian capital's new Oxygen Biennial. Titled "Nostalgia with a Dose of Cynicism and Detachment," the installation is a polycarbonate enclosure—a kind of intimate waiting room—with steel-frame chairs upholstered in a fabric print of nude bodies with genitals blurred. Somewhere between scenography and furniture design, it brings pornography to bear on the biennial's "lost bodies" theme.
Lomitashvili refined this impulse toward hybridity at the Design Academy Eindhoven, entering the prestigious Contextual Design master's program in 2019. Having studied architecture as an undergraduate at the Tbilisi State Academy of Arts and run a one-man exhibition-design practice since 2018, Lomitashvili was eager to expand his material palette, fabrication capacities and geographic purview. In the Netherlands, he studied aluminum casting and glassblowing before returning to Georgia a devotee of the Dutch and Belgian design sensibilities—functionalism and efficiency of materials in the former, wit and emphasis on adaptive reuse over new construction in the latter.
Studio Gypsandconcrete developed out of this experience; Lomitashvili construes it as an altogether different operation than his personal practice. The studio is currently designing permanent displays for the Pirosmani Museum, commercial interiors around Tbilisi and a monument in Kazakhstan.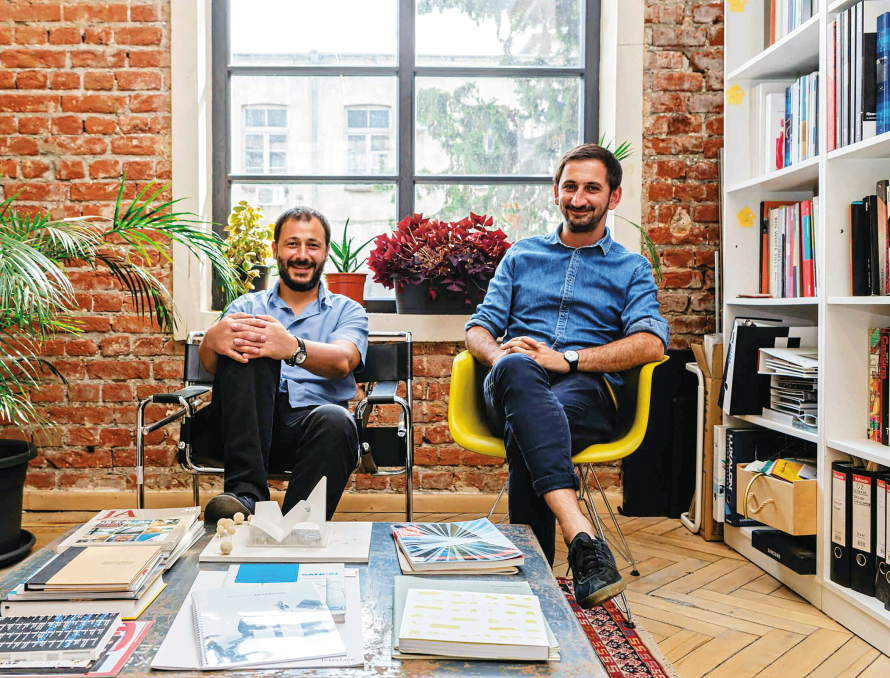 MUA - Architecture & Placemaking
MUA - Architecture & Placemaking cofounders Gogiko Sakvarelidze and Devi Kituashvili — who call their Tbilisi-based practice MUA - Architecture & Placemaking in shorthand—are among the elder statesmen of contemporary architecture in Georgia. For over a decade, their myriad collaborations have produced some of the most noteworthy buildings in post-Soviet Georgia: these include Fabrika, a wildly popular hostel and creative hub that plays host to many of Tbilisi's youth subcultures, as well as the Lazika Town Hall on the country's Black Sea coast, a commanding work of municipal architecture that first put the practice on the contemporary map when it opened in 2012.
The Lazika project, designed and built while Sakvarelidze and Kituashvili were two of three partners at Architects of Invention, emerged from the intense politicization of contemporary architecture under the regime of Georgia's former president, who set about commissioning formally commanding new buildings and infrastructure to promote the image of a future-oriented, cosmopolitan country. The Town Hall fit that bill with attenuated pilotis—as much a Corbusian gesture as a reference to regional vernacular architecture—that hold up civil service offices spread across geometric volumes.
When Sakvarelidze and Kituashvili set out on their own to establish MUA, they focused their architectural efforts upon the Georgian capital. Fabrika, completed in 2017, has been their most expansive project to date, catalyzing Tbilisi's historic Marjanishvili neighborhood by creating a center for skate kids, artists and creatives to work and play in a former Soviet-era sewing factory. Their adaptive reuse scheme includes a hostel, eateries, a pottery studio, co-working space and a record shop clustered around a courtyard where any constellation of the city's young and hip can be found. It's a synthesis of old and new and, as such, a microcosm of Georgian architecture itself.