There is power in reinvention, in handing over a tradition to the hands of the burgeoning new definers of beauty. When Christian Dior first unveiled his atelier at 30 Avenue Montaigne in1947, he invited the romantic designer Victor Grandpierre to decorate the space frequented by the Parisian elite. The Medallion chair—a Louis XVI era-inspired, oval-backed seat—eventually became one of the couture temple's crown jewels.
Dior has now invited 17 international designers to imbue the chair with their particular visual vocabulary. Seungjin Yang, Nacho Carbonell, Atang Tshikare, India Mahdavi, Linde Freya Tangelder, Khaled El Mays and others have each reconsidered and transformed the Medallion's core foundations, from its curvaceous beech wood-frame to the Toile de Jouy linen upholstery. Beyond the discernible, however, the designers have filtered the chair's legacy—its history and future alike—through their own personal and professional experiences, which seem to exist intertwined.
The chairs premiered in September during Salone del Mobile in Milan's Palazzo Citterio, where a spectacular staging washed each piece with a dramatic spotlight inside a dimly lit basement. Fittingly, the U.S. debut is during this year's Design Miami/ at the experiential art center Superblue. Ranging from those which completely depart from the original to those echoing its silhouette, the new Medallions contribute to the chair's enduring timelessness. Below, we explore the practices and work of six of the designers from the ambitious project.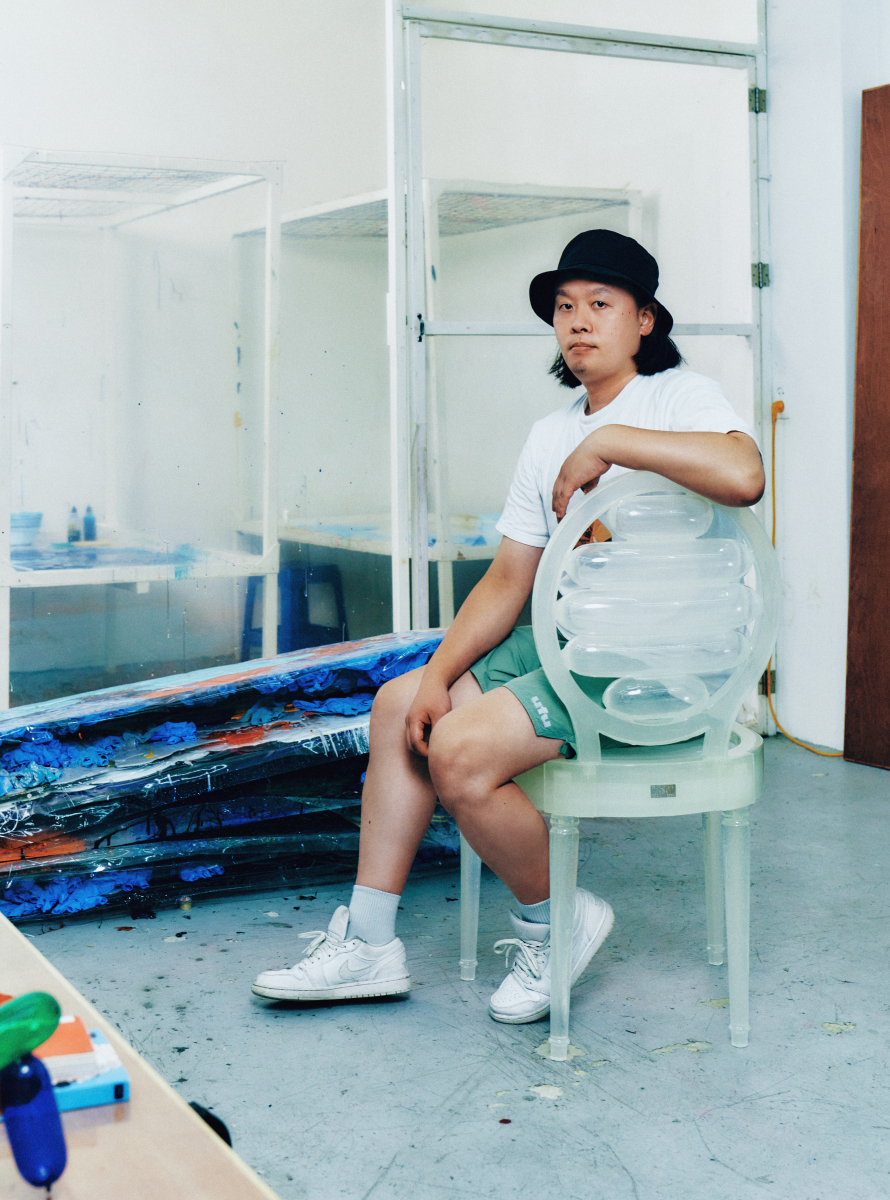 Seungjin Yang
There are designers inseparable from a signature form anchoring their trajectories: Seungjin Yang's whimsical balloon chairs hold this eminent status, as does the Medallion chair for the legacy of Grandpierre and Dior as well. Despite their mutual roles as career-defining pieces, the two chairs, however, could hardly be more different. Against the Medallion's ornate seriousness and delicate heft, Yang's creations are playful, bewildering and airy—both in literal and metaphorical senses. The Seoul-based designer starts each chair by blowing air into balloons of sausage-like forms, followed by coating the elastic ethereality with eight layers of epoxy resin. This firm dress renders each bulbous shape—which was once as thin as air—rigid on the outside yet still uncluttered inside. The 35-year-old then orchestrates them into seats in numerous juxtapositions, which most recently include the Medallion chair's classic structure. The inherent weightlessness in Yang's chairs is here elevated through a translucent texture, flirting between materialization and evanescence. The balloons' rounded playfulness, however, renders the chair inviting, first for an inspection of its curious texture and later to perch for an airy repose.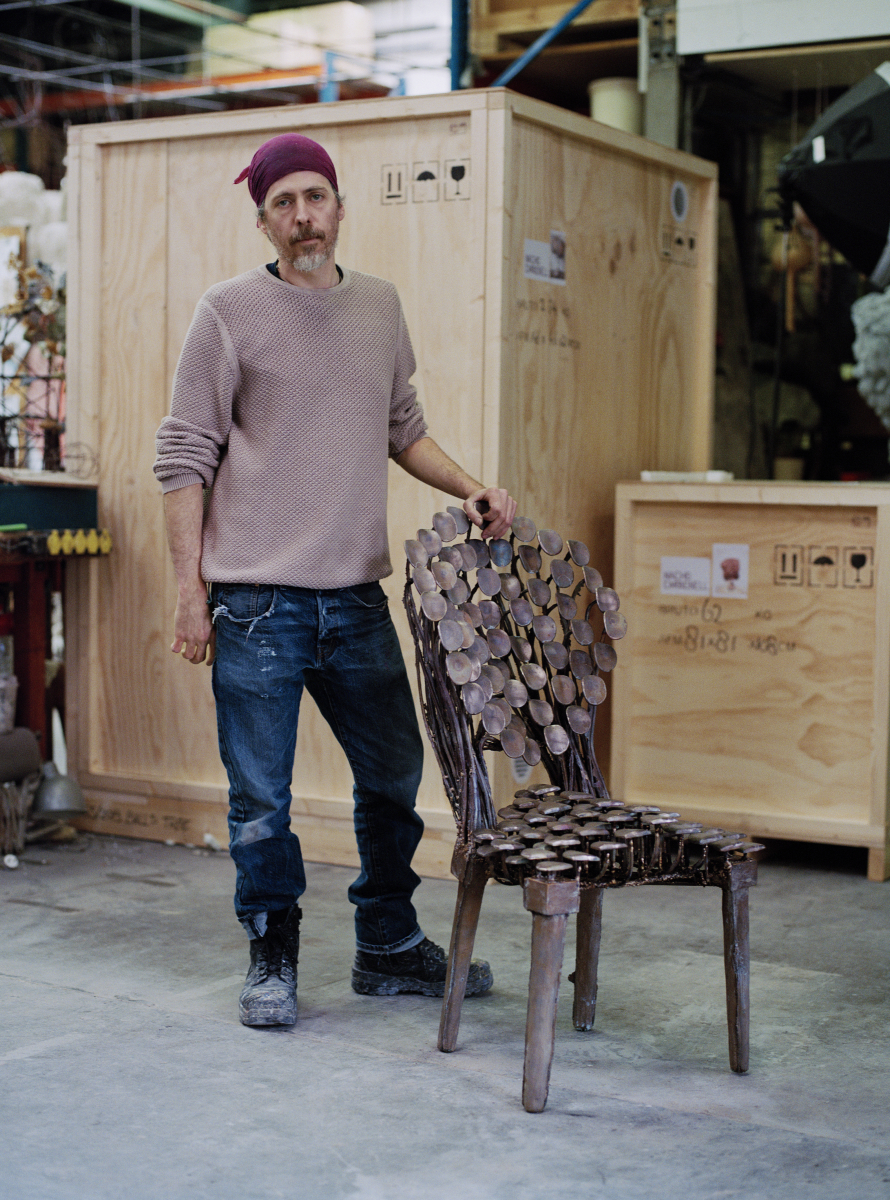 Nacho Carbonell
Could a bag be a living entity, or a lamp? Both Christian Dior and Nacho Carbonell could prove the answer is "yes." Similar to the former's era-defying timelessness in figure and material, the Spanish artist and designer creates with a belief in his objects' living natures. Carbonell's soaring Eindhoven studio is a laboratory of his very own metal welded branches, papier-mâché buds and bronze mesh flowers. His ecology-inspired objects populate this particular universe in which he utilizes the physical potentials of art to form usable objects that allude to fantasy, play and mythology. His Medallion chair stems from his nearly surgical approach to an object's soul, in this case through dissecting the backrest's intricate structure. He builds a dynamic between the macro and micro by sizing down the form and remaking it in miniature bronze versions. The designer's commitment to nature's way of creation yields an interpretation embodied in multitude and repetition. The chair is composed oftens of small renditions of the backrest in the firmness of bronze, individually stemming from thin long stalks which attribute each "petal" a floral essence and a determined unity.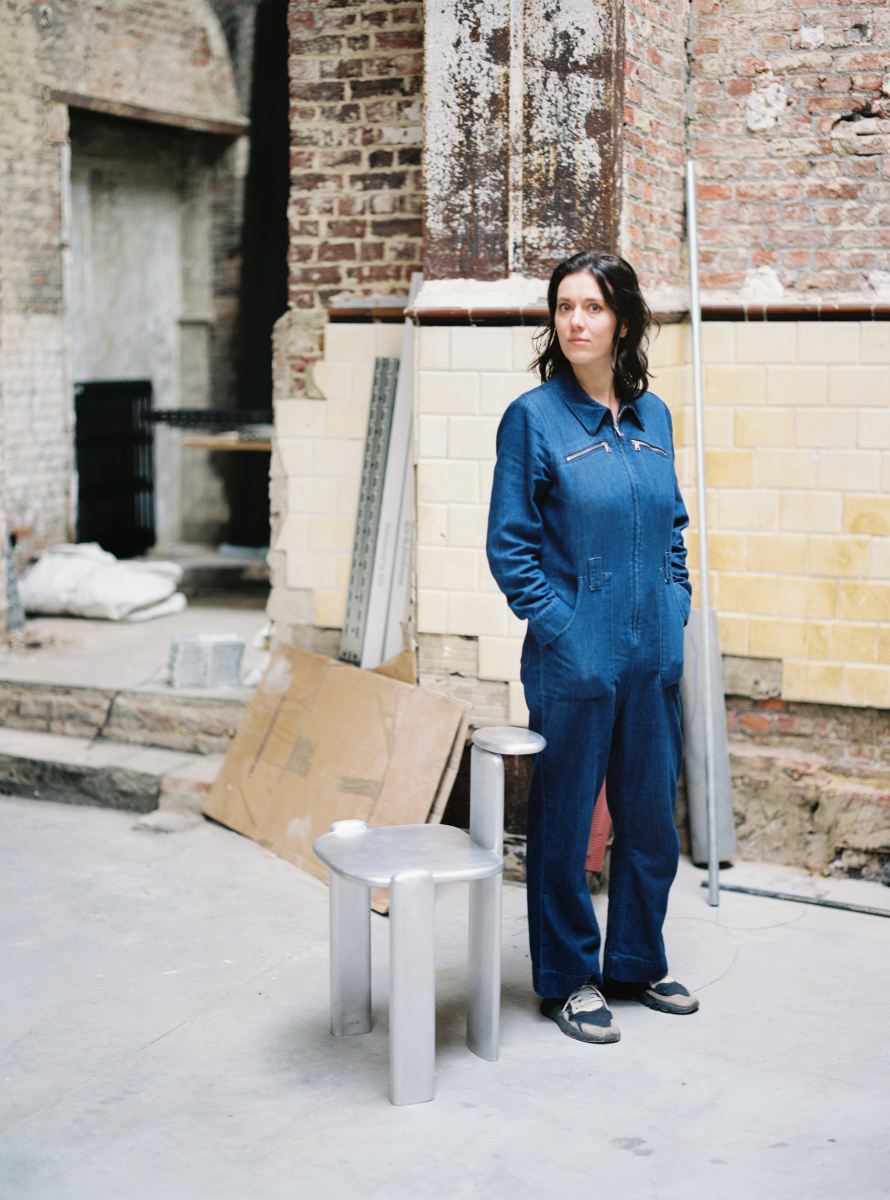 Linde Freya Tangelder
An iconic nude, a colossal building or a welcoming chair, sculptural forms unite in their lingua franca of mass, texture and volume. The exchange between use and beauty, as well as corporeality and semblance, relies on the waltz of the mind and hand of a maker—be it a designer, an architect or a sculptor. Linde Freya Tangelder's interpretation of the Medallion, titled Sage, strips the iconic design to its core. The Dutch designer's sleek lens skews contemporary but with a mythical edge. If timeless elegance can ever feel unexpected then it is through Tangelder's deft ability to marry the brutish and the feminine, a trait that the founder of destroyers/builders studio embraces in her own practice as well. She completely transforms the chair, while committing to preserving its structural nuance and the linen's silver color palette in aluminum. Tangelder's chair is futuristic, and its somewhat industrial appearance derives from the equally technical and manual production process, which include CNC-milling, welding and hand-brushing.The final smoothness achieved on its trio of legs and the minimalist backrest imbues the otherwise impenetrable shape with a recognizable humanity, an inner softness that contrast with metal's innate rigidity.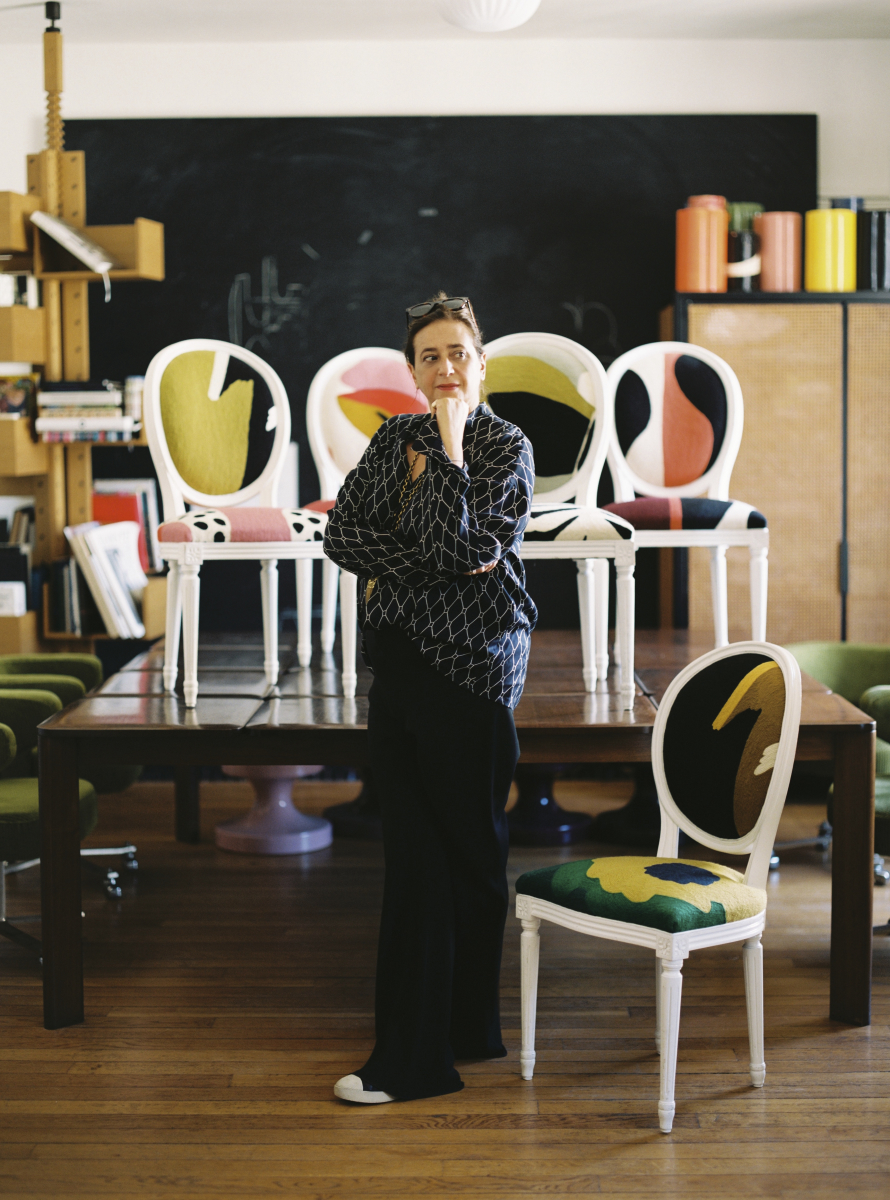 India Mahdavi
Texture in both fashion and design transcends a material's tactile nature—beyond the touch, texture summarizes histories embedded in process and beauty. Few fabrics convey this quality like the Medallion's upholstered fabric, Toile de Jouy, the storied French linen which came into prominence in 18th-century Europeyet received its palatial status in the hands of Dior. The fabric's pastoral patterns dance between buoyant trees and glorious fauna—tigers, birds and monkeys—with amonochromatic density, in blue, pink or silver. Similarly, Iranian-French designer India Mahdavi channels emotion into touch and alluring motifs. Pastel-hued and lush, Mahdavi's objects suggest slowing down and introspection, achieved through her abstract constellations of form and color. The designer began exploring the Indian region of Kashmir's chainstitch embroidery tradition, Ari, with her pillow series, and here she extends that exploration to seating. The quintet of chairs, which she upcycled from the House's salons, each bear distinct patterns on their seat, backseat and back: loosely scattered polka dots, sensual color bursts and zigzagging hallucinations. A pure white beech-tree wood frame holds each medley, providing a clean slate for the illusory and luscious potpourri.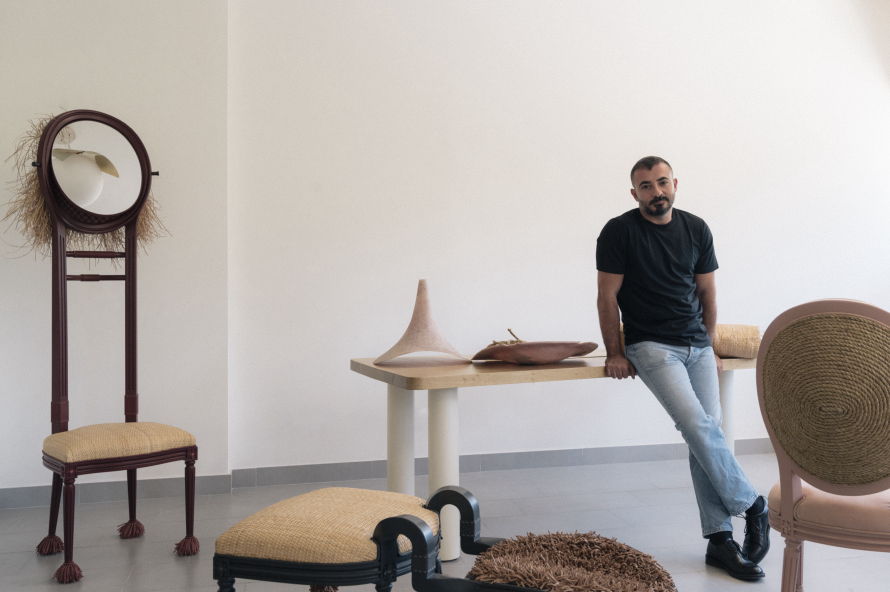 Khaled El Mays
In soulful design, theatricality is a trait not be overlooked, neither to be disdained for the doubt of flamboyance nor misconstrued as outrageous. Balancing the right notes of theatricality is a masterful craft. While the Medallion's ornate charm—a statuesque form, painterly touches and artisanal craftsmanship—defies trends and eras, a new generation of designers such as Khaled El Mays are undertaking the challenge of concocting new fables through objects. The Lebanese designer's vivacious furniture pieces are nearly alive, laden with characteristics, much like actors of a mythic play. El Mays's spirited handmade armchairs, lamps and coffee tables are dressed with leather fringes, curvaceous silhouettes and oak, much like puzzle pieces of a personality, humorous and grand. The Pratt graduate's response to Dior's invitation is a three-partritualistic formation that slowly progresses towards a visual climax. A powdery pink chair that mimics the original design, save for a few intervening accents, initiates the trio. The architecture-trained designer then proceeds to a performative form with a towering backseat, finished with fringes over its circular head and four wooden legs. The three-act play culminates with the chair's full transformation, a completely bent back seat renders the form both unfamiliar and inviting.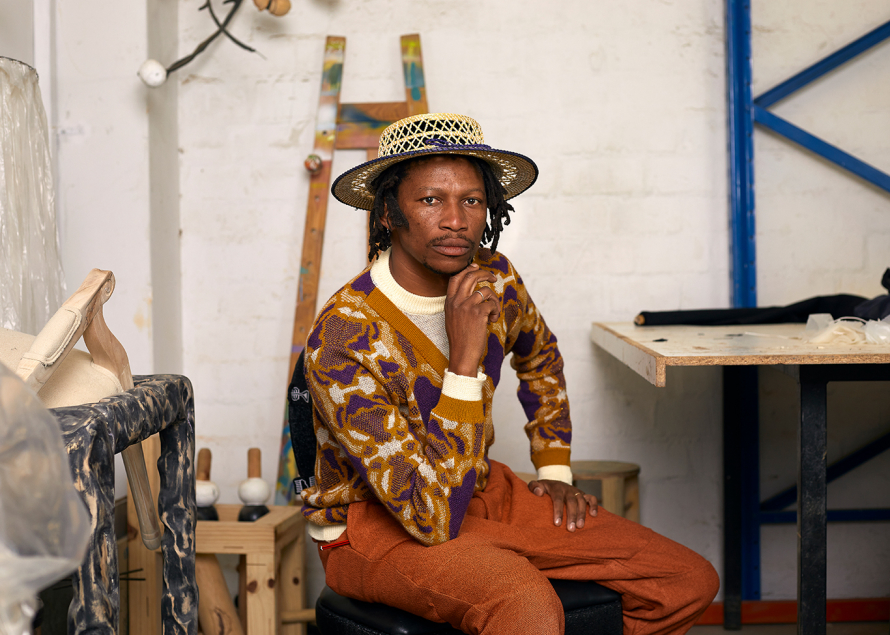 Atang Tshikare
Every object crafts its own tale, compiling the story of its maker inch by inch and narrating it to the user through touch and experience: take, the Medallion's wood carvings and refined upholstery. Likewise, local folklore nourishes the visual vocabulary of South African designer Atang Tshikare, particularly that of his Tswana lineage. Oral histories passed down through generations guide the self-taught designer towards his materials' spirited promises. Through winding bronze, woven grass, or embroidered beads, Tshikare concocts his version of tales, leaving room for an enigma in each object. The Cape Town-based designer named his chair Dinaledi, meaning "stars" in his mother tongue Setswana, in celebration of the constellation of stars within the overall cosmos. His experience of seasons from the Southern Hemisphere blossoms into a totemic chair with heavily sanded wood and vegan tanned leather debossed with references to stars. The scene-stealer is the layering of black and white glass beads that transform the wooden frame into a dense mass, a nearly velvety surface that charms the eye and intrigues the mind. The chair's visual power also transforms into linguistic meaning through nineteen pictographs that dot its surface: based on the writing systems of the Bantu people, the protruding icons represent notions such as "we" or "soul" and challenge the hierarchies of language, purpose and communication.
Created by Cultured for Dior.