"I think the highest form of art is a children's TV show," Farah tells me, from her live-work studio in Bedstuy. "So much has to be uncovered, sodelicately." This makes sense considering her photographs: lush, color-ful, off-center images that approach the world with a childlike curiosity and a theorist's tact. I first met Farah when I invited her to do an artist talk at the Brooklyn Museum. Then, in 2018, just a year out of her MFA at Yale, she had already had two solo shows at her Dubai gallery, The Third Line, and a particularly buzzy one in New York at Helena Anrather. And the buzz was well deserved. In "More Good News", Farah's photographs made the hypermasculinity of the US and the UAE look weird, even sort of cute. In a work like Nose Greeting (2016) we see two men huddled closely together, their noses almost touching—a common greeting made tender, almost erotic. Since then, she's made videos inspired by horror films and produced major commissions at the MITList Visual Arts Center and Art Basel. In "Back and Forth Disco," her recent Public Art Commission for MTA bus stations, she turned her eye towards the immigrant-centered spaces of New York City, showing us bodega chandeliers, nail salons and Chinese markets.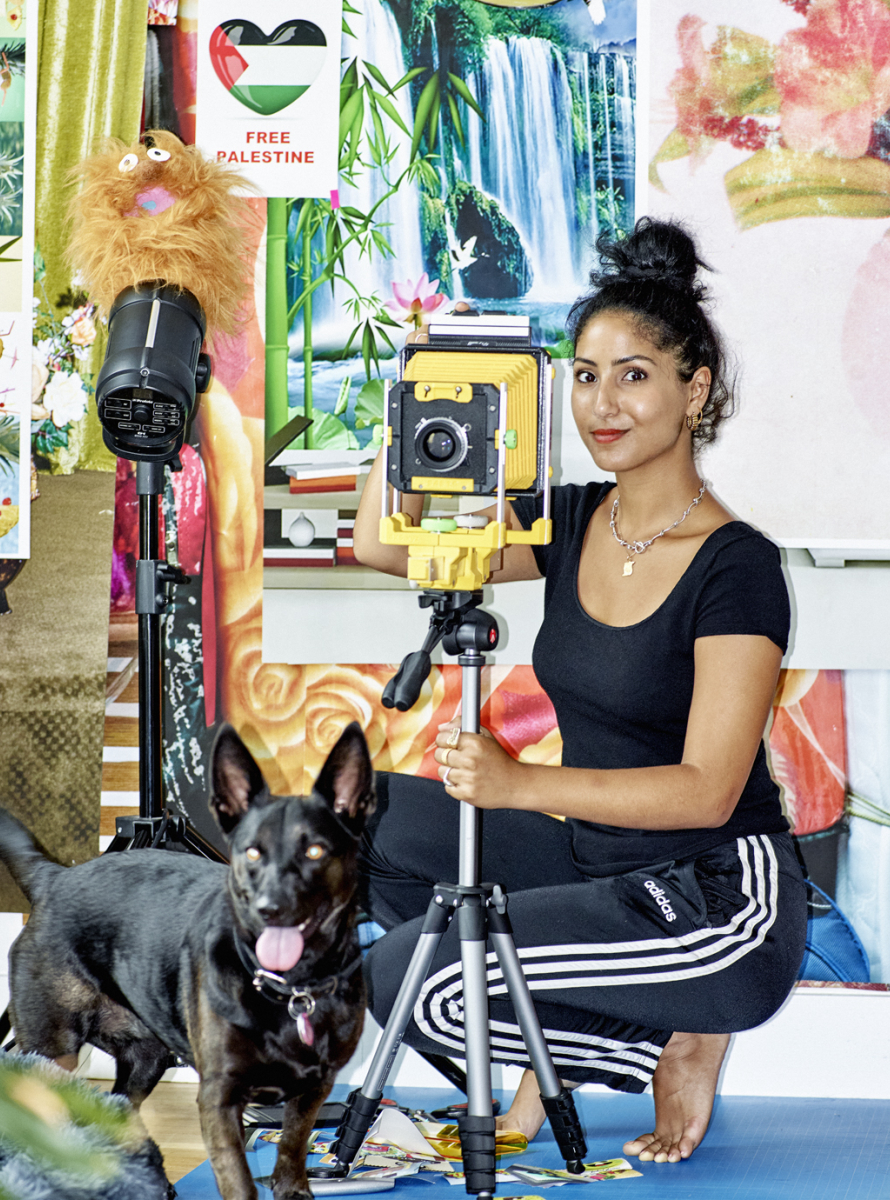 I find myself drawn to her photographs for their visual splendor, but I stay for their examination of class aspirationalism. "I want to democratize taste; it's important to me that my photographs are legible in someway to someone not in the art world," Qasimi tells me, when I mention that my parents, immigrants from Burma, might also recognize the interiors and finishes of her images. Perhaps she finds them both beautiful and troubling, as I do. And Farah is also an accomplished musician—aclassically trained pianist and band rat. This sense of improvisation and rhythm ripples in many of her images.
"The pandemic changed what I thought about the role of the artist in society," she says. "I started asking, 'What does it mean to be someone who can make things?'" With the artists Meriem Bennani and Alicia Mersy, she most recently organized Prints for Palestine, raising $65,000. She learned how to sew. This ethos—of an artist embedded in her social worlds, beit New York or the UAE, working to observe and challenge its fabrics—has only become more prominent in her newer work, which mines her family's immigration history from Lebanon to the US in the fifties. The show, which opens this fall at CAM in St. Louis, couldn't have a more apt name—for the work, and for her practice more generally: "Everywhere there is splendor.