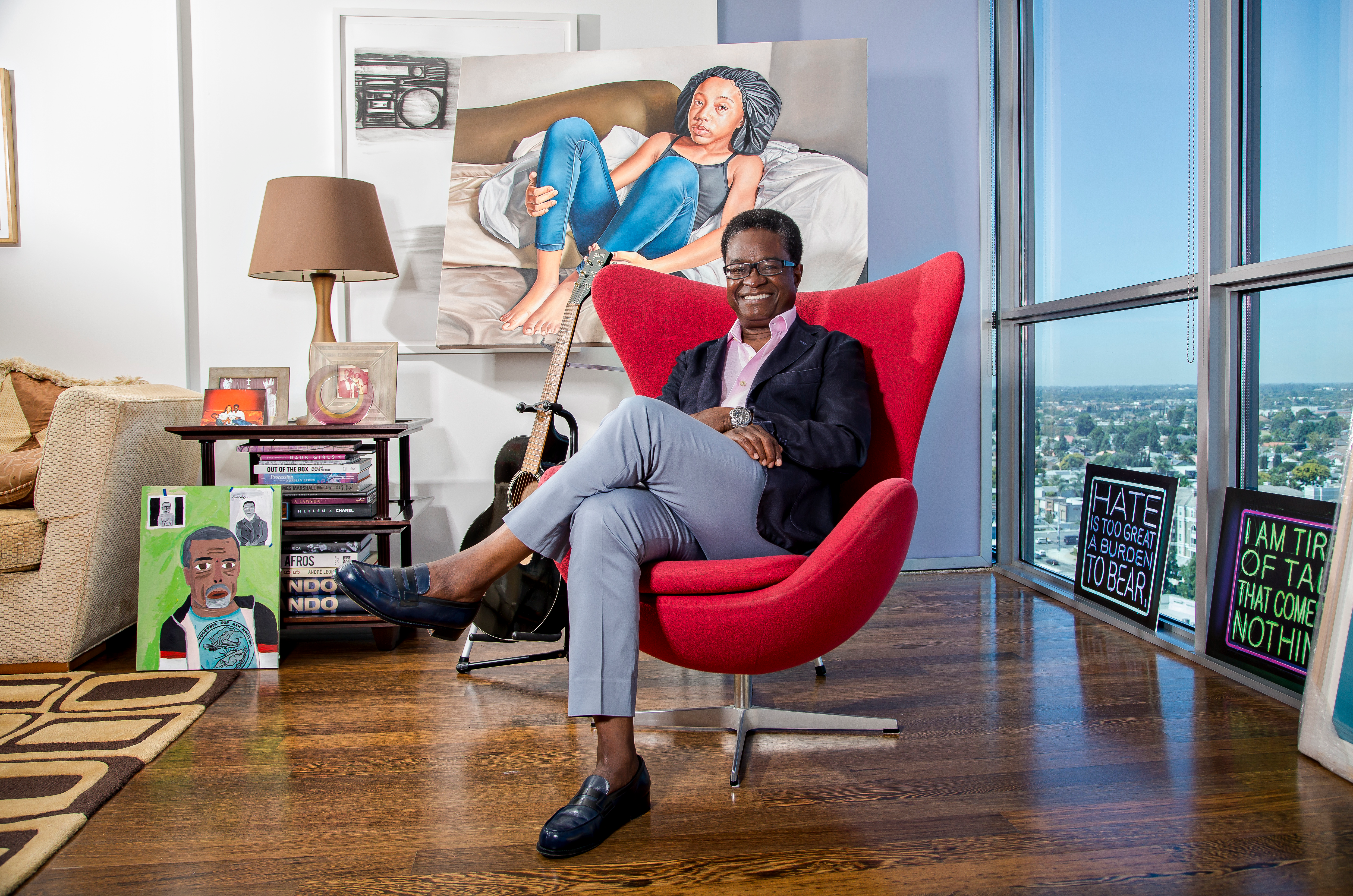 Based in Newport Beach, collector Demetrio "Dee" Kerrison has made a career of cultivating relationships with artists and galleries. He and his wife Gianna—both executives in the financial services sector—grew up immersed in art and music, joined a non-profit photography collective called SF Camerawork, and quickly became advocates for emerging Black contemporary artists. An acclaimed collector, Kerrison's first purchase dates to 2001, when—on a trip back to his native New York—he attended a show at the Studio Museum in Harlem, entitled "Freestyle" and curated by Thelma Golden and Christine Y. Kim. The show displayed the works of 28 cutting-edge artists like Mark Bradford and Julie Mehretu, and, in Kerrison's words, blew his mind. He returned to California, immediately connected with a dealer and laid the foundation for his art collection.
It's been a whirlwind, so to speak. Today Kerrison considers himself not only a collector, but a patron of the arts. He introduces other collectors to his friends and colleagues, among them artists and gallery owners scattered across California and New York—supporting the arts by introducing his peers to the creators he finds most impactful. Though Kerrison admits museums have become more inclusive of BIPOC artists over the years, he reiterates that Black people still only represent 2% of museum collections in the United States; though the Hammer Museum, where Kerrison sits on the acquisition committee, offers a collection composed of 8% artists of color. "I'm thrilled to be on that advisory committee to make a difference," he says.
Kerrison is equally thrilled to have taken up the role of advisor. Emerging artists—many of whom might be preparing to leave a gallery—will call the Kerrisons in search of guidance or consultation. At the height of the pandemic, Kerrison encouraged creatives to apply for unemployment, walking them through the process and, simultaneously, offering detailed responses to their financial questions.
And when Kerrison wants to add to his collection, he too reaches out to his network. Recently, he connected with two emerging artists, reminding them to consider prioritizing Black collectors. The financial executive has found his calling as a mentor and collaborator, helping to put on shows at Fullerton College—an Orange County post-secondary institution where, according to Kerrison, few students have even driven 40 to 50 miles to Los Angeles to see a major exhibition. He worked closely with a professor friend, curating an exhibition that would essentially bring the LA art scene to the OC, and his 2022 plans already involve a couple of shows with galleries in LA.
"Mentorship is in my blood," explains Kerrison. "Because I believe I never really had a mentor, I try to be that person." And so he is. From here forward, Dee and Gianna Kerrison will continue advocating for emerging Black artists and collectors, elevating the greater Los Angeles art scene, and giving voice to the young creators who are stilling learning to navigate the intricacies of their industry.
Craving more culture? Sign up to receive the Cultured newsletter, a biweekly guide to what's new and what's next in art, architecture, design and more.