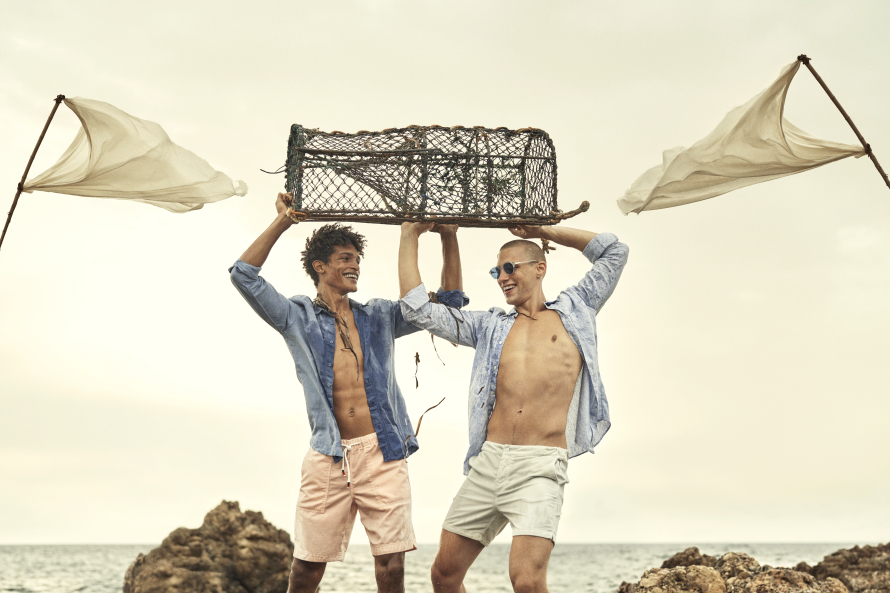 If ever there was a time to spend on clothing, shouldn't it be during the moments when you're nearly naked, and most self-conscious about looking your best? Founder Adam Brown of fashion brand Orlebar Brown caught onto this notion back in 2005 while on vacation in Rajasthan, India with a large group of friends to celebrate one's 40th birthday. To him, the baggy board shorts synonymous with surf shops weren't stylish nor functional enough. In 2007, he launched his own label to rectify the problem. Tailored, fashion-forward and able to go from the pool to the beach to the bar, Orlebar Brown swim trunks perform as well on shore as they do in the sea, made of durable, quick-drying fabrics.
The brand has since opened nearly 40 boutiques worldwide, from London (where it is headquartered) to Miami, St. Barths, St. Tropez, Mykonos and Bondi Beach, Australia and is celebrating its 15th anniversary next January. Orlebar Brown's latest expansion is on the West Coast—a new Beverly Hills showroom just off Rodeo Drive debuts this month. "The United States will be our biggest territory this year," says Brown. "It's always been important to our brand, with Miami and Palm Beach being focal points for our business, but we have many customers in California and it just made sense to open there."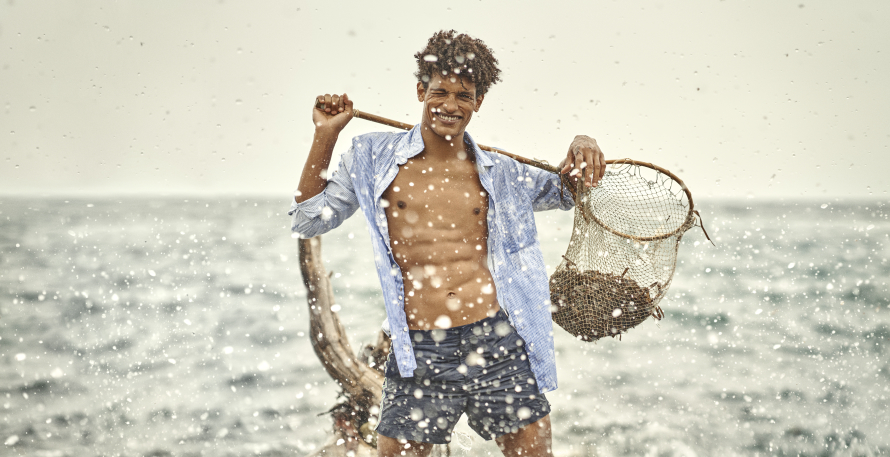 Brown says the store will be one of the first sporting Orlebar Brown's new retail concept, which features a clear delineation between their beach, resort and leisurewear. "We started out with just swim trunks and beachwear, but now we have linens, jackets, cashmere and a range of knitwear" he explains. "Swim is about 30 percent of our sales now, with the rest featuring materials like toweling, linens, pique…they're key storytelling pieces."
A big part of the Orlebar Brown story is its relationship with the environment. The brand now offers everything from button-down shirts, trousers and puffer jackets to underwear, sunglasses and sneakers. However, the long-term company goals aren't just about growth, but sustainable growth. The brand aims to design with 100 percent recycled materials by the year 2023, part of a sustainability journey they started in 2018. Thus far, it has marked achievements like reducing waste and becoming a carbon negative company at the end of 2021. "I so believe in the value of holidays for mental well-being and embracing the broader world, but I've always had a hard time reconciling how, in order to do that—and wear our product—you have to get on an airplane or be in the sea," says Brown. "But you don't have to have to be on a superyacht or go halfway across the world to have a great time. You can also just go on a hike or travel in a low-impact way."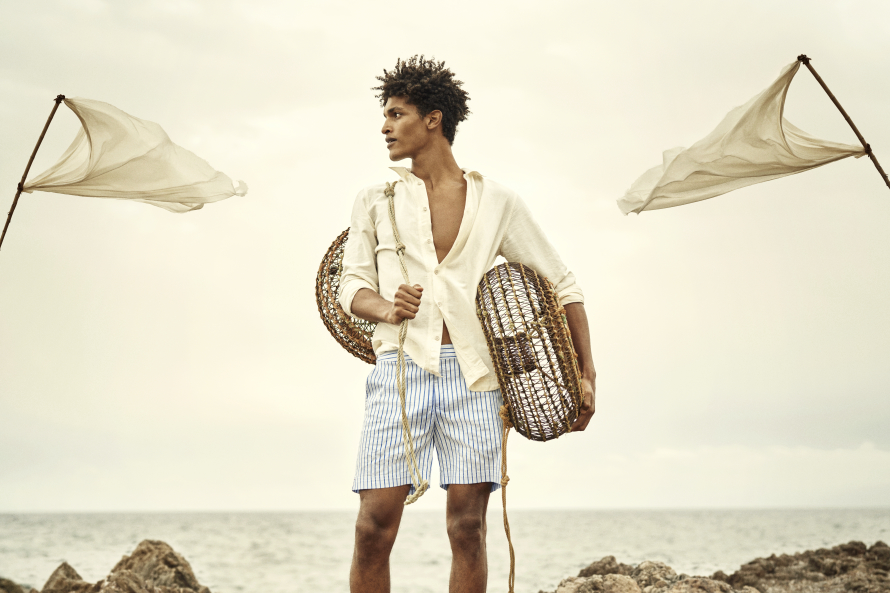 The brand ethos, as well as the range in material and functionality of each piece, has made its products not only desirable to consumers, but to other fashion houses as well with Chanel quietly acquiring the brand in 2018. "I originally started designing the product for myself. This was just before social media so you only really met the customer if you saw them on the shop floor," says Brown. "But you really can't define our customer by age, profession or where they live. It's about an aspiration—they have to enjoy traveling, as swim shorts in general are inherently linked with being on vacation."
Brown might add that his customers are also fans of art and design, as the company has had wide success with their collaborations with artists like David Hockney, Gerry McGovern, Slim Aarons, Grey Malin, David Salle and Alan Aldridge. "If you're someone who wants to go out on the beach and celebrate color, great. We have vibrant shorts for that," says Brown. "But, if you just want something classic in dark gray or navy, we're great at that too."
Craving more culture? Sign up to receive the Cultured newsletter, a biweekly guide to what's new and what's next in art, architecture, design and more.