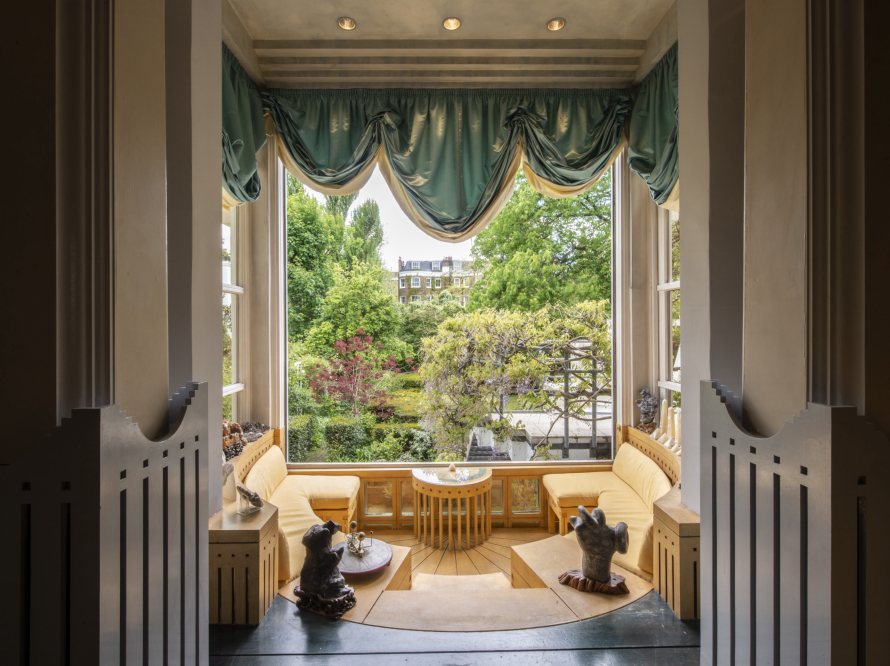 In London, the Cosmic House's original mirrored entryway showcases the genius of its late owner and architecture critic Charles Jencks. His ability to merge wonder and history led him to symbology, which he strove to bring back into the real world through design and architecture. Jencks's daughter and fellow accomplished landscape architect Lily honors this legacy in the house museum she's made of her childhood home. Now, with the recent public opening, it is on display for all to see.
At the Cosmic House, design minutiae are attended to with pleasure. The lockers in which one stows bags so as not to accidentally bump any of the preciousness beyond, are outfitted with two keyholes on each cubby, a mimic of the doubling that is found on every entry or pull in the Notting Hill townhouse. Lily's foyer heaven makes use of the ceiling by drawing attention to intriguing symbols that set up the treasure hunt attitude one must pursue to get in the mindset of the Cosmic House.
In the basement level, an exhibition curated by artistic director Eszter Steierhoffer takes one further down the Charles Jencks rabbit hole and gives historical orientation. In an approximately ten-minute cinematic introduction—mandatory viewing for newcomers to the work—his collaborators and family members present the house in vivid color and some of the seasonal principles that govern its design. It is here we also learn that Jencks himself was skeptical he'd taken it all too far.
By the end of mounting each symbol-embedded stair I wanted to beg him to reconsider. I found it to be just perfectly too much. My friend and I felt unable to fit everything we were seeing into memory—swearing to go back as we carefully shot every inch we could on our cell phones.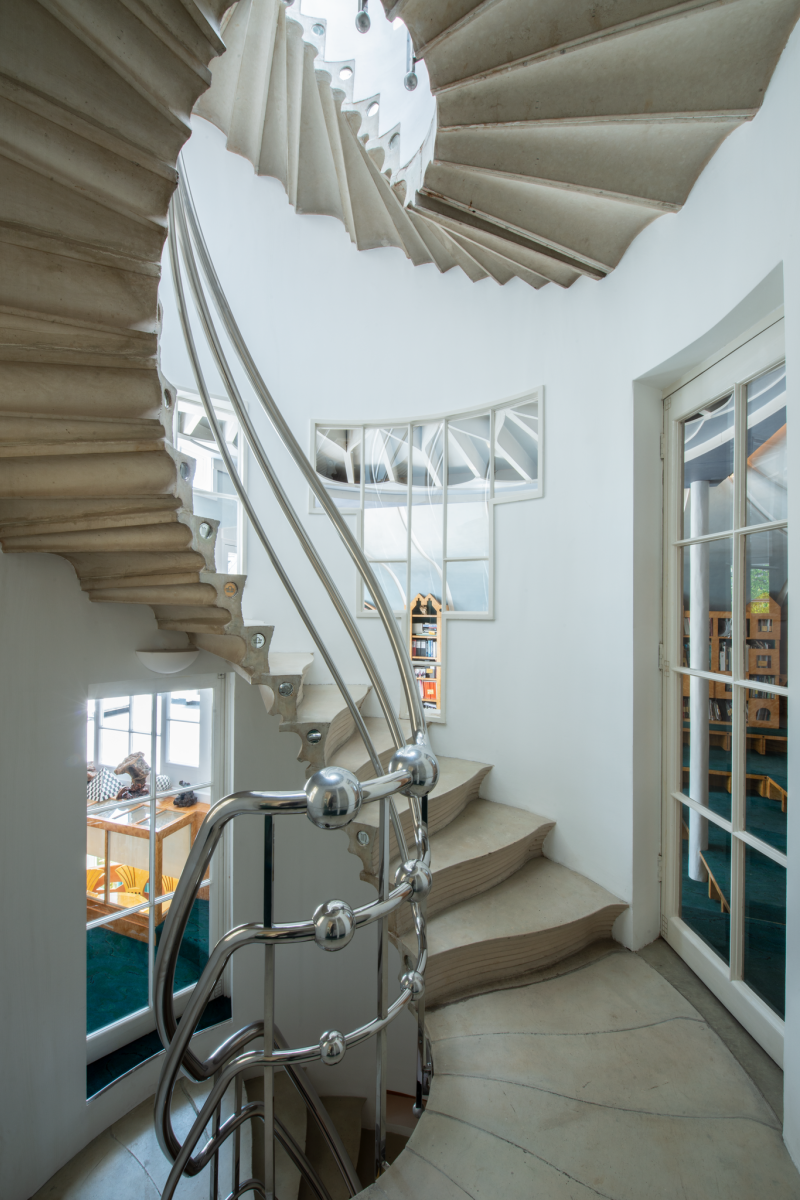 Especially enchanting is the house's twin elements and the playful ways they are elaborated on. Exemplar moments can be found in a shower basin where the drain had been echoed in mosaic on the other side of an ellipsis tub or the mirroring of puffed creme tiling on the floors, bedspread and ceiling of the bedroom. There are bolder stunts of plenty too, like the full window that slides into the back of the house to expose a sundial-themed half moon terrace to the elements or the jacuzzi that owes its shape to Borromini's dome in Rome—a choice that was made after the architect Terry Ferrell and Jencks exhausted his encyclopedic slide archive of every duomo in the city. Before you leave, don't forget to ask for a booklet, which serves as a house guide but is also a pocket-sized extension.
Craving more culture? Sign up to receive the Cultured newsletter, a biweekly guide to what's new and what's next in art, architecture, design and more.