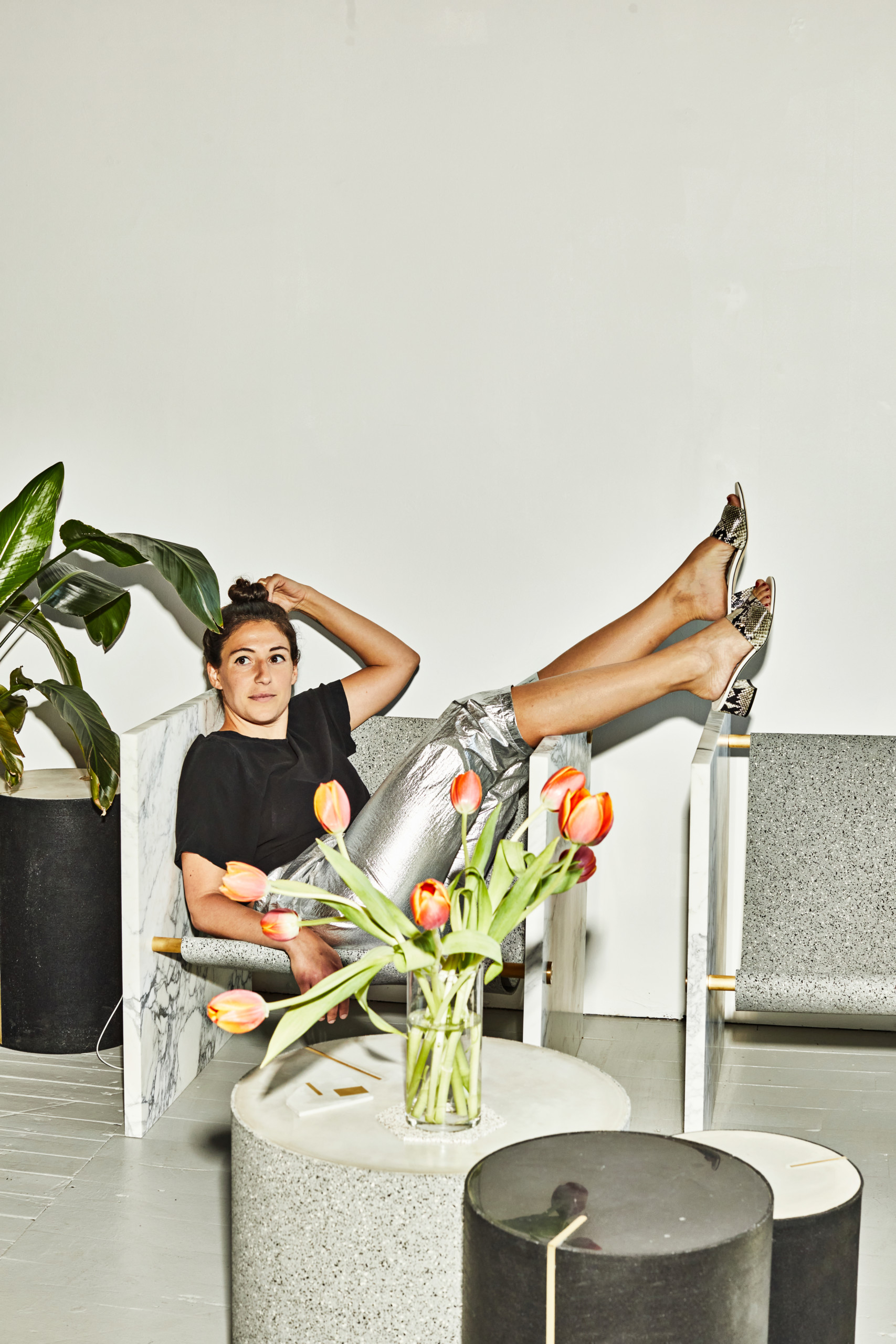 Brooklyn-based designer Arielle Assouline-Lichten was trained in architecture at the Harvard Graduate School of Design and has a substantial résumé that includes working for international firms like Bjarke Ingels Group, Snøhetta and Kengo Kuma and Associates. Except, Assouline-Lichten reckons, "I didn't even go into architecture school wanting to be an architect. I just wanted to learn how to make things physically and to learn about the tools. I always knew that I was going to have an alternative path but I didn't necessarily know what that was going to turn out to be." She says this matter-of-factly, which feels somewhat invigorating considering the highly competitive and fast-paced nature of architecture. "I came out of that program not knowing much about the general world of design that encompasses furniture and product," she continues. "I was sort of naively attracted to this smaller scale as I was observing this maker culture in New York."
She began offering a multitude of design services with Slash Projects in 2014. She had been following Sight Unseen magazine's trailblazing reporting on the work of young designers and in 2016 she pitched the idea for an exhibition booth to SU's founders Monica Khemsurov and Jill Singer, for which she designed her first furniture collection, and founded her offshoot, Slash Objects, that same year.
Assouline-Lichten has an exceptional flair for enhancing the aesthetics instilled in everyday materials like rubber and stone, and a tendency towards minimalism that stands apart largely because of the integrity of the process in her work. When working on a residential project with an "old New York-inspired palette" that included marble, brass and steel, she was simultaneously designing a gym, and suddenly saw the recycled rubber floor sample next to the others. Something clicked. "The challenge I posed to myself was to take a recycled material that's not something anybody would look twice at, and elevate it by pairing it with these other long-lasting and beautiful materials," she says.
While enrolled in the GSD program, Assouline-Lichten was part of a group of 12 students selected to study for three months in Japan under architect Toyo Ito, whose work and research in the aftermath of the 2011 tsunami was the basis for a series of projects that directly addressed environmental, housing and community issues faced by displaced people living in temporary trailer-park campsites. "We were thinking how architecture could play a role in helping to provide a sense of community, of belonging and home" Assouline-Lichten says. "Actually, as part of my group project we were designing furniture pieces and smaller-scale solutions as an element that would bring people together and as something that could translate into how the human body really relates to the built work." Design crits came from architects including Junya Ishigami and Kazuyo Sejima. This helped forge her vision of creating impactful architectural interventions for her master's thesis titled "The Micro and the Multitude," and consisting of about seven "microarchitecture interventions in New York City" aimed at transforming our perception of both our immediate environment and the urban whole. "It's very much about the boundary between art and architecture and how these moments and these interactions with materials can allow us to reframe our preconceived notions of the built world."
Next up for Assouline-Lichten is a self-produced show to coincide with NYCxDESIGN in November 2021. The pop-up's location is TBD but one thing is for certain: "I don't want to do trade shows anymore," she says. "It's not really the right platform, and I want to be open to bring the idea of an experiential show and to think of how much more impactful that will be for the viewer." The new pieces, a series of mirrors that intersect her well-known marble cubes she sources from slab remnants near her Greenpoint studio, are the first of a forthcoming body of work that will incorporate sinuous forms for the first time. "I had never really worked with organic shapes before," she says, "so the new mirrors are a variation, or maybe an iteration, that relates my work that came before to the work that I developed on the [Ellen's Next Great Designer] show in 2020"—for which she layered onyx, brass, wood and stone in a four-piece collection titled Rift to compete for the grand prize.
Arielle Assouline-Lichten came from the male-dominated world of architecture and is now in the only slightly less male-dominated world of design. She recognizes the importance of rewriting the history of design from a perspective of equality. "I am very much inspired by women that have come before me like Eileen Gray, Gae Aulenti and Charlotte Perriand, and understanding what it took for them to create such lasting and impactful work," she says. This is something that informs every one of her works, an awareness that is ever present: "It's part of the conversation of making sure that women are represented in the creation of furniture. I think it's pretty insane that a huge percentage of all of the furniture that we live on is designed by men."
Craving more culture? Sign up to receive the Cultured newsletter, a biweekly guide to what's new and what's next in art, architecture, design and more.