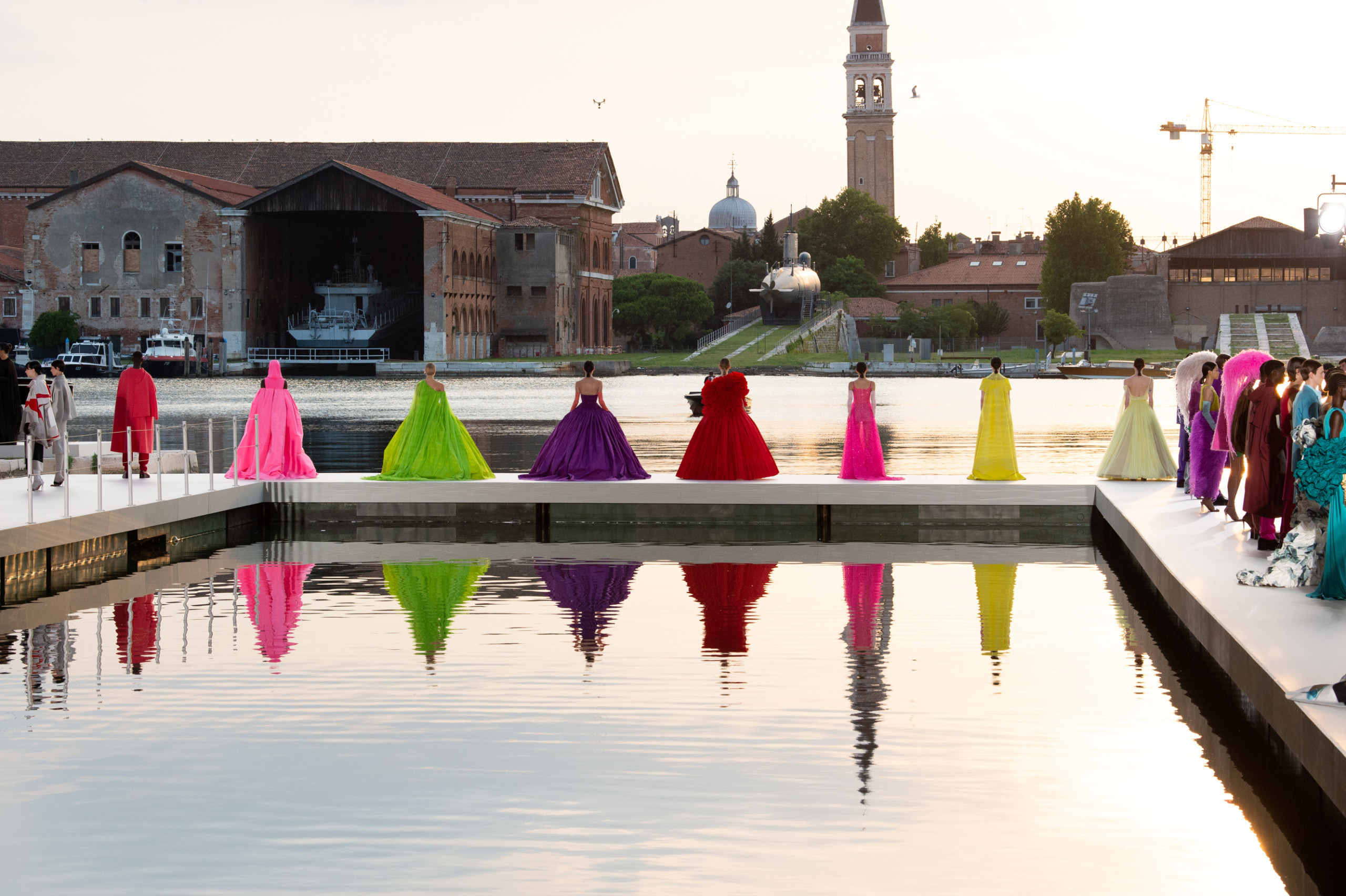 The shipyard backlot of Venice's Arsenale is often the space where one dashes out for a short kiss or a cigarette after hours of haunting the former navy clubhouse's dank, art-filled halls, but yesterday it got a serious upgrade and a public face—as the runway for the Valentino Haute Couture show. The collection felt almost like a ghostly appendage to the art biennials that have come to define the floating capital's naval base. This is perhaps because this season began with a series of studio visits undertaken by designer Pierpaolo Piccioli.
Unimpressed with the paint and print methodology that has become so typical of artist fashion collaborations, Piccioli asked artists to create something that responded to Valentino and in turn the designer interpreted those works as a final collection. The resulting gowns and coats bear the handprints of the artists without feeling literal. In fact, the only artist allusion we recognized on the runway was James Nares, whose idiosyncratic brushwork appeared in the final look of the show as a billowing gown of white striped with blood red. A nod to the house's storied history of red dresses, it arrived as the exclamation point on the end of a jewel-toned sea, which revels in Alice in Wonderland purples, acid teals, ruby reds, tart lemons and electric greens.
Following in the footsteps of muses like Francis Offman, Katrin Bremermann, Luca Coser and Kerstin Brätsch—Piccioli embraced abstraction as a creative means of translation. The garments took classical shapes and adjusted their meanings through details and new juxtapositions. The intersection of lines became essential as did the quality of light, which was brought into the clothes quite literally with reflective sequins and shiny fabrics. The combined effect was only enhanced by the golden hour of the evening, which flooded the whole show in a pinkish blush. Singer songwriter Cosima's otherworldly set on the dock didn't hurt either.
Craving more culture? Sign up to receive the Cultured newsletter, a biweekly guide to what's new and what's next in art, architecture, design and more.