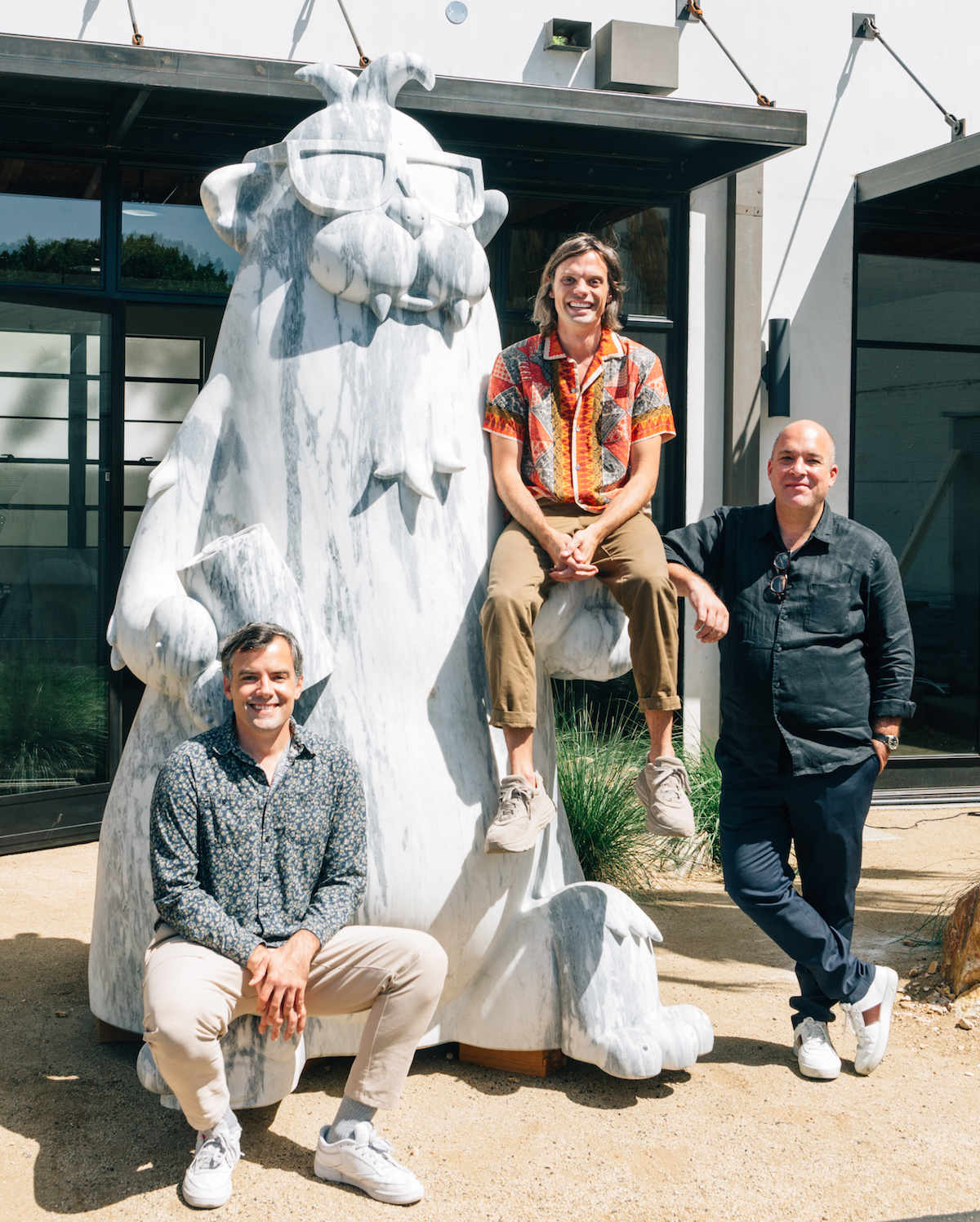 When describing his work, one of the first things José Noé Suro Salceda, known as Suro, will tell you is that he's not an artist. "I'm not a professional designer. I'm not talented in that field," says the Guadalajara-based owner of arguably Mexico's most recognized ceramic studio. "We're a place that facilitates creative minds to push their imaginations."
Using his technical knowledge and comprehensive background working in the ceramic industry for nearly 30 years, Suro has turned what was once a family workshop that manufactured dinnerware and decorative objects for Mexico's leading resorts into an incubator for global artists, working with such recognized names as the Haas Brothers, David Adjaye, and Sarah Crowner.
"I grew up in the studio with my father, who started the factory in Tlaquepaque [Guadalajara's artistic hub] in the late '70s, when the resorts in Acapulco started to develop. He made decorative pieces and china for them, then he worked with Hyatt International as other regions were developing in Mexico," Suro says. Hotel GMs eventually started to seek out the studio to create custom collections for their hotels that couldn't be found elsewhere. "When Las Ventanas opened in Los Cabos, they came to us, and that changed everything. It was a new level of luxury that Mexico hadn't had before, and at the same time, we were working with artists, galleries and museums, so we were really growing in a range of directions."
Although Suro grew up in his father's studio, spending every summer vacation learning from him, he decided to try another path and go to law school. "I hated being a lawyer though, so I went to work with my father in 1993, and I brought in artists to collaborate with us. Some of the first were Jorge Pardo and Jose Dávila, who are very successful now, and we still work with today." The studio continues to mentor emerging artists like Eduardo Sarabia, Alejandro Garcia Contreras and Renata Morales, and there is almost always an independent artist working and creating among the staff.
While the range in what Cerámica Suro now creates varies quite a bit—anything from colorful custom dinnerware for interior designers and resorts like Zadún Ritz-Carlton Reserve to lamps, decorative pieces and metallic architectural tiles—the need to relentlessly evolve and push the envelope remains a constant.
Currently, in Los Angeles, Suro is working to install a series of eight murals around the exterior of the Haas Brothers' studio space in Downtown LA. "It's a public work, comprised of hundreds of thousands of pieces that create different murals. It's very them, with playful little monsters, little cats. I'm positive it will be one of those places where people go to take photos for their Instagram," says Suro. "They were very clear on what they wanted and what their vision was. They sent their design, and we sent them the color samples. It went into production and will be installed by summer."
Ceramic murals are becoming increasingly popular for Suro. Elsewhere in Los Angeles, he recently worked with Pae White to create a seven-story exterior mural at the Beverly Center. "There were 103 colors in that mural. Normally, a factory would limit production to 10 to 15 colors because it's so complicated to produce, but we've figured out how to do things like this over the years and make it work."
Although many adopt liberal parameters when it comes to defining art, Suro is quick to set boundaries. "Some people will say that chefs are artists, but I disagree," he says, despite working with two of the most acclaimed and innovative chefs in the world, Enrique Olvera and René Redzepi. "I was at Pujol many years ago and loved the experience. I asked to meet the chef [Olvera], and when he came to the table, I said I'd love to work with him." The two have since become close friends, and Suro has created dining pieces for Olvera's Pujol in Mexico City, Manta in Cabo, and Damian in Los Angeles. He's also currently working with Redzepi on his new space in Copenhagen, and adds that he admires and is eager to work with David Chang of Momofuku fame. "I cannot produce millions or hundreds of thousands of plates and tabletop items for restaurants. I made the decision to only worth with chefs I love and have respect for their food and practice," says Suro. "One of the great things about Enrique and René is that they're also thinking about the way we'll eat in the future, with less protein, and have such respect for the ingredients and how they're sourced responsibly."
When it comes to Suro's future, he is underway with producing a tile line with a handful of recognized artists. "It's a selection of architects, fashion designers and artists that will create a line with us. I can't release the names yet, but it will be a special project," he says.
Also on the horizon, Suro is creating two monumental murals with Jorge Pardo—one in Paris, comprised of 478,000 pieces across 10,000 square feet of wall space inside a private home that will include 24 different shapes and 38 different colors, and another in Geneva in a public space for a museum. In Mexico, he's working with five emerging artists to do five murals for the Jumex juice factory in Monterrey. "The owner of the company is a big art collector," says Suro. "Art belongs in many places, not just private collections or a museum. I like to see art in unexpected places."
Craving more culture? Sign up to receive the Cultured newsletter, a biweekly guide to what's new and what's next in art, architecture, design and more.