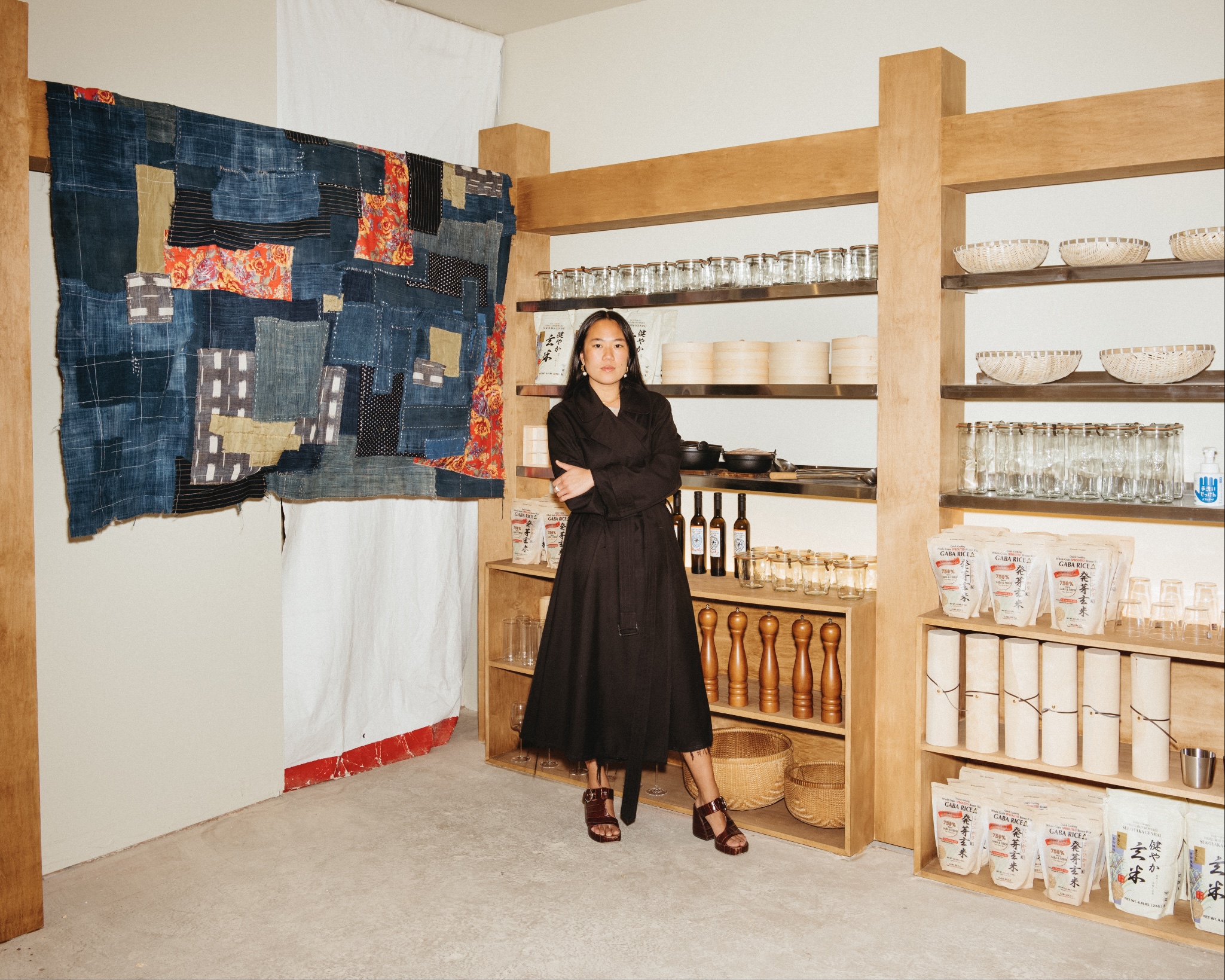 2020 was the year of the interior. Forced to remain inside and thus claustrophobically squished into boxes with family and friends and roommates, donning your Sunday best included your finest sweatpants, a lovingly worn t-shirt and the dregs of last night's sleep on your face. Shopping felt irrelevant, too indulgent—save for the rare late night online purchase made just to feel something besides anxiety and restlessness. Not only did we consume less, but venturing out into the agora became a thing of ancient history.
The disruption arrived in a moment where fast fashion was ruling cyberspace with a ruthless orb and scepter, despite pleas to shop sustainably and the rise of greenwashing. Yet the storefront managed to persist, until mass shutdowns scrambled the world of retail as we know it. Now here we are, vaccinated and ready to embark on the greatest #HotGirlSummer yet. So where does this leave us? What will happen to the storefront? The world is eager to return to normalcy. Perhaps the storefront will emerge as a beacon of hope, a place for communities to gather and brush shoulders and chat as they flip through the racks and toy with trinkets. Perhaps the universal desire to leave the house will prompt another shopping evolution, away from e-retail and overconsumption, towards a more thoughtful, tangible mode of commerce.
Only time will tell. For now, Cultured got to talking with the female owners of some of our favorite shops in New York and Los Angeles. How do they perceive the return to in-person shopping? And what does it mean to own a small business in 2021?
Beverly Nguyen, Beverly's (New York)
Beverly's is the brainchild of fashion stylist and creative consultant Beverly Nguyen—you've likely seen her work in Vogue or in collaboration with designer giants like Louis Vuitton and Cartier. Now, Nguyen has transposed her aesthetic eye to homeware and the retail space, culminating in her namesake pop-up. Having opened in April, Beverly's recently announced the opening of another new temporary space in Rockefeller Center from June 25 to September 1. Whether searching for that perfect gift, or for the dainty glassware you've been imagining for your bar cart, Beverly's has you covered.
"It's been a beautiful and growing experience—I've been listening and observing my community. I love being a witness and a friend to how our shoppers have re-entered the world. I challenge myself as someone with a platform to translate the experience gently—with tenderness. As a consumer and a shop owner, I want both parties to respect the art of conversation, and I hope for a connection with what's inside the store. I think a lot of us are ready to be physically present and make purchases that create memories versus clicking and shipping.
I think the retail landscape was and is still quite unpredictable. It's important for me to do my best to create a trusting community and atmosphere by listening to what our shoppers need. It appears to me that customers have evolved and reset in a way, giving them more room to discover shops with an open perspective."
Telsha Anderson, t.a. New York
From far and wide—Tbilisi, South Korea, Paris, Peru, all the way to West 13th Street—Telsha Anderson has curated a female-driven shopping experience with t.a. New York. The boutique, which recently celebrated its first birthday, features pieces from beloved designers like Christopher John Rogers and Rosie Assouline, in addition to more niche wares, including vintage magazines and dainty jewelry. With a kind smile and a soft air, Anderson is the icing on the cake that makes t.a. the eclectic yet welcoming space New York has needed.
"My experience as a store owner has been as equally unorthodox as it's been a blessing. Opening during a nationwide pandemic was not the plan but I'm grateful to have had a supportive community guiding me along the way in more ways than one. As we emerge from the pandemic I've seen trends change, customer counts rise and language shift in a positive direction. As a small business operating in this time and industry, the opportunities given are not only appreciated but needed in order to sustain and it's my hope that remains consistent for my storefront and the other businesses around me."
Addison Richley, des pair books (Los Angeles)
Need a summer beach read, but don't know where to begin looking? Don't despair—Addison Richley of des pair books has you covered. The independent bookshop is based in the Echo Park neighborhood of Los Angeles and began as a New York small press in 2019. But Richley, a SoCal native, was called back to sunny LA in April and des pair turned brick-and-mortar. In addition to literary texts and new releases, des pair exhibits a curation of film and art books, as well as a rotating list of practicing artists. Proclaimed to be a "place to gather, share ideas, and leave with something special" per its website, des pair is welcoming LA back to the IRL with open arms.
"Since opening in April I've had a lot of great conversations with customers about books, art and current events. I think we are all just happy to be meeting in person again after being deprived of it for so long and I'm grateful that des pair can be a place where that discourse happens."
Lucy Weisner and Vita Haas, Café Forgot (New York)
Café Forgot is a boutique masquerading as a sugary sweet candyland. Entering the Ludlow Street space (only a few doors down from neighbor, Beverly's), shoppers are greeted with lime green, baby pink, creamsicle orange and icy blue prints. What immediately draws the eye is the carousel clothing rack, which shoppers can activate with the twist of a giant orange novelty button on the wall (created by designer and friend of the store, Sam Stewart). Café Forgot is funky, with a spring in its step—and the detailed aesthetic eye of founders Lucy Weisner and Vita Haas is evident. Weisner and Haas have transformed the storefront, which opened last week, into an interactive playground that will tear you away from your online shopping tendencies and pull you into the storefront.
"During the pandemic people had to be more intentional about social interactions. We've all had to weigh pros and cons before agreeing to any sort of activity involving leaving the house. We think some of that intentionality remains in the immediate aftermath of COVID and it can be a really positive thing. People are showing up to openings and shows because they are actually really interested in the event. We also think stores like ours have received a lot of attention because we've always offered an experience that's much more than a shop. People aren't only looking to buy clothes here. You can do that from home. A lot of the designers we work with offer one-of-a-kind handmade pieces and it's important to see it all in person and try things on.
Also, we have always had a lot of events, facilitated new ways to connect designers and have collaborated with artists. After being online only and then open via appointment for the past few months, we were excited to open our new location at 29 Ludlow Street on June 16. We have a number of other in-person events lined up for the summer that we'll be announcing soon."
Craving more culture? Sign up to receive the Cultured newsletter, a biweekly guide to what's new and what's next in art, architecture, design and more.