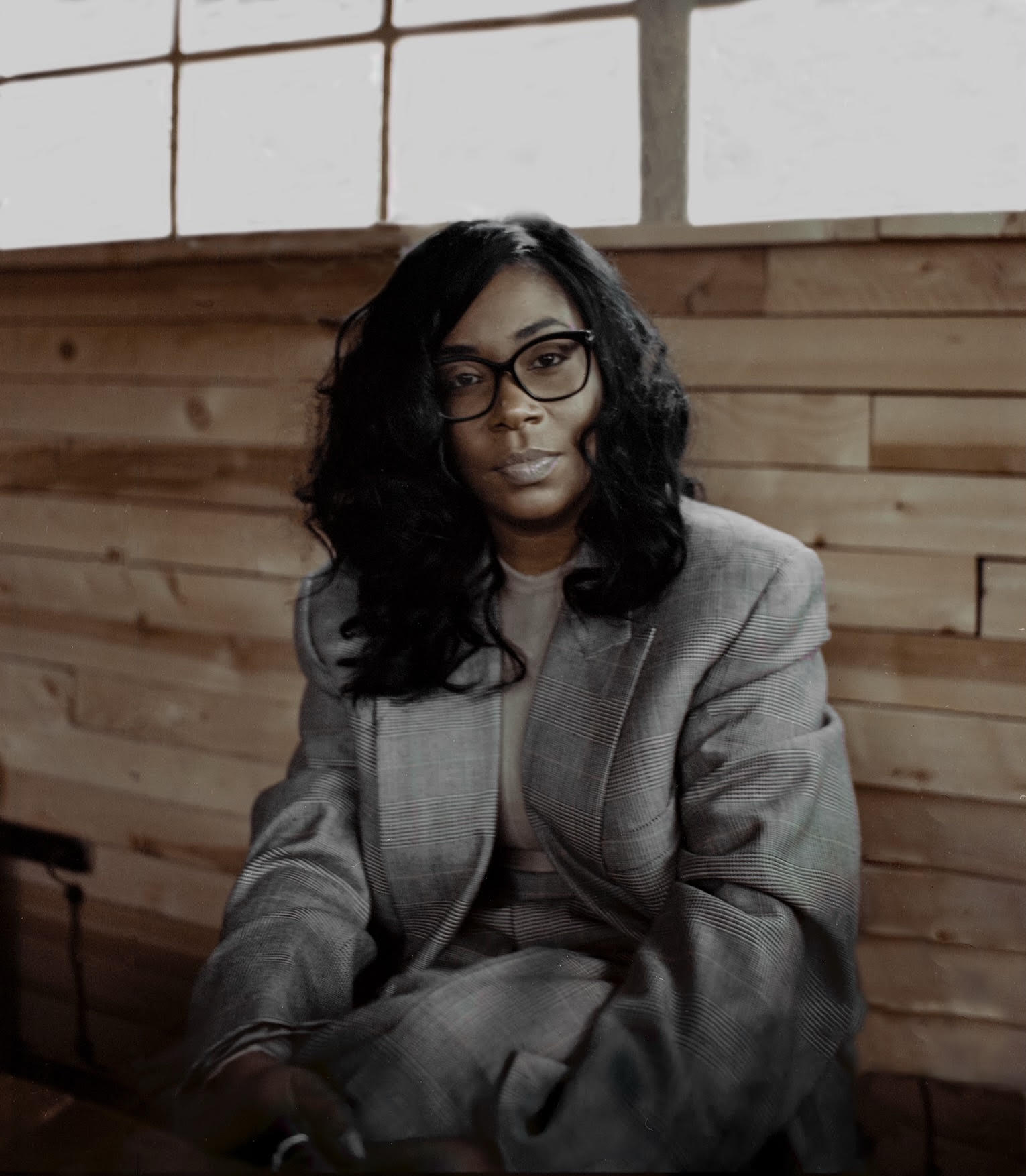 "My journey into costume design was divine," says Marci Rodgers. "People always ask if I planned it, but truthfully I didn't even know it was a profession. I've always been attracted to learning, to history, to the little details that most people don't have time for. Everything has stemmed from pure curiosity."
It's a Monday afternoon in early March, and we're tucked inside West Hollywood's 1 Hotel. Dressed in an oversized hoodie that reads "Soul Was Designed By Us" and a pair of lush sweats, Rodgers has the look of a cool curator. Her fingers are bedizened in silver rings and beneath a fitted snapback black-frame glasses cover her eyes. On anyone else the look might've seemed studied or forced; on Rodger's the styling looks effortless. This easy, lived-in feel for dress reflects her ability to elevate the mundane.
In Spike Lee's Oscar-winning BlacKkKlansman she twined suede and shearling coats into forms of armor. In the TV series She's Gotta Have It she highlighted the humanity of the Black female form, showcasing characters in streams of silk nightgowns, lace negligees and coveted sneakers. For Wu-Tang: An American Saga, Rodgers unveiled the legacy of Black bohemia, reimagining the constraints of the early nineties while distilling the origins of our present nostalgia.
"I like to ask for music when I start creating," she says. "That's a tactic I learned in a set design course. When I did season one of She's Gotta Have It, I asked Mr. Lee what type of music Nola Darling listened to. That informs the dress. When you fast forward to a project like Wu-Tang, the music was already there, but that was only a small guide for me because I'm not from New York. So a lot of the work is research. It's a lot of pictures, a lot of periodicals and books, a lot of conversations. I tend to pull from visual artists of the time to develop a color palette. Sometimes there's an impression that you're just shopping, but it's far more collaborative."
Though she's hesitant to call herself a historian, Rodgers sifts through time like a trained archivist. For Netflix's upcoming Passing, an adaptation of Nella Larsen's classic novel, she unspools the severity of glamour and the mandates of the Black aristocracy in 1920s Harlem. The biggest challenge was to find clothing that resonated in black and white.
"When Rebecca said everything would be in black and white, it reminded me of a project I had to do at the University of Maryland," Rodgers says. "We had to emulate a series of Christian Lacroix's drawings and I was the only person in the class who rendered them in black and white. I remember feeling annoyed that I wasn't able to paint in color. But that's why I feel like so much of my journey has been destined. With Passing the film is shot in black and white, but all the clothing is color. I had to shift my eyes to black and white. Certain things that are pretty in color are hideous in black and white. I kept laughing during the process and felt humbled because God seemed to have been using my old teacher to prepare me for that world."
Her other forthcoming projects include No Sudden Move, a crime thriller set in Detroit during the 1950s directed by Steven Soderbergh, as well as a short film from Rémy Martin: spanning six decades, the project is a series of vignettes showcasing the contributions of Black culture to the storied brand.
Rodgers work isn't only limited to costumes. During the global standstill she went back to her "nest" and "stayed in her childhood bedroom for a year." During that time she wrote a children's book called MaJaRa's Dream, a project inspired by her past and conversations surrounding love: "The trade-off of me not having my own space was being around unconditional love. There's a lot of pain in the world and love is important. It was during the George Floyd protests, and everyone kept saying 2020 sucked, and I kept wondering who is speaking to the youth. People tend to forget that words are scripture. Life and death lies in the tongue, and I wanted to create something that could uplift."
Craving more culture? Sign up to receive the Cultured newsletter, a biweekly guide to what's new and what's next in art, architecture, design and more.