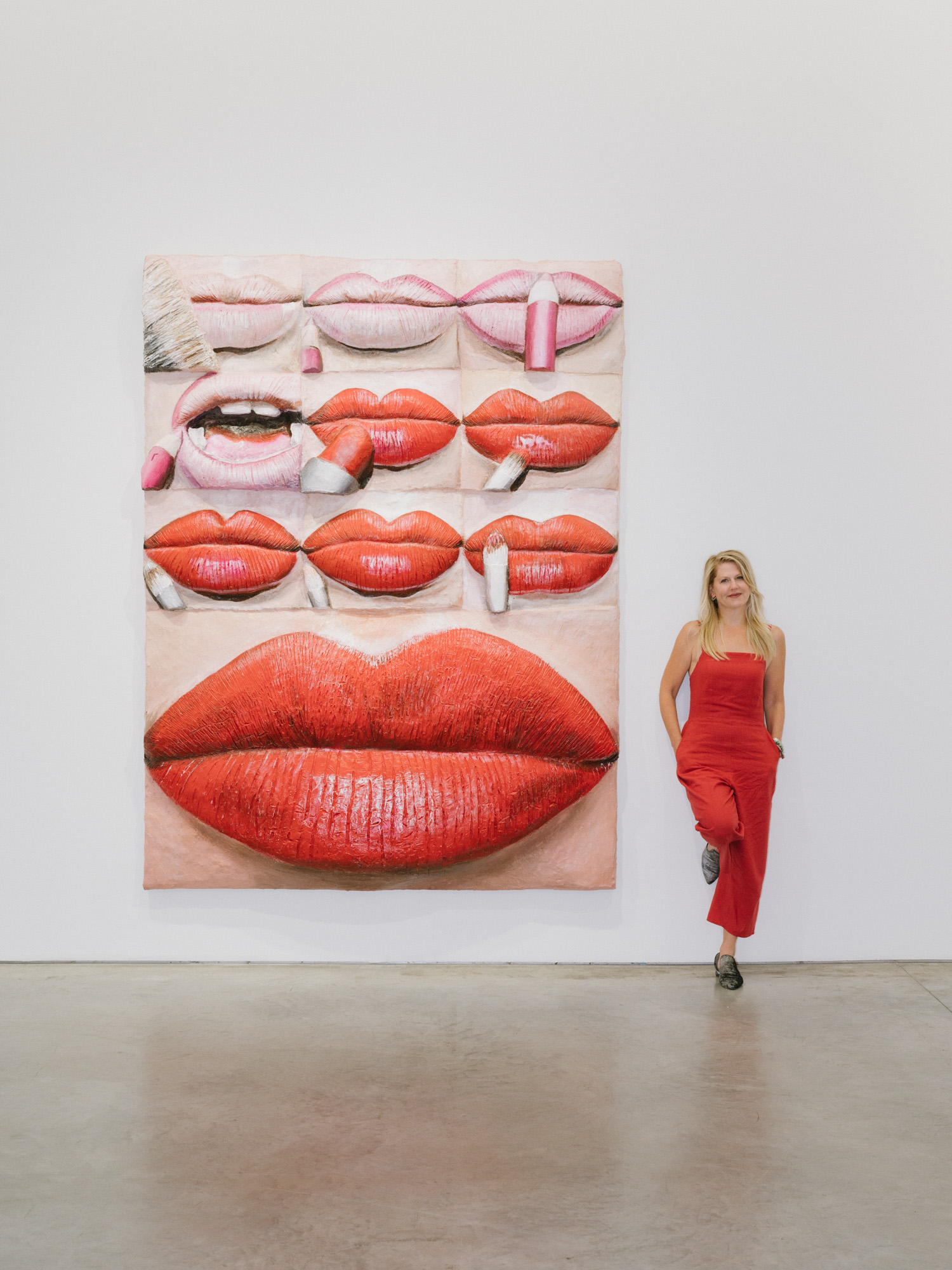 Elizabeth Fazzare: How did you begin to build your own collection?
Jeanne Masel: When l was in graduate school studying contemporary art at Sotheby's Institute, artist Marilyn Minter came to speak about her practice and the "pathology of glamour," a term coined by Holland Cotter to describe a theme so central to her work at the time. The way she spoke about her practice really resonated with me and marked an early acquisition, Minter's Pink Snow, 2009. I spent the next several years as a collector and budding art advisor visiting art fairs and artists studios, and attending gallery and museum openings. Alongside cultivating a keen eye for works that would be perfect for my collectors, I developed an intuitive sense for the works that I was drawn to. The way in which Marylin Minter's work made such an impact became the guiding and trusted force for the works I acquired for my own collection.
EF: What pieces inspired you to continue?
JM: When I founded Art for Change in 2018, I merged my commitment to philanthropic initiatives with offering fine art to socially conscious art collectors. I spend a lot of time visiting artists in their studios, working closely with them to create new and exclusive limited editions and commissions for Art for Change. Seeing a work in the artist's studio is the most inspirational context for me as a collector. Being in conversation with the artists, seeing sketches and observing the evolution of their practices, provides real significance and weight to a work. There are several works that have made their way into my personal collection during a studio visit!
I'm in awe of the generosity of the artists we work with at Art for Change and it's so rewarding to see how that generosity can have a tangible, immediate and positive impact on a community. Last year, we partnered with Gina Beavers to commission a limited-edition print in support of New York's City Harvest, which raised funds for thousands of meals for food insecure New Yorkers and helped with Gina's studio costs throughout the pandemic.
EF: Does the marketplace help your discovery process? Why or why not?
JM: Absolutely, it does. Recently, I went to check out Molly Greene at Kapp Kapp and María Fragoso at 1969 Gallery; both were fabulous shows that sold out quickly. Following those visits, I'm excited to share that Art for Change will be releasing limited-edition prints with Green and Fragoso in the coming months.
By highlighting the practices of emerging artists, Art for Change creates a marketplace for the artists we work with and creates an entry point for collectors to acquire works they might not otherwise have known about or have had access to.
EF: Are there any pieces that are currently on your radar?
JM: I am constantly visiting galleries to keep up with the careers of emerging artists. An artist who has been on my radar for years is Naudline Cluvie Pierre who was recently added to James Cohan's roster. I first saw her work at a pop-up show a few years ago with Shulamit Nazarian in Lower Manhattan. Additionally, I am looking at works by Devan Shimoyama and Hiba Schahbaz, both represented by DeBuck Gallery in New York, and works by Shona McAndrews at Chart Gallery. I've also been eyeing some works by Austyn Weiner at Harper's.
EF: What is the one piece that got away?
JM: I don't like to dwell on what could have been, but the most recent piece that I'm happy didn't get away is a work by Gina Beavers titled Passo a Passo, 2020 from her recent solo exhibition "World War Me" at Marianne Boesky Gallery. Gina is such a kind, warm person and we had a wonderful time working on the City Harvest initiative together last March. I really enjoy talking about Gina's Passo a Passo with guests. It's very rewarding to be able to share her thoughts on contemporary society, social media, consumption and being a woman, with anecdotes from actual conversations we've had about her practice.
EF: And finally, who are some artists that have inspired you throughout your collecting career?
JM: One year, while at Frieze, I got a phone call from Sean Kelly Gallery letting me know that they were uncrating one of Kehinde Wiley's paintings and I ran! It's not often I get pulled into a frenzied acquisition, but I make exceptions for the truly inspirational! His paintings are literally and figuratively monumental and I'm so grateful to have acquired Portrait of Michael Fotso, 2015 and Equestrian Portrait of Prince Tommaso of Savoy-Carignan, 2015.
Another inspirational artist is Becky Kolsrud. The way in which I acquired one of Becky's works is much more typical of my approach to collecting. I went to her studio in Los Angeles with a friend in 2018 and was enchanted by her paintings. We kept in touch and eventually collaborated on a limited-edition print, Allegorical Nude, benefiting Independent Curator's International in 2019. I just acquired her painting Inscape (Face/Figures), 2021, from her recent solo show, "Elegies at JTT."
I've also been following Allison Zuckerman's career for years and our relationship is a great example of how we work with artists at Art for Change. I first discovered her work at Kravets Wehby Gallery where I acquired Weekend Recliner, 2018. I got to meet Allison at Untitled Art Fair in Miami a few years ago where we discussed the painting and she told me it was a very significant work in her evolution as an artist, which made the acquisition all the more special. We have since commissioned two limited edition prints with Allison for Art for Change, the first in support of City Harvest in 2020 and, most recently, in support of the Brooklyn Museum's annual Brooklyn Artists Ball. Allison is a truly inspirational artist and such a joy to work with.
Craving more culture? Sign up to receive the Cultured newsletter, a biweekly guide to what's new and what's next in art, architecture, design and more.