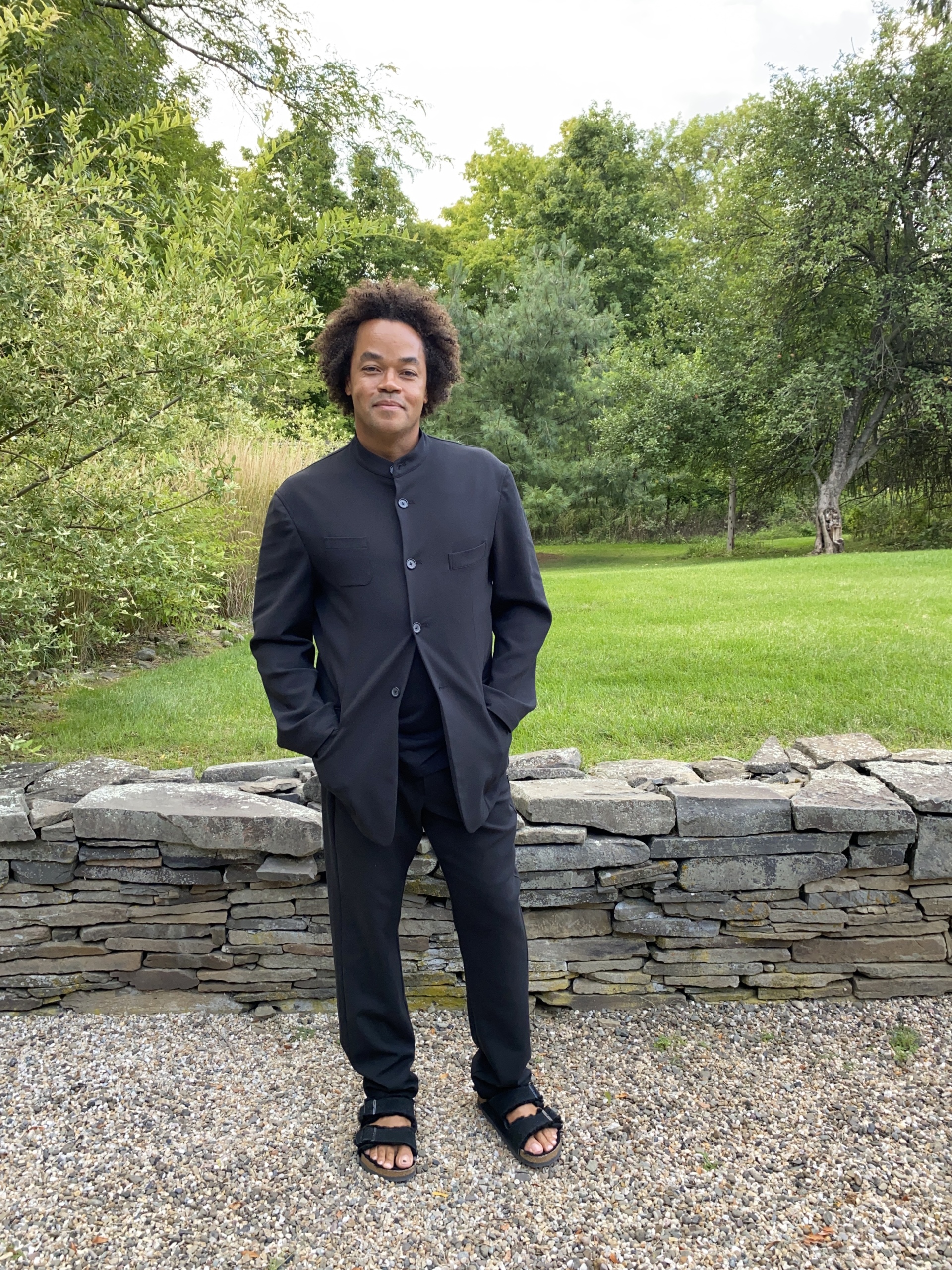 The confluence of COVID and he murder of George Floyd by the police upended everything last summer. "I started seeing food lines in America like I had never seen them before, and hearing how many kids were going hungry," recalls fashion industry veteran Patrick Robinson, who, after creative directorships at Perry Ellis and Paco Rabanne and four years as Gap's lead designer, founded the activewear line Paskho in 2013 with a core ethical mission. "I built an e-commerce business around a responsible conversation about the environment, but after George Floyd something broke in me, being a Black man," he tells me over Zoom from his home in Hudson, New York. "Something just exploded in my life and my career. Seeing all these people who were unemployed, I felt just talking about the environment was like talking out of both sides of my mouth." Sustainability and social equity, he explains, are two sides of the same coin.
By July, Robinson had forged Community-Made, a new way of making garments on demand that reduces waste and the carbon footprint of factories and retail stores, while helping to address historic disparities and barriers to access. His model—which evokes an earlier time of home artisanry gathers seamstresses, technicians, and tailors from underserved communities into localized production pods, and pays them a fair living wage, whether in New York City—Paskho's first hub spans studios and apartments from the Theater District to the Bronx—the Rust Belt, or the rural South.
This spring, Souls Grown Deep—a nonprofit whose mission is to bring Black artists of the South into the canon of American art history—made a $600,000 impact investment in Paskho for the next Community-Made pod in Gee's Bend, Alabama, home to quiltmakers who've been transforming recycled remnants into eye-popping geometric and minimalist artworks for generations. This financing is but one of Souls Grown Deep's ongoing efforts to celebrate and support the area's artists. Originally named for a slaveholder, Joseph Gee, whose plantation inhabited a bend in the Alabama River, the isolated hamlet still has many unpaved roads and lacks a post office. "It has no guarantee of modern plumbing or electricity. People grow their own food and have to make a 45-minute trip to the grocery store," says Souls Grown Deep president Maxwell Anderson. "And yet, for over a 100 years, they've been making incredible objects that were utilitarian at first, for putting on beds and keeping kids warm, but are now hanging on the walls of the Metropolitan Museum of Art and the Fine Arts Museums of San Francisco."
While the average annual income in Gee's Bend stagnates around $12,000, Community-Made lets skilled makers self-manage their schedules and output, receiving up to three times the local minimum wage. "Patrick is looking to quilters not simply as workers," says Anderson, "but also as people who can add creative ideas to his own thinking about clothing design, and about the tradition of African American cultural heritage."
In fact, Paskho's partnership with Souls Grown Deep during the pandemic seems all the more kismet: "I always thought of Gee's Bend as these mystical, made-up people because their work is so powerful," Robinson says, recounting his initial phone call about the project with Anderson last summer. "I said, 'Max, I'm not playing.' The Gee's Bend book is actually on my coffee table. It's been one of the books I looked at through Covid, because it relaxes me to see such beautiful craftsmanship and art."
Craving more culture? Sign up to receive the Cultured newsletter, a biweekly guide to what's new and what's next in art, architecture, design and more.