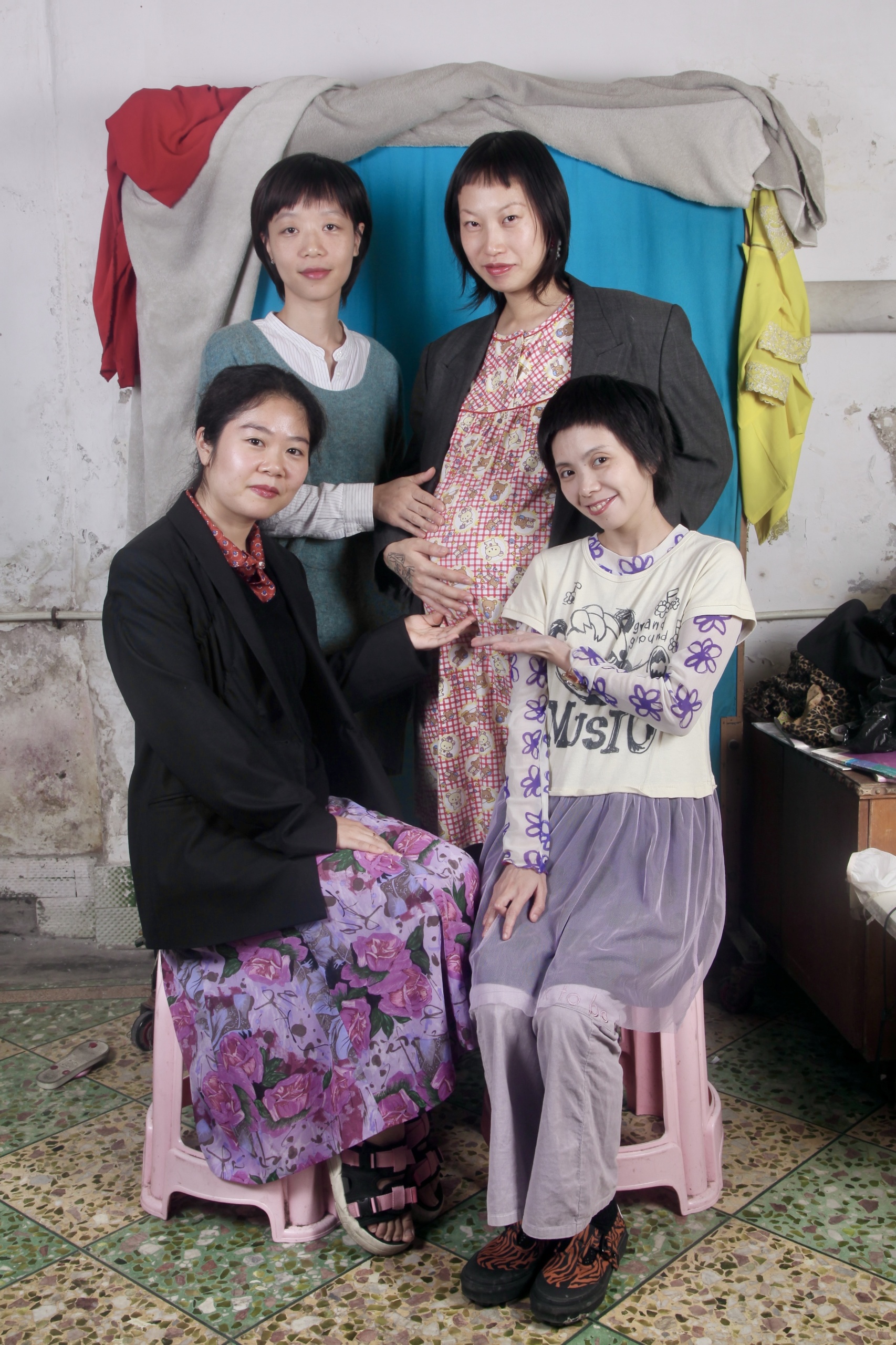 NZTT Sewing Co-op
"Sewing is an outlet," explains NZTT Sewing Co-op in a recent Instagram post. "You can give it a lot of meaning, or it can be meaningless. When sewing, the memory fragments will pop out of your mind. We break free from complicated situations, talk to each other during the sewing process, and broaden each other's experiences." Guangzhou-based NZTT hosts weekly open sewing days where local friends, mothers and children are invited to use the machines, watch movies, hang out and chat.
A sampling of their recent sewing experiments include: adorable fluffy poufs called "companion dolls," lacy umbrellas with ribbons and streamers and green fluffy penises, capes with cartoon faces and picnic blankets with pillows and smiles. This playful, handcrafted quality carries over to their posters, which merge this sensibility with something more digital, stitching together colorful gradients, stuffed teddy bears, cartoon stickers and bubbly letters.
NZTT wouldn't intentionally call their practice anything so wooden as "art" or "relational aesthetics," but seem to be motivated rather by community and connection. In their "intimate forums," they bring together mothers and families and children to shoot music videos, demos for songs, and DJ sets, with event titles like "Guide for Girls And Boys' Families Transforming," "Housewives Also Need Social Status," "Why Learn to Be a Scum" and "Girls' Guide to Transforming."
For their engagement at the X Museum, they have extended this social project by staging a collective sewing exercise focused on exploring alternative family structures. "There are many types of intimate relationships," they write on their callout for the event. "When does the boundary of the relationship appear? When will it disappear? Do I need to have a border?" In the project, they write, draw, and sew keywords on to a big cloth, cut those sections out, discuss them and exchange them with the other members, and sew them into a big book.
Carl Jan Cruz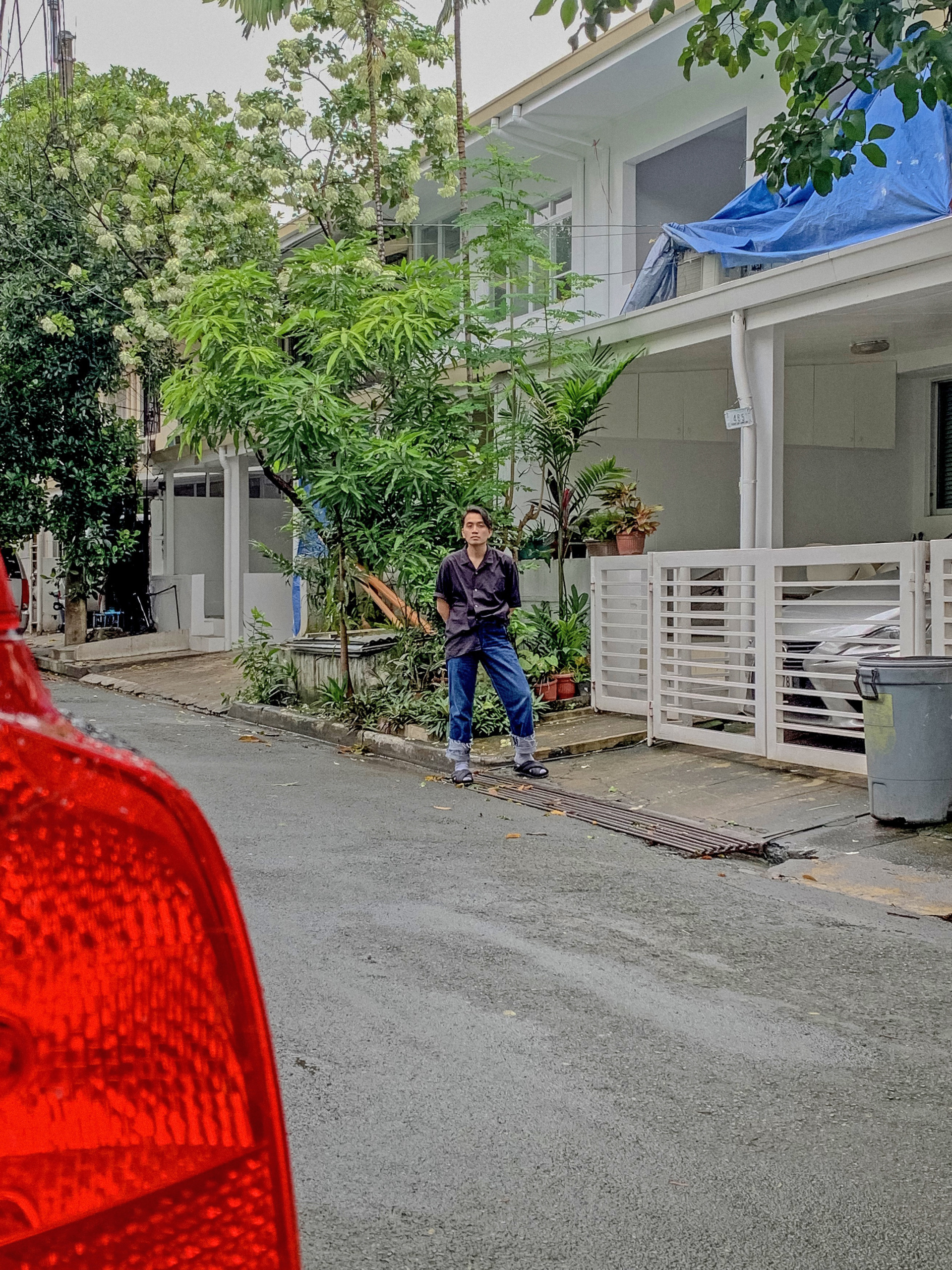 "Function over form" is for Carl Jan Cruz the core sensibility of Filipino design. "You have to think about whether a jacket suits the climate, before thinking about the different ways it could be worn; whether a trenchcoat is light enough to wear in the heat, before you think about obliterating the seams." For this London College of Fashion graduate and alumnus of Phoebe Philo era Céline, practicality, rooted in a particular climate and place, is the seed of creativity. He develops all of his clothing, from fabrics to final pieces, in his Manila atelier. For his most recent collection, he created clothes based on pambahay, or Filipino home clothes.
Cruz has said that the brand began as a visual autobiography, drawing from a range of references he encountered growing up between Manila and London. For example, a striped shirt called "Bowlo in Pique" might have been inspired by a simple striped T-shirt that he grew up wearing on his own in the tropics: pique fabric is common in the Philippines for its lightweight breathability. Or it might recall a memory of wearing a striped shirt with a jumper and a pair of jeans in the UK. In his collections, he often likes to blend and mess ideas of the "tropical" and "high fashion."
While CJC's ambitions are more commercial than others in the exhibition, collaboration and experimentation are still integral elements of the brand. Indeed, a section on his website called "collaborators" lists friends and artists he often works with, and another section called "CJC cinema" presents his garments in collaborative fashion films. For the Fall 2019 collection, for example, he worked with director Simon Te, who made a series of films inspired by the games they used to play as children, like luksong tinik, jolen, and tumbang preso. In the film for his Fall 2020 collection, again shot with Te, models laze around in a room covered in brown paper. They wear oversized denim tunics with asymmetrical cuts and exposed seams, and sheer Chinese-collar shirts and sandals, recalling both piles of fashion refuse as well as local street fashion.
Baby Reni
To be "jetlegged," Irene Ha, the artist behind the project Baby Reni, says, is to have just arrived in one place, but to have your mind elsewhere. It's a phrase she uses to describe a sense of rootlessness from her experience as a Vietnamese person growing up in the Netherlands, and also the name of her precocious undergraduate thesis at the Gerrit Rietveld Academie. Like many of the participants in "Endless Garment," Ha is a fashion designer who finds freedom in the economies and languages of art (others, like CFGNY, are artists who find solace in the casualness of fashion economies; the grass is always greener). Jetlegged (2020) is an installation of clothing elements like shark-fin pants and long stretchy dresses and leotards in surfer colors: lime green and aquamarine and egg yellow. Glittery stickers with phrases like "Cute Shit Only" and "Felt Cute Might Drop Some Scarves Later" decorate the metal armature. Ha calls the clothing in Jetlegged "an archive" inspired by her grandmother's bright, "almost RGB-colored" dresses, which she made to explore the relationship between this heritage and her life online.
A self described "bedroom brand," Baby Reni uses collaboration and connection as a way to explore her questions about identity. Selling things on the website is an opportunity to have a conversation, a long text thread. An amazing towel on her website recreates a chain-text from her Notes app with the title "I want to be a community artist." A section titled "community" on her website serves as an archive of every screenshot, IG story, text message and Snapchat of the clothes that her buyers and friends wear. Her clothes often recreate the texture of the Internet quite literally, in the form of a distorted image or a Note or a screenshot, which are printed directly onto clothing. Her models end up looking like walking personifications of that rippling, ever changing surface.
Another connotation of the phrase "jetlegged" is its similarity to the word "bootleg," an operation that Ha explores in her production methods. Baby Reni is most known for the merch that she sells, her scarves and hats, which are drawn from fabrics from designers in Hong Kong, but produced in the Netherlands. With this, she questions why fast fashion produced the other way around (designed in the West, produced in the East) seems to have less value. Through bootlegging, she seeks to find authenticity. This sort of placelessness, or inversion, is also characteristic of many of the other practices in the show, which seek to interrogate the relationship between the means of production and the sites those products are made to "mean" or represent.
Craving more culture? Sign up to receive the Cultured newsletter, a biweekly guide to what's new and what's next in art, architecture, design and more.