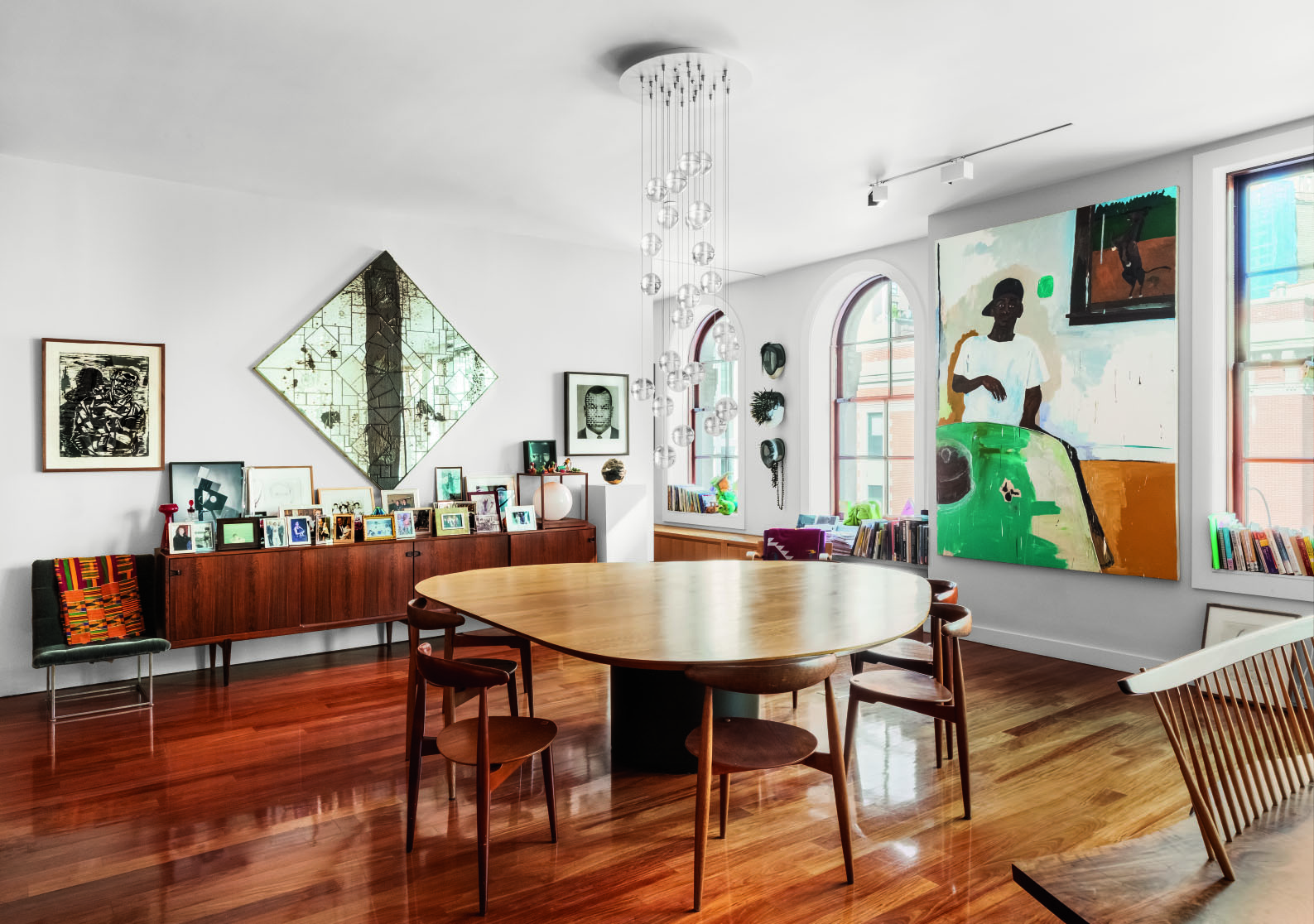 Elizabeth Fazzare: How did you begin to build your own collection?
Bernard Lumpkin: When people ask me how I started collecting or why I started collecting, I always talk about education because for me, this is also where a collector becomes a patron. I think when you're living with an artist's work, a larger goal is building a conversation around an artist and around their work. And that conversation can be one which you share with your children, teaching them about their heritage that they might not otherwise know. My father was African American; my mother was Sephardic Jewish from Morocco. Both my parents have passed away, but my children know as much as they can. And our collection has actually been a way for me to teach them about their roots. People often don't look at my appearance and think that I'm African American, or that I have a mixed ethnicity. But when people come into my home, and see the work on the wall, sometimes I still get the question: Why do you have so much work by African Americans? The focus on artists of color generally, and artists of African descent specifically, is rooted in my desire to continue to understand and learn about my heritage and to have conversations, real or imagined, with my father about race, family, history and what it means to be Black in America. So the collection is very much an educational tool to my journey and the throughline is education.
When I'm in a studio with an artist, for me, that's one of the happiest, most fulfilling places for me to be. And the conversation that happens in an artist's studio is so special. It's such a special privilege to be invited by an artist into a studio. Learning how to do a studio visit was one of the things that I really loved about art collecting as an intellectual, academic endeavor in some way. Because in order to do a studio visit, you have to do research and familiarize yourself with the artist's work; you have to read what they've said and what's been written about them. But you also just want it to be a conversation.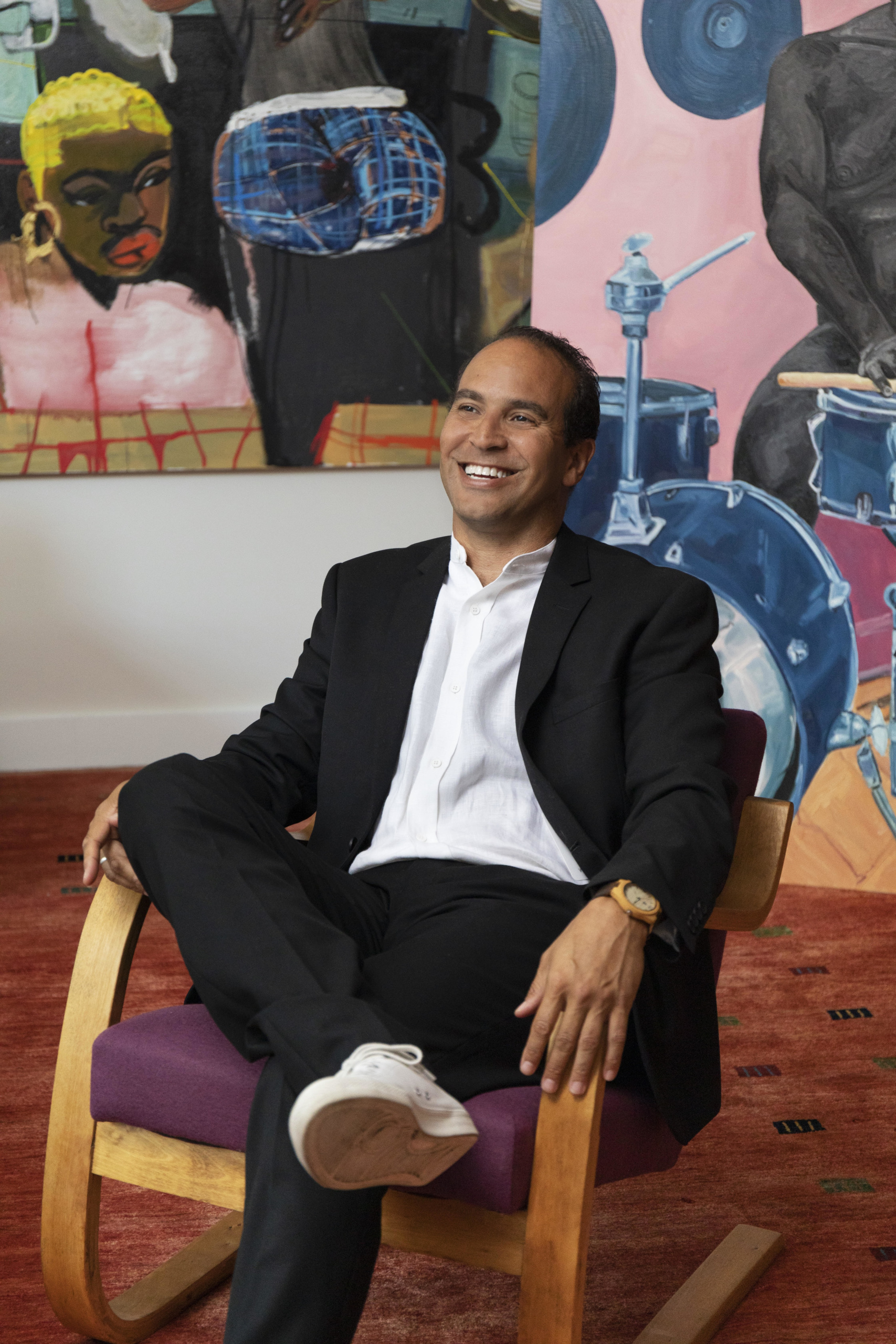 Particularly the studio visits that I do, the artists are often in school or in a residency. They're outside of the commercial space, outside of the marketplace. There are no dealers waiting; there are no curators knocking on the door. So they're free to experiment and learn. I think that's why it's so important to protect that space.
I remember when I first walked into the studio of Tomashi Jackson, whose work is very much steeped in history and law and voting in America through the lens of African Americans. I remember my very first studio at Yale where I walked in and there were all these books from the Yale Law Library on the floor. I asked if she was taking a law course and she said, "I'm not taking a course at the law school. I'm reading these books, because it's for this series that I'm making about Brown v. Board of Education." She was reading the case law around the landmark desegregation case in American legal history, and she was applying it to her work. I'll never forget that moment because that has been a touchstone for Tomashi's work.
EF: The fact that you like to do these studio visits, does that mean that you are mostly attracted to collecting living artists? Or do you also collect artists no longer living?
BL: I think that, for me, everything that I do in my intellectual approach to collecting, my position as a sort of public patron or a Black art ambassador, is connected to supporting emerging artists, and living artists. Because, for me, one of the most wonderful things about being a patron, is to support the artists directly through acquiring work.
But again, as you do that, the real work begins. And the real work is really developing an ongoing dialogue with the artists and helping make connections. I don't so much think of myself as a collector as I do a connector. It sounds kind of trite, but it really is true. I see my role as an advocate of artists.
EF: What pieces inspired you to continue?
BL: I met Henry Taylor and started collecting him. He was an emerging artist at that time. What happened with Henry Taylor is that not only did I meet an artist, and fall in love with work that I have continued to collect, show and share since that time ten to fifteen years ago, but he also was an early artist who introduced me to what it means to have a community of people around and artists all engaged with supporting that artists. Henry was showing with a downtown gallery that was run by Joel Mesler called Rental and Joel was amazing; he really created a space for the gallery that was a creative collaborative for both the artists in the program and also for collectors, and curators and dealers. Whenever there was a new artist doing a show, we would all hang out at the gallery. There was a salon-like atmosphere where Henry would be gathering all these materials for the next show. He would still be working on things, but he also would invite people into that process.
For me, in the early days, it was the artists I collected early on who shaped not only my collection, but also my attitude. I realized that supporting an artist in the conversation with an artist, it's actually a communal, collaborative experience. It's a way to develop deeper, meaningful relationships with artists and it's also just a lot of fun.
I love to debunk the myth that collectors don't talk to each other. My experience, particularly with collectors who are focused on artists of color, is that we feel that it is our duty, it's our mission, it's our responsibility to be talking about what we're seeing and what we're excited about. Because that's what creates the network that ensures that these works will be shown and seen and passed down and written about in ways that didn't happen.
EF: What designers/artists are inspiring you right now?
BL: There's a lot of attention now on Black artists who work in figuration. But, I think the story of abstraction, particularly for artists of color is really interesting because Black artists have traditionally been expected to make work depicting the struggle, whether it's civil rights, the great migration or Black communities. Through those different periods in in art history, there have also been artists who really focused on abstraction, whether it's Alma Thomas with her beautiful rainbow-colored abstraction or Norman Lewis, a painter during the rise of the New York School of abstraction and one of the few Black members of that group to someone like Alteronce Gumby today. He's working in that lineage, in that tradition. Black art is not monolithic. It's not all portraits of Black people. It's also abstraction, though because it's abstraction, it doesn't mean that it's divorced from political or cultural content. Norman Lewis will talk about it in his work: he's also making work about history, about people. Alteronce's work is also steeped in his very specific cultural reference points and the experience of being Black.
There's also a painter and sculptor, also from Yale, Chiffon Thomas, who makes stitched fabric pieces sculptures, which tend to be more abstract, or at least are transitional, of body parts visible or present.
Kenturah Davis, and also Derrick Adams, someone that I call a citizen of the art world, meaning that he's not just an artist making his own work and tracking his own career, but he also has spent a lot of time supporting other artists as he came up as a curator as a sort of collector.
Chase Hall, who has a show opening next week at Clearing. And Allison Janae Hamilton. She makes photography, sculpture and installations.
EF: Does the marketplace help your discovery process? Why or why not?
BL: I think to be a great collector or patron, you must learn about and develop relationships with and be engaged with all sectors of the art world. You have to be aware of the marketplace; you have to be aware of the museum space; you have to be aware of art school; you have to be aware of private collections; you have to be aware of public collections. All of these are tools in the toolbox. They're all opportunities for building community and building community and conversation around your collecting. I have conversations with auction house specialists about artists, about work, about the market, which are important and useful. That's an important part of the art world to know about and to be aware of. Obviously, I'm in conversation with galleries and dealers about their perspective on what's happening in their programs. They're ground zero in terms of what artists need, especially now in a changing landscape.
I think, also, producing the book, Young, Gifted and Black: A New Generation of Artists, I've leaned more into Instagram as a platform for voices of African descent in the art world today. I think that's also part of the marketplace, the discovery of art on Instagram, the connections that happen more easily and more quickly between artists and collectors in the digital space, which I think is amazing, but it doesn't replace the work that needs to come after even if you discover an artist on Instagram, and maybe even buy a work through an artist on Instagram.
EF: What is the one piece that got away?
BL: There was Rashid Johnson work at an art fair, an early one of his amazing shelf pieces. I was really excited to acquire it, but when I went back to pay for it, the dealer said that in the time that I had gone, a curator from a public collection in Italy had come and seeing the work, wanted to buy it. Rashid Johnson is an artist that I've known for a long time, and have collected, and is a great citizen of the art world: a supporter of other artists and also of museums. He's on the board of the Guggenheim. At that stage, I was early in my collecting career, and in that moment, I learned that to be a real patron versus a collector, you have an opportunity to put the needs of an artist first—you want to do what's best for the artists in the world. The work should be in a public place, a work of that scale should be publicized. If that's the best thing for the work, then that's what you should be supporting.
Craving more culture? Sign up to receive the Cultured newsletter, a biweekly guide to what's new and what's next in art, architecture, design and more.