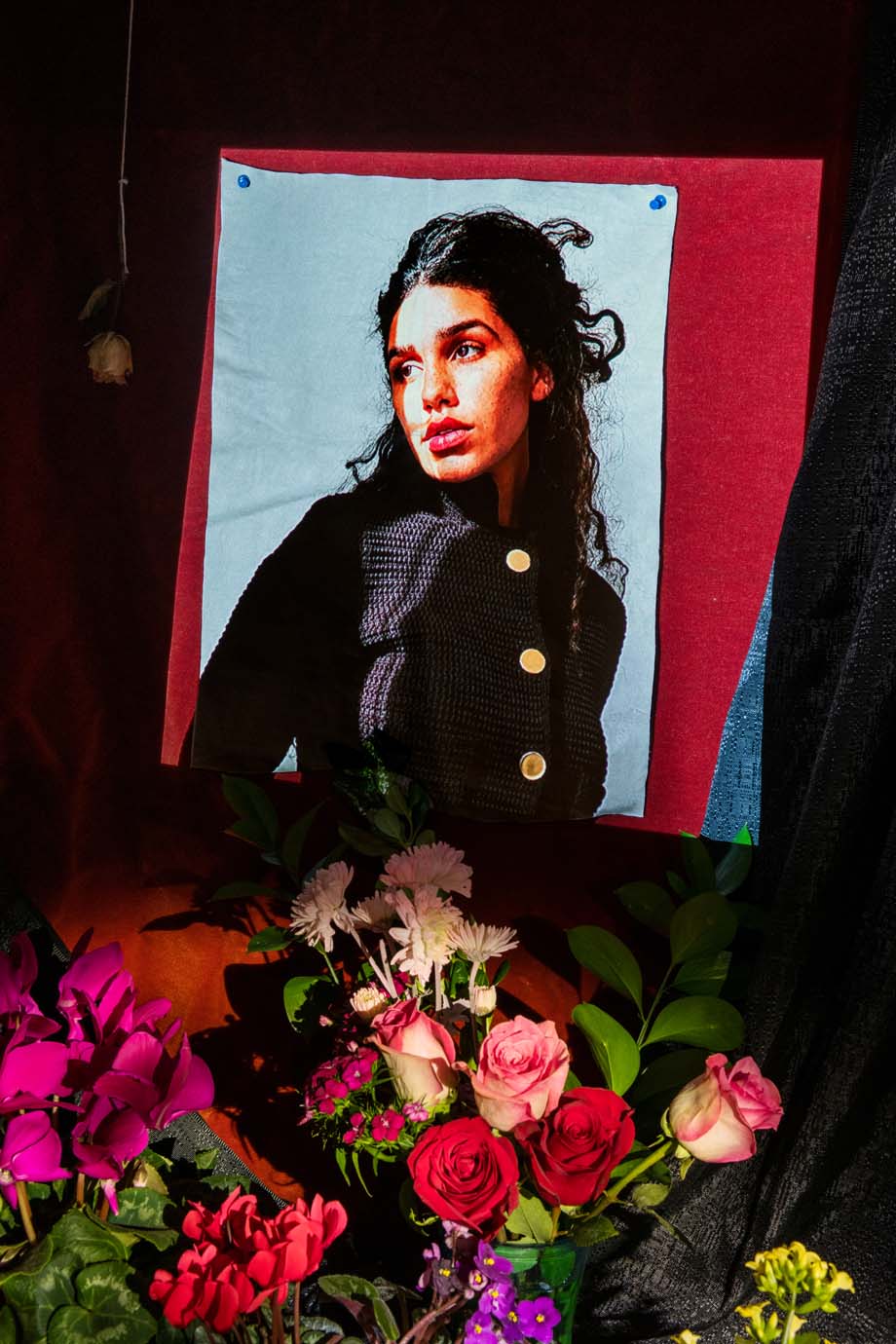 There's a scene in Garrett Bradley's 2019 short film America where a young girl cautiously peeks her head through a front door before entering. Is the home hers? Or someone else's? Though the film is shot in black and white, the room is effulgent, drenched in sun. The girl sits down at the table, tunes the radio to static and puts her head down to nap. A voice comes through, intermittently. During the 50 minutes we spoke by phone, Bradley's voice similarly cuts in and out, resulting in gaps here and there. "I think it literally is when the wind is blowing," she theorizes, from an undisclosed location.
"Something I've been thinking a lot about," she says of the time since the start of the pandemic and last summer's uprising, "is how to restart—like, what does restarting really look like for us, as a nation, as a culture, as a society."
America is a series of 12 vignettes, a motion portrait of figures from the first half of the 20th century: Black Girl Scouts, Black baseball players, Black female pilots. A family watches a baptism from the watery view of the baptized. Haunting yet saccharine, it feels like a dream—or is it a memory? Currently on view at MoMA, a three-dimensional installation of America supplements Bradley's film with scenes from Lime Kiln Club Field Day, a 1914 film thought to be the oldest extant feature with an all-Black cast.
Of the hundreds of "race films" made from World War I through the 1940s—the corpus of early Black cinema—maybe a few dozen remain. Bradley sees this as the absence that it is, but also as a spectral presence. In making this contemporary silent film, she chose 35mm not only because it was the standard at the beginning of the 20th century, but because "it's also, still to this day, in 2021, the most reliable form of archiving something. The lifespan of 35mm film is 500 years, which surpasses any hard drive that exists right now." (The average hard drive lasts three-to-five years.)
Loss is not merely what slips from us; it is, more often, what's taken away. Time is Bradley's 2020 feature-length film about a woman named Fox Rich and her fight to free her incarcerated husband, Robert, from the Louisiana State Penitentiary, known as Angola. Rich spent 21 years waiting, calling, lawyering up, and gave Bradley an archive of home recordings that she had made over the two decades. The film, like America shot in black and white, includes lo-fi video fragments from the archive, heartrending soliloquies addressed to Robert, documentation of their kids' first—and last—days at school.
Much of the film portrays mundane bureaucratic struggle, the slow, extractive churn of carceral capitalism. In one scene, Fox is talking to Rob on the phone. He's describing clouds, and then his astonishment at the pecan orchards, planted when he first arrived, now tall and full. "Really?" Fox says. "Yeah," Rob responds. The phone beeps. A message plays. It's from Securus, the communication firm facilitating the call, a company known for price gouging and illegally recording conversations. The call between Fox and Rob is over.
Bradley lets out a generous "Hmm…." before responding to questions. The filmmaker was born in 1986 in New York. Her mother, Suzanne McClelland, and her father, Peter Bradley, are both abstract painters with institutional recognition. They fell in love, had a daughter and were divorced after a year. Bradley describes a sense of rupture, a different kind of familial absence. "I've never had a family dinner, where everybody comes together."
Her father toured the world with Miles Davis, sent his daughter gifts from far-flung places. Though she grew up surrounded by artists and musicians, "filmmaker" and "artist" were never aspirations. "I thought I wanted to be a judge or a race-car driver," she says.
Her love of cars may have something to do with her dad's proclivity for Ferraris, but "the judge thing for me—and, of course, as I'm older I realize that there's a lot more complexity to the role of judges—but to me it was amazing that there was a person who could, in an ideal world, create justice. Could evaluate what was fair."
"I decided to invest in this idea of creating dialogue, and invest in this idea of the gray area."
Like most American children, film was a part of growing up. Disney films in particular, which she watched over and over again with her grandmother. "When I think about it, they're all films that are really about loss, and having to [static].... forge a path for yourself." The future filmmaker struggled with reading, due to what she calls an extreme case of dyslexia. Bradley didn't start making art until she was in high school. She submitted her first film to a festival for students at Quaker schools—and won. "I was like, 'Oh, I'm good at something,'" Bradley reflects. "I found a way to communicate that felt effective and nourishing."
In film, she also found a means for dialogue, for practicing care. "For me, that has been the best way for me to connect to the world—through images."
Film provides a platform for collaboration. Time's Southern Gothic drone shots of Angola and slow zooms onto Louisianan oil rigs are set to a soundtrack by Emahoy Tsegué-Maryam Guèbrou, the 97-years-old Ethiopian pianist and composer whose bluesy, liturgical music Bradley found through YouTube's algorithm. The soundtrack for America is by Trevor Mathison, a member of the Black Audio Film Collective, who was suggested to the director by artist Glenn Ligon, an executive producer of the film. Mathison's use of loops and reverb evoke a sentiment aptly described by Bradley as "a nostalgia for our future selves," complimenting the film's gauzy veils and oblique shots of industrial machinery in repetitive motion.
Putting these artists in conversation, Bradley thinks, may grow out of her own family experiences. "My mother's side and my father's side come from very different backgrounds," she explains, "and have not really been in direct dialogue with one another, which might be part of the reason why I decided to invest in this idea of creating dialogue, and invest in this idea of the gray area."
Even if it can be difficult to articulate radical demands from such gray areas, the political commitments and personal connections that Bradley forges in her filmmaking have a way of opening up new possibilities. Time grew out of her work on a short film from 2017 titled Alone, which follows a woman named Aloné as she struggles to decide whether to marry her incarcerated partner. This film is where Fox Rich makes her first appearance, and in one scene, she says to Aloné, "Instead of using the whip, they use mother time."
Since last summer, the demands for abolition have gained steam: Prison abolitionists like Rich have moved from a marginalized position of Black radical politics to a more mainstream discourse on the left, an incredulous, unimaginative liberal establishment notwithstanding. Part of this reckoning comes from the understanding that a historical continuum exists between slavery and contemporary policing and punishment, and growing belief in the possibilities of shifting carceral budgets to fund alternative programs of care, crisis intervention and accountability.
Bradley's work, rather than making these political programs and historical narratives super explicit, focuses on the everydayness of these cruel systems and resistance to them. "I kind of embed those things in the work," Bradley says, "and some people might see them, and some people may not. But I don't feel a huge responsibility to make every one of those things unequivocal."
Crucial to her films is the portrayal of life and love's smaller tasks, those tiny but accumulative strikes against the banalities of evil. Towards the end of Time, Rich is on the phone, unsuccessfully trying to get information about an appeal. In a rare break from the kindhearted stoicism we've witnessed throughout the film, she hangs up the phone, and the frustration breaks through. She's waited 20 years, and now they're telling her she needs to wait some more. She's despondent—a prisoner even though she's on the outside. But then she gathers herself up. The liberation of her husband, her lover, the father of her children—Rich will not rest until it is done.
"Success is the best revenge," she declaims. "They gon' pay, they gon' pay, they gon' pay. They gon' fuckin' pay!"
Something else Bradley has been thinking about lately is "how we use space, how we think about ownership and property, how we think about our basic economy and the people that actually make it happen." She also senses a change in her practice as a filmmaker, but is not sure what that will mean or what it will look like. "I think that's part of the journey of being an artist," she says, "is everything you don't have control over."