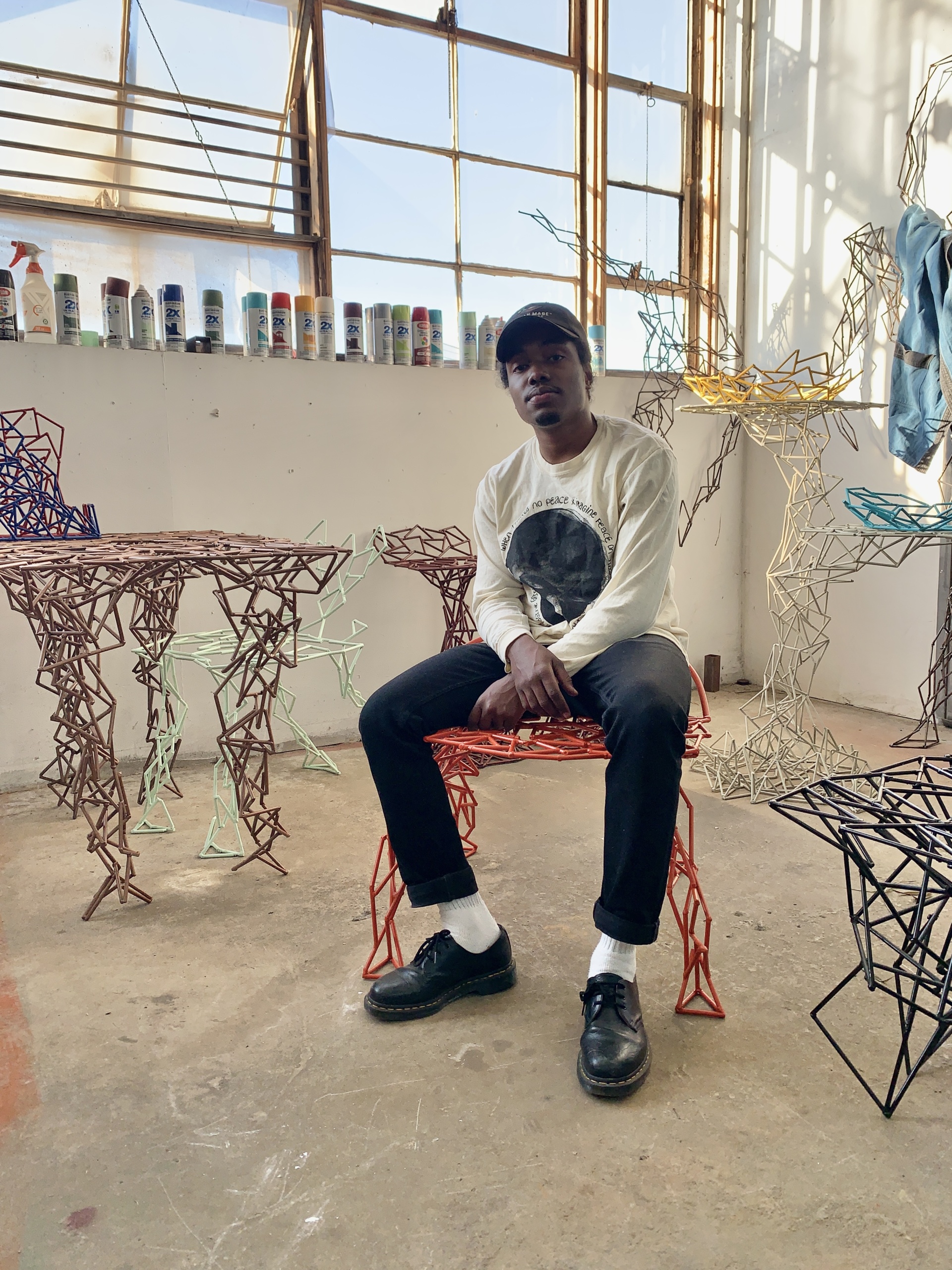 I never thought I miss ballet as much as I do, but after a year without a performance, I've begun to dream in pas de deux and trois, which is perhaps why I think dancers are leaping behind artist Myles Nurse in his Brooklyn studio Zoom frame. They turn out to be some of Nurse's metal figurative sculptures, initially based on basketball players. The artist confesses his fandom of the sport and the choreography it brings to the human silhouette. "If you pause the screen at any given moment, they look like they are moving on a different level," Nurse says. Nurse's sculptures, like the athletes he describes, bewitch with what look to be impossible feats of strength and sharp delicacy. Through the static of Zoom, they also give me flashes of British sculptor Antony Gormley; this time I get a reference right. "What attracted me to the work was his ability to communicate with such minimal means," Nurse explains. "But what I like about Gormley's work is that each figure is based on an actual person."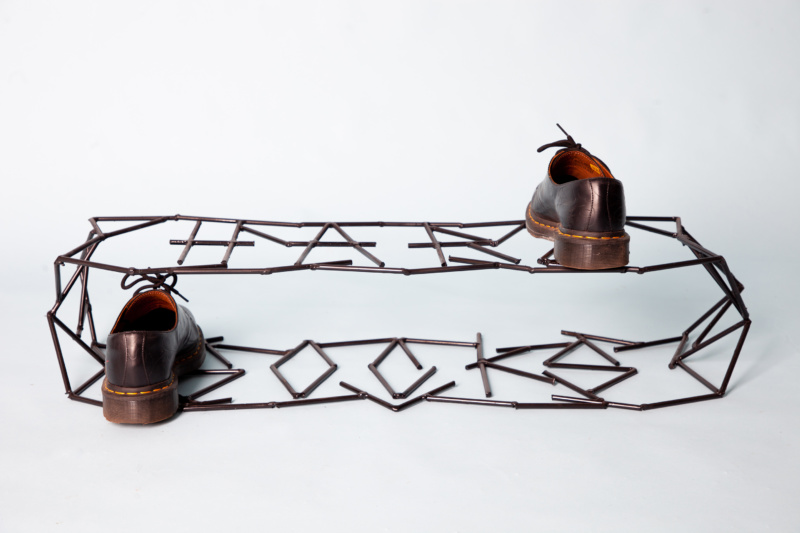 I learn Gormley is just one in a cacophonic pantheon fighting for Nurse's attention. Another one is Ed Ruscha, whose affinity for palindromes rubbed off on the artist. He keeps a running Google document of his favorites, sometimes immortalizing his findings within his sculptures and furniture. One stool reads Top Spot. A television stand spells out: NOW I WON. "I think of the palindromes as a kind of balancing tool," Nurse says. "When a piece is asymmetrical formally, the addition of a phrase brings the work back to a centered place."
While there are aesthetic and conceptual idioms like the palindromes that carry across his sculptures and more functional objects, Nurse sees his furniture as a discrete practice à la Donald Judd. So, we make it the primary subject of our conversation, which arose after a connection via design curator Raquel Cayre. Nurse and Cayre joined forces this winter for the launch of the latter's new flexible curatorial platform, Open Source.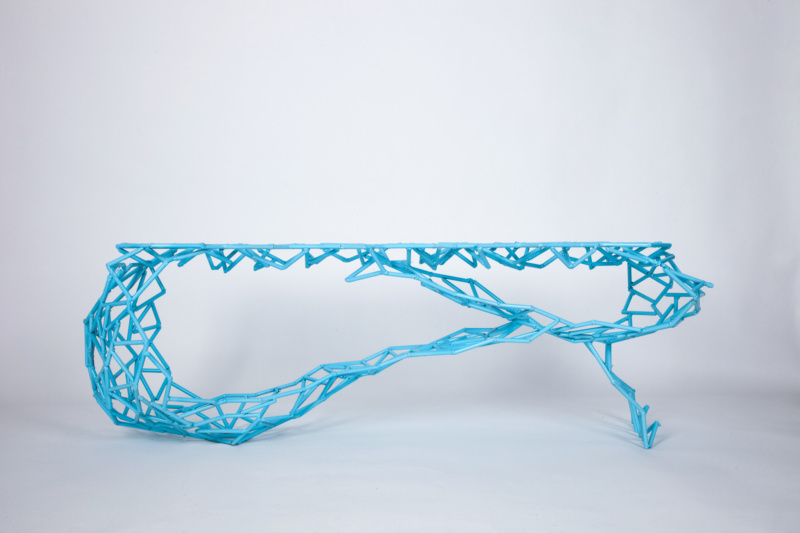 The collection of tables and chairs he made for the occasion was set to go live in December for the holidays, but in a friends and family presale the lion's share of the inventory was snatched up, postponing and setting the mood for Open Source's public debut on raquelcayre.com. Today, Nurse's works went live, inaugurating a new chapter for both curator and artist. Open Source as a site shares strong affinities with Nurse's practice. It exists at the intersection of art and design, it is conceived to be accessible and transparent, it's reactive, it's eager to evolve. For instance, my favorite detail of the site is the rabbit hole of internet research that Cayre has published so that others might follow her down. These parallels are no coincidence, as Open Source more or less developed alongside Nurse and Cayre's friendship, which began during conversations for her Chairs Beyond Right & Wrong exhibition at R & Company last fall. The short version: Nurse helped coordinate a loan, a studio visit was proposed and then followed up on. There Cayre discovered not only a treasure trove of work ready to be shown, but also the push she needed to create a platform for putting forward new names in an ecosystem she views as indefensibly one-note. "The galleries and press are either not doing their homework or they are not taking chances, because everything I see is always the same," Cayre says by phone. "Myles is the perfect example of someone who was working right under everyone's noses. After working on the Raquel's Dream House, I had people writing to me every day with new work. Some of it was amazing. I wanted to develop a space where I could help guide artists to new opportunities without stifling their chances to work on other projects."
Accessibility, which is also essential to Nurse's practice, bleeds into every facet of Open Source, including the pricing, which is purposefully in the starter-pack range. Cayre and Nurse hope that this new collection of candy-colored furniture and home accessories allows those interested in collecting an appealing entry point to realizing those fantasies.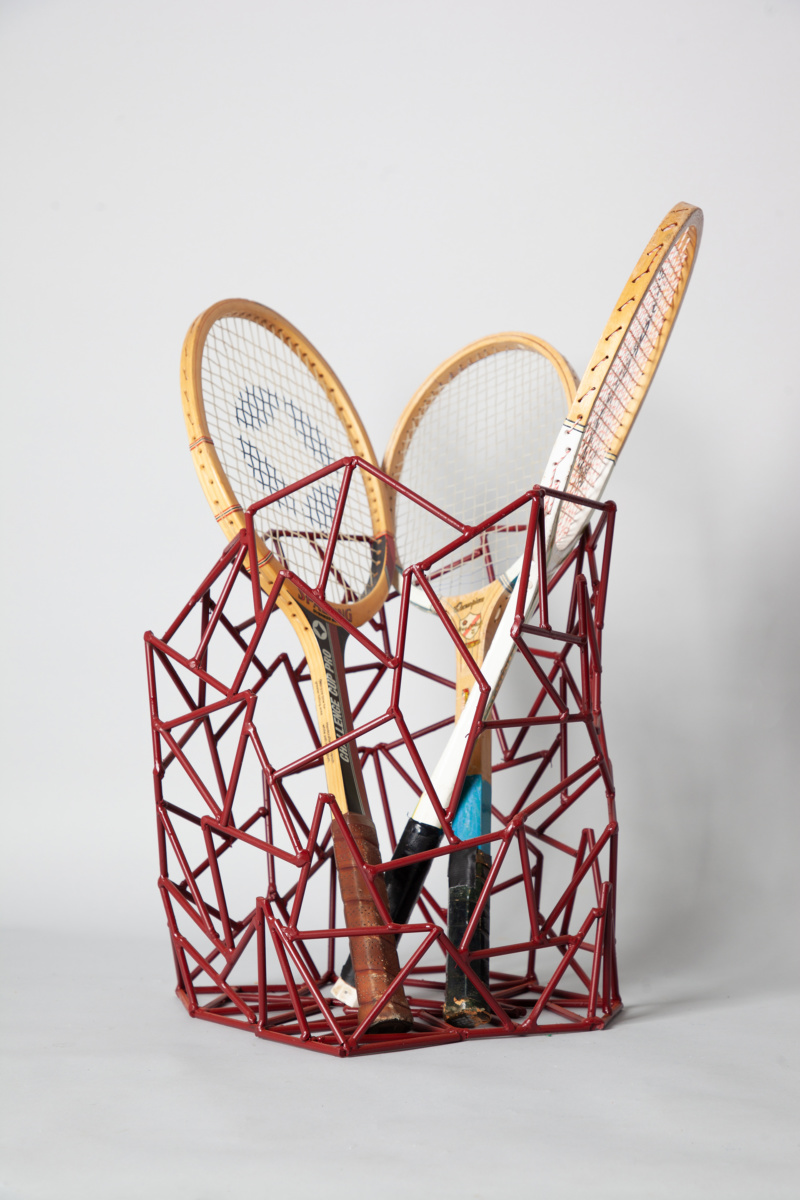 On Open Source, the term hands-on is both a literal function of the work and a mindset. Nurse's pieces echo this feeling with their palpable sense of touch. Sometimes there is a preparatory sketch done ahead of time, but generally the sculptures are assembled solely under the spell of a welding gun. The artist describes his process as a place where the canonical voices in his head disappear and music (Erykah Badu, Jay-Z, Frank Ocean's Blonde) shepherds an internal rhythm between machine and man. Fine tuning this methodology over years of handiwork, Nurse has developed an idiosyncratic aesthetic signature, one with strong conceptual underpinnings. Spun off from an undergraduate thesis project using Q-tips—a medium chosen for its affordability—the webbed metal structures the artist now solders together pay homage to their table-top forefathers in the way they are precariously fabricated one link at a time. "In college I was thinking a lot about the nature of communities, how we may overlook a person in a community but without them the structure won't hold. I was seeing the same thing in my studio, because although some of my sculptures can consist of 1,000 pieces welded together, or hundreds of Q-tips, there could be one piece responsible for keeping everything together," Nurse says. "I started to appreciate each piece, as abstract as it may look; they also have an essential part in the whole."