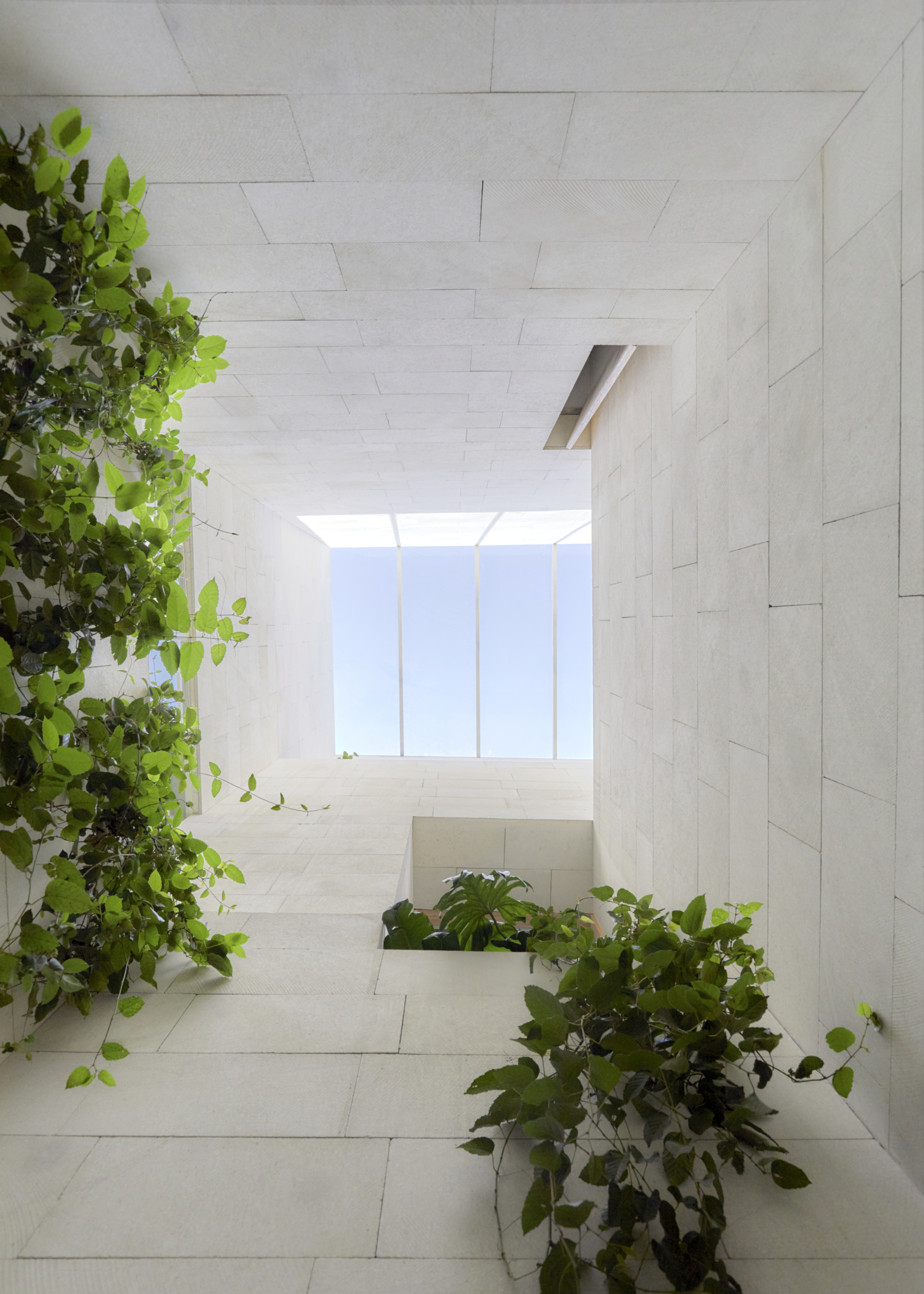 When arriving at Círculo Mexicano—the six-month-old hotel from Grupo Habita, a Mexico City-based hospitality firm known for its design-forward projects—one instantly feels the comforts of an old home. It doesn't have the lived-in bourgeois messiness of, say, the dwelling in Alfonso Cuarón's 2018 film Roma. Situated downtown, just behind the famed Zócalo Square, Círculo Mexicano rather exudes a sense of long-attenuated formality, of hurried ghosts where the switchback staircase shows wear in the center of its steps, of the grandeur of old-fashioned entertaining—and a sense of cleverness in the integration of modern architecture in such a nineteenth-century space.
The bones of the building once housed the great Mexican photographer Manuel Álvarez Bravo, who was born on-site in 1902. The new tendons— the glass, steel, wood and overall Shaker-inspired minimalism—have been added by the Mexican architecture firm Ambrosi Etchegaray. Together, the then and now gel to form one of the most compelling hotel openings of 2020. The feat is especially notable considering how brutal 2020 has been for the travel industry.
Both public and private spaces within Círculo Mexicano beg to be explored. For the post-COVID era—whenever we get there—there are common areas with tables and chairs for resting, reading or working outside of one's room. This actually relates to my one complaint about the hotel: my room had a beautifully designed little table and chair by the renowned Mexican furniture company La Metropolitana, but the setup wasn't optimal for laptop productivity. A long table set in the open corridor on the first floor would offer an ideal alternative, but with the pandemic still looming that means sitting and working with a mask on. (I should note that Círculo Mexicano's COVID-19 protocols are thorough, with staff wearing both masks and face shields, on-demand housekeeping, temperature checks and more.)
Complaints notwithstanding, my balcony faced República de Guatemala, a quiet street over which looms the Catedral Metropolitana, a massive Catholic landmark, built between 1573 and 1813. The Day of the Dead holiday was approaching, and vibrant potted marigolds lined the church's perimeter. The room's bed—no headboard—rested on a raised tiled platform with a direct view of the cathedral. These chambers, twenty-five in total, are all about ecclesiastical minimalism. My favorite feature in this suite was a towering, open-air yet enclosed sitting area, with a water fixture for background noise, a few hanging green plants, two wooden chairs (also courtesy of La Metropolitana) and a simple wall candle left with a keepsake matchbox. I read here for hours, a serene hideaway in a time when serenity is hard to find.
Even if you don't book a stay at Círculo Mexicano, the hotel allows visitors to its rooftop. (A downstairs restaurant is in the works, but is not yet open.) The sauna, gym, hot tub and pool are for hotel guests, but a lounge area serves strong drinks and bar food—try the steak tacos. I went up to watch the sunset, and felt the same as I did from the moment I arrived; there's a special kind of magic to a hotel that immediately feels like home.