Vousta
Snow has begun to intermittently coat the leaf piles and dormant fields of the Hudson Valley—a milieu that makes you want to reach for one of the tangibly yummy, visually outrageous cashmere blankets and pillows that wallpaper-and-fabric house Voutsa released earlier this fall with Saved New York. Covered in hand-rendered lips, snakes, billowy polkadotted curtains and Grecian urns, Snuggies these are not. The collaboration is a reminder that home is a place where you can be fully, unself-consciously yourself.
The heart and brains behind Voutsa, George Venson, says Voutsa x Saved NY might not have happened without a 500-acre farm in Claverack, New York. In 2018, Voutsa had just opened its first showroom, and Venson needed to step away from the scrum of New York to clear up any confusion between the brand and his own name. Over two years of farming, hiking and contemplation at the rental property, Venson also ridded his psyche of big-city hustle. In that first year, he was almost powerless to churning out new patterns; after a year of rural quiet, so came ideas like the aforementioned collaboration.
With new visions come new plans. Venson is now in the process of moving from Claverack to Los Angeles, where a recent vacancy has allowed Voutsa to double its showroom space. Once there, Venson will continue launching collaborative collections while developing deeper relationships with Voutsa's California-based designers. With gratitude to the Hudson Valley for reigniting his unapologetic spirit, he plans to venture into film projects, as well.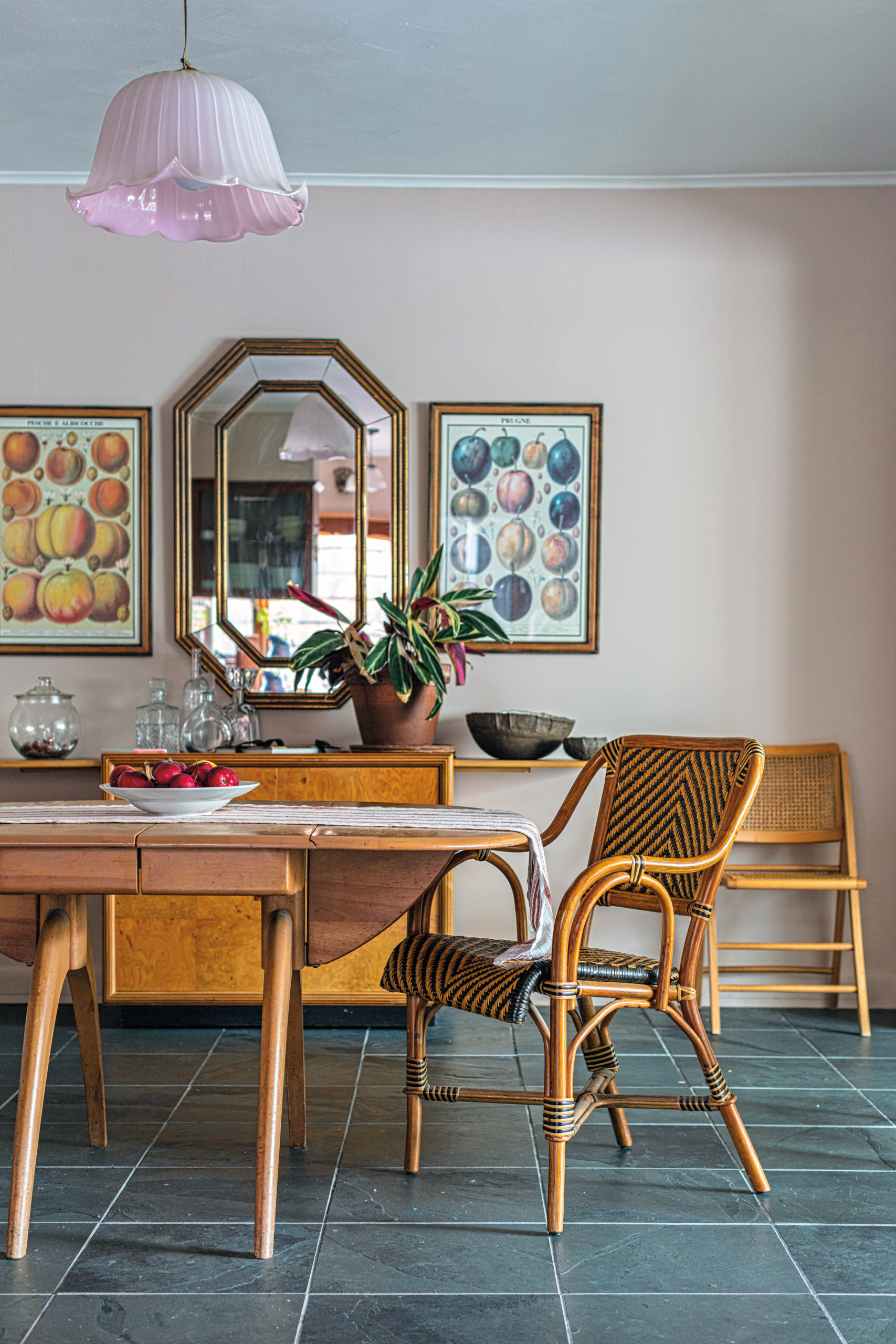 Jennifer L. Salvemini
For all of this year's focus on sourdough starters and fantastic work-from-home setups, the pandemic hasn't exactly stripped "homemaking" of its single-income-household, misogynist associations. Through her Shokan, New York–based interiors practice, Jennifer Salvemini is embracing the word with utmost deliberateness and reclaiming it for a new era.
Salvemini's journey as an entrepreneur began in summer 2016, when she launched a consulting business after more than a decade in hospitality and fashion management. While unsure of her exact service offering at the time, she believed in "happy homemaking for happy life" as an ethos as well as a motto. Shortly thereafter, a newly minted homeowner in Troy, New York tapped Salvemini to oversee the conservation and modernization of an impressive brownstone in the Collar City, and she continues threading the needle between that client's contemporary art collection and penchant for Japanese culture with the historical integrity of the Victorian-era building.
COVID-19 finds Salvemini operating on two fronts. She is burnishing her interior design bona fides with a multisensory listening room destined for the next Kingston Design Connection designer showhouse. Simultaneously, she is gradually opening a lifestyle destination called Hinterland. Located on the grounds of her home and studio, Hinterland will peddle in design, tea and more locally conjured treasures, and the campus is already hosting events and Airbnb rentals. Once fully manifested, Hinterland will illustrate Salvemini's definition of homemaking—not some falsely nostalgic daydream, she says, but rather creating safe and beautiful places for restoring one's spirit.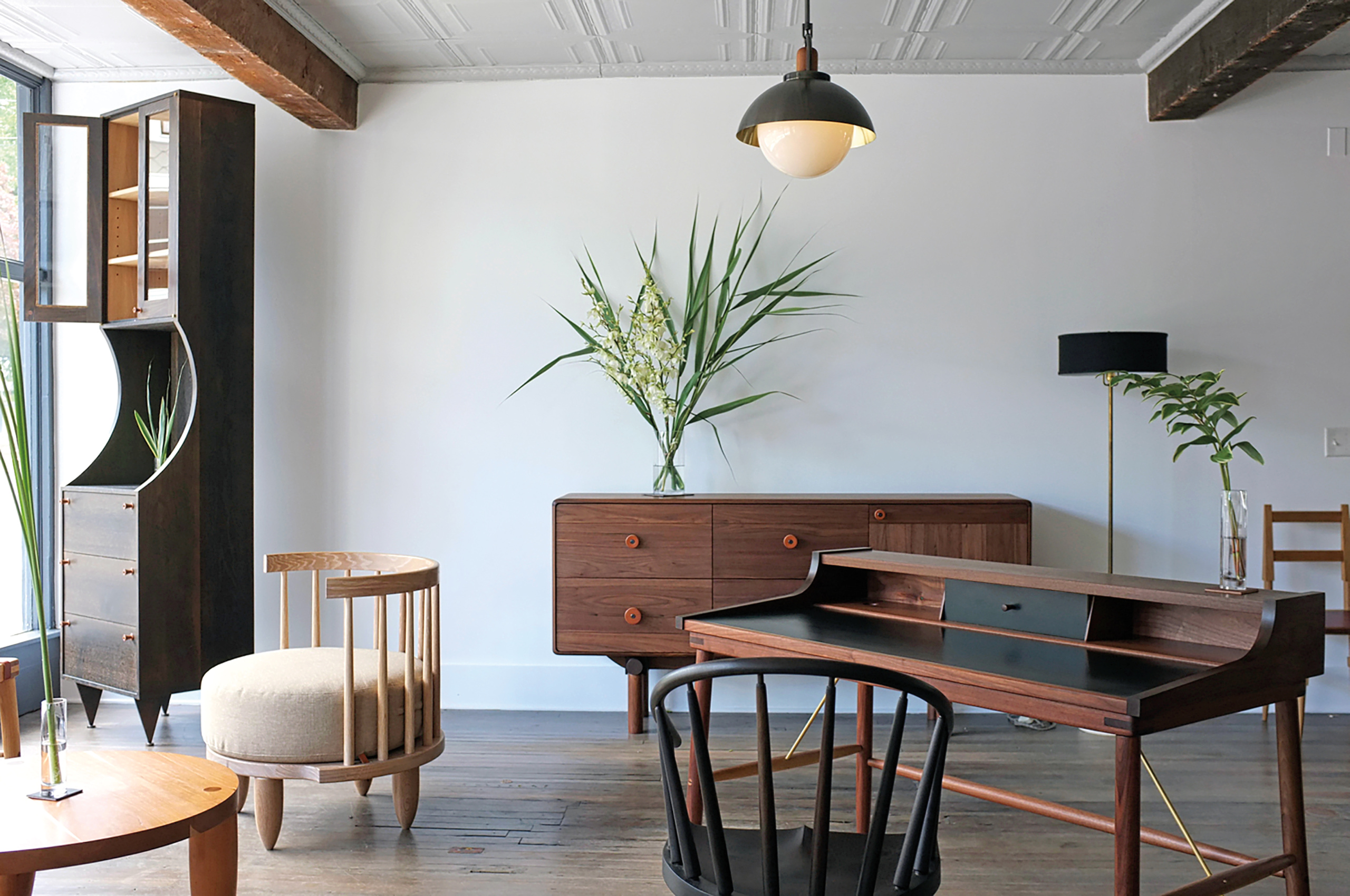 Michael Robbins
The plat-glass windows facing the Michael Robbins showroom in Germantown, New York, are regularly covered in finger and nose prints. These most minor acts of vandalism are certainly a symptom of our new era of appointment-only shop visits. They also evidence the spell that Robbins has cast over his fans since 2011.
That year, Robbins had just finished building a custom adobe house in Santa Fe and packed his things for the Hudson Valley to dedicate himself solely to furniture making. Robbins's predilection for open spaces and cosmopolitan energy is reflected in his personal furniture vocabulary as much as his changes of address. The pieces have the same genuine simplicity and honesty as work by Robbins's Hudson Valley predecessors, which include the prestigious Sawkille Co. and Atlas Industries, as well as the provocative proportions and playful spirit of American studio furniture. His latest two series, New and Beebe, have cemented Robbins's place on the Hudson Valley map. The designer has dialed up the frisson between large and itty-bitty gestures in these case goods, and he has framed the compositions in plump, huggable curves. No wonder hands are stuck to the storefront.
Further evidence that Robbins is on the right track? A 2021 move to a former garment factory, where manufacturing will spread across two floors and greater experimentation with concepts, materials, finishes and techniques will take place. And because we almost always return to our roots, he will be breaking ground on a new home in Germantown.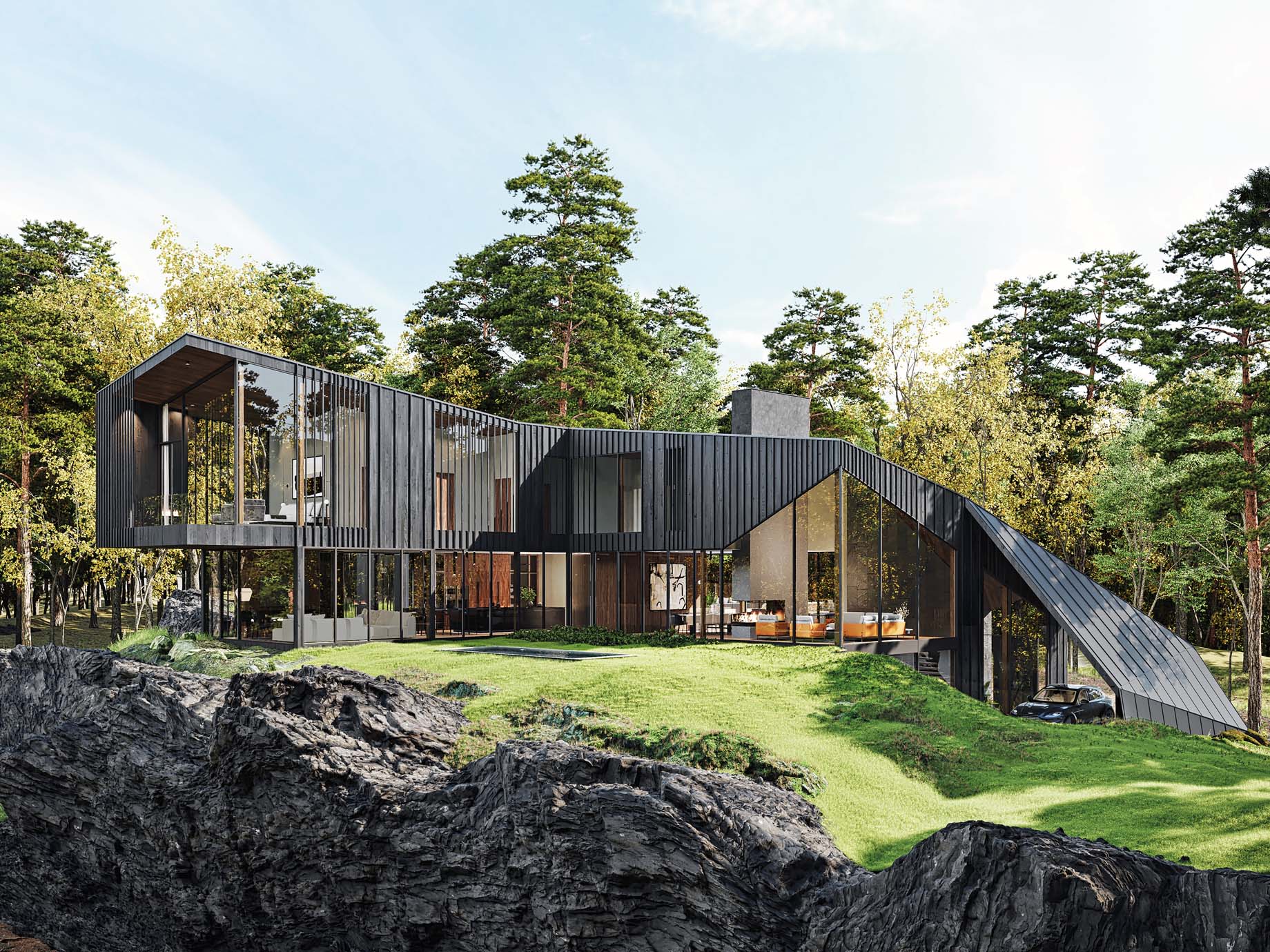 S3 Architecture
In recent years, forward-looking developments have popped up in the Hudson Valley, some of which are owned by their architects themselves. Drew Lang of Manhattan-based Lang Architecture has sold out his Hudson Woods collection of houses in Kerhonksen and Mapos and is just wrapping up renovation of the Newburgh Wireworks. This coterie welcomed S3 Architecture into its fold in 2017, when the New York firm purchased Rhinebeck's Brooklyn Heights Farm for redevelopment into single-family homes. S3 collaborated with the Dutchess Land Conservancy to masterplan more than 200 acres for open-space protection. It then designed a small series of residences in response to specific siting (say, a vista that deserves a perch-like building) and land characteristics (a patch of cattails is transformed into vertical cladding).
While Brooklyn Heights Farm nears selling out, it bears noting that the project has inspired Aston Martin as well as homebuyers to come calling. The legendary auto maker reached out to S3 in 2019 to design the first house in its Automotive Galleries and Lairs service on 55 acres in nearby Milan, New York. In turn, S3 has made a nature-inspired design whose many signatures include a panelized roof plane, which swoops down toward the entry drive to form a futuristic porte-cochère.
Besides sinking financial equity into Brooklyn Heights Farm, S3 has taken an even more personal stake in the Hudson Valley. Christopher Dierig and Doug Maxwell, partners in S3 and in life, recently completed a small, yet boldly cantilevered cottage for themselves in the Rhinebeck area, and they are opening a studio space in the namesake village shortly.
Workstead
You may be wondering why a story dedicated to emerging creative voices in the Hudson Valley would include this Brooklyn and Hudson, New York–based powerhouse. Stefanie Brechbuehler and Robert Highsmith founded Workstead in 2009, and the married couple's dear friend and fellow principal Ryan Mahoney joined them a year later. Since almost day one, it has been the focus of fiercely positive attention and increasingly prestigious residential and hospitality gigs.
Now, look more closely at Workstead's lighting studio. While Workstead has consistently designed one-of-a-kind luminaires for its spatial commissions, in 2019 the firm opened its Hudson location as a showroom and studio for lighting. Highsmith took its helm to create sconces, pendants, chandeliers and freestanding lamps conceived directly for an e-commerce platform.
The subsequent product releases have been quick and steady, while feeling like a natural extension of a more deeply rooted Workstead vision. For the firm's recent Shaded collection with Schumacher, Highsmith wrapped the elemental shapes of his Archetype luminaires in three timeless Schumacher patterns. The pairing lends a touchable, seductive quality to lighting and, when coupled with Schumacher-clad walls (something that Brechbuehler and Highsmith just tried in their own dining room), vertical surface and light source meld almost indistinguishably into a single plane—a radically modernist proposition. Like its interiors and buildings, Workstead's burgeoning lighting collection both reveres and remixes historic heritage. It is also a reminder that Workstead is still very much the Young Turk shaking up preconceptions.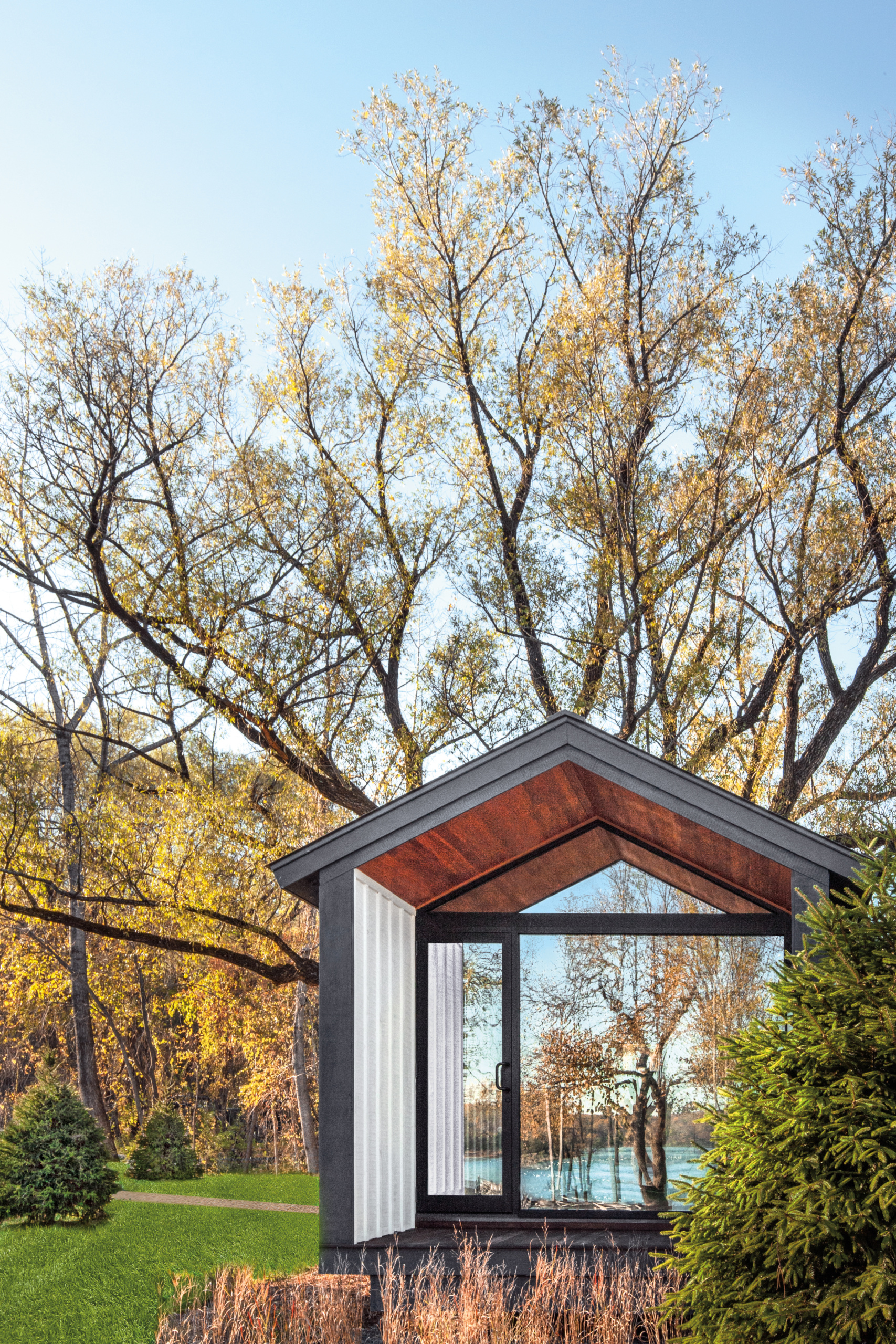 Kristina Dousharm Architecture
Based in Red Hook, New York since 2014, Kristina Dousharm is already an unofficial mayor of her adopted hometown. The Pratt Institute–trained architect will just about scuttle KDA's queue of bigger-budgeted commissions to serve a planning board or assist a neighbor with a pressing design need. Her unflagging receptiveness to local projects is motivated by the belief that we all deserve expertise and high-quality design.
Dousharm's civic understanding of the architectural profession would deserve kudos on its own, but this service also has substance. In the recently completed Hilltop Residence, also located in Red Hook, KDA reconciled the architectural vernacular of the Hudson Valley with ambitions of 21st-century living; an appropriately modest exterior belies interior and landscape designs that are both exhilaratingly spacious and highly choreographed. Across the Hudson River, KDA used crisp detailing and syncopated openings to reinterpret the traditional gable form for the Quarry Ridge Residence in Saugerties, while the studio's cabin housing for Salt Hotels engages in a stylish dialogue with the industrial-era ruins of the Hutton Brickyards on the Kingston waterfront. Dousharm is crystallizing a self-concept in which KDA preserves the Hudson Valley without freezing it in time.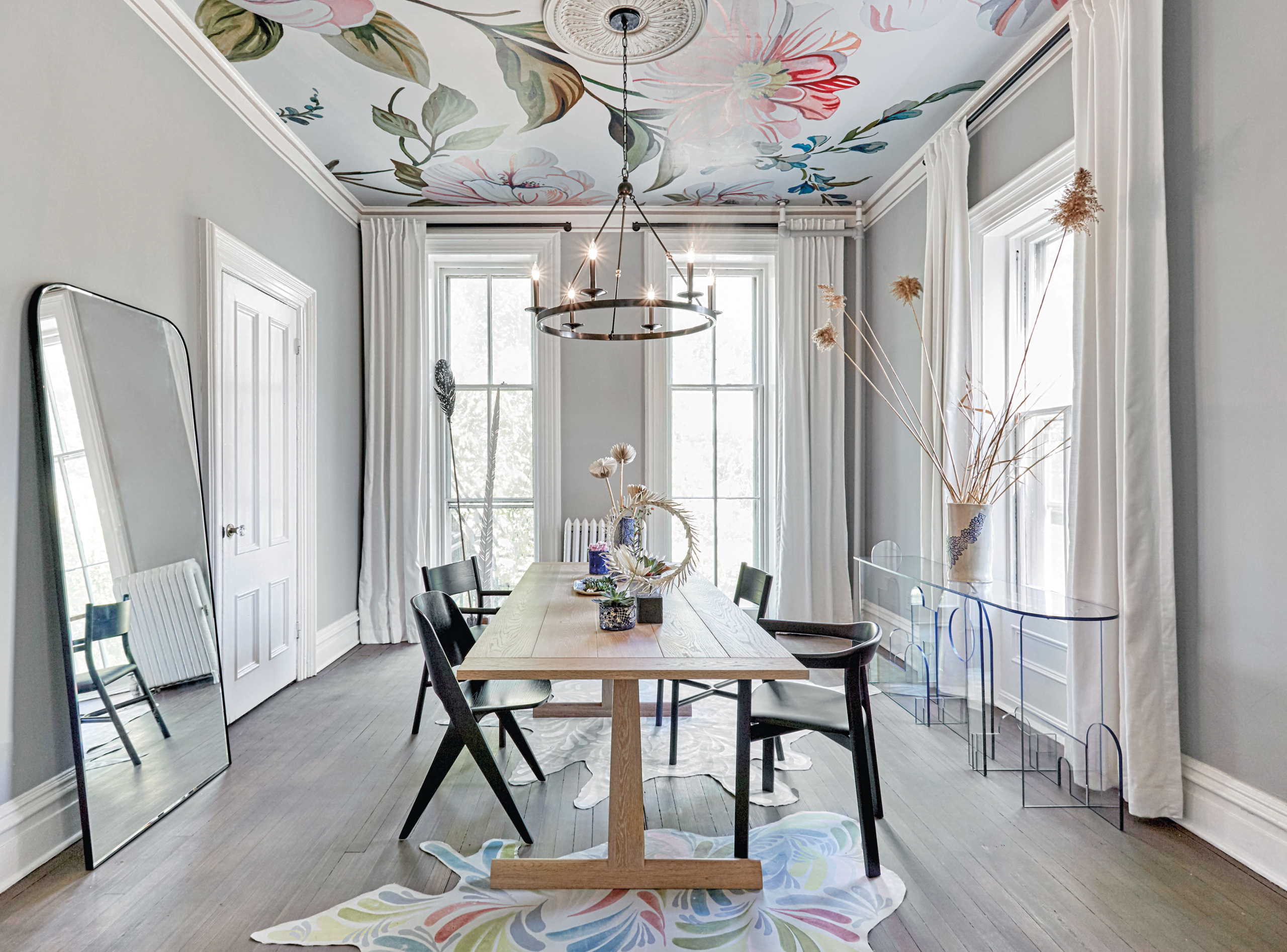 Ana Claudia Interior Design
As this issue went to press, interior designer Ana Claudia Schultz and her husband Aaron Smyle were putting the finishing touches on the Beck gallery in Rhinebeck. Dedicated to the design and artisanship of the Hudson Valley, the space could very well accelerate Rhinebeck's transformation from genteel tourism spot into a maker's hub.
This wouldn't be the first time in her career that Schultz has gone big. Shortly after launching into business, she pivoted from jewelry to interiors. Just months after she and Smyle moved into a dream Brooklyn apartment, a weekend trip to arts destination Beacon, New York, inspired Schultz to start over in the mid-Hudson Valley. And now comes the Beck.
In her daily design practice, Schultz also opts for boldness. She punctuates clean-lined interiors with attention-getting artwork, blocks of color, and drifts of pattern with ease. In the Hudson Valley, that approach seems best suited to the midcentury homes that were once filled by IBM executives. Schultz took on one such residence at the beginning of her tenure in greater Rhinebeck (it is, in fact, the home she shares with Smyle), and that delightful reinvention of 1950s-era domesticity is both an emblem of Schultz's point of view and a siren call to new clients.