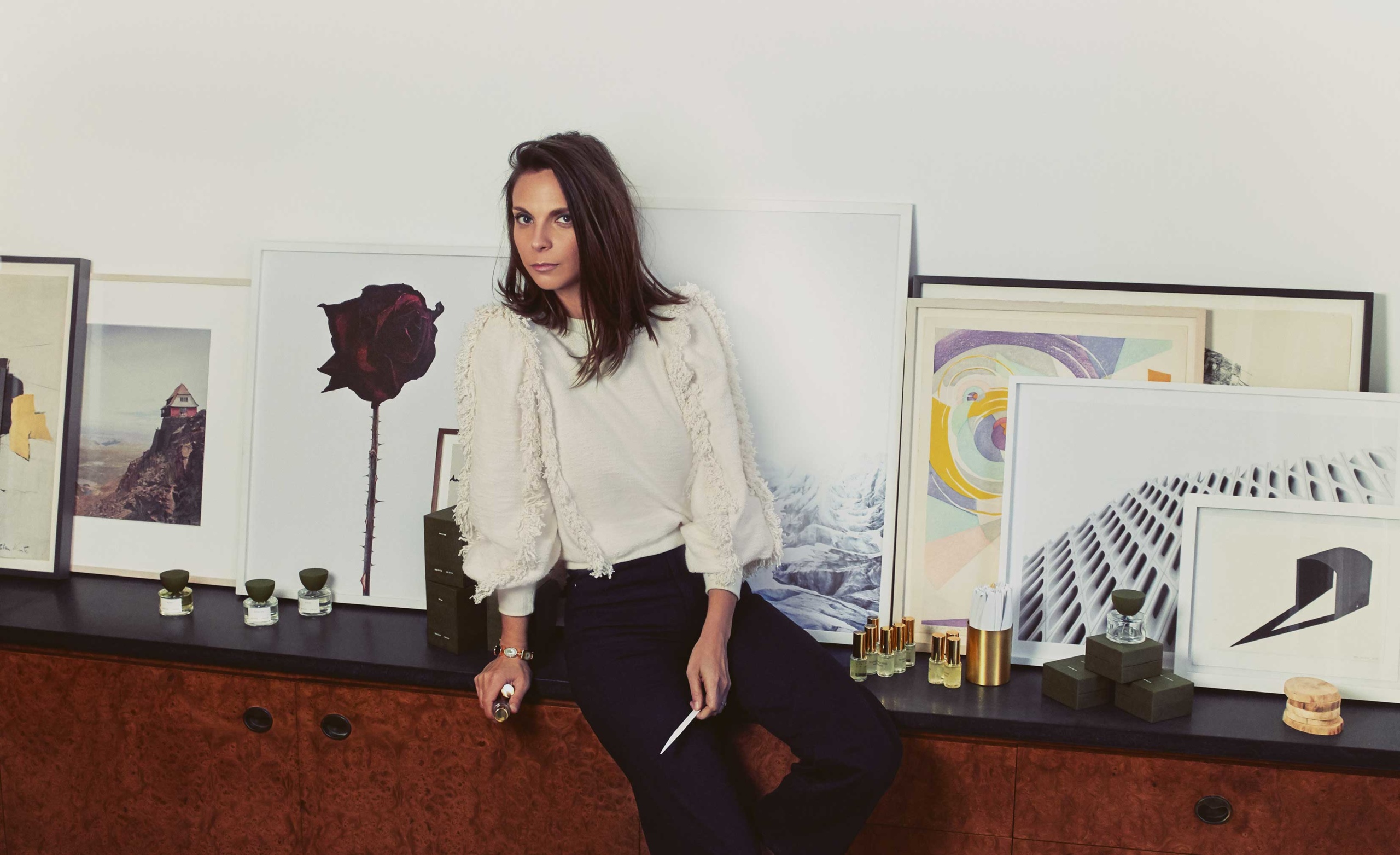 We all have a memory that's intertwined with a scent. It might be the smell of a favorite dish or a place that has its own specific aroma—like the ocean breeze or your grandmother's home. For Brianna Lipovsky, the smell of leather, the inside of a barn, rain, freshly turned earth—to name just a few of the scents that come with the territory of being an equestrian—evoke memories that carry with them unexpectedly universal feelings. Lipovsky transformed these sensory triggers into five fragrances that launched in November—Rotano, Karat, Durban Jane, Macanudo and Canaan—marking the birth of her brand, Maison d'Etto.
Maison d'Etto is Lipovsky's first foray into the world of perfume as a creator, though her expertise in branding within the beauty and fashion industries has most certainly prepared her for the endeavor. Through years of working with creative agencies and luxury labels, Lipovsky has developed a deep understanding of how people connect to a brand's identity. This affinity comprises one of the pillars of Maison d'Etto's DNA—Lipovsky emphasizes the brand's focus on the consumer, hand in hand with the desire to deliver a high-quality, gender-neutral product that is more than just a superficial commodity.
Take the bottle, for example, which argues a place for itself as an objet d'art. The Maison d'Etto fragrances are housed in sleek, sculptural vessels created in collaboration with renowned graphic designer Lotta Nieminen, who is also the brand's creative director. Even at first glance, a sensitivity to art and design reveals itself in forms inspired by Brutalist and Minimalist architecture. This isn't something to put away in a drawer or cabinet, which the brand's campaign photography highlights, placing the bottle among artworks and design pieces like a one-of-a-kind chair by Bower Studios for The Future Perfect. Like many seminal artists—Wassily Kandinsky comes to mind, along with Agnes Martin, who Lipovsky cites as an inspiration—a love for simple silhouettes and for the perfect form of the circle is evident, both visually and conceptually. Lipovsky further explains, "the imagery of the bottle is representative of a struggle to reach perfection and the realization—through dressage—that I will never be able to walk a horse in a perfect circle," a reality she graciously concedes to without letting it deter her from excelling in the sport.
Beyond just aesthetics, Lipovsky also emphasizes the thought that went into the tactile, physical experience of holding the perfume bottle—the weight of the cap signals luxury and the shape and size of the bottle was conceived to fit comfortably in the hands of any individual. The design is a culmination of sensitivity to the space an object occupies as well as how it can be engaged physically and abstractly.
Lipovsky's own spirituality manifests itself in Maison d'Etto, which derives its name from a combination of the words "ethics" and "motto." She hopes the fragrances will create a moment that encourages people to connect with nature and with themselves. Lipovsky finds this repose in the ritual of spraying on her own perfume, her "five sacred seconds" even when there's no time for a proper meditation session. Scent as a conduit for spirituality is something Lipovsky intends to explore through the brand with community-based events, such as sound baths that utilize scent as a supplement to healing. While the five fragrances are named for horses that have impacted Lipovsky's life, Maison d'Etto's core focus is to open up the emotional experience that she channels through her own memories: perseverance, acceptance, triumph, pride, a sense of purpose and a connection with nature. The ingredients of each perfume are deliberately chosen to coax out the same feelings in any individual. Most interesting, perhaps, is the incorporation of a scent molecule derived from a horse, developed by the famed perfume world nose Carlos Benaïm, which gives the fragrance, Rotano, an element of strength and power alongside touches of wood and leather.
Maison d'Etto is like a Penrose triangle, an identifiable form that upon closer inspection reveals a singular complexity; it draws you in with a sense of familiarity and then surprises you with a deeper meaning.