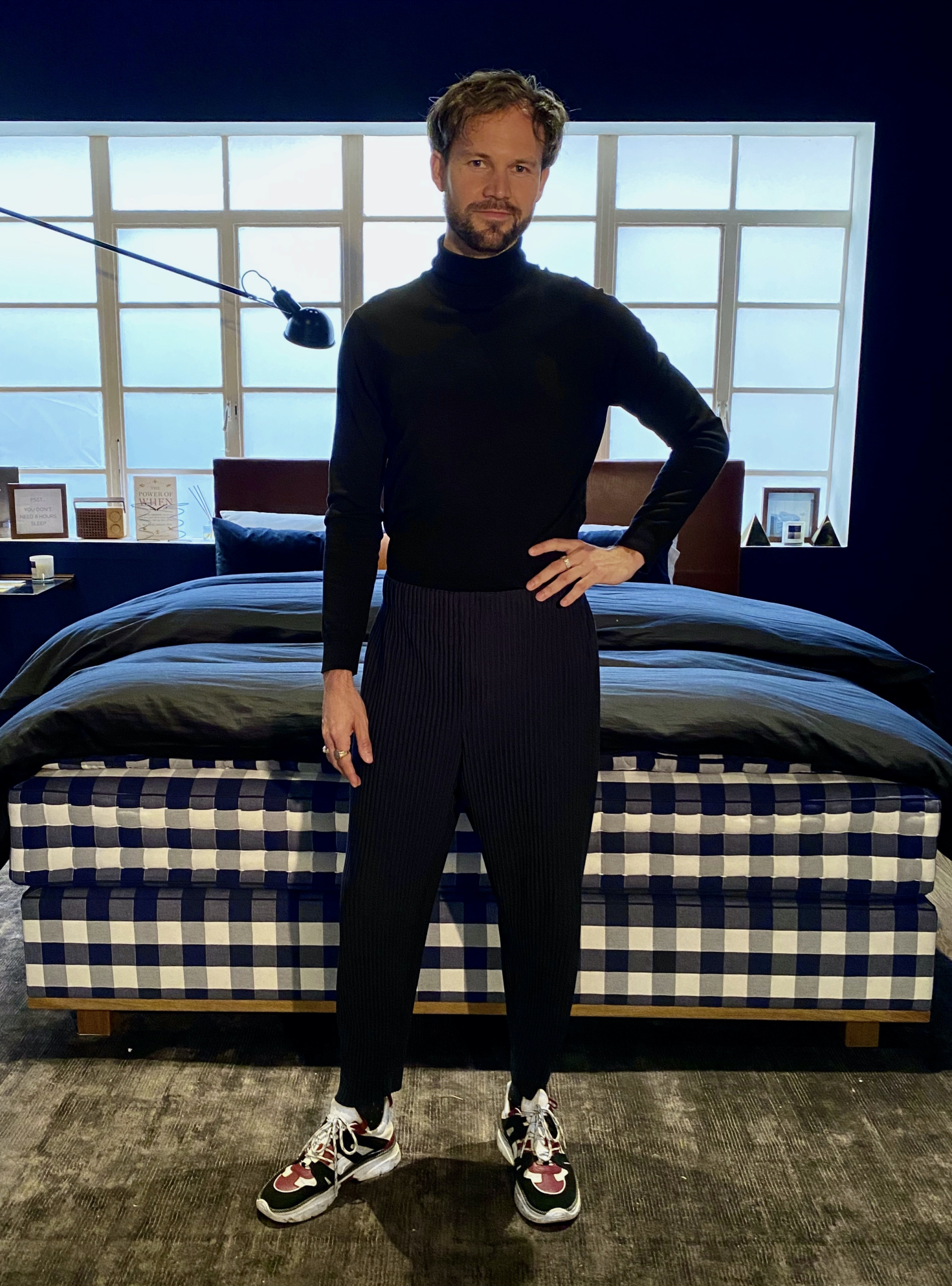 When I was nineteen, I wanted to be the Hästens Man—the man paid to sleep in the iconic Swedish bedmaker's Broadway shop window, snuggled in a luxurious lap of air conditioning and endless pillows. I saw and begrudged him often, while schlepping back and forth between ABC Carpet & Home, the florist, Bed Bath & Beyond and the paper store for my summer internship at Alexander McQueen. Loaded down with nothing—I just wanted to crawl into bed. It was only upon reading Ottessa Moshfegh's My Year of Rest and Relaxation (2018) a year or so ago that I recalled the playful derangement of my then-obsession to get paid to sleep.
I won't lie, money was a part of it. I still have this recollection that his salary was $100,000. I'm not sure if that is something I learned or something I made up with a friend in our ongoing speculations. And now, ten years later, I'm supposed to call him.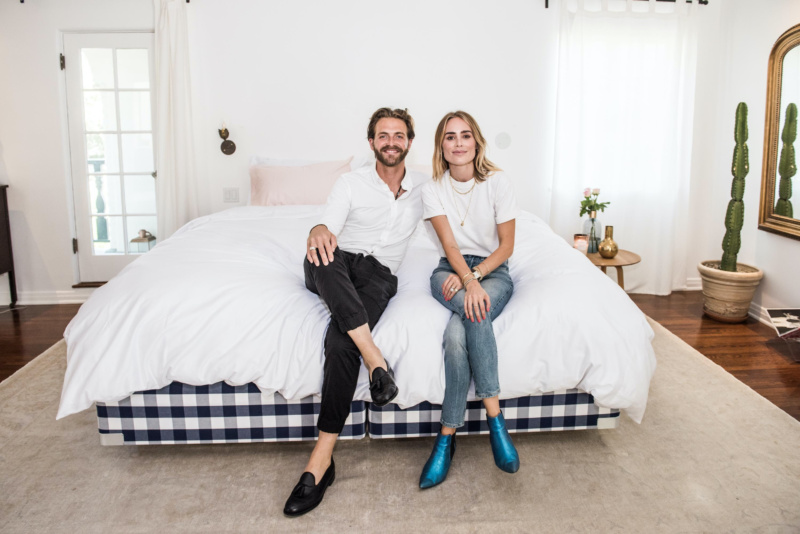 Linus Adolfsson is not actually the man I saw in repose in one of those traditional elf-like sleep caps, day after day. He's an entrepreneur and a Swedish transplant who, at a young age, saw an opportunity to take a Scandinavian household brand and put it in the mouth (or rather under the spine) of every American too. He completed phase one of this plan: a successful franchise takeover of Los Angeles with his concept The Sleep Spa, which revolutionized Hästens's presence on the West Coast with its hands-on approach to customer service. Now, Adolfsson has turned his attention to New York, where the brand has had a foothold but has yet to become a revolution.
"We are going to turn the city that never sleeps into a city of nappers," Adolfsson says, smiling through the phone. His first imprint will be on the Upper East Side—a space he plans to open post-COVID with his business partner Carl Larsson, who helped conceptualize The Sleep Spa's dreamy sales ritual, which begins when one enters the showroom.
"In Sweden, it is not uncommon for the bed to be the most expensive piece of furniture in the house. This is cultural. Sleep is understood to be a sacred, magical time," Adolfsson tells me. "We needed to create a showroom where we would be able to introduce an American audience to this vision." The pillow cult is strong. In his Los Angeles branches (pre-COVID), Adolfsson hosted weekly sound baths for clients, transforming the showroom floor into a community meditation room.
In Adolfsson's eyes, everyone who enters The Sleep Spa is part of the family and is treated as such. Like the Hästens Man of my feverish summer of jealousy, Adolfsson and Larsson's secret has been an intimate, almost shamanistic approach; as soon as one enters a street side showroom, one is whisked into a long conversation that doesn't begin with the product, but rather with sleep habits and relative energy levels. "We wanted the client to feel they were walking into a dream," he says. "It's a giving process. It's about creating a relaxed environment for people to educate themselves and find a spot of comfort. I've found in building this business that the more generous you are, the more that comes back to you.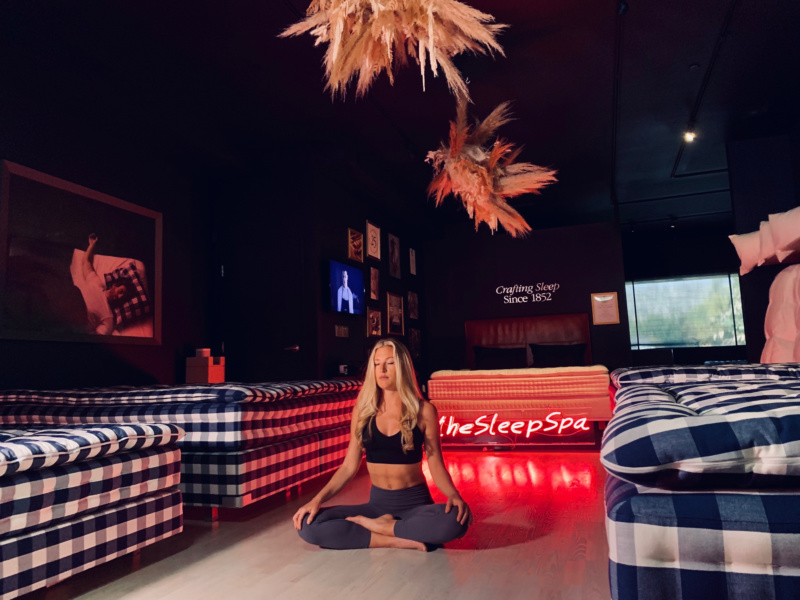 This generosity materializes in overlapping capacities. The weekly sound baths are just one part of the public programming designed to educate and indoctrinate one into a more sleep-forward lifestyle, not to mention three yearly home visits to massage the mattresses for customers who invest in one of Hästens's models. This applies to those who buy in the starting range of about $10,000, as well as the $390,000 Grand Vividus, which Drake took viral last month when he diaried about the pine and horsehair creating an instantaneous new status symbol. Adolfsson assures me that the rapper is not the only celebrity who has made the investment. In fact, part of Adolfsson's success in Los Angeles was the size of Hollywood he entranced through the door. These same pioneers are now spreading the good word.
But while the price tag of the Grand Vividus is a pipe dream for most, Adolfsson's focus is not selling New York on this Cadillac, but introducing an ethos that puts sleep in the same category as self-care. He reassures me that there is not an exponential difference between Hästens's basic outfit and its most luxurious offering—that, in fact, a good bed is just that: a good bed. "The value is there and my hope with The Sleep Spa is to educate New Yorkers on how to invest in themselves and in more sustainable design," Adolfsson says. "I am inspired by the success of CEO and 5th generation Hastens owner Jan Ryde who is the genius behind the brand's 30,000% growth and know that the potential is there."
Even with the Upper East Side flagship postponed due to the pandemic, The Sleep Spa has begun to flex its soft power. Like those indoctrinated before me, I am now a fiend for the Hästens sleep booties Adolfsson sent me as part of a quarantine care package. Skeptical as I was of their fluffy silhouette, I find myself unable to put them away. My boyfriend is only mildly concerned. Perhaps I'm always the paranoid one, because I'm beginning to wonder if Mr. Hästens was ever really paid anything to sleep in that window, or if he just volunteered. As we say goodbye, Adolfsson politely promises to find out the Hästens Man's salary and get back to me. "The Upper East Side showroom is only phase one," he assures me. "There will be lots of new opportunities for sleeping." I nod, put on my eye mask, and roll over to dream about my next one.
For more details contact: Linus@HastensOnMadision.com; cell phone: 310.734.9686; New York Sleep Spa: 212 628-8022; LA Sleep Spa 310.858.1204.