The light and curvature of a streetlight, a Berlin streetlight, long, narrow and paddle-like, an actual streetlight, looms over a white, 4mm steel-plate coffee table, powder-coated, almost a squinted pencil drawing appearing in space but still clearly a table, likely a table someone might have coffee at, I would have coffee at it. This table where I might have coffee, with its massive, brushed metal and seemingly impossible tumor, nearly a rendering, but still definitely real. Seeing Street Light Table, as its designer, Sam Chermayeff, has called it, immediately sets my mind racing with the impossibility of the thing: how big am I really in relation to this streetlight? In reply to my inquiry, Chermayeff writes a simple explanation: "Street Light Table brings overhead light everywhere needed." In my confusion, I laugh and smile. I think of Ursula K. Le Guin's take on reality—"I don't know what is real, but I know what I like." Light everywhere needed. This table, the streetlight, it is surreal, absurd, quite terrifying but somehow adorable, impossible; this is clearly a table by Sam Chermayeff.
Berlin-based architect Sam Chermayeff designs homes, buildings, kitchens, saunas, furniture—whatever need be designed. Born and raised in New York and certain of his path from a young age, Chermayeff comes from a line of incredibly influential architects and designers. His grandfather, the inimitable Serge Chermayeff, and his uncle, Peter Chermayeff: both architects. His father, Ivan Chermayeff, is probably one of the most seminal graphic designers of the 20th century. Given the expanse of his lineage and the immense effect his family has had on the worlds of art and design, when the time came, Sam Chermayeff, hoping to strike out on his own, looked abroad for mentorship. In fact, the younger Chermayeff credits the development of his design foundation to time spent in Tokyo working for Kazuyo Sejima and Ryue Nishizawa at SANAA.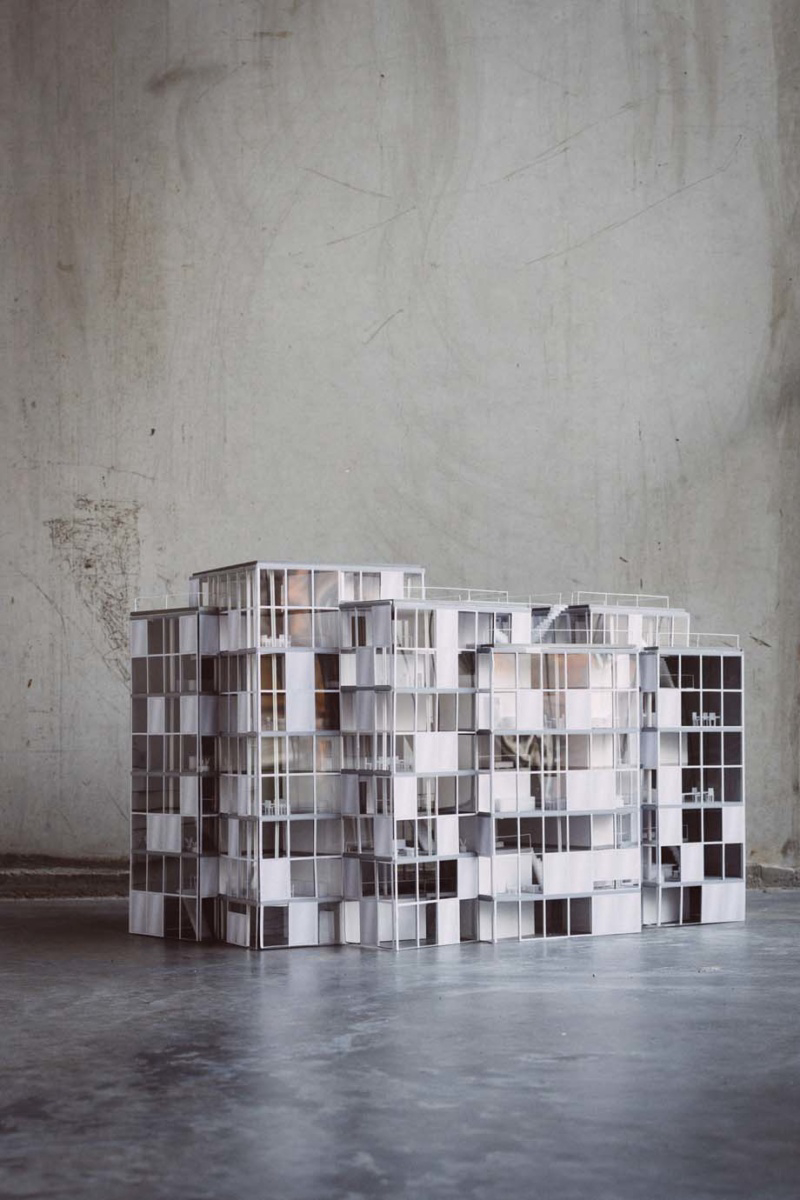 Arriving first as an intern, a planned three months turned into six years and in that time Chermayeff managed projects of varying scales and complexities; the Serpentine Pavilion and the curatorial design of the Venice Biennale rank high on the list. Mentored greatly by Sejima, Chermayeff happily explains that his time at SANAA solidified the methodological structure around which he scaffolds the working environments of his personal studio and the collaborative office, June14, that he founded in 2010 with fellow SANAA alum Johanna Meyer-Grohbrügge. SANAA is an all-hands-on-deck operation with the goal of trying things out, iterating continually and never settling, always in search of just the right type of "program." A "program" differs from the usual architectural "brief" in that it suggests the creation of a design that makes something new from what's given in the brief. Using the example of New York's New Museum, he notes the shifting boxes, their connection to the tower and to the outside, all giving light; it is, in Chermayeff's words, "phenomenally straightforward." It is so simple, he continues, that there are moments when the building and its interplays with light and space feel almost obvious. He takes this arrival at "almost obvious" as a necessary ingredient in his own designs and collaborative projects.
For the last seven years, Chermayeff and Meyer-Grohbrügge have been designing a series of six, deeply interconnected towers for Berlin's now trendy Kurfürstenstraße. In this 21-unit building(s), no space is exactly the same as the inhabitants are given a great deal of control around their exposure to one another and to public space. Neither the cohabitation nor the sharing is enforced by the architecture. When examining the model, it appears that the building is almost undulating in space, waving some form of greeting to the viewer, while simultaneously noting the blocky, neo-classical mashup of the architecture of the surrounding area. Chermayeff and Meyer-Grohbrügge are no strangers to large-scale projects, having created breezy but auspicious, exciting and beautifully purposeful renovations for 3M and the Julia Stoschek Collection in Berlin, among many others.
In his furniture, Chermayeff shows his commitment to straightforwardness and simplicity by redirecting our understanding of particular and often familiar objects. In the bedroom, Triangular Bed becomes larger and most notably triangular. Aptly described again in one sentence: "The bed is for the nuclear family and for its opposite, together." Multiplicity manifests in bed-form. It isn't exactly obvious how you might use it, except no—yes, it is completely obvious, for it is a bed. Lie in it. Somehow the bed in its triangular shape takes on its own, unique presence; it becomes another one of the characters in the cast of things one lives with and within.
Meanwhile, in the living room, one can actually make coffee on the coolly inviting, mostly cream with flecks of brown, slate Terrazzo Coffee Table. Three pieces of stainless steel form the simple gas burner which sits comfortably along the table's round edge. Chermayeff has wondered (and I with him) why have we not thought about the true purpose of the stove? Why are stock stoves shaped the way they are? Isn't it nice to make a cup of coffee in the place we'll be drinking it? Of the Terrazzo Coffee Table, Chermayeff—again a poet in architect's clothes—says: "This table is typologically a kitchen and typologically a coffee table." These questions of dissection and purposeful reorganizing characterize Chermayeff's work and make his surprises and innovations inviting: there is just enough new, just enough off, and plenty of form to inspire a desperate investigation by any passerby; what is that stainless steel airplane propeller doing on the coffee table anyway?
In the bed, the coffee table and Street Light Table, Chermayeff's core interest in design and architecture is palpable and he puts his goal just as simply as the designs themselves: his objects, furniture and even buildings "aren't meant to fit you," but rather to "come along with you." In short, "the person isn't necessarily at the center of the dance. It is a dialogue."
On the horizon, Chermayeff has begun to scale up. His program of characters is shifting into the form of private homes, each one exhibiting the subtle play he activates so easily. Chermayeff reminds us that it is always worth revisiting those spaces that we take for granted, to see them freshly, to force ourselves forward through a reorienting of our day-to-day, not only for pleasure but for the excitement of seeing ourselves from just a slight shift in perspective; who knew I'd look this way if I was 10 feet tall beneath a streetlight?