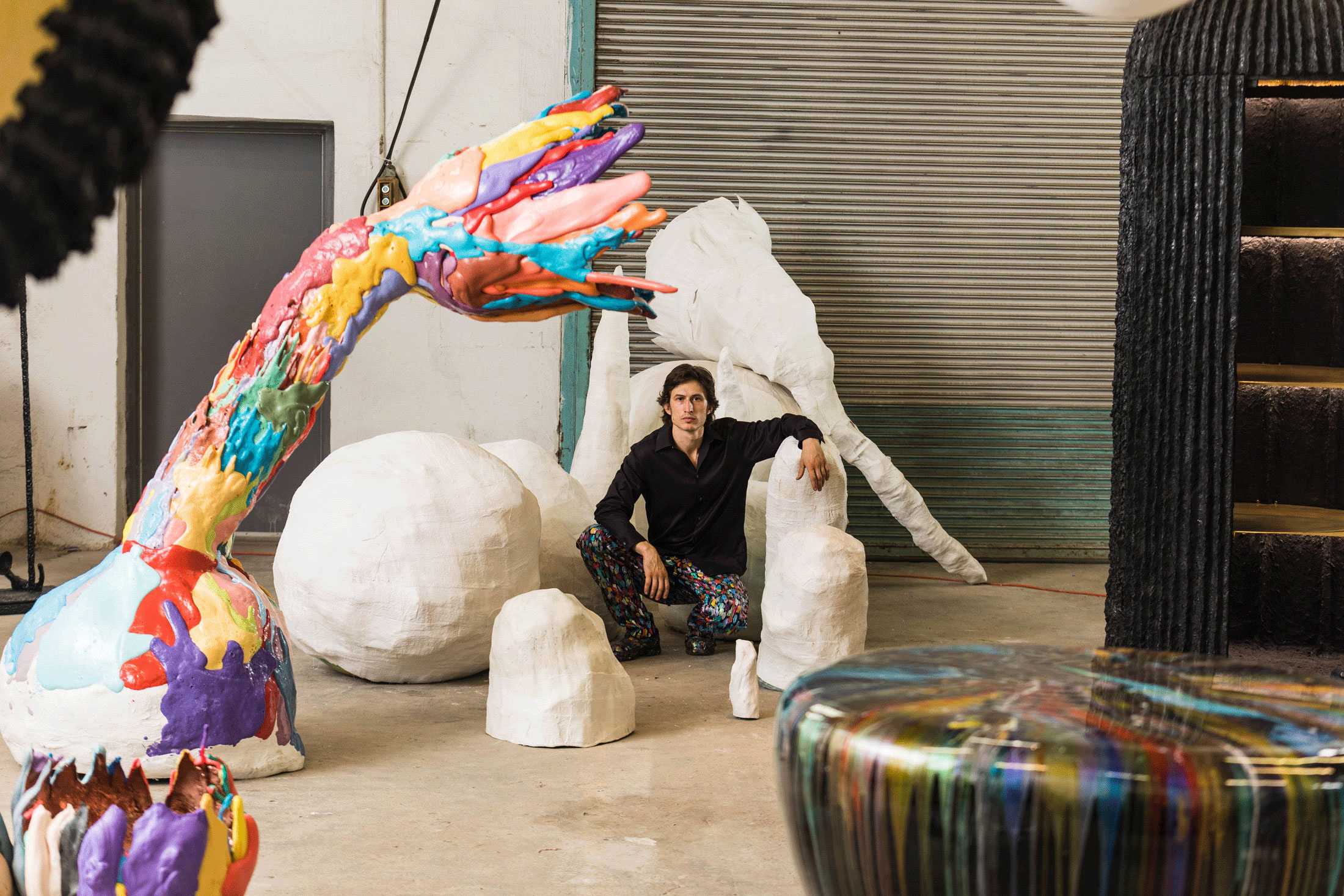 Just south of Canal on Lafayette Street, I push through the double glass doors at Todd Merrill's Studio. On the far wall of the room is a baby blue mural with shapes in the form of loose double-helices lining each side. Designer Brecht Wright Gander sits in front of the monumentally-sized work, combing his fingers through his hair and talking with Merrill. After just returning from showing at the Seattle Art Fair, he is gearing up for PAD London and Salon Art + Design at the Park Avenue Armory. The mural, in addition to the three sculptural lamp pieces standing in front of it, were all made by Wright Gander in a whirlwind year of new work, recently-established representation and art fair appearances.
The lamps come from various collections he's completed over the course of the year. One, holding major presence as its heat-warped copper- leaf center reflects an inlaid LED, is a deep black. The two adjacent are pink and blue and white. They feel playful, almost extraterrestrial. All three were crafted by the 32-year-old designer using a layered combination of steel armature, plaster, resins and epoxies. I ask Wright Gander how his practice has been influenced by his studies in foundational philosophy as opposed to attending art school. He explains the immense value he finds in embracing what is "felt and held." There's a two-fold experience that these pieces employ: the recognition of human touch that one can see in Wright Gander's craftsmanship, as well as the physical relationship one must have in order to realize the lamp's functionality. It is, after all, a light which requires a switch.
"When people put a painting on their wall, they're conscious of the fact that they're putting a thing in their room that they're going to gaze at and that's going to create a particular presence," he says. "But they don't expect that in their light switch or in their lamp. It's almost more jarring and more affecting to sit in a chair and then be made really consciously aware of it, or to turn on a light, and for that experience to be acute and sensitized in a particular way, than it is to put a piece of art in your space that you know is there for your reflection."
There's an eloquence in Wright Gander's responses that invokes a deep sense of trust in his practice. His foundation is functionality, his form a perfect combination of aesthetic play and technical acumen.