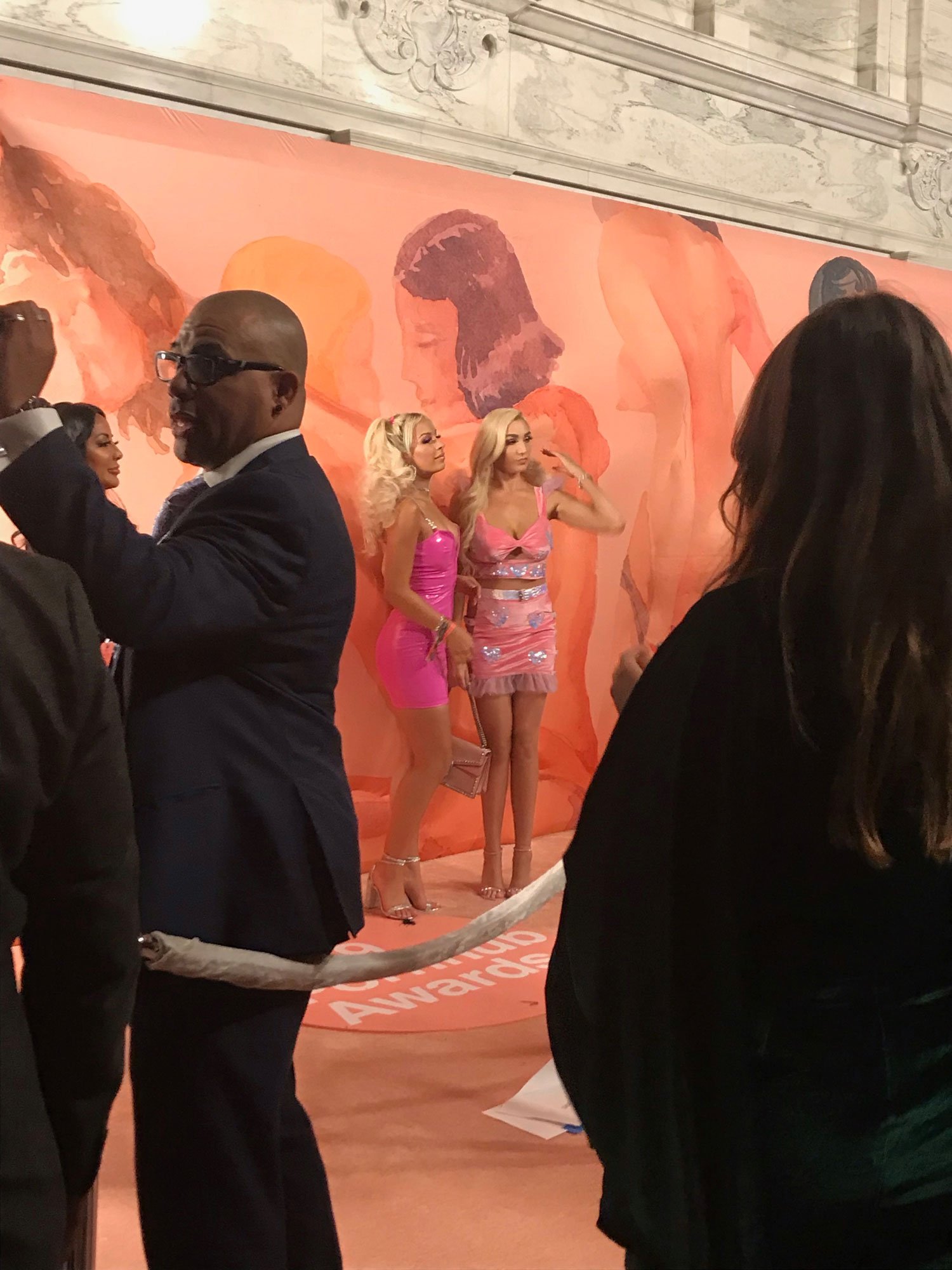 7 PM I'm in the passenger seat listening to the soundtrack of Gaspar Noé's Climax, thinking about how fast this car goes. When Aphex Twin's "Windowlicker" comes on, my friends and I try to draw a collective mental picture of what the Pornhub Awards will be like, though we're only minutes away. The image we conjure is informed by the sounds of the stereo, the pulse of the wind as I stretch my hand out the window and our mismatched outfits thrown together, helter-skelter, in anticipation of the night—though we don't know what the night will contain. Like a vision out of cloud or smoke, our fantasy of what's to come disappears as fast as it is formed, and we are confronted with what we were trying to foresee: a crowd of attendees lined up outside the Orpheum Theater in Downtown Los Angeles, under a marquee that reads: 2019 Pornhub Awards.
As we pull up, we see them more closely: laced-up and corseted; neons and pastels; latex and thigh-highs; lashes, glitter, boobs. The men look like they could be going to entirely different events: some wear tuxedos, others ripped jeans and t-shirts. But there's a consistency in the looks that says, this is fashion for fun. It's sexy and all, but it also reads: I don't give a fuck. This sentiment would persist as the night went on, as the event (closed to fans and the general public except via online streaming) engenders this attitude and the freedom that comes with a celebration of the porn industry for the people within it.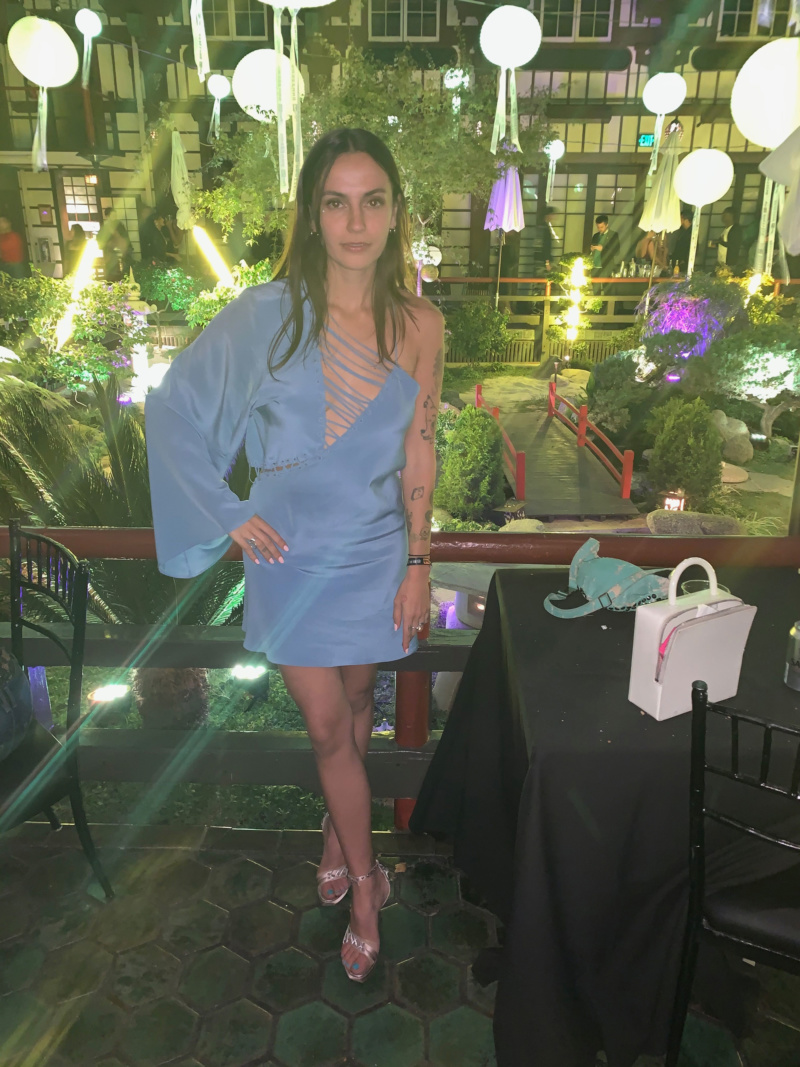 8PM The awards have begun. Bad Bunny is singing "Callaíta," and guests are standing and dancing in their seats. In front of me a woman in a cop uniform throws her hands in the air and sways. Two seats down, in my aisle, a person sits in a full bondage suit—head-to-toe PVC, including hands, feet and face, with no holes for the eyes or mouth—and the woman in the next seat holds a leash around this bondage-suited person's neck.
After the performance, Asa Akira, the host of the awards, gives her opening monologue. There's an emphasis on the most obvious and simple fact of porn: it's ubiquitous existence. "We're in everybody's lives, and we're on everyone's phone" she says, and this self-awareness is coupled with a sense of humor: "In a judgmental world that always seeks to divide, we know it's always best when we cum together." There's also an emphasis on data: Pornhub, a free pornography platform that allows users to contribute their own content, processes 30 billion searches a year. In addition, 1 million hours of porn have been uploaded to the site in the last year alone. These are numbers so large they're difficult to understand. But Akira offers a helpful comparison, stating: "the Game of Thrones finale had 20 million viewers, Pornhub gets 120 million visits…a day." The audience cheers; porn's success is, after all, their success. Akira goes on to explain that the awards themselves are shaped by Pornhub's data, with the winners of each category decided by a calculation of total number of searches, clicks and minutes watched for each nominee. Again, the fact of porn is emphasized: it just exists, and there are numbers to quantify it. It is something of a revelation for an awards show of this kind to be run this way; comparatively, the AVNs (the longest-running and largest porn industry awards) are always criticized for being skewed towards particular industry favorites, and even mainstream entertainment awards like the Oscars and Emmys are seen by many as unfair, or even rigged. Pornhub's emphasis on data stakes a claim on objectivity, something scarcely available in popular entertainment industries.
But objectivity doesn't have to be boring. This was ever more clear as the night rolled on, filled with performances by popular musical artists like Ty Dolla $ign and Kali Uchis, alongside up-and-comers Tommy Genesis, Rico Nasty and Asa Akira's personal favorite, Ian Isiah (they share the hometown of NYC). In between, performers accepted awards from presenters like Slick Woods, and gave speeches that ranged from the humble—the winner of Most Popular Female Performer, arguably the most important award, Lana Rhoades, said, "thank you, I don't know what to say, I really don't know why I'm number one on Pornhub")—to the horny—Riley Reid, winner of Best Backdoor Beauty (a.k.a. Top Anal Performer) walked to the stage wearing only a shibari-styled rope with nude-toned pasties and underwear, and accepted the award (an orange molecule-shaped trophy, inspired by the shape of sex hormones and designed by Peter Saville, the artist responsible for the iconic cover art for Joy Division's Unknown Pleasures) by seeing how far she could put it down her throat. Everyone laughed and she began her speech: "I think I should thank my dad because he married his stepsister and I do porn now!!!" she said, smiling enthusiastically, "So…true story: my life is a giant porno!" Though silly and of course perverse, her speech welled up in me a feeling of endearment. Spoken unabashedly and with wit, Reid and other winners of the night gave pride of place to pornography for what it has nurtured in their lives and careers. But this was done in a way so particular to the industry itself, something most visible in the ability, drawn on by Reid, Akira and others throughout the night, to meta-commentate: stating the way others see the porn industry and rearticulating those sentiments (often slut-shame-y and degrading) with a wry self-awareness—humorous, but not self-deprecating. Though it wasn't meant to be sappy and gushy, or to soften the edges of what porn effectively is, the fact was pornography was being celebrated in earnest by people who genuinely understood why and how it should be celebrated—that in itself was moving to witness.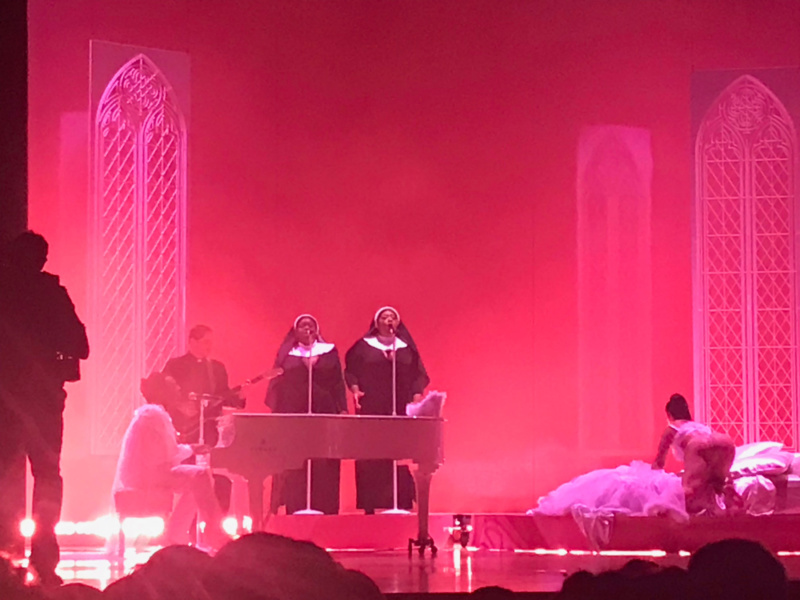 9:30 PM Ian Isiah's performance of "God" shakes the theater. Sitting at a white grand piano and dressed all in white himself, Isiah's voice reverberated in the night, veering towards melancholic yet redeemed by the opulence of the setting: a dancer, in a sheer white robe trimmed in white feathers, rolls and twists through satin sheets on a bed beside the piano, while a chorus of singers, all dressed as nuns, stand behind Isiah's piano singing: "You're my nympho queen."
Now, it's time for Most Popular Gay Performer, a significant award due to the history of segregation by sexuality in the industry (the AVNs have completely separate awards ceremonies for gay and straight pornography.) And despite the continued dominance of hetero-leaning pornography, Pornhub's decision to include all categories of its site in the awards did not go unrecognized by the winner. Austin Wolf, a veteran of the industry, started his speech with this acknowledgement: "I'm actually a little emotional…10 years and this is the first award I've ever received…and given to me by the world's largest adult center ever mother-f*cking created. Jesus…content is king tonight!" everyone in the crowd cheered, screaming as he went on, choking up as he thanked the people in his life who had helped him along the way. He paused, taking a step away from the microphone to wipe away his tears—a man that could only be described as "burly," barrel-chested, muscles visible even through his crisp white tuxedo—then he continued, "everybody that's come up here tonight, you have love in your life, I know you do…" it was almost painful, this puncture of the show with genuine emotion, but everyone watched in awe: "and mine is…he's sitting right there." Pointing to the audience, Wolf broke down even further, thanking his partner for the love and support he'd given him. I looked to either side of me, and everyone I knew was crying. I imagined the person inside the bondage suit—under that PVC hood, eyes were welling up with tears.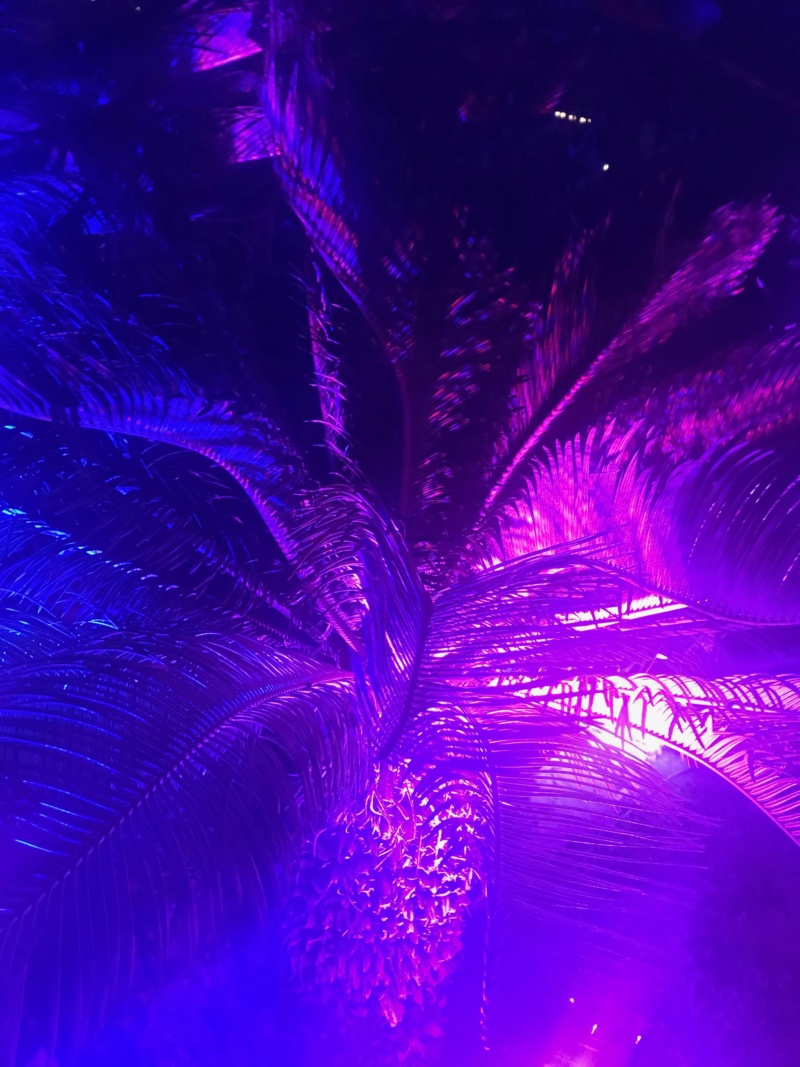 11PM We drove up the hill to Yamashiro, an old Hollywood nightclub constructed in a 600-year-old pagoda (imported from Japan in 1914, it is the oldest building in California) for the after-party. As we got to the top and made our way to the entrance, the lights of Los Angeles glimmered below us. Outside, camera flashes lit up the step and repeat banner: a black background covered in flowers—pink cherry blossoms, each with a vagina in the center, adorned with blue butterflies—softly painted like a watercolor. The design might have been nauseatingly sensitive if not for the juxtaposed Pornhub X Brazzers logos repeated throughout, branding that just could not shake its edge.
Just as the performances scattered throughout the evening did more than break up the monotony, as is the case in most awards ceremonies, but instead enacted a blurring of the divide between the adult industry and "mainstream" culture, this party also served to melt this line. Being there, as the porn stars took off their heels and danced alongside the musicians who performed and other members of LA's art and fashion elite, I was reminded that porn wasn't always sequestered to the sidelines—there was a Golden Age where porn culture was culture. Maybe it would have been something like this.
The thought carried me home. As I fell asleep to the sound of the freeway outside, I thought about the descent—as if the cars would keep going down the hill from Yamashiro, endless departures into the night. And the ascent—as if other cars would keep delivering porn stars, writers, actors, artists and models back to the top. I imagined it continuing all night, the cars winding up and down the hill like the lines of white and red twisting their way around a barber's pole.