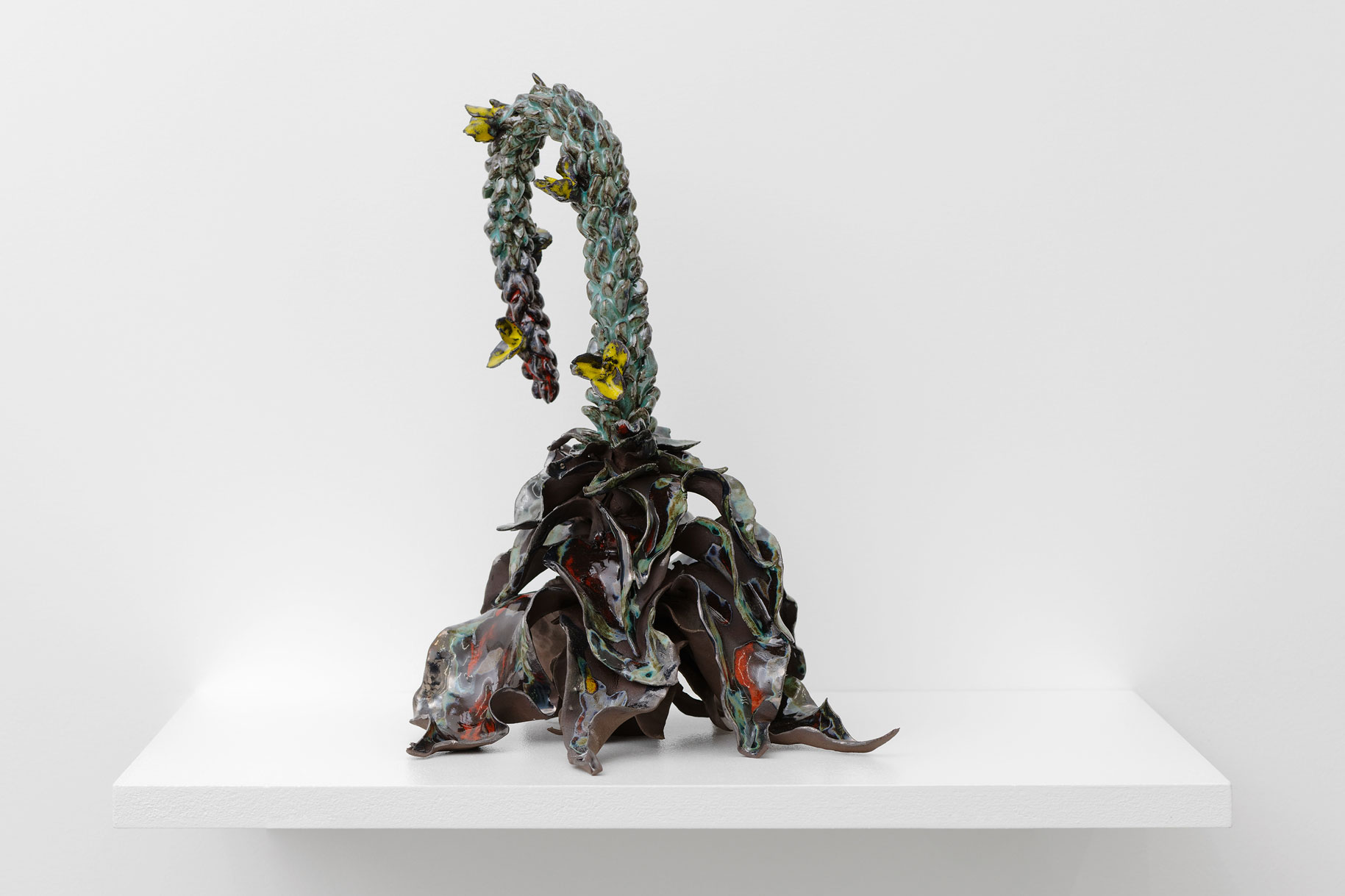 Paloma Proudfoot at Sans titre September 27 to November 9, 2019 Marie Madec, curator of ambitious, itinerant shows mixing contemporary and historic artworks under the label "Sans titre," has recently inaugurated her first permanent exhibition space in République with a solo show of Paloma Proudfoot; who's known for her cursed and playful ceramic objects. Think elongated female breasts, phallic crumpled bottles, pregnant water snakes. Now the young British artist brings to Paris her new floral table compositions inspired by the same erotic-reptilian imagery.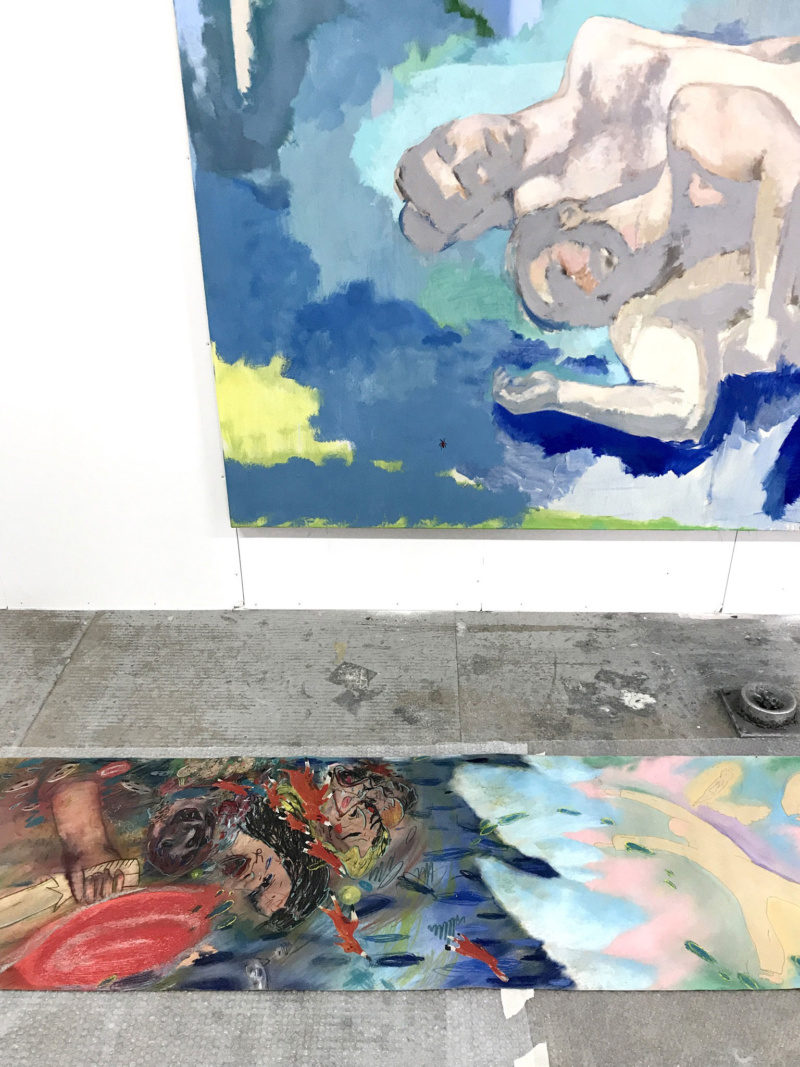 Emerige Prize at Galerie Voltaire October 9 to November 17, 2019 Six years ago, French real-estate giant Emerige joined forces with curator Gaël Charbau to create an annual juried prize for young artists. Figurative painting dominates its 2019 edition: from large-scale virtuoso portraits by Maxime Biou and Simon Martin, to art brut-like depictions of everyday life in the Iranian LGBTQ community by Tirdad Hashemi.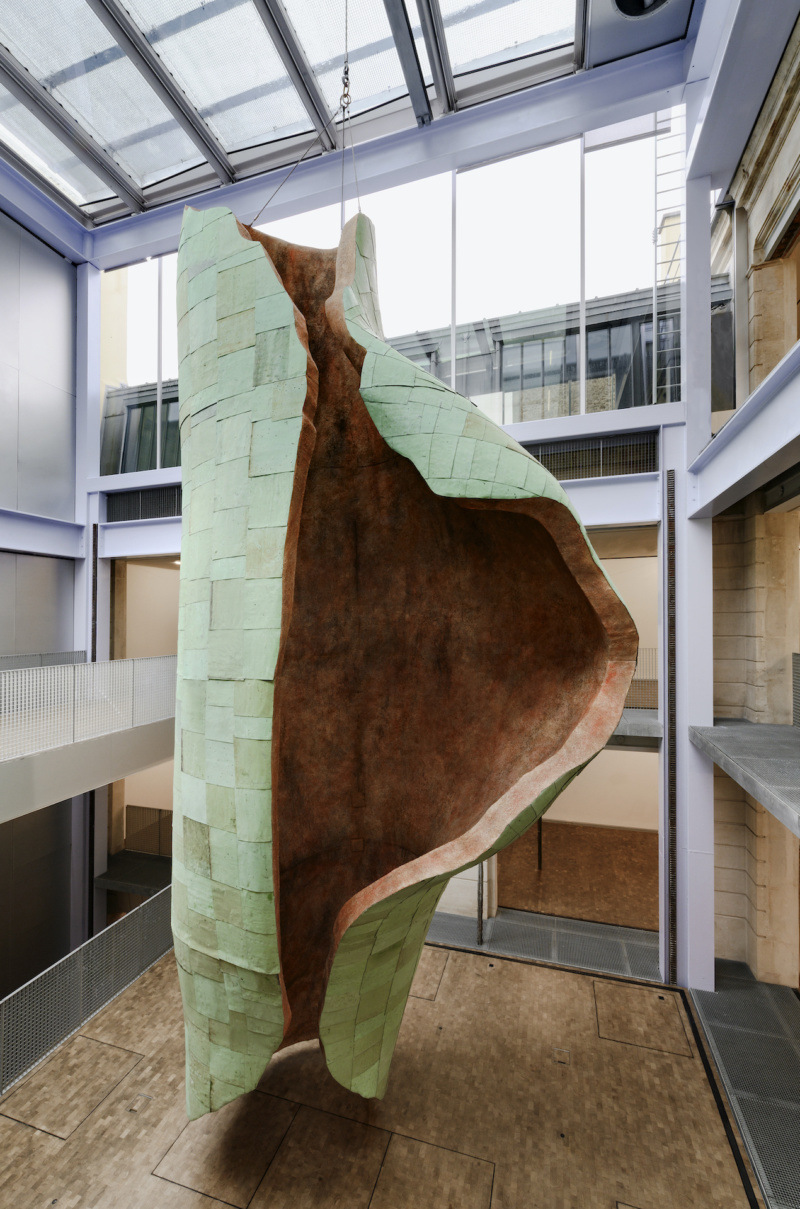 Katinka Bock at Lafayette Anticipations October 9, 2019 to January 5, 2020 German artist Katinka Bock takes possession of all three floors of the Lafayette Foundation with her abstract, massive and brutal objects. Recommended for lovers of brainy, non-spectacular and arte povera-inspired work.
Marcel Duchamp Prize at Centre Pompidou October 9, 2019 to January 6, 2020 The Marcel Duchamp Prize's 2019 nominees are clearly divided between conceptualists andrealists: filmmaker Éric Baudelaire (videos of landscapes) and Katinka Bock belong to the first category, while Marguerite Humeau (large white sculptures of prehistoric animals) and the painting duo of Ida Tursic and Wilfried Mille belong to the second. With their large frivolous, colorful and kitschy photorealistic nudes, Tursic and Mille are the popular favorites.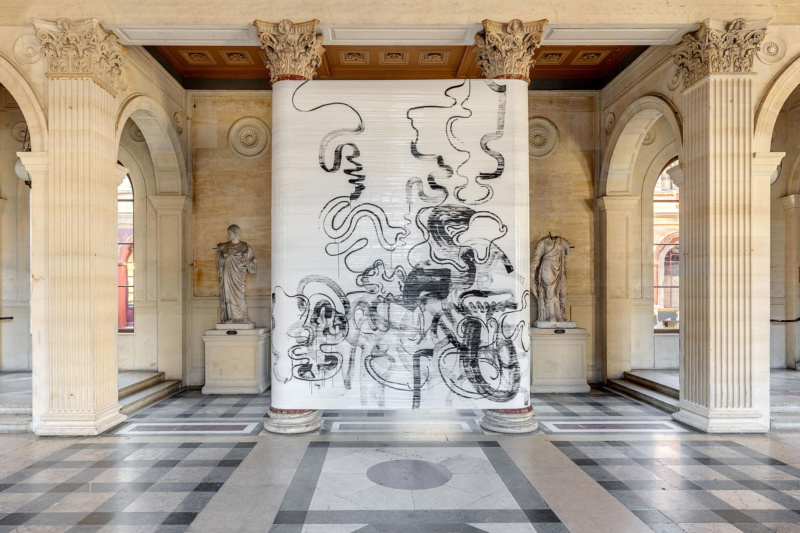 "Felicità" at the École des Beaux-Arts October 11 to November 10, 2019 The annual show of the best French art school's graduating class is a good way to learn something about the future of contemporary art. Among these 23 young artists: Kamil Bouzoubaa-Grivel's large-scale calligraphy, Anna Zoria's obsessively reproduced, optically complex conceptual paintings, and Meg Boury's eccentric, sexually charged and hilarious performances.
Mona Hatoum at Galerie Chantal Crousel October 12 to November 23, 2019 Mona Hatoum's highly political show at Galerie Chantal Crousel offers a counterpoint to the festive FIAC season. Born in Beirut to Palestinian parents, the London-based sculptor speaks about the endless Middle Eastern wars through a series of spherical objects resembling anti-tank hedgehogs, made from iron rods, concrete and sand, as well as human hair. And the exhibition's timing feels appropriate: a couple of days before its opening, the Turkish army once again invaded Syria.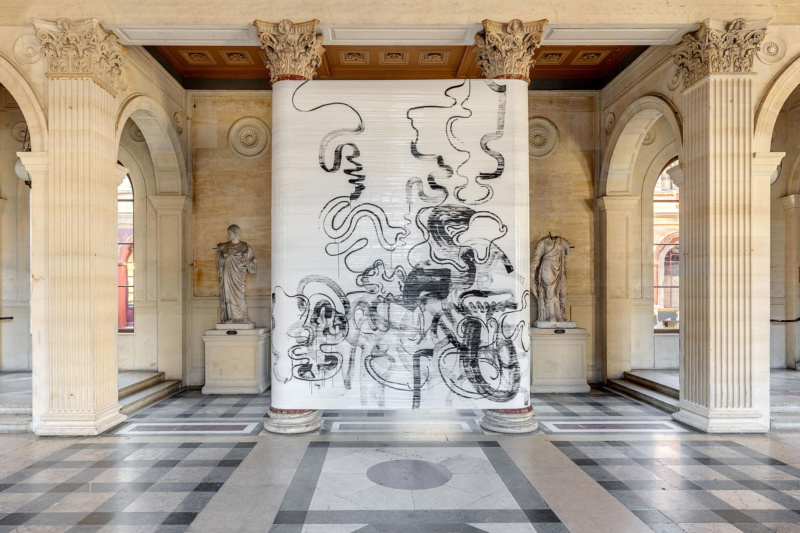 Der Ring at Artemis Fontana October 12 to late November, 2019 In her Artemis Fontana off-space in the trendy but not yet unaffordably expensive 11th arrondissement, artist and chef Pauline Beaudemont arranges a group show that's likewise situated on the border between two mediums: visual arts and jewelry. As a curator, she likes to work with artists who share her biting sense of humor; among them, her namesake Pauline Curnier-Jardin, whose necklace of cigarette butts stained with lipstick is something of a masterpiece.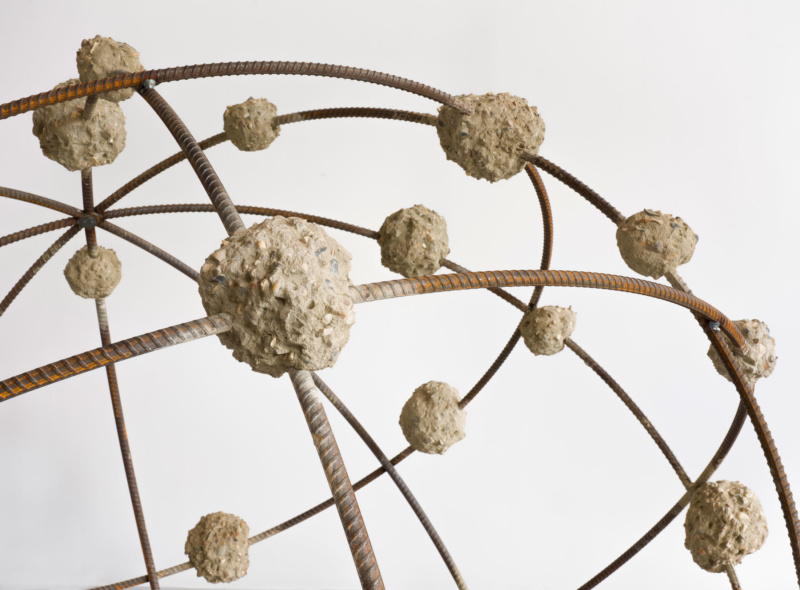 Raymond Pettibon at David Zwirner Paris October 16 to November 23, 2019 A few years later than Gagosian, and a few months earlier than White Cube, another mega gallery opens a branch in Paris. Moving into a majestic space in the heart of the Marais art district, Zwirner starts his French endeavor with a show by Raymond Pettibon, who's been with the gallery since the mid 1990s. The Arizona-born artist brings to Paris a series of his caricatures of American mass culture, New Yorkers' bohemian habits and European art history. Among their characters: Picasso depicted as a green pea pod.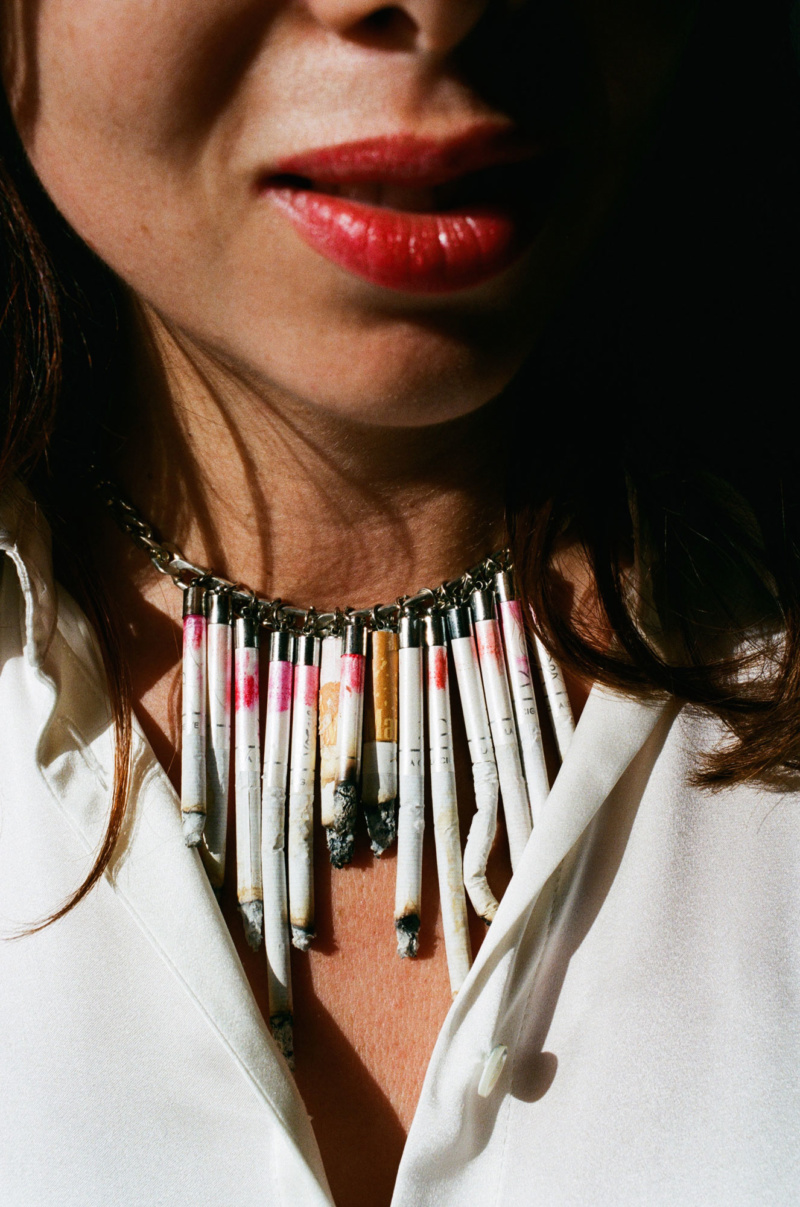 "Futur, ancien, fugitif" at Palais de Tokyo October 16, 2019 to January 5, 2020 The first show of the Palais under Emma Lavigne, its new director, is the fruit of long curatorial research across France. Conceived as an "intentionally non-comprehensive" survey of the national art scene, "Futur, ancien, fugitif" intends to give voice to regional artists, as well as to underrepresented mediums and styles. Among its highlights: large naïve paintings by Carlotta Bailly-Borg, liquid rubber meteorite-like installations by Agata Ingarden and Nils Alix-Tabeling's gargoyle-esque sculptures.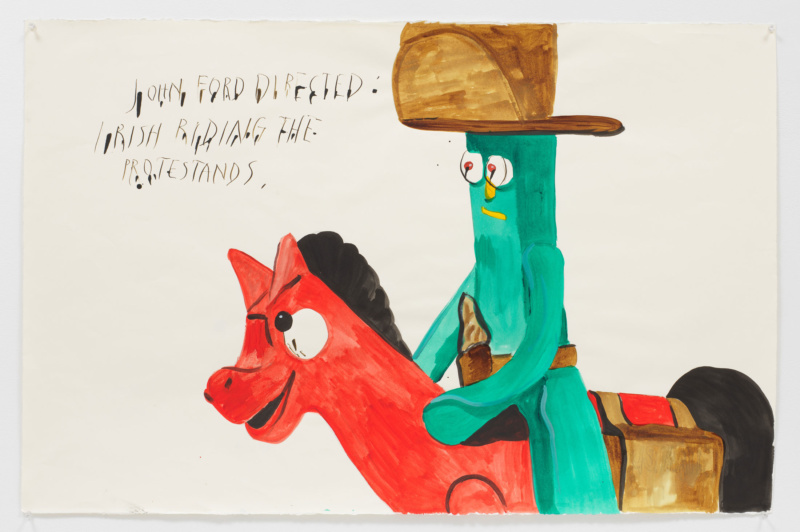 Gavin Brown's Enterprise at Galerie Patrick Seguin October 18 to November 23, 2019 New York's Gavin Brown's Enterprise makes it to Paris. Invited by Patrick Seguin, Brown imports a mashup of his most acclaimed artists—including Arthur Jafa, Ed Atkins and Rob Pruitt—to the City of Light.