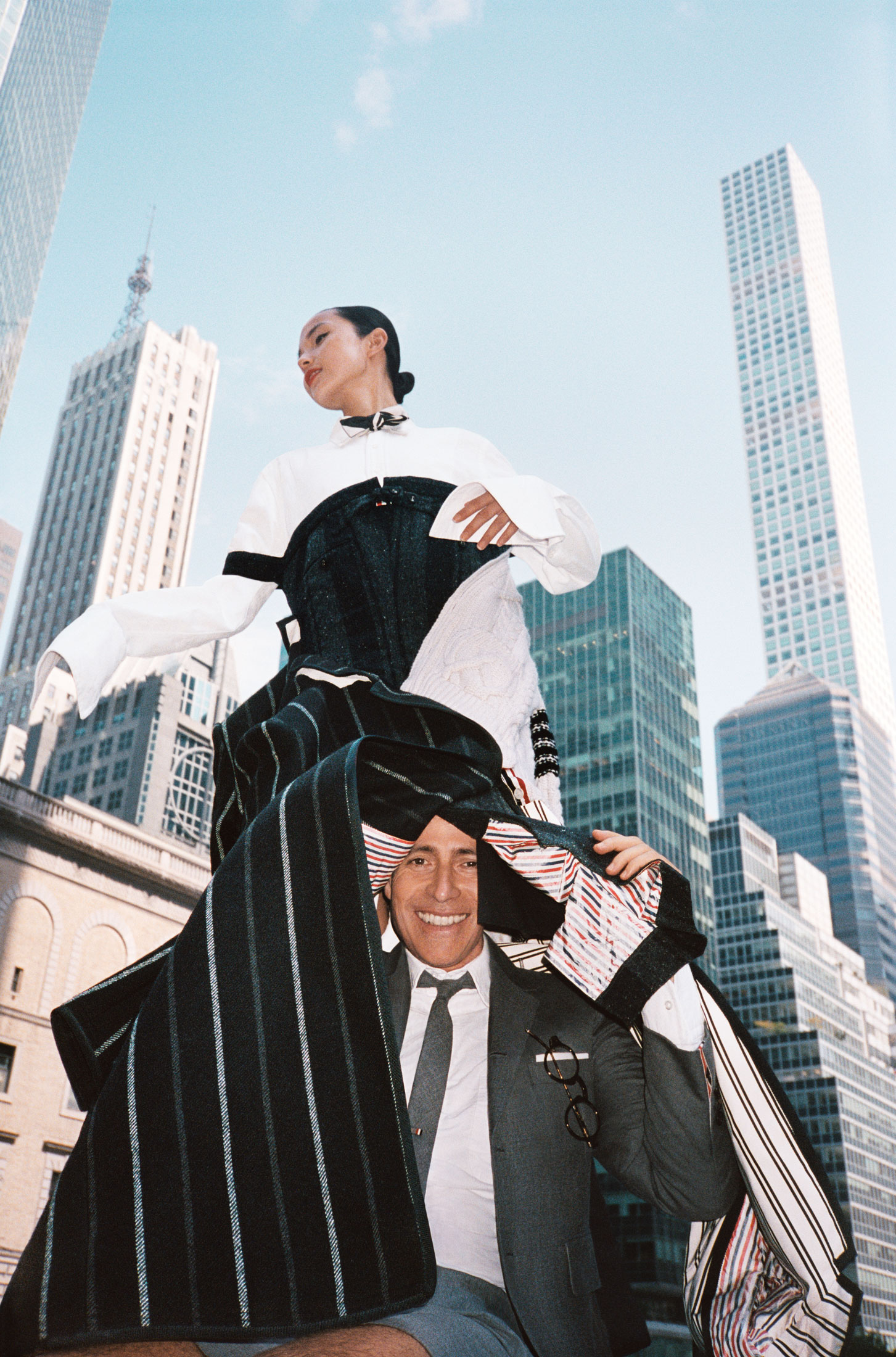 The professionals I know who thrive without complaint in New York are all former athletes. A volleyballer turned architect. Once a cheerleader, now an influencer. Visual artists who were daily skaters and BMX competitors. An ex-climber who's come to scale church ceilings as an art restorer. They're either at or on their way to "the top of their game" as they approach their careers with the sportsmanship, rigor, sacrifice and stamina that became second-nature during their athletic endeavors.
American fashion designer Thom Browne was a competitive swimmer.
"That's why I reference sports all the time in my collections," Browne tells me in one of his Midtown Manhattan showrooms. "The most inspiring people to me are professional athletes, because I know in a small way how much work it takes to get to that level. To start something and see it to actually succeeding takes endurance."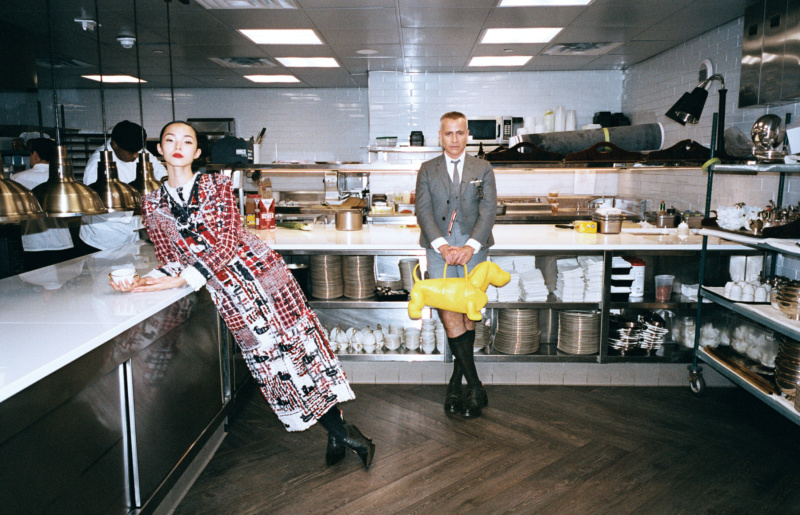 Browne describes himself as competitive—most of all with himself: "I want each show to be better than the last." His namesake company, known for its fitted grey flannel suits, is currently valued in the hundreds of millions, while his immaculately tailored garments are made of luxury materials, playfully fashion and befittingly priced (upper-tier ready-to-wear). And though he insists "it's not a trend, it's something that is actually just shifting," Browne's recent collections align with a current cultural interest in androgyny and gender flux. Men in skirts and dresses, women in tuxedos. "I've been doing that for a while," he says. He has dressed Michelle Obama, LeBron James, Cardi B. at the Met Gala and the entire FC Barcelona team. Browne is going to have to invent a new game if he's to score any higher than he is now.
Browne's career story is not that of a prodigy or an insider destined for an obvious greatness since childhood. It's more like a game of connect the dots or a crossword puzzle—a series of diverse experiences, some seemingly unrelated, accrued over three decades, that have endowed Browne with the versatile talents and interests that have helped him become a three-time Council of Fashion Designers of America Designer of the Year; a collaborator with Brooks Brothers and Moncler; a respected boss to a staff of 213; and an icon in and of himself.
Born in 1965 in Allentown, Pennsylvania, Browne was 38 when he launched his brand. He had studied economics in college, where he was also on the swim team. Training in the sport taught Browne that "if you want to do something, you have to work really hard at it, and sometimes it's not so easy." But Browne didn't know what he wanted to do. "I had no clue," he admits. "Even through college. But the competitive person in me—I knew that I wanted to find something that I liked, and I wanted to do it really well. That's what I sought out to do. I feel like my biggest education was after I graduated and I actually saw the world."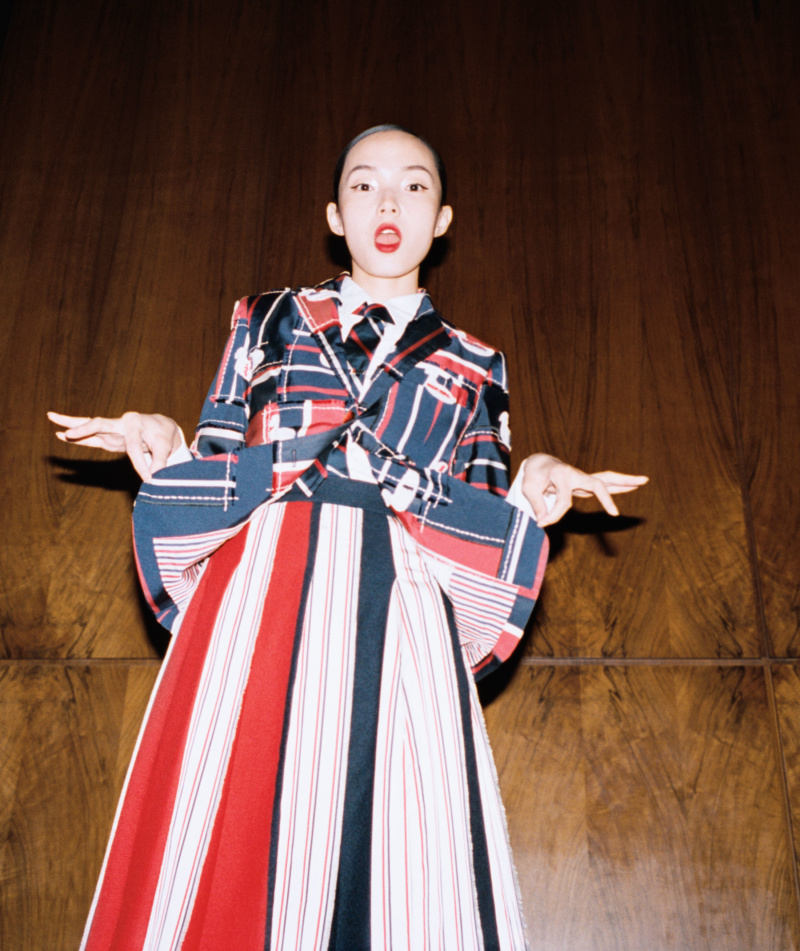 In Los Angeles, in the mid-'90s, Browne started tailoring vintage suits to his desired proportions. "I had no money," he explains (he was acting), "so I would get suits from vintage stores and tailor them myself." Then Browne moved to New York, where he worked in wholesale sales for Giorgio Armani and subsequently in creative direction and design for Club Monaco. His crossword was filling up: TEAM LEADERSHIP intersected with BUSINESS AND ECONOMICS, ENDURANCE and PERSONAL STYLE. Browne was and is still his own best advertisement. Many of his first clients—musicians, architects and artists—were prompted to buy after seeing Browne out and about in New York in his signature suit, which he'd started to produce himself with help of Rome-born, Queens-based "amazing tailor" Rocco Ciccarelli. Besides Ciccarelli, "who never asked why I wanted to do something," when it came to launching his own line, Browne says, "nobody understood what I was doing, and everybody had advice on how to change it in order for it to succeed. I didn't listen to any of them. I stayed true to myself. I wouldn't be here now if I had listened."
During the weeks surrounding our meeting, I enjoyed spotting Thom Browne garments around New York. A woman with runway model proportions walked ahead of me up Union Square's subway stairs in a grey asymmetrical tennis skirt. At the opening for artist Sojourner Truth Parsons's new mural in a former H&M in Soho, the artist admired a V.I.P. guest's giant watermelon slice purse. And on the Upper East Side, an undeniable athlete ran up an avenue and down a street in a ringer tee and short track shorts. All these garments were confirmed as Thom Browne's by a small tricolor ribbon: red, white and blue stripes, like a vintage Olympic medal, decorate every item, sometimes in big bands or, at the very least, via a small exterior tag.
The greatest concentration of Thom Browne looks was of course in and around his workplace. Employees wear a uniform of white shirts and grey suiting separates. It was 80-degree July when I came by, so the staff outfits were respectfully minimal: miniskirts and shorts with raw hems, top buttons undone. It struck me that the Thom Browne uniform is like the inverse of Sailor Moon, where personality is showcased in color. What's consistent in a Browne suit is its tone, shades of grey, its body consciousness and a tendency towards snugness, but beyond that, there's so much variety, and those differences are all the more accentuated by the uniformity of the fabrics. It's like when you know a set of twins and could draw them better than any of your other friends because you've had to focus on and learn their uniqueness. Or like the meaningful differences between similar arrangements of letters. A rose arose. Meandering meaning. Pleats, plaits, plaids. It's exciting to think, What Thom Browne type am I?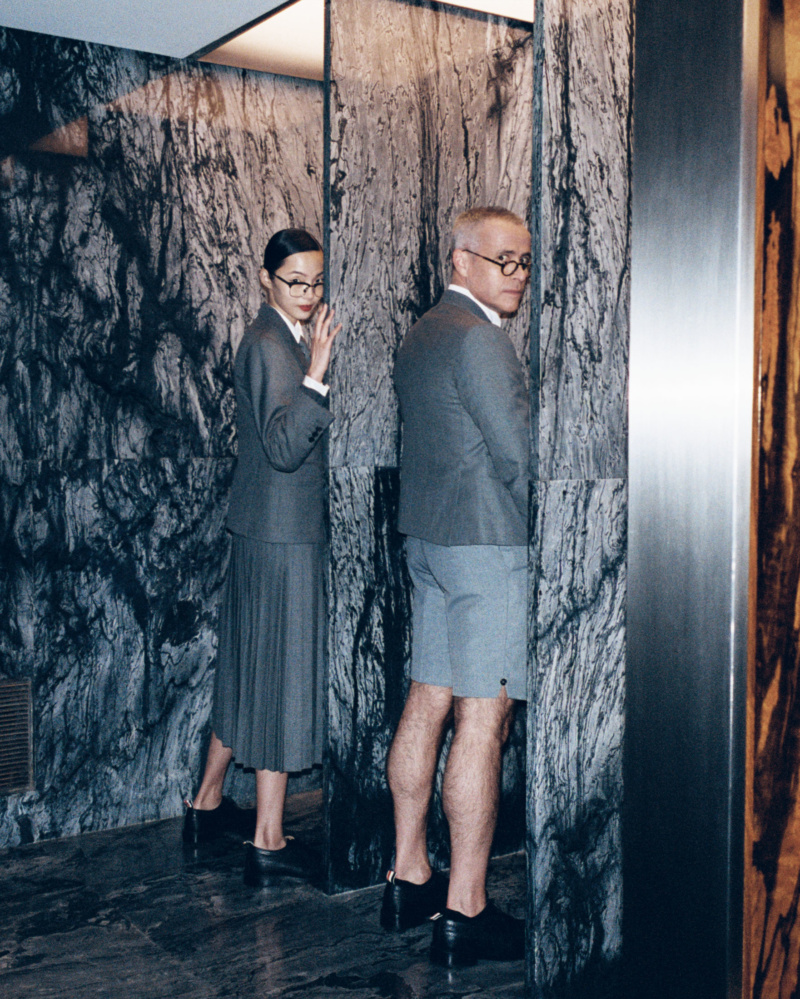 That former climber, now church art restorer adores Browne's clergy-like robes, having been raised, like the designer, a Catholic. The skater- turned-artist would "do anything," as he's apt to say, for a pair of cross- strap stacked heel Mary Janes (worn with white socks on the Men's Fall/ Winter 2019 runway). And the ex-BMXer has one of Browne's Hector handbags. Shaped like a short-legged dog, the design, which comes in leathers and furs, is named after Browne's pet dog, who was named after a BBC children's television show, Hector's House, by Browne's partner, Andrew Bolton, the Head Curator of the Metropolitan Museum of Art's Costume Institute.
Despite producing so many wild looks—bubble wrap robes, intarsia trompe l'oeil "suits," tricolor bouclé suits, and seersucker suits with jockstrap detailing—when it comes to dressing himself, Browne is consistent. "I just wear my own stuff," he says, and that's two-piece or three-piece suits, with shorts cropped above the knee, or pants cropped above the ankle, his tie always tucked in. The look is schoolboy-ish and Browne has that manner. With an inner child glow, he laughs in reply to awkward questions like my, "Do you remember what you thought the first time you saw a jockstrap?" While he slyly bucks authority—"I have to say," he adds, "I've never had a boss who was so inspiring, one of the reasons why I wanted to go out on my own"—Browne also speaks from an innocent sense of fairness. When asked who he would thank, if there were such speeches, after fashion shows, he was quick to respond, "The hundred people behind me. Design is so collaborative. It's so odd to come out at the end of the show... After every collection, you have to thank everybody." For someone who competed out of a single lane, swimming, and who's leading in the hypercompetitive, often catty, business of high fashion, Browne sounds like a level-headed coach and an honest team player. "It's our responsibility," he continues, "to really make people feel like they're given credit for what they do."