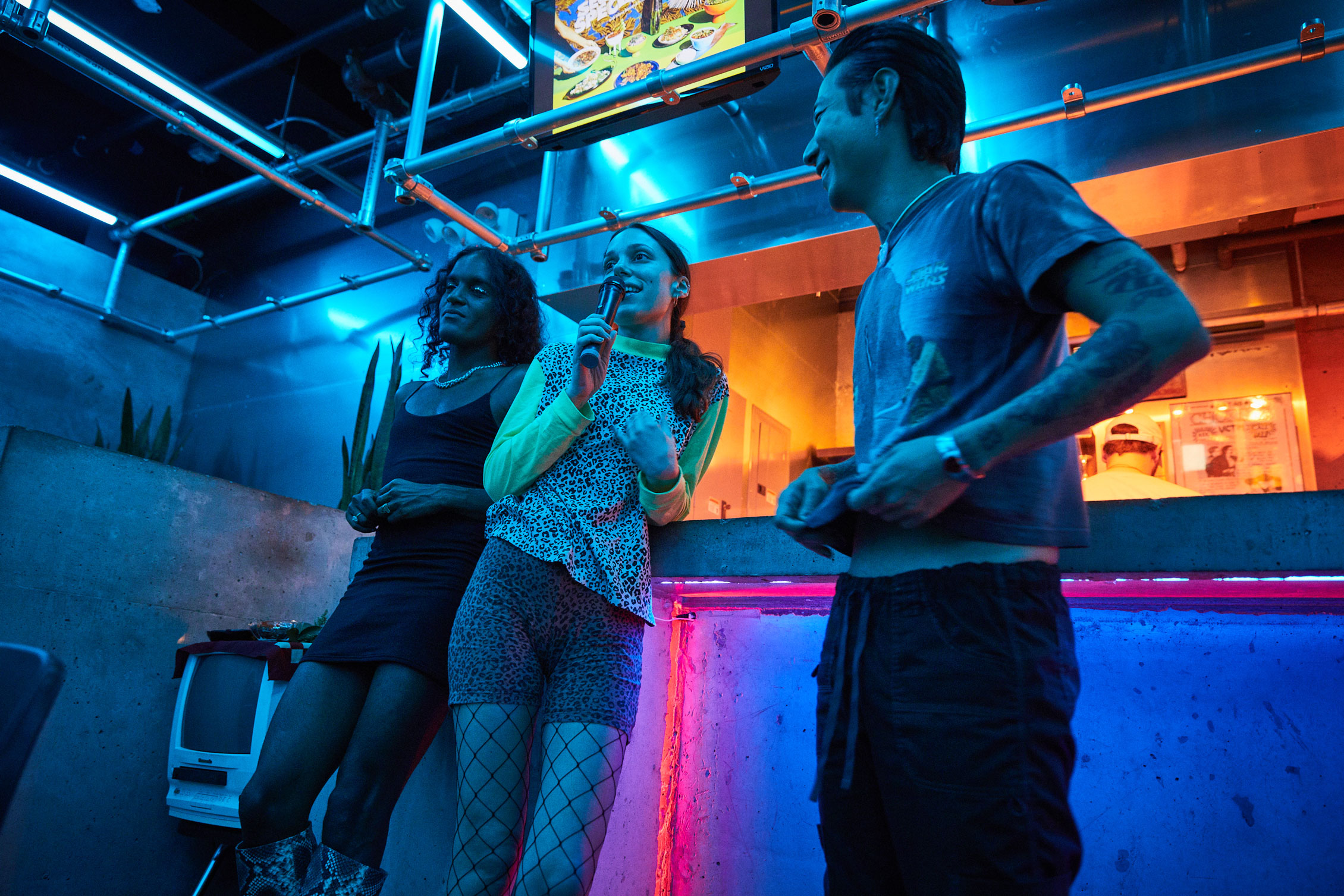 If you live in New York, if you've visited New York or if you're lucky enough to have seen it from its beginnings in San Francisco, you know the hype around Mission Chinese is nothing but warranted. Danny Bowien opened the Lower East Side outpost after moving to the city in 2011 and has since opened a Bushwick location as well. The menu is always evolving, sometimes too quickly… last week I went in anticipating getting my favorite eggplant dish only to find out the Manhattan location no longer had it on the menu. Luckily for me, I found a new favorite in the dan dan noodles.
Since my foray into the fashion world, I've become increasingly aware of Danny's presence not only in the food industry but on the runway as well. This design diary is my foray in the opposite direction, jumping from fashion to food. Donning a white knit jumper and a matching boa halo'ed around his face, the chef-turned-model walked the Puppets and Puppets show on Sunday evening followed by the designer herself, Carly Mark. Having just wrapped another New York Fashion Week, I can now confidently say Puppets and Puppets was my favorite show by a longshot. Landing somewhere at the intersection of Czarist vetements andarchetypal American capitalist uniform, the collection was both shockingly creepy and dramatically regal. Whole eggs sat atop silk slippers, egg crates beneath them as platforms, while nipple coverings featured sunny-side up eggs on each.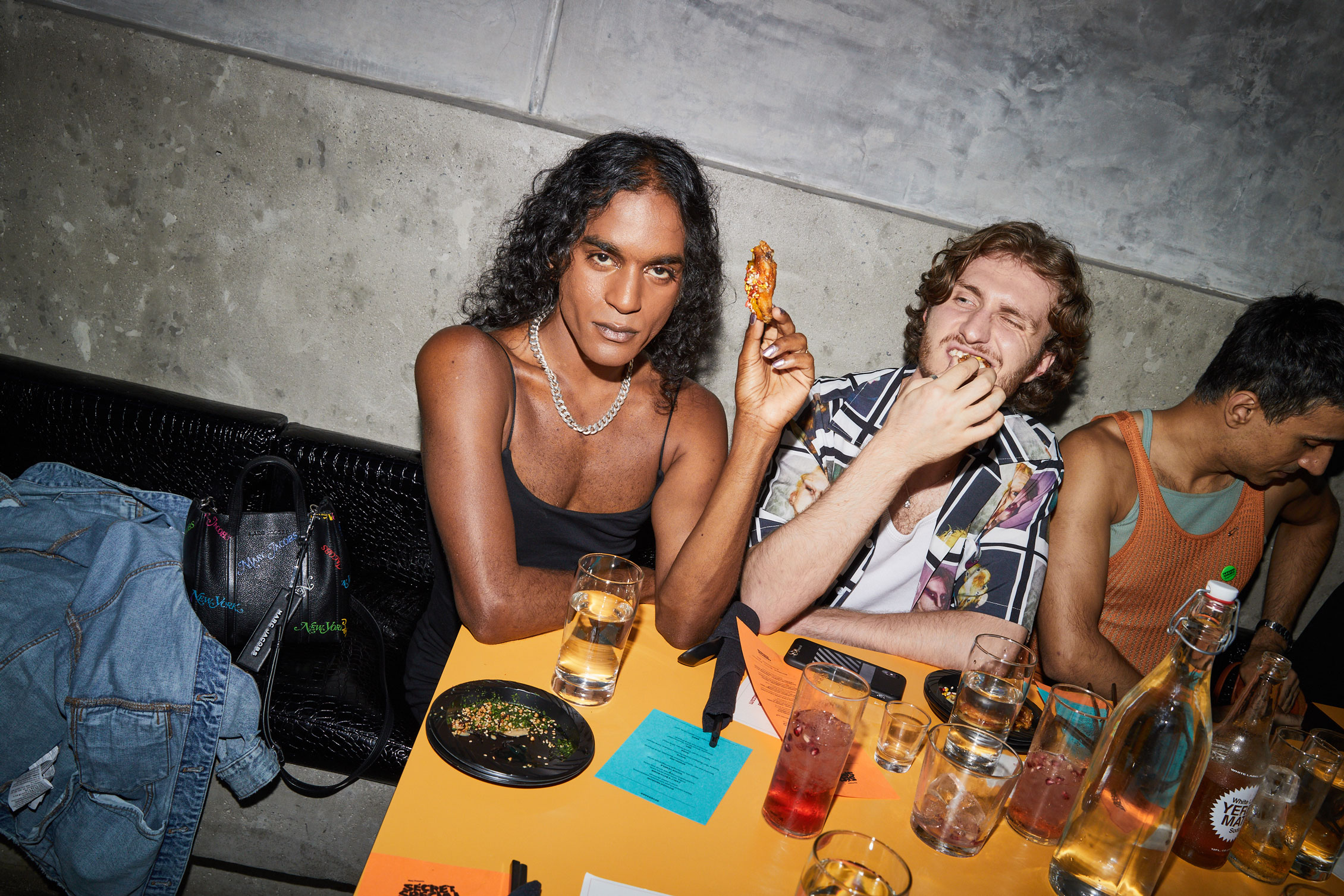 Luckily for me, I got a double dose of Carly over the weekend as she, alongside friend and fellow Puppets runway model Richie Shazam, hosted a dinner with Bowien kicking off the Mission Chinese x Resy dinner series, Secret Special. The series, which runs from this fashion week to next at his Bushwick outpost, features a new roster of designers, musicians and friends of Bowien who will curate a menu that will be featured until the following dinner.
On Monday night Shazam and Mark started guests off with both cocktails and mocktails featuring pomegranate seeds, pop rocks and a twist on the classic Shirley Temple. Despite "Chinese" being in the name, Bowien has always fused flavors from all over the world and this was no exception. Served family style were lamb curry nachos, shrimp scampi naan, baby hot dog fried rice and Korean fried lamb ribs that I'll remember forever. After spending a little too long downstairs at the photobooth, I came back up to my table taking shots of Madre mezcal which I gladly joined in on. Danny, Carly and Richie introduced themselves and their dishes doing their best to explain the absolutely bizarre smattering of dishes that had come out over the course of the two-hour meal.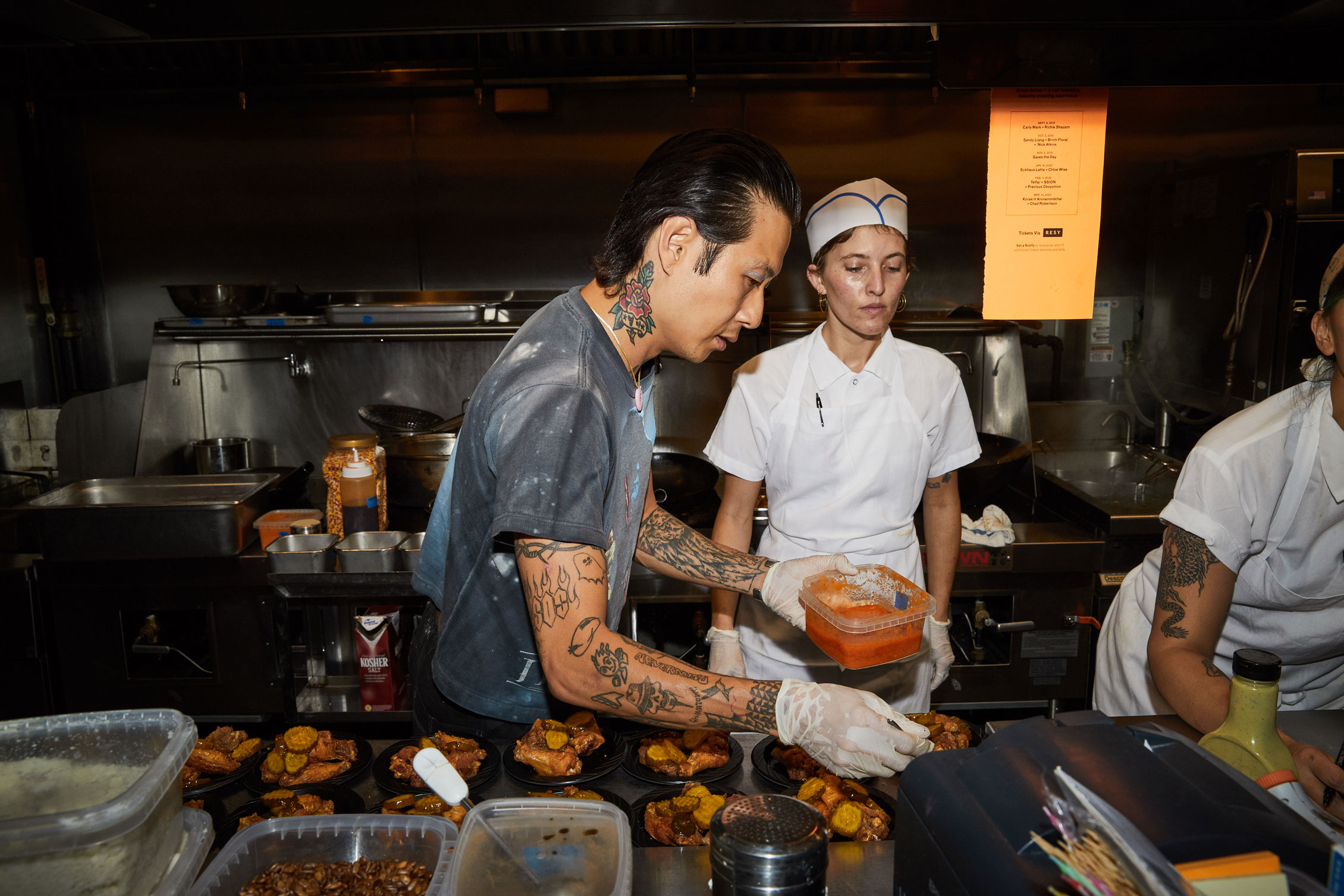 Bowien had been playing host and chef all night running between the kitchen and his seat next to model/ beau Sara Hiromi. I caught up during one of his runs to pin him down for just a few minutes as we started to talk about what to expect over the next six months. "Chefs are always collaborating with other chefs. It's great and I've done it," he told me, "but this is something I've wanted to do forever. Food and fashion are both so high risk. Whether you're in the kitchen or on the runway, there's this moment of chaos before it all happens, but all you can do is put it all out there." Danny walked in not one, but two shows during fashion week making his crossover dreams very much so a reality. In addition to Puppets, he opened Sandy Liang's show in a Bank Street penthouse on Monday afternoon. "I wanted to collaborate with my friends and people whose work I admire that are entirely outside of my industry. Richie and I had our first meal together at Red Lobster and that spurred the inspiration for this strange shrimp scampi naan dish." The strange dish was the first to go as everyone in the color-shifting fluorescent lit restaurant begged for more. With a lineup that features Sandy Liang, Eckhaus Latta, Telfar, Precious Okoyomon and Chloe Wise, Secret Special is a deal you really can't miss. Bowien's cooking alone is worth the trip and for all you can eat, all you can drink absolutely strange combinations, it's worth every penny.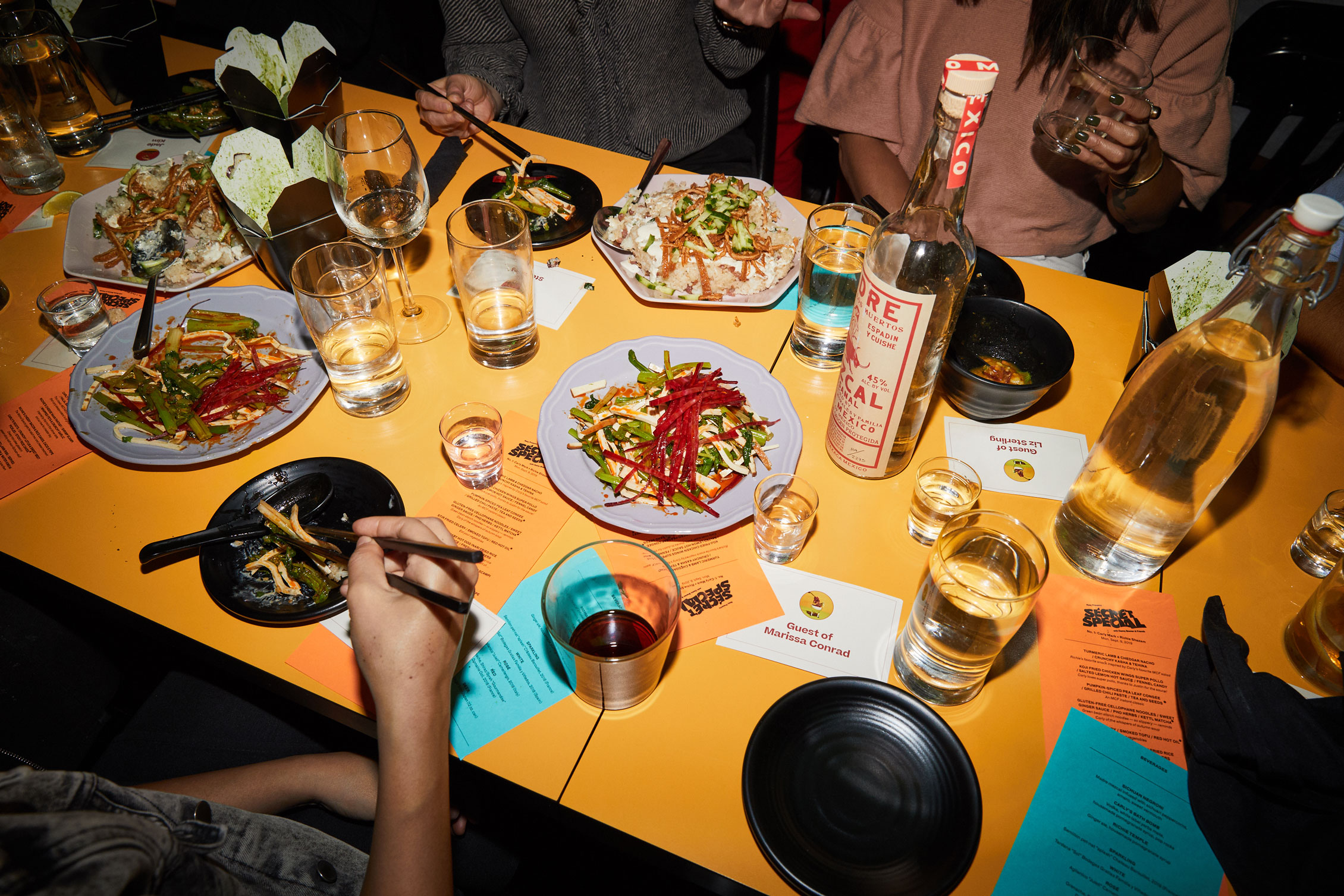 Danny's next Secret Special dinner, with Sandy Liang, Brrch Floral and Nick Atkins, takes place on October 2.