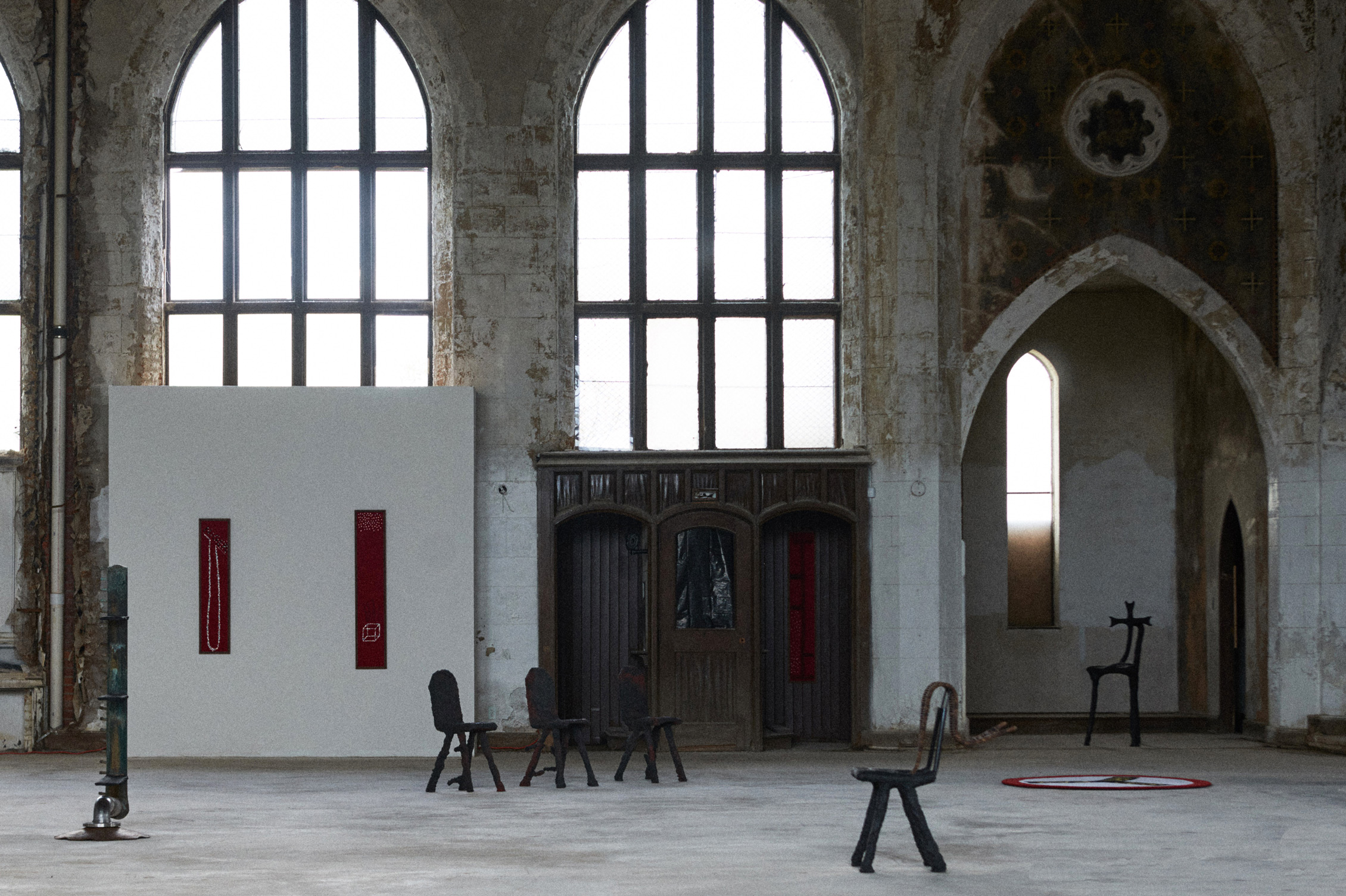 The Latin phrase ARS JUS PAX translates to "Art, Justice, Peace." Borrowed from the graphic ensign of the Royal Niger Company, a short-lived trading corporation that was instrumental in the formation of colonial Nigeria, this phrase now lives as the title of Dozie Kanu's first solo exhibition in the United States as well as the eponymously named book he will soon publish. Though the young artist now lives and works in rural Portugal, Kanu has seen, lived, and incorporated many corners of the world into his identity as an artist and as a person. Born in Houston to Nigerian parents, the 26-year-old spent time in New York at the beginning of his career before relocating to a warehouse space in a small farming community outside of Lisbon. Featured this past winter in Salon 94 Design's lineup in Miami and commissioned to create the Miami Design District annual holiday installation, Kanu's career is off and running. Most recently, Salon 94 Design and JTG Detroit Project brought the artist stateside for "ARS JUS PAX," an exhibition at the Woods Cathedral in Detroit. Kanu's book about the project will be released later this summer and feature the work in the show. This weekend, he will participate in the Ljubljana Biennial of Graphic Arts in Slovenia as part of a group show.
Cultured sat down with Kanu to discuss "ARS JUS PAX," its origins, Ljubljana, and what comes next.
How did this show start to take form? In February 2018, due to increasing costs of apartments and studio space and a whole host of other reasons, I relocated from New York to Santarém, Portugal, a small city one hour north of Lisbon. I found an old warehouse in the village countryside and converted it into a live-work space. A certain lucid energy came from living and working in this remote area. Simultaneously, Salon 94 Design invited me to put together a show at Visitation Catholic Church in Detroit.
Why this church? It was designed by the British architect Raymond Carey in 1919 as part of the northward expansion of Detroit in the early 20th century. The church's membership began declining in the 1960s, coinciding with the rise of the Civil Rights Movement. The riots of 1968 resulted in increased "white flight" from the city, and the church closed its doors in 1983, when it was sold to a new congregation: Woods Cathedral Church of God in Christ, part of a large black Pentecostal movement that originated in the South. The church closed sometime between 2006 and 2008. In 2014, Salon 94 Design's Paul Johnson purchased the building at auction for $6,700 and got to work replacing the damaged roof, removing asbestos, and renovating the church's structure.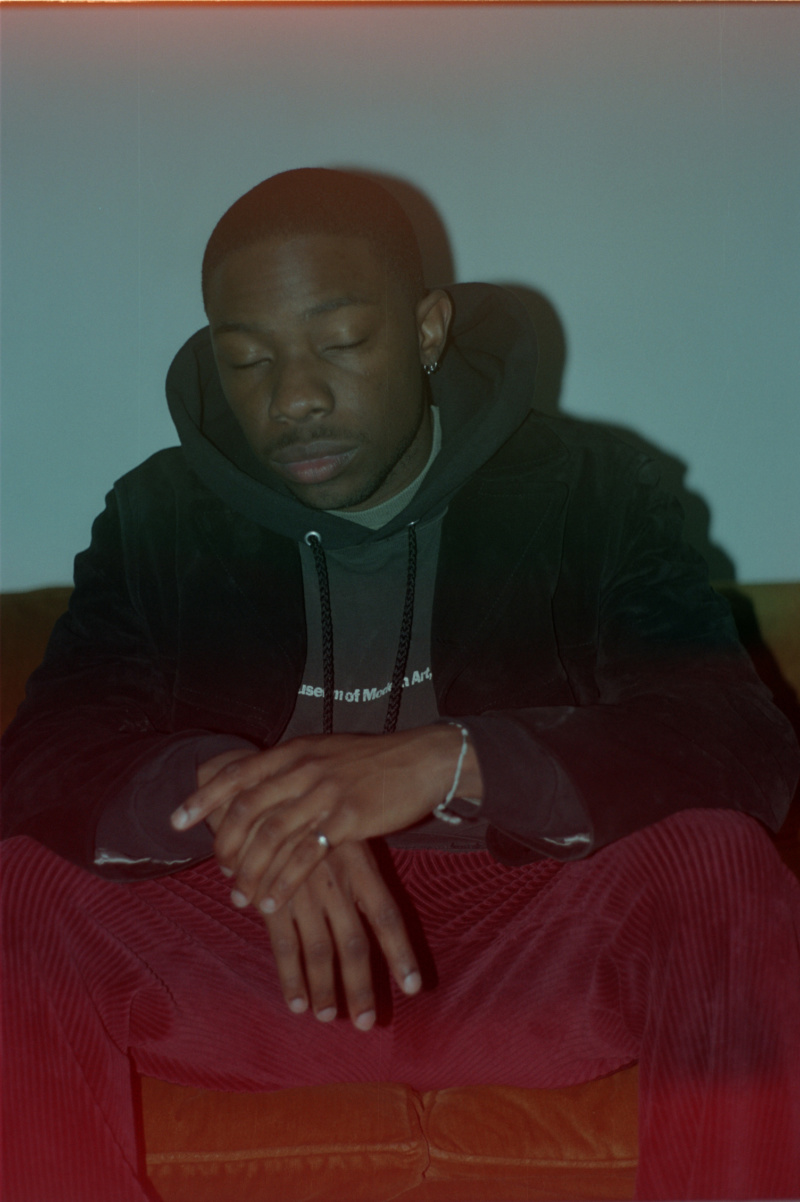 How did "ARS JUS PAX" find its roots? On December 18th, 2018, I boarded a flight to Nigeria for the first time. I was born in Houston to Nigerian immigrant parents who never managed to find the time or funds to take our family back home. So I decided to go and see it for myself—to experience the culture I was raised in firsthand. In Nigeria, I observed many links to the way I was creating, including the complete and total utilization of available objects and resources. It was surprising to me, because I'd spent a lot of my childhood trying to suppress my Nigerian roots. Now I find myself in constant search of connection to this heritage.
For "ARS JUS PAX," I drew on the story of the 1895 Akassa Raid, when King Koko, leader of the Nembe Kingdom of the Niger Delta, led over 1,000 men in a pre-dawn raid on the Royal Niger Company's headquarters. I used this history to loosely frame the ethos of this new body of work, embedded with the idea of withstanding authoritarian regimes. Along with fragments of Nigerian colonialism and rebellion, the exhibition focused on the transcendent nature of conceptual art, objecthood, and purpose. By taking found objects and giving them a new function, I aimed to challenge the notion of art being purposefully useless. Assigning each work with a reason for existing was fundamental—just as with human life. I created many of the works with metal "skeletons," which I later fleshed out using pigmented concrete.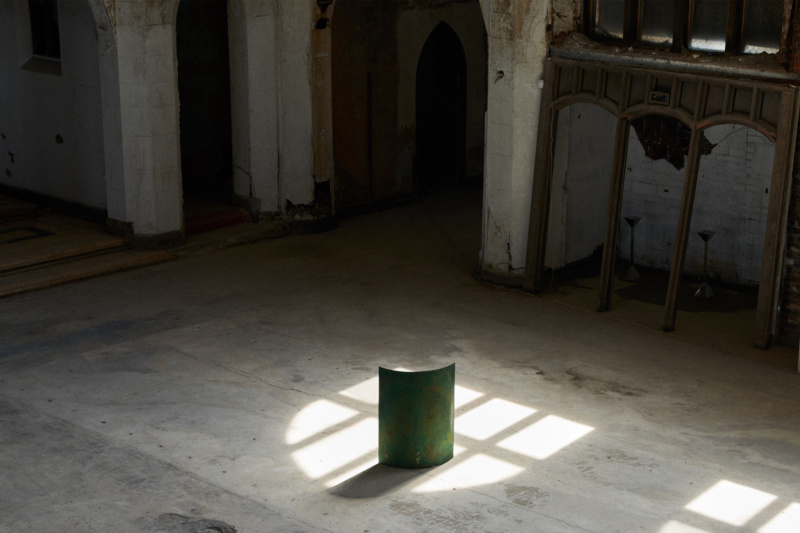 What will the roll out of the book that follows the exhibition look like? The plan for the book as of right now is to organize a release event in New York, most likely at the Salon 94's E 94th St location, where the book will be available for purchase and select works from the show will be on view.
I hope the book gives myself and the viewer a more visual understanding of why I was compelled to relocate myself and also to show the work that came out of this experience. The book will be distributed at select bookstores worldwide.
And now you head to Slovenia to participate in the Biennial of Graphic Arts. This work differs greatly from "ARS JUS PAX." Can you tell us a little bit about it? The Ljubljana Biennial of Graphic Arts will be curated by art collective Slavs and Tatars whose concept focuses on the many forms of satire. I will be showing works from my 2017 84's series as well as four new works made specifically for the exhibition that continue to follow the form of pragmatic sculpture, some of which really try to tackle the concept of satire more overtly. With this consistent approach, I'm attempting to dislodge preconditioned definitional categories of the object experienced by the viewer rather than stretch the definitions of art which is more rooted in Duchampian theory.