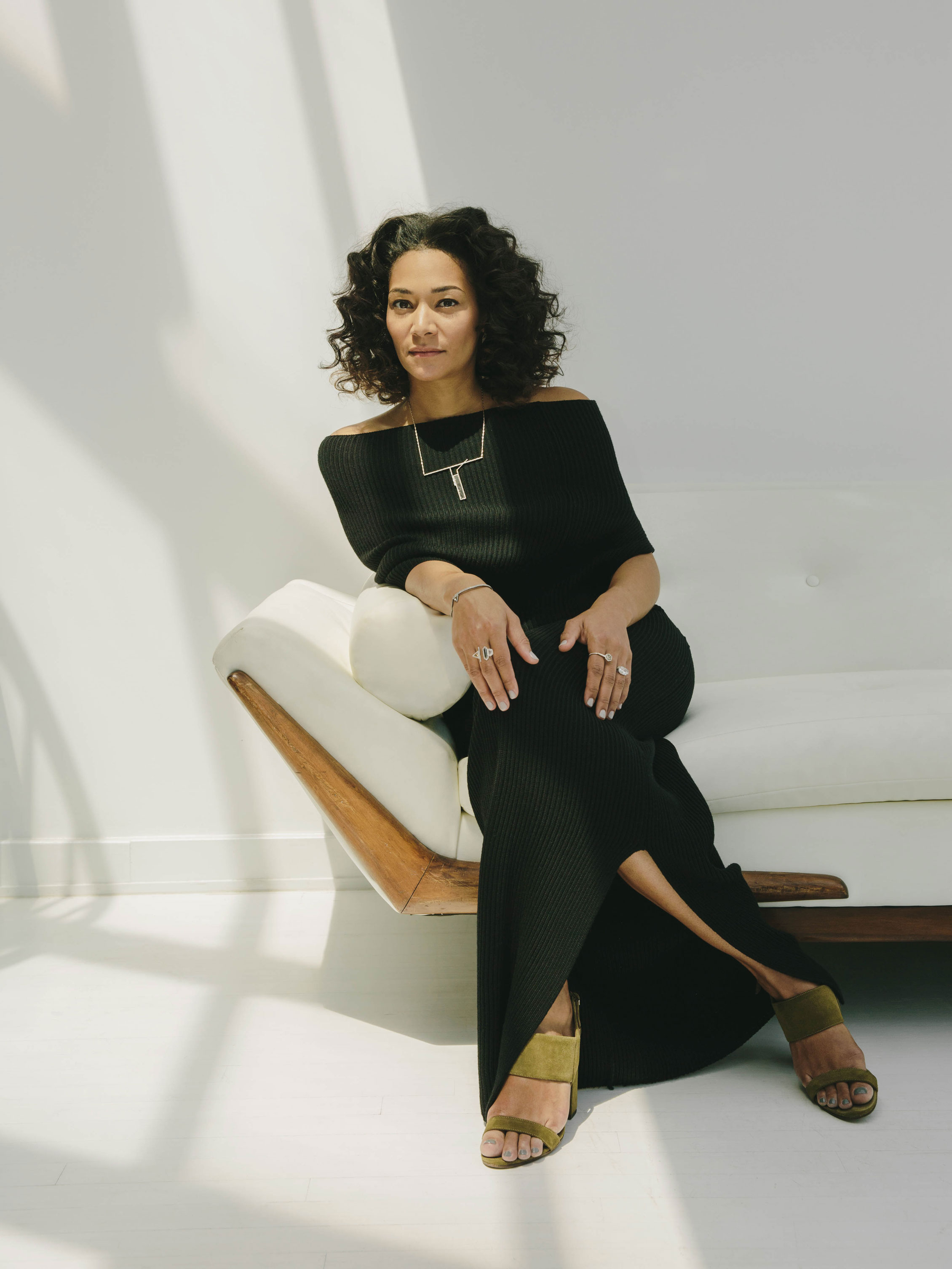 Even in the art world where people take colors and "compositions seriously, most still regard jewelry as little more than bling. Few assume that their earrings or necklaces are conceptual, ethical or meaningful beyond the personal associations they may carry as family heirlooms or amulets of romantic exchange. Not so for collectors of jewelry by Monique Péan, a designer who chronicles the history of our environment through her use of atypical materials such as woolly mammoth tooth, dinosaur bone and extraterrestrial steel from meteorites older than Earth. "Monique uses sacred geometries that register within our deep memory," explains David Adjaye, the British architect, who has acquired more Péan pieces for his wife than he cares to reveal. "Monique's pieces adorn, but they also create a spatial composition around your body, drawing it into the work's architecture and its epic sense of time."
Péan's fascination with grand temporalities comes, in part, from her early exposure to death—that of her only sibling, who died in a car accident at the age of 16. "Natural materials transport you through time. They stimulate the mind and comfort the soul," says Péan, who rhymes off key dates in geological history with a passion that reveals her continued wonder. "The earth is 4.5 billion years old. The oldest diamond is 3.2 billion years and the youngest about 900 million. Dinosaur bone is but 150 million years old," she says. Most of Péan's dinosaur bones are sourced from the Colorado Plateau, where herbivores from the late Jurassic period met watery accidents that agatized their remains. "Monique creates works that look both ancient or ancestral and very modern," says Ivy Ross, a jewelry connoisseur who is also the head of design at Google Hardware. "Her pendants are surprising one-of-a-kind arrangements in which she uses gems, fossils, meteorites and metals as if they were paint."
Exploring the diversity of our planet's people and landscapes is also an important theme in Péan's work. Indeed, travel is in her DNA. Her Haitian-born father was a senior economist at the World Bank, then a consultant at the United Nations Development Program. "My father said, you have the rest of your life to see the United States, so I am going to show you the world," says Péan, who visited 20 countries as child, most memorably Egypt, Israel, Turkey and Bulgaria. "I also went to an international school in Washington, D.C., where everyone was from a different country, so I grew up with a global perspective." Péan's mother, a painter of impressionistic landscapes and portraits in oil, is Jewish of Russian and Polish extraction. Petite and almond-eyed, Péan relishes the fact that, as she puts it, "People often assume I'm the same ethnicity as them and embrace me."
The artisans with whom Péan works come from all over the world. The carving is often done close to the source by indigenous peoples, who have been working with the material for centuries and understand it intimately. For example, native Inupiaq Alaskans do the preliminary carving of fossilized walrus ivory, which is between 10,000 and 150,000 years old, while master artisans of Mayan descent sculpt black and gray Guatemalan jade, which comes to the surface through tectonic activity. And the Rapa Nui people on Easter Island, whose tribe has dwindled to around 5,000 people, carve the cosmic obsidian, a naturally occurring volcanic glass that's found there. "I could never in several long lifetimes develop the broad range of refined skills needed to make my work," says Péan. Indeed, dinosaur bones and many fossils are not just rarer than most diamonds, they are more difficult to cut because they can crack and crumble.
Péan also likes to travel with glaciologists, marine biologists, geologists, anthropologists and art historians to learn more about the changing climates, cultures, art and architecture of different regions. A fan of earthworks by the likes of Walter De Maria and Nancy Holt, Péan sits on the women's council of Dia Art Foundation, an invitation-only group that explores women's place in art history. "Land art is quintessential to Dia," says Jessica Morgan, director of the contemporary arts organization with locations in Beacon and Soho, New York, and the American West. "Monique shares our ethos. It's about the journey to the work, the experience of visiting, the landscape and geological formation as well as the art. That kind of unfolding encounter is also true of Monique's work." While traveling, Péan sketches with a Japanese graphite pencil in her Moleskin notebook and takes many photos, noting everything from the geometry of nature to the living conditions of the local communities.
The ethics and sustainability of materials are a significant concern to Péan. She uses either repurposed antique diamonds, with no new mining involved, or acquires her gems from environmentally responsible mines with strict labor and safety guidelines. She uses only recycled gold and platinum so as not to participate in the toxicity of mining, which not only wastes vast amounts of water in areas that need it, but releases mercury and cyanide into the air and local groundwater. Indeed, Péan is a founding supporter of charity:water, a non-profit that seeks to bring clean drinking water and basic sanitation to people in the developing world.
Given Péan's practice, it is not surprising that many of her clients hark from the art world. They are the crowd who value cultural connotations and may even consider their bodies as platforms of communication. "If you want a life that is filled with authenticity and meaning," explains art consultant Sabrina Buell, "then you want the art you live with and the jewelry you wear to reflect that. Monique approaches her work like an artist, with a deep way of thinking that you don't typically find in the decorative arts." Experts in the design world endorse Péan from a slightly different point of view. "The importance of a piece of jewelry corresponds to the value assigned by the wearer," says Alexandra Cunningham Cameron, curator of contemporary design at the Cooper Hewitt, Smithsonian Design Museum. "When the wearer so deeply identifies with a piece that they don't want to remove it, a special synergy has happened between design and life. Péan's work often has that effect."