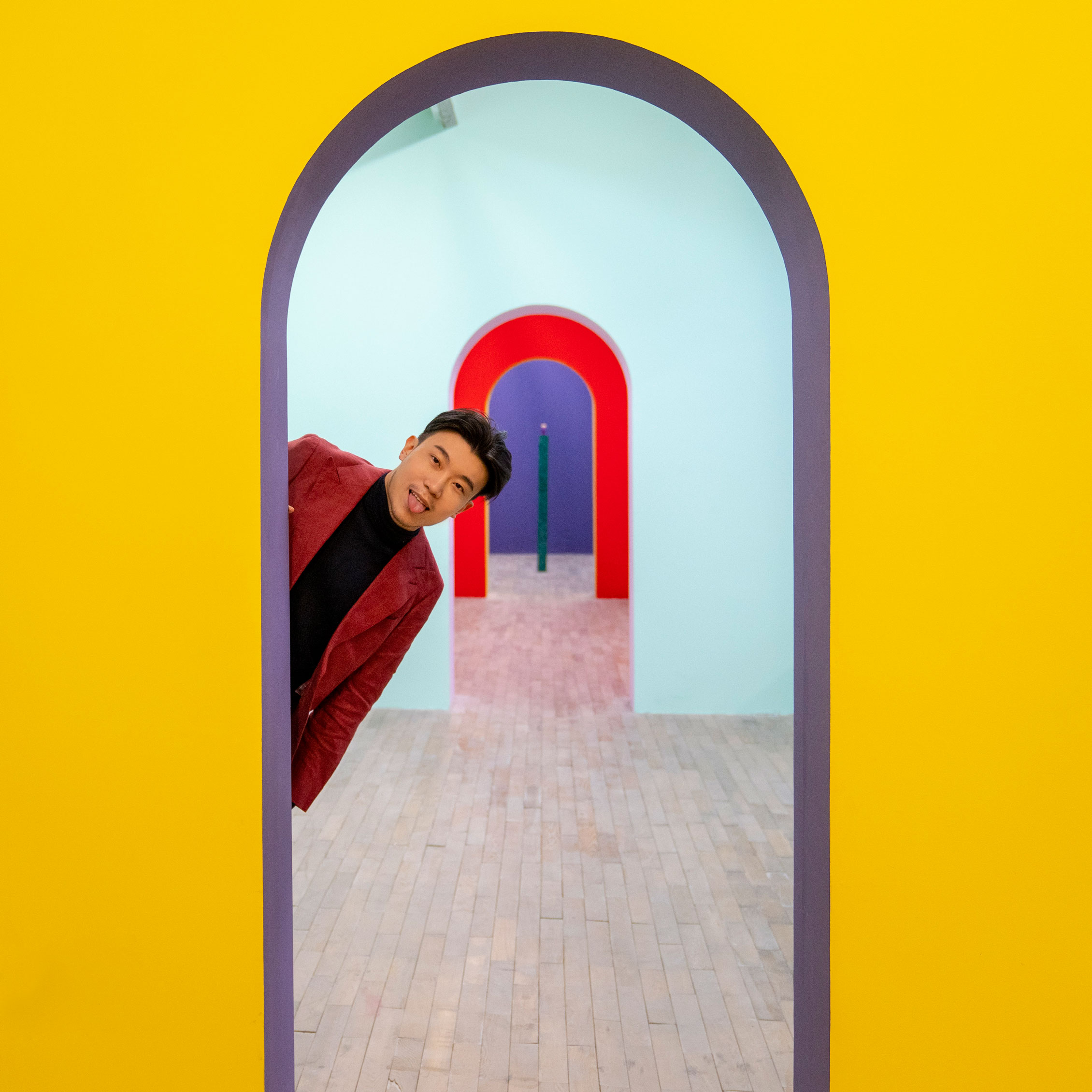 Michael Xufu-Huang Home base: Beijing and New York Profession: Co-founder, M WOODS Museum, Beijing You started collecting as a teenager; how did this happen? I think everyone is a collector from a young age: some with toys, some with stamps. I was a well-behaved kid and I was always entrepreneurial, so I saved money to buy a piece of art that I liked, a lithograph by Helen Frankenthaler, while the first unique piece I acquired was from a young Chinese painter Bodu Yang. He'd just signed with Mine Project, the coolest new gallery in Hong Kong. I think my taste matured very fast. How did you co-found a museum at such a young age? I was fortunate to be approached by my co-founders when I was still in college at the University of Pennsylvania. We have the shared goal of building the most exciting and experimental museum in Beijing. Kids in the West are taken to museums starting at a young age, and we want kids in China to have the same experience too, so that the cultural identity in China will be filled with more talents in the future. What are some of the differences between collecting in China and in the United States? The main difference is the amount of opportunity artists have in the US. In China, there are not as many museums or galleries, so when I collect young artists, they don't have the fancy resumes like artists in the West do. Chinese artists are just as good, so I consider it my job to help the new generation of Chinese artists break into the international scene. What are some of your favorite pieces in your private collection? I think the ones that really help define it are James Turrell, Amalia Ulman—who was the start of my interest in post-internet art and an artist whose participation I sponsored in the Berlin Biennial—and Austin Lee, who I have watched grow to be one of the most popular painters right now.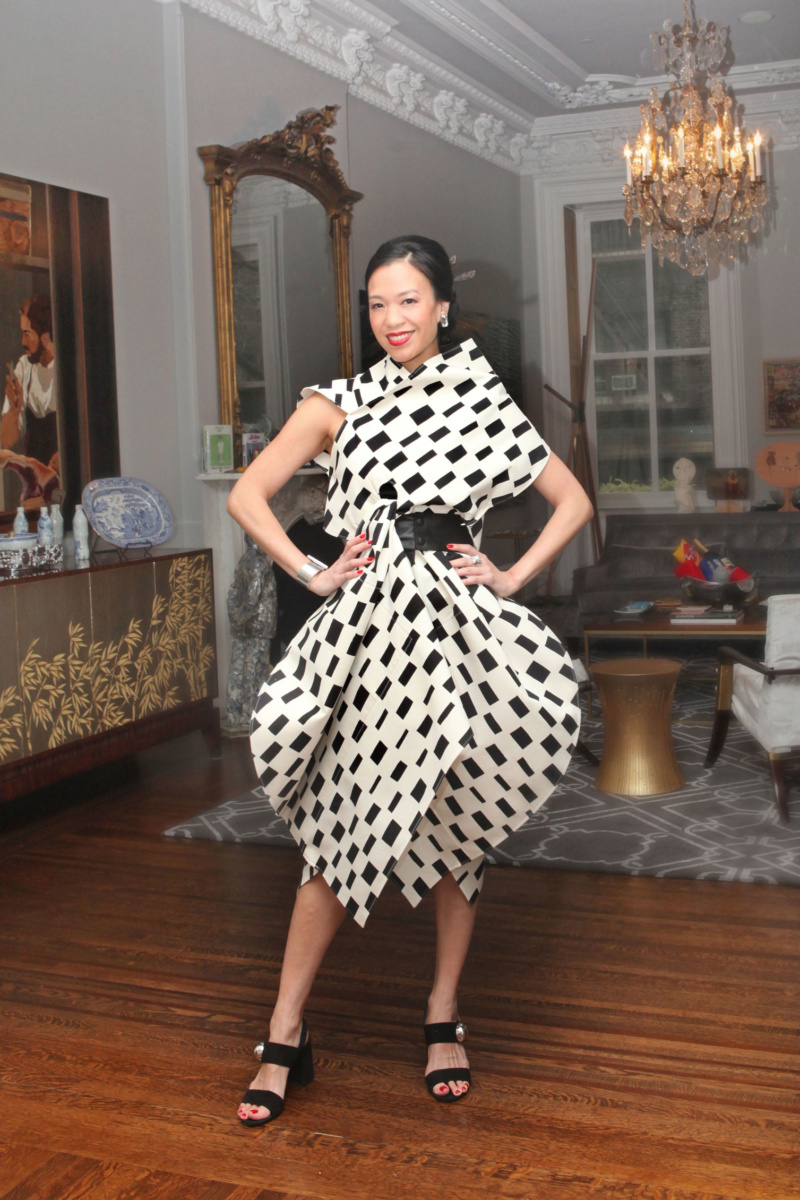 Carla Shen Home base: Brooklyn Heights Passion Project: The Instagram handle #CarlasCamo, where fashion meets art Institutional Affiliations: Brooklyn Museum and Greenwood Cemetery, board member Tell us about the first work you acquired. Does it still hold a special place in your psyche? The first "real" art I acquired was a large collage of NYC scenes and landmarks painted in watercolor by Ruben Toledo, who had been commissioned by Louis Vuitton to paint New York City vignettes for an upcoming Louis Vuitton notebook. Toledo used some of the original watercolors and arranged them in roughly their correct geographical locations to create a pseudo-map of Manhattan, which was displayed outside Fred's for the launch of his wife Isabel's eponymous line at Barney's in 2007. Today, it has a prominent place in my living room, next to a portrait of Ruben and Isabel Toledo by Maira Kalman. I am perennially inspired by the marriage of fashion an art, and the Toledos truly embody that. How do you describe the overall aesthetic or ethos of your collection? I was born and raised in Brooklyn and primarily collect contemporary artwork by Brooklyn-based or New York City-based artists, although I am attracted to a broad range of mediums and styles. New York artists in our home include: Fred Tomaselli, Rebecca Moses, Liz Collins, Ray Charles White and Katherine Bradford. That said, many of the works in my collection tend to incorporate collage elements too. A prime example: the beautifully patterned Japanese paper piece by Maria Berrio, which hangs in our bedroom, so I get to look at it when I first wake up and right before I go to sleep. Another piece that I consider an anchor is a 2008 portrait by Mickalene Thomas. I am obsessed with her use of collage and rhinestones, paint and pattern. Have you ever selected artists specifically for your brownstone? We commissioned Timothy Curtis to paint a mural in our elevator. It looks fabulous, but now we can never move because he painted it directly on the elevator walls, which aren't removable. We also bought one of Patrick Jacobs's portals and, during a recent renovation, had it installed properly in the wall. Now, there's a small hole in the wall, and when you peer into it, you see a valley of dandelions and grass—it's magical.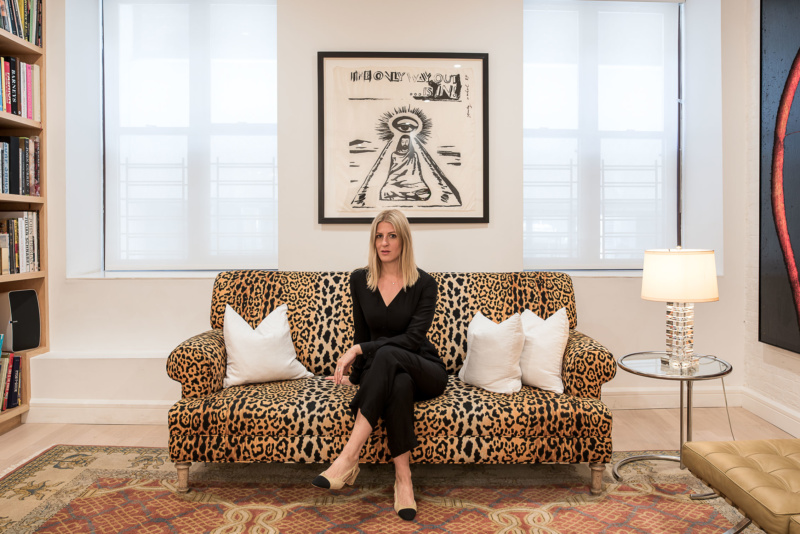 Casey Fremont Home base: Dumbo Profession: Executive Director, Art Production Fund Institutional Affiliations: Times Square Arts Midnight Moment, selection committee Is there one piece in your collection that stands out as particularly meaningful or significant to you? It's nearly impossible to select just one individual artwork that inspires me. They all really do. We are so lucky to have close relationships with artists and personal connections to almost all of the art in our house, some of which are wedding gifts or gifts from artists with whom I've worked closely on projects. What are some of your favorites in your home today? Each time I move, I generally hang different art in different rooms. But there are a few staples. The James Nares blue brush stroke is one of my favorites. It's bold and serene at the same time. I also love Deborah Kass's OY/YO sculpture that sits on the reflective credenza below it; the Marilyn Minter hanging in the kitchen; the Sanford Biggers over our bed. And the one work displayed in literally every apartment I've ever lived in is a black and white charcoal drawing of a spider monkey by my godfather Bill Copley. Curtis Kulig is a friend; our family cherishes his work. My kids are almost five and seven and have a giant Love Me Smiley between their beds, and an awesome abstract target piece that he did for them. Kenny Scharf also created the most amazing birth date works for each of my children when they were born. Your Dumbo loft is so visually inspiring. Any tips for optimizing art in the design process? We completely renovated the apartment. It was dark and felt quite different initially. It was paramount that we brighten everything. We painted the entire apartment with Benjamin Moore "super white" because—as Deborah Kass and I have discussed and agree—whites are all very different and it's crucial to choose the right one. We exposed brick that was in perfect condition, hidden behind drywall; perfect as it was, we decided to paint it white too, which adds texture without darkening or dating the space.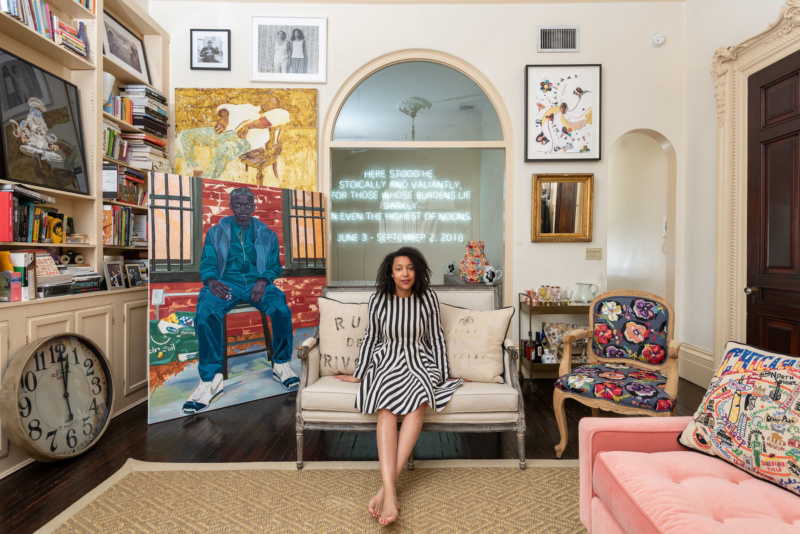 Victoria Rogers Home base: Greenwich Village and Palo Alto Profession: Stanford Business School student; previously Director of Arts at Kickstarter Institutional Affiliations: Brooklyn Museum, Creative Time, Studio Museum in Harlem When did you get bitten by the collecting bug, as it were? I grew up making art in Chicago in a family that was very supportive of my interests. But I realized pretty quickly that I was not an awesome artist, so I instead looked for opportunities to be close to those who are. I think that for me especially—as someone who tried to make art as a young person—I appreciate the craft and how difficult art-making can be. Collecting was actually a second chapter to my involvement with museums. Is there a recent addition you're particularly inspired by? I'm really excited about the most recent piece that I added by EJ Hill, whose durational performance was recently part of the Hammer's "Made in L.A." biennial. I got my artwork in early September. Company Gallery in New York had a solo show of his last fall, and I actually sort of tripped on a picture of it online. I was heading to New York the next day and got off the plane and went straight to the gallery to see his work. Instagram has increasingly become a really helpful tool. I'm doing two years here at Stanford Business School, so I can often feel disconnected from what's happening in New York. Do you have any guiding principles or "rules" as you collect? As I do with all the artists I collect—Jennifer Packer, Jordan Casteel, Rashaad Newsome, LaToya Ruby Frazier, Hank Willis Thomas, Derrick Adams—I believe in the message of the works and I want to be part of the artists' careers and stories going forward. I guess it's obvious, but many of the works in my collection are by contemporary artists of color.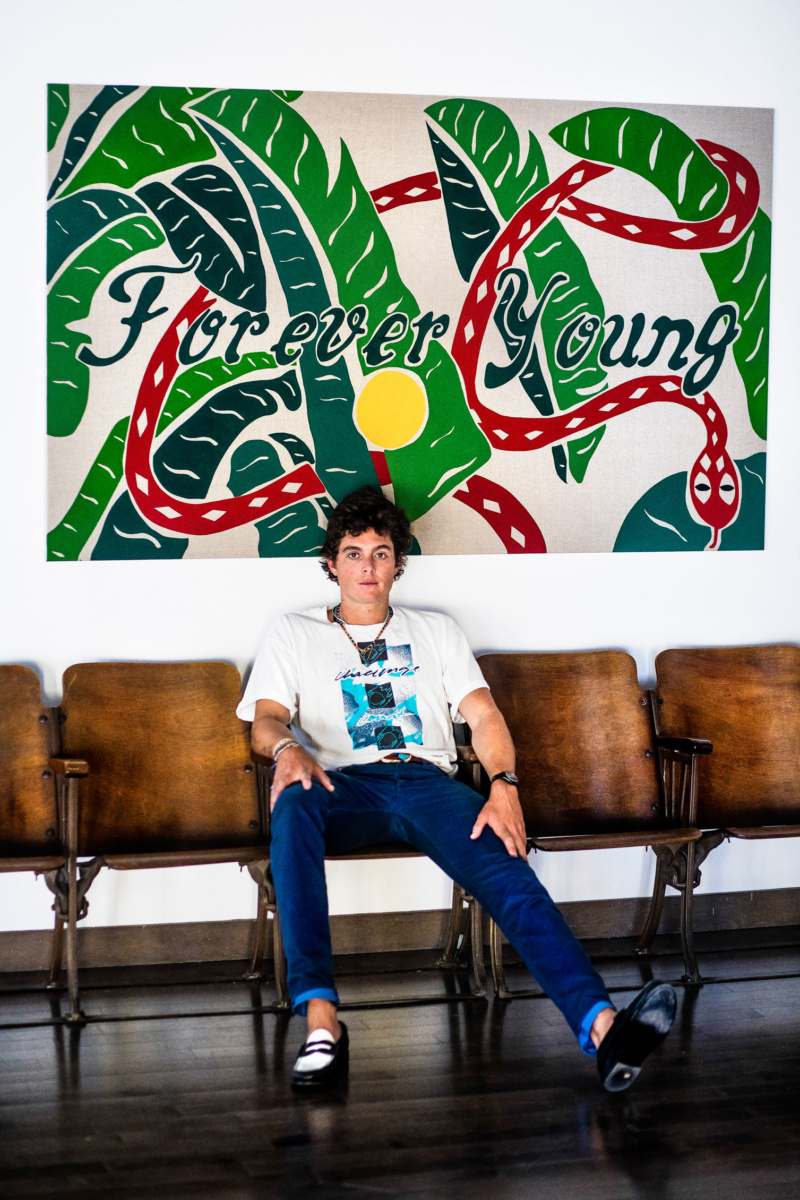 Matthew Chevallard Home base: Miami Profession: President of Mc Italia and Stuff Inc. and the Office Mia Art Gallery Tell me about the first piece of art you ever collected. I've always been into studying history and sociology. In high school, I was really focused on different cultural elements of the '60s and reading all the literature around that period, particularly revolutionary bands. Through that, I developed a love for the Grateful Dead and started collecting the handbills that they used to issue and these trippy, cool, wild posters. I bought three or four semi-large ones. What works in your collection are you particularly excited about right now? Arte Povera is far and beyond my favorite genre, and it's probably the concentration of my collection. Arte Povera can be a loose term, but artists in my home include Michelangelo Pistoletto, Enrico Castellani, and Alighiero Boetti. I have a Mimmo Rotella—all of these post-war Italian artists, who were based out of Torino, where I was born. The Pistoletto is a brushed aluminum, so it looks like a mirror with a screen print over it, not fully sculptural, but with a little bit of dimensionality. What is the vision of The Office, your new gallery space in Miami? My business partner, Daniel Berkowitz, and I work with a variety of artists: Matt McCormick, Jason Seife, Michael Vasquez and Corey Damon Black. There are a lot of Miami-based and relatively emerging artists who we are excited about. I collect a lot of the artists we are working with, promoting and introducing them to my friends. From there, we are building a greater vision.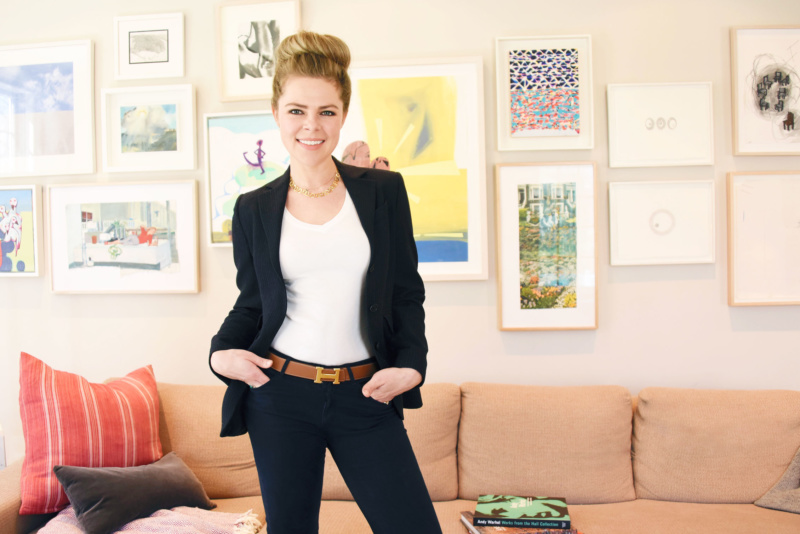 Emma Hall Home base: Westport, Connecticut Profession: Hall Art Foundation How does being part of such a serious art collecting family influence your perspective? I actually started collecting art with the work of my childhood best friend Lyman Richardson. Some of my favorite pieces are works that I grabbed from his studio or sketchbook and have had framed. This was before my parents began collecting in earnest. I guess the desire to surround myself in art runs deep in my blood. Any common themes in your personal collection? My parents gave me a wonderful Warhol work on paper as a 21st birthday gift. I feel as though I can trace the aesthetic of that artwork through many of the pieces I've collected since. There is a common thread of strong line work in much of the artwork in my home: Holly Coulis, David Shrigley, Chiharu Shiota, Barry Le Va, Abby Leigh, Dan Gluibizzi and Alison Hall. I also have a great affinity for painting. Ridley Howard, Oliver Clegg, David Humphrey, Peter Dreher, and Walter Robinson are some of the artists we have hanging. Up until we moved to Connecticut last year, our collecting was really limited by size, things we could fit in our West Village apartment. Everything had a gem-like quality—small treasures. Now, we have house-sized walls to fill and we're able to think larger, so the possibilities are exciting. I'm eager for big canvases, though with a three-year old, I'm a tad apprehensive just yet of putting anything in harm's way. How is collecting for your home different than purchasing for a museum or planning an exhibition? There is a dynamic quality to art in a home. I find when you can experience artwork throughout the day, in different lighting and moods, your connection with the work deepens. I think it's extremely important for art to be accessible to the public. It's tragic for work not to be seen. However, I don't like when museums take on near-religious status and the art within them feels like entombed relics. Art needs to live and breathe.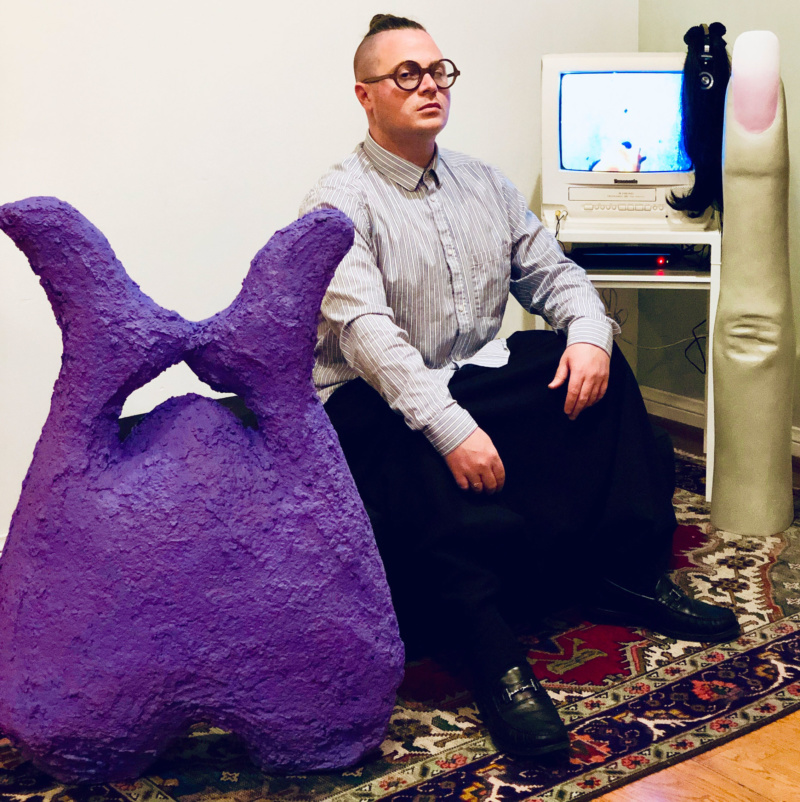 RF Jefferies Home base: San Diego Profession: Finance Institutional Affiliations: Triple Canopy, International Friends of SOMA Council, Mexico Can you describe your collecting philosophy? I have certain parameters to help guide my acquisition process and tie into my giving mission. To start, I focus on time-based works, sculptures and installations with a concentration on those artists identifying as female, persons of color, and LGBQTI. Whenever I can, I try to collect in depth so that I have a solid representation of an artist's practice and help support an artist's growth over a longer time frame. I am fortunate enough to have several works, for example, by Puppies Puppies, Tschabalala Self, and Terence Koh, to name a few. Does selecting art to live with differ emotionally from falling in love with work in a museum? I don't see a difference between work in an institution you love and bringing that work home to a private space. That said, I feel that private collectors have a duty to help public institutions via loans and gifts so that some of this art is accessed by the public at large. I've been collecting for 13 years now and I'm very fortunate that I've centered my home around my art— and forgo traditional trappings like furniture—in order to live with my sculpture and install work. What's your tactic for managing the fairs? Art fairs for me are a very hectic experience and now I only go to ones closer to home—LA and Mexico City—to see friends I don't get to visit often, since I don't like to travel for art, as I prefer to use those funds to buy art or support an arts institution. I like to buy primarily from representing galleries, as I feel this is an act of support for both the artist and the galleries who support them. This slow-cooked approach allows me to think about each work so that my collection is cohesive and on-mission.