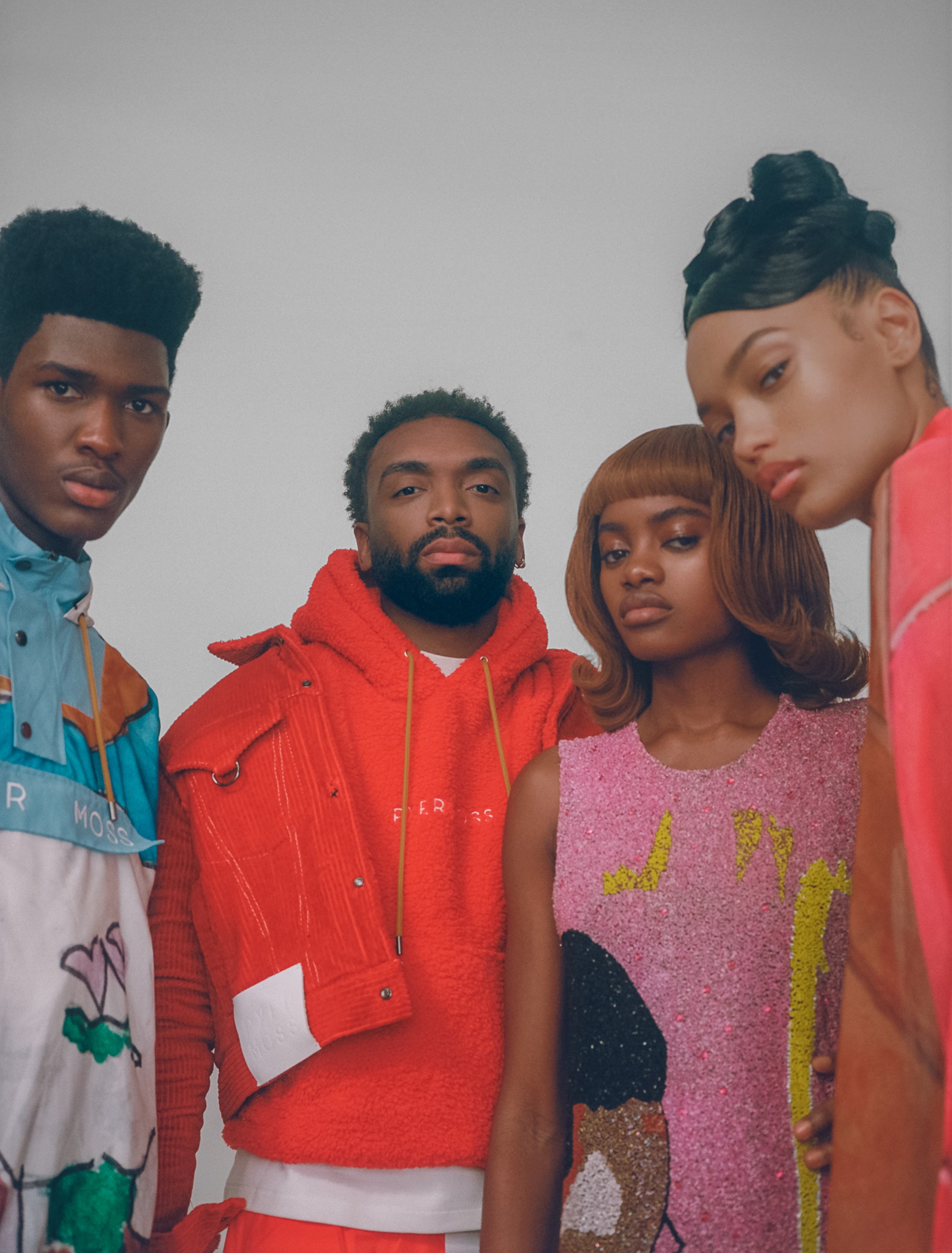 Certain information in this article is for the young black creatives who are out there aspiring to exist, aspiring to create something beyond the confines of what someone, outside of you, would attempt to "allow," "control" or whatever else. Some of this article is only for you, and I wish it could be longer.
There is a don't give a fuck attitude that ownership, a certain type of agency, freedom, affords you. It's like a deep exhale of wet-crisp air to see it slipped on like a glove sometimes. Here, the dgaf attitude is of course not the sum of the dictionary definitions of those words. The attitude is a Teflon, or in the case of Kerby Jean-Raymond, winner of the 2018 CFDA/Vogue Fashion Fund award, it's a printed silk button-down with what feels like gouache or watercolor washes of blues and greens animating black family and banality and being, all courtesy of artist Derrick Adams. The paintings from Adams's Family Portrait series were the muse for Pyer Moss's second collection in the "American, Also" trilogy, aptly titled Family. I describe what the painting looks like, what it feels like, especially as it drapes in fabric across a body hued with the same warmth as those pictures suggest, to get to its poetry, its luscious liquidity.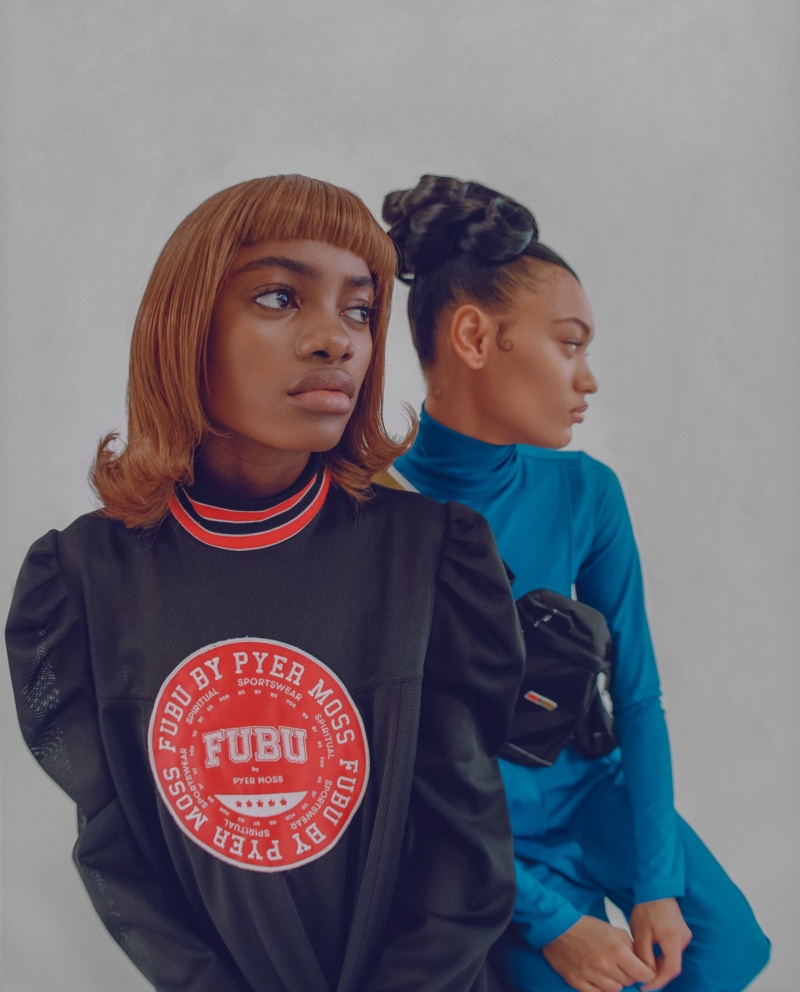 Sometimes that Teflon also shows up in a black cropped leather jacket with cowboy-style stitching and a matching black leather pant—a black power suit of sorts. These are my imaginings. But what I'm describing are not just articles of clothing from Pyer Moss's collections; they are more like breathing documents. Small histories, treasures of black life, fantastical imaginings breathed into cracks like expanding balloons meant to linger. Meant to put pressure on those hard-cracking foundations. Meant to be soft, bright and flamboyant. Meant to be elastic. Meant to expand and constrict. Meant to wrap themselves around the body like that rubber around breath, around an exhale.
The brand Pyer Moss started in a day—January 28, 2013, to be exact. To be fair, of course, we know nothing was made in a day, but an image of Rihanna wearing a camouflaged leather jacket by Kerby went viral on that day, so Kerby had to come up with a name for his brand, create a website and develop an Instagram page all in one breath. And fashion can be a whirlwind—another norm from which Pyer Moss is seceding. His website is matter-of-fact, and maybe it's only because I've just come off an interview with Kerby that I read it in his voice: "Pyer Moss is sold limitedly and in no particular schedule…" even though a schedule is a defining logic in fashion. The schedule or calendar is fashion's economic engine, lest we forget. It is the benchmark by which investors look toward projections, matrices and bottom lines, "has the money flipped?" Kerby bought his company back from investors in 2017, using almost half of the money from a then newly-penned Reebok deal—and that makes all the difference. His money is clearly where his mouth is.
What is most striking is that Kerby's motivation is not necessarily just fashion. Like any other artist, Kerby has something to say, and so an image, a bead, a silhouette all become conducts for the utterance. His vision is transmitted by a choir, a model, a talking head interview, a historic free black geography around which one may oscillate in constellation—sometimes to a soundtrack somewhere between operatic fervor and trap.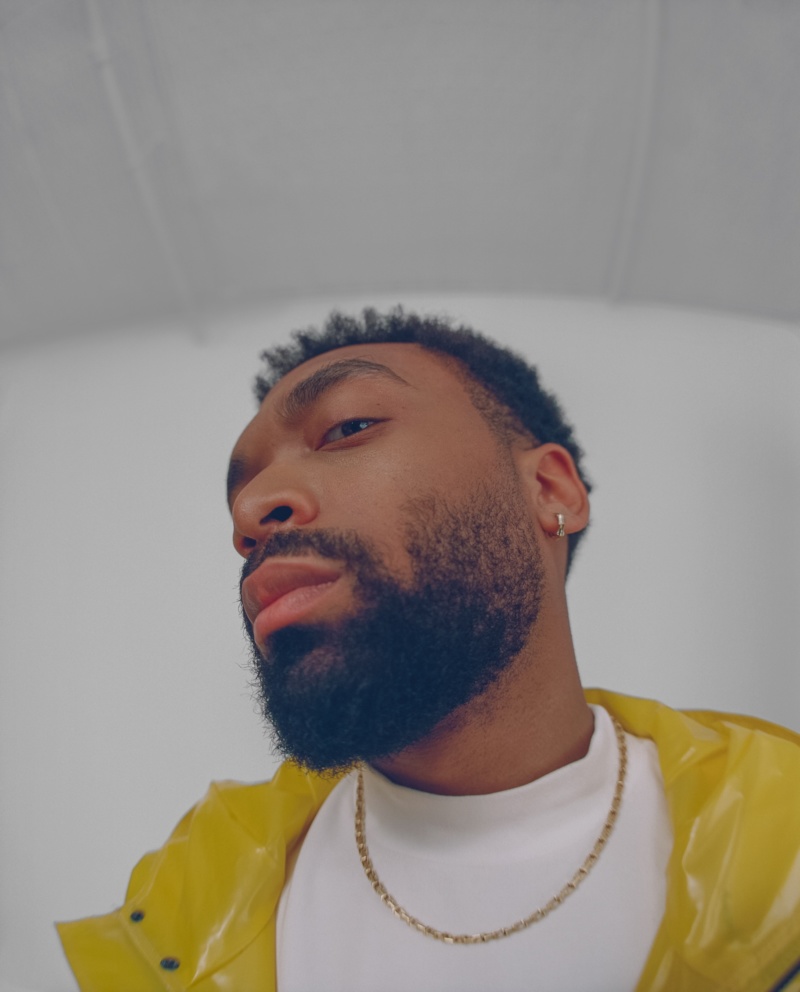 One might navigate to Pyer Moss's website looking for a tee-shirt but leave having met: Angela Rye, Attorney and Political Advocate; Valencia D. Clay, Baltimore Public Schools Educator; Dr. Nadia Lopez, Principal of Mott Hall Bridges Academy; Randy Savvy, Rider, Leader of the COMPTON COWBOYS (shout-out to Cali); Orlando "Chilly" Mayorga, Precious Blood Ministry of Reconciliation Community Center; Ameena Matthews, Violence Reconciliation Activist & Imam of Al Haqqani Mosque; Kisha "KB" Bowles, Rodeo Rider, Cowgirls of Color; Paris "Tree" Brown, of Good Kids Mad City and more.
This to me is profound, and a simplicity not to be taken for granted. Conscious of the reach a brand has, how one decides to use their platform is telling. Kerby is adamant about not confusing the definitions of activism in relationship to him or his brand. So, the beauty here is the people he decides to feature, the people offered a moment to speak and share their concerns, dreams or experiences. And in addition, you get to look at some fly shit. You get to see them wearing some fly shit. And by now we all know the power of an image. The power of a picture of someone who looks like you, tucked into a buttery leather or shawled in faux finery, skin tones lit properly—and then, an unexpected discovery. They are superheroes, they are celebrities—just not in the way we've been conditioned to define either of those positions.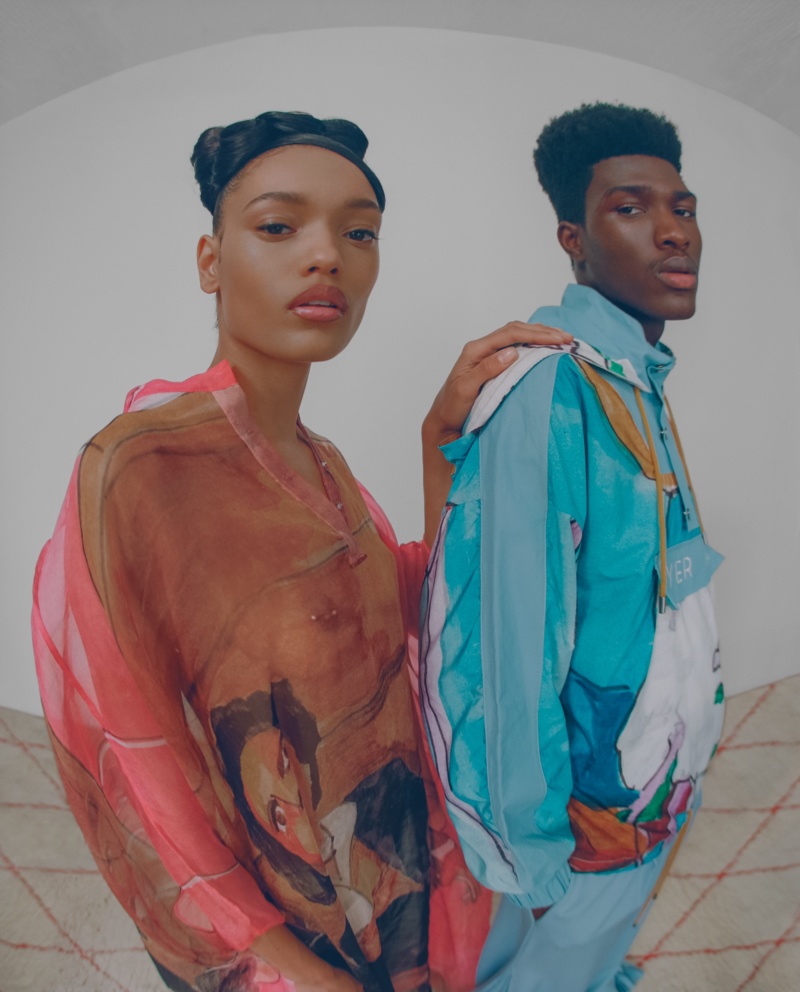 I'm sure Kerby would attribute this thinking to someone in his life he calls Dean Mimi, "who was woke before woke," he tells me, "old-school woke like Public Enemy." Kerby attended Hofstra University, and the summer prior to enrolling in his first year he participated in a six-week program called New Opportunities at Hofstra, which was run by Dean Mimi. The purpose was to even the playing field, so to speak, for all the "smart kids of color."
"In six weeks, you had to catch up to all the shit your public high school didn't teach you," he recalls. "Mimi added her own curriculum to it, so she added topics like African studies, and every night we had to watch Eyes on the Prize… Ms. Mimi taught me how to be black, or rather how to be black and proud." You can tell this has informed so much for Kerby. Of course, in the beginning it was a struggle. He didn't want anyone to know he was black. He didn't want to be photographed, didn't want the interviewers to harp on his blackness because there was a connotation there. The brand would be labeled "streetwear" or "urban" just because of what he looked like. It's not something he or anyone is able to escape much, but fast-forward and it's something he's leaned into hard. He's found a way to exist, a way to imbue the conversation with beauty and transcend the lazy trappings of stereotype. It seems he has found an artistic freedom, and I'm sure Ms. Mimi's voice comes flooding to the surface from time to time.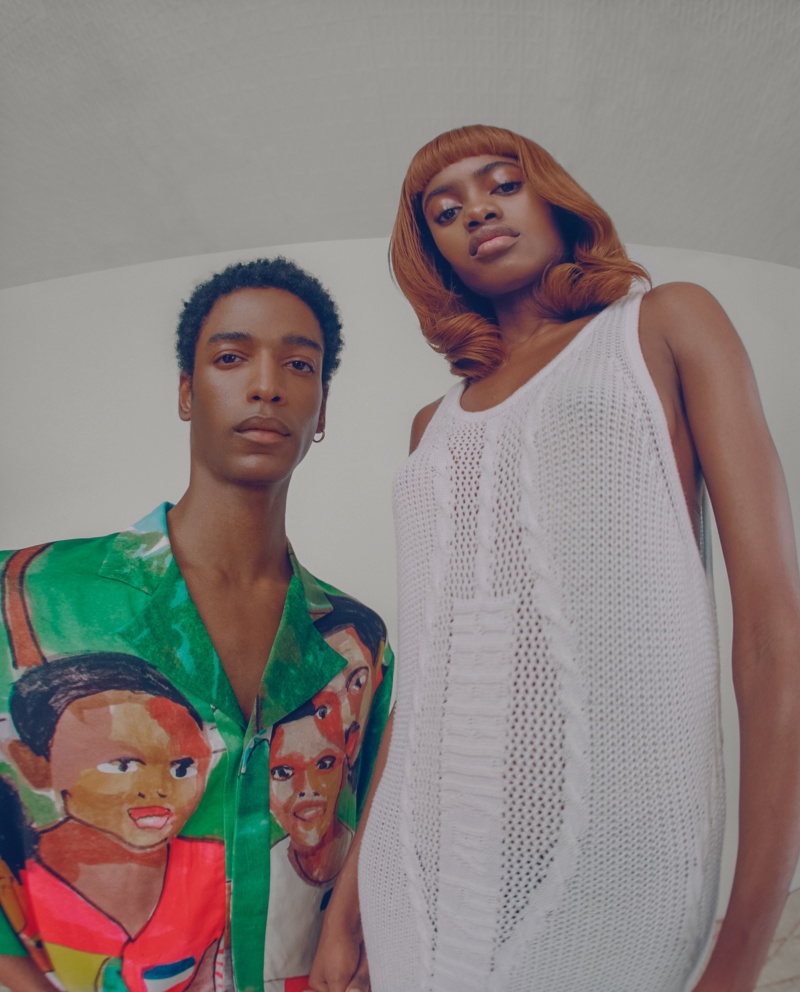 The work he's trying to do right now "is to present black people in a fashionable light, in a natural light… showing what the black condition looks like without the angst of racism, without the history of slavery, without the interference of the molestation of imperialism, all these different things and how they relate to the present day… to take all of this and show people what can be, and to encourage others to come in and to further infiltrate it as much as [he has] but even further." Kerby says, "If there's a brand that steps in and does it better than me I might not need to do it anymore, and then I can just move on. Maybe I switch to doing pottery or something. It's a social experiment for now."
The dialogue and the intersections between art and fashion are not new—fashion is always finding its way into the museum space. According to the New York Times, the Pyer Moss presentation at last February's New York Fashion Week was "one of the most anticipated on the schedule," and what did Kerby do? He opted out. Not an easy decision to make, especially with the momentum around the brand. Yet he did it anyway. You see, it is the risks the brand takes that give it just a little more tooth than others; that make me reconsider the boundaries and rules thrusted upon them by the industry; that make the frame dissolve a little more. It's that dgaf that makes it so delicious. Pyer Moss is a love letter and Kerby Jean-Raymond a bad motherfucker!