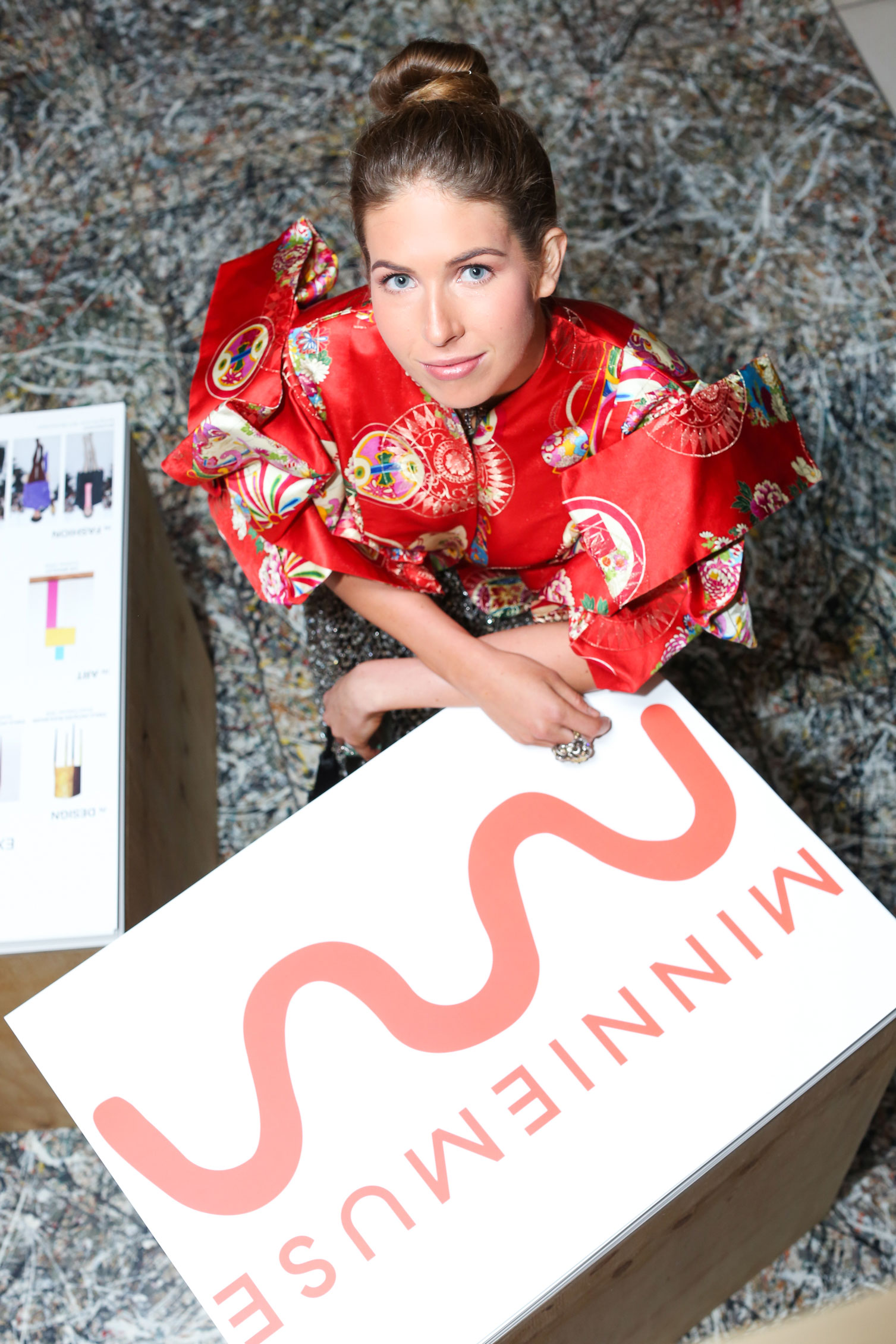 Colby Jordan Mugrabi is not your average blogger. If you frequent a certain caliber of art and fashion events—like the Chanel haute couture show in Paris, which she recently attended—you've likely noticed her. But unlike other young women in her position, Mugrabi's website, Minnie Muse, doesn't feature brand sponsorships or painstakingly itemized pictures of her outfits. Instead, Mugrabi deftly catalogs and connects the worlds of art, fashion, architecture and design, linking Comme des Garçons to Andy Warhol and the aesthetic of McDonald's to Jean Paul Gaultier.
"No one really focuses on approaching the four disciplines from a landscape perspective," she says. "They focus on them singularly but not necessarily as entities that have forever influenced one another. So I took it upon myself to create that content."
Twenty-five-year-old Mugrabi is married to art dealer and collector Alberto "Tico" Mugrabi, and is the daughter of businessman John W. Jordan. She grew up in Chicago, where she was a part-time contributor to Teen Vogue, before moving to New York in 2011 to attend NYU. She began working on Minnie Muse as part of her self-designed course of study in art history and fashion business at the Gallatin School, and celebrated its relaunch in 2017 with an event attended by her friends Mary-Kate and Ashley Olsen, Thom Browne and Phillip Lim.
"I always loved the name Minnie Muse," Mugrabi says. "I came up with it when I was a little girl, because when I was eight years old, when all my friends wanted to be actors or singers, I wanted to be John Galliano's muse." A few years later, she met the designer—she's since stayed in touch with him—and he later remembered her because she was "the only 15-year-old from Chicago who was obsessed with him."
In a world of fast fashion, the infinite scroll, and nonstop celebrity content, Minnie Muse posts feel considered and authentic. Mugrabi says her ideas come from conversations, or walks down the street in New York. She does much of her research not online, but at the Costume Institute at the Met. "I always go in with research questions and come out with a hundred others," she laughs. And though Mugrabi has over 13,000 followers on Instagram, social media stardom isn't a priority.
What is a priority is growing the site's readership and the Minnie Muse brand as a whole. Mugrabi is currently working on launching Merch, a Minnie Muse-branded product line, which will feature stationary as well as a limited-edition range of hoodies. She's also hired her first employee, who helps with site operations.
"I wanted to create such a strong brand identity— through the content I create and the connections that I make—that someone, somewhere could see a fork in a restaurant and it would remind them of Minnie Muse for some reason," Mugrabi says. "Now I'm in this moment where I realize, obviously, that this is a business, and I want it to grow."