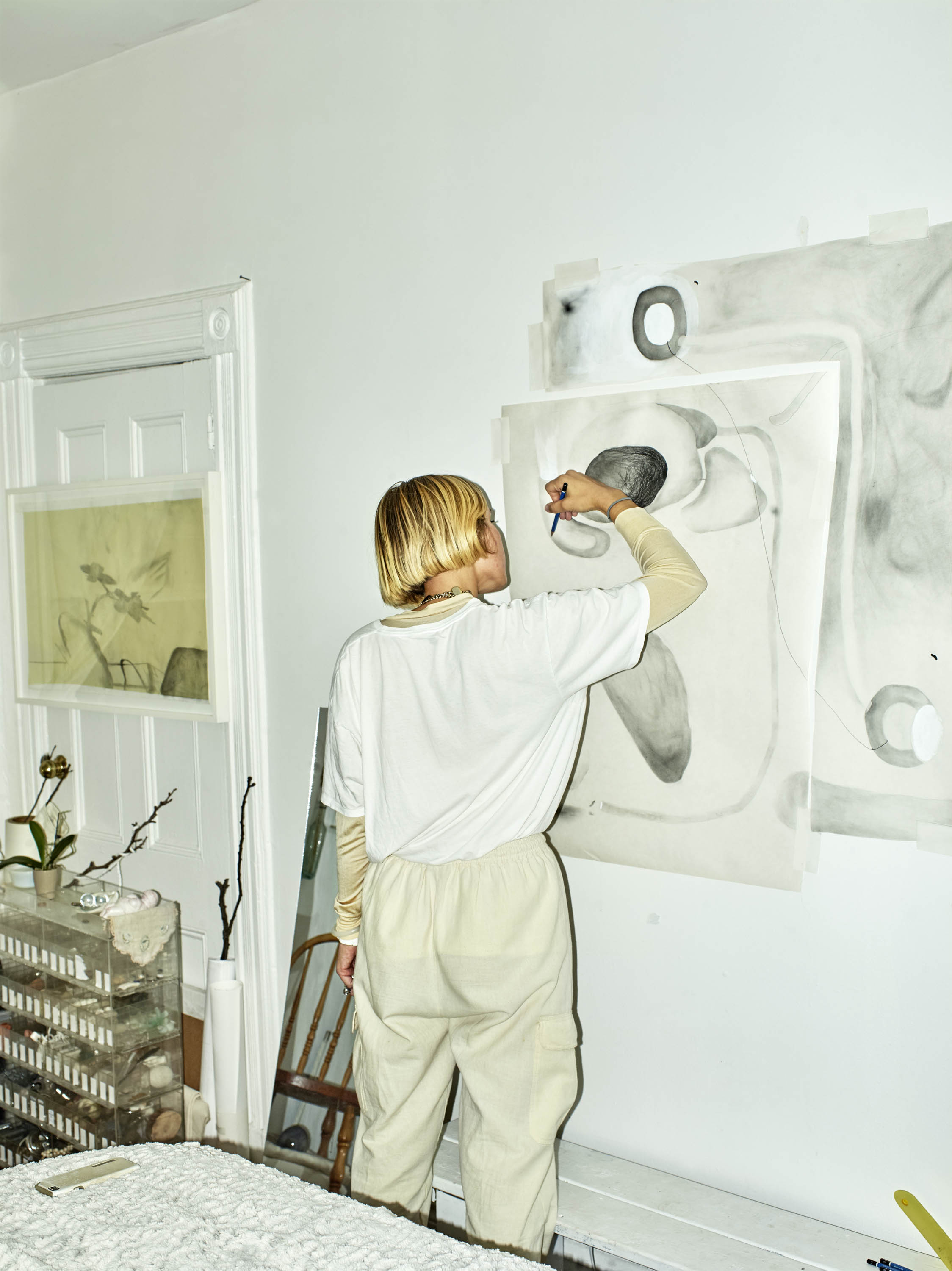 Hayley Martell very easily convinced me to take the ferry to Rockaway and spend six hours with her. The Ohio-born artist wore all white, and told me she once wore a uniform of a white tee-shirt and painter's pants for six months.
A stranger on line for the ferry asked if she wore the color to make a statement. She does. "For me wearing white has always been a signifier of an attempt toward a greater internal shift. The palette became a visual reminder for myself to remember kindness and to strive for a peaceful equilibrium," Martell explains. "Right now, it's serving as a practice in acceptance: I am enjoying the challenge of letting go of perfectionism and judgement as my clothing gains an assortment of stains from years of being worn."
We arrive and walk toward the beach. It's an unseasonably warm fall day, so we jump in the ocean. While drying on the sand, Martell tells me she believes artists are born, but that otherwise, the label is tricky. I agree with her, since she seems like one of those born ones. It's evident in the small gestures of her daily existence. For example, if you compliment her on her jewelry, one of her own silver "wearables" as she calls them, she'll probably yank it off her ear and give it to you. Martell collaboratively designs clothing and crafts sculpture culled during "treasure hunts," re-contextualizing the often discarded materials. She makes videos that function like soothing meditations, with elements of nature flickering on-and-off the screen like tabs of a computer.
Martell's practice fits within a lineage of conceptual artists like Mierle Laderman Ukeles and Rosemary Mayer—both of whom invest in rituals of care, honoring emotional labor and documenting the surreality of being in a body. "I make work to process my experience and inner emotional landscape," explains Martell. This includes overcoming trauma and acknowledging the human experience in its joy and banality. "I think life is sort of like theater—not many people pay attention, and it's my job to direct people's attention" she says.