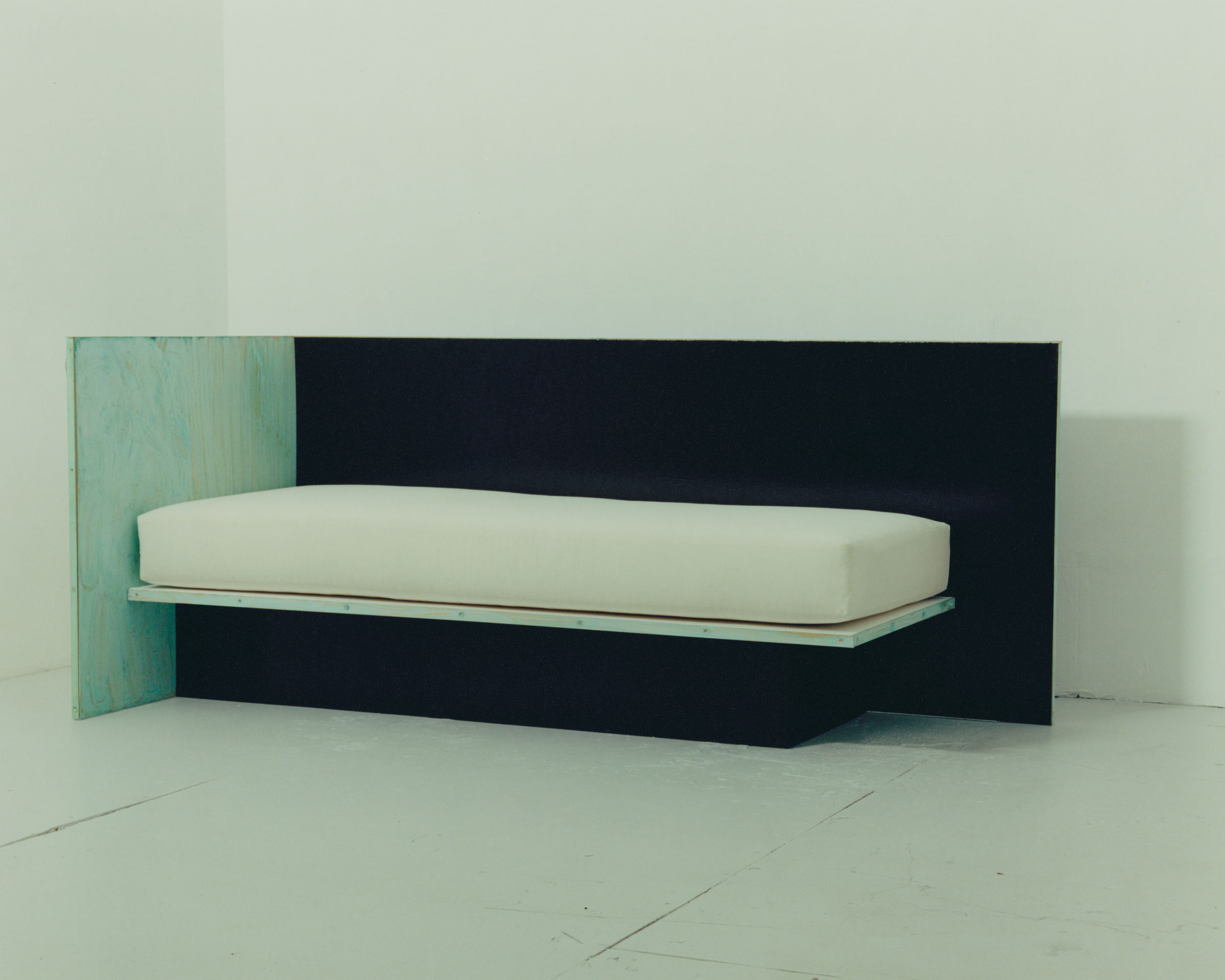 The floor shifts beneath us. It is a sea of river rocks. Aaron Aujla, Benjamin Bloomstein, Charles Harlan and I are standing in what in two month's time will be Green River Project's first brick-and-mortar shop. They are in the thick of renovations—the last step on a road that began in 2017 when friends and artists Aujla and Bloomstein left their jobs as studio assistants to create their own design firm named for the spring running behind the latter's family home upstate. It is at this idyll escape that the duo workshopped their first collection, a series of simple square chairs and pillow-topped mahogany daybeds. "We didn't set out with any preconception of what we were going to make," Bloomstein says. "It all came about organically and it's been that way ever since."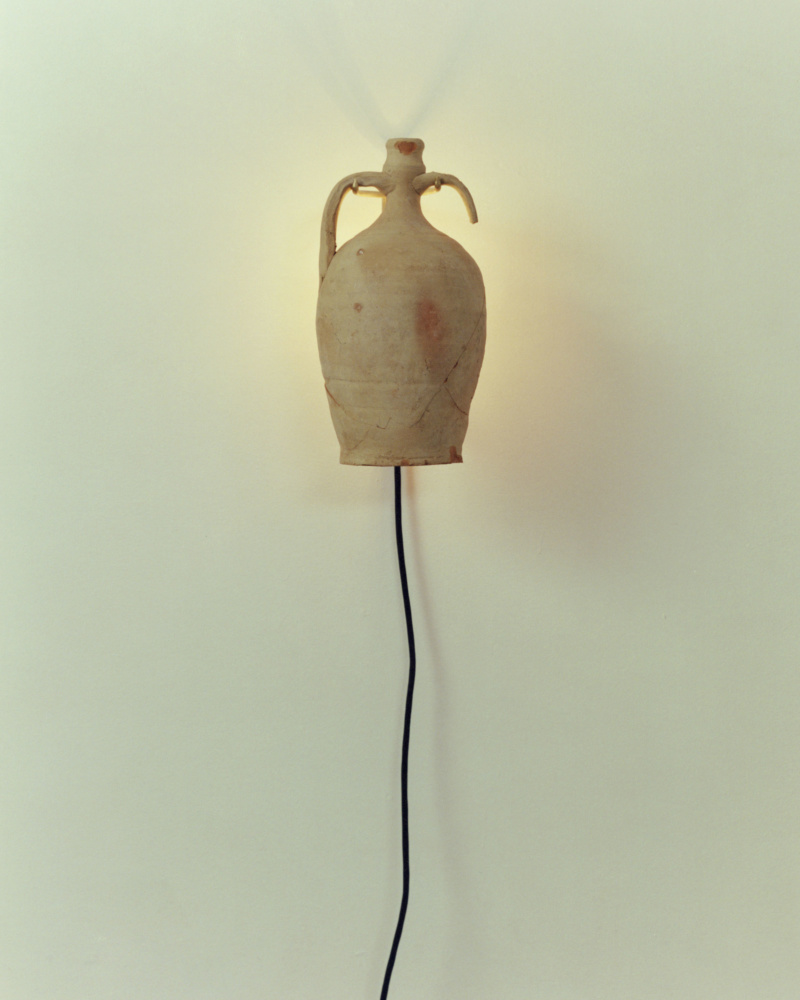 Like the designers themselves, their new space, a street level niche tucked away in the East Village, doesn't follow the typical design showroom formula. Rather than large and empty as a Design Within Reach or a white cube, the singular room is intimate, almost cavernous—providing only enough space for a couple of pieces and people at a time. The loose pebble rug heightens the drama as does the wood plank façade and the bronze Upper East Side psychiatrist plaque with Green River Project LLC emblazoned across its face in lettering by Eric Wrenn.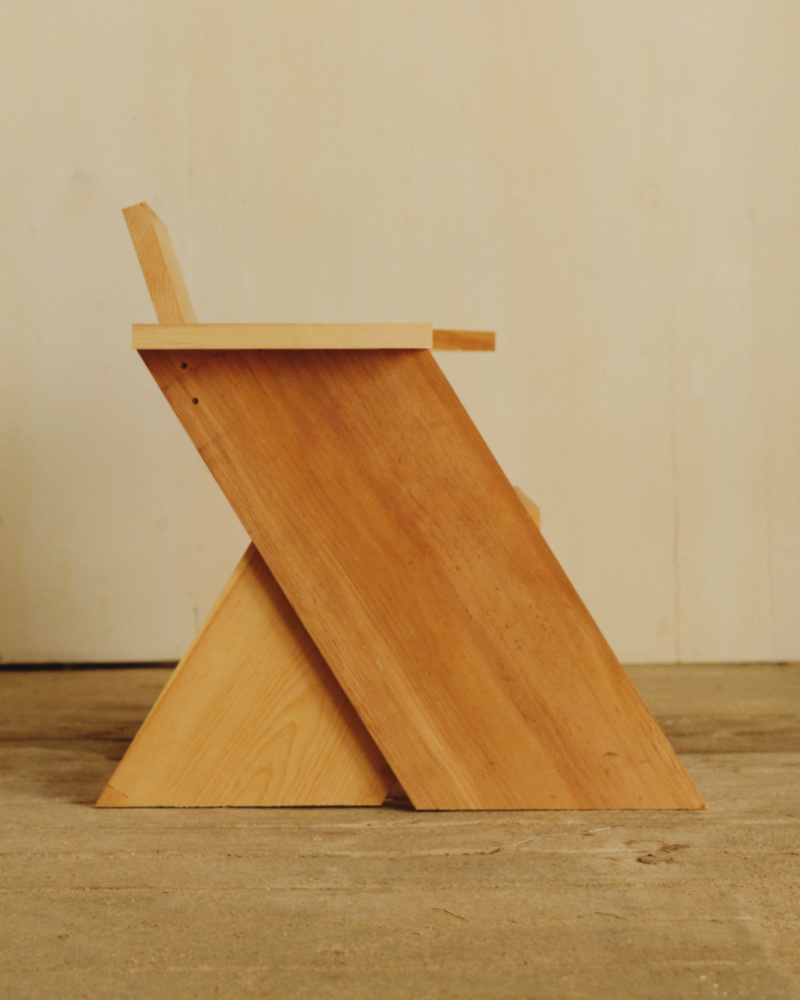 Reimagining small, quiescent corners has become a kind of signature for the designers. "The same collectors who were buying our work as artist are now hiring us to address that closet or nook they never think about," Aujla says, "I think there is this renewed desire to create these intimate moments and textures throughout one's house. It's a way of I think leaving one's mark but also building into one's life a sense of surprise."
I find myself impressed by Green River Project's adroit sense for elevating the familiar. Their furniture often has a formal geometry, but once cut to size their raw materials are left to revel in their imperfections. The result is a handsome balance of entropy and precision that lends the work a certain timelessness. Take for example, their One Pine Board chair which is assembled as it sounds from a singular length of wood. Fabricated in less than 15 minutes, each chair is as much about functionality as gesture. When we spoke in August, Aujla and Bloomstein were throwing around the idea of making chairs to order out of their stony clubhouse. "Our forms are simple," Bloomstein explains, "we aren't trying to protect some secret recipe. For us it's important to play with that sense of immediacy."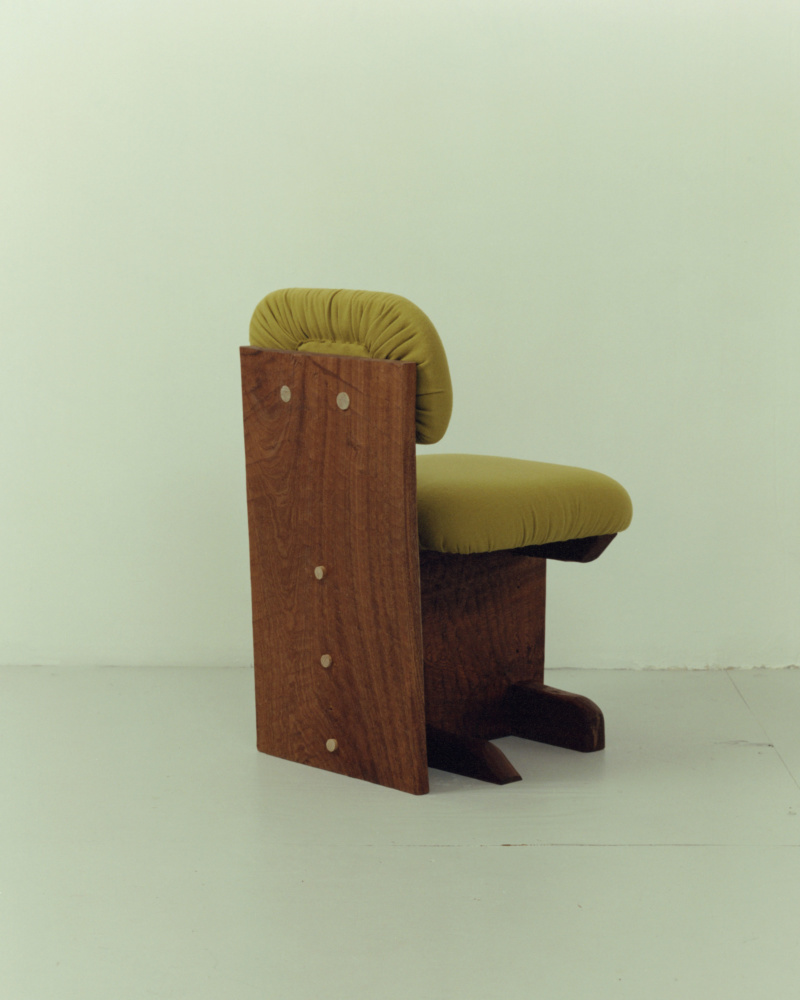 With clients ranging from Robert Gober to the Olsen twins, Green River Project has rapidly become a go-to for those looking for this charming mésalliance of ease and rigor. "We fell in love with Green River Project because of the narrative arc they have created between the Pierre Jeannerets, Le Corbusiers, the early modernist architecture canon—and what you see right now," says Adam Charlap Hyman, one of the partners of Forbes Under 30 rank interior design firm, Charlap Hyman and Herrero. This year, Charlap Hyman commissioned Green River Project to create a series of their bamboo lounges for a private terrace. "Minimalist, modernist furniture as executed with natural, very humble materials is pleasing to me and to our clients," Charlap Hyman continues, "especially when thinking about summer, it's nice to have furniture that can have the rigor of an architectural practice, but the materiality of something truly relaxed."
When Green River Project opens the doors on October 14, the partners will reveal collection number four and with it comes their first dining table (a metal behemoth), a set of soldered chairs with worsted wool seats and sconces made of discarded airplane skin. These pieces are accompanied by the firm's first sally into fashion—stiff hide jackets made in collaboration with designer Emily Bode. "When we collaborated in the past, they helped me create my sets, but this project was more about making a structural object, an art object," says Bode, who partnered with Green River Project most recently on screens for her FW19 presentation. "They are looking at the the home as a whole and thinking about it the same way I've always viewed fashion. Everything you live with is important, and can be intentional. Aaron and Ben are looking at design in a very similar way and I think that's why we collaborate so well. When I asked Ben how he would want the buttons. He said hard. He's very tactile in that way. The details matter."
With an evolving idea of what the space could become: a theater, a party, a showroom, a gallery, a dinner—the gravel begins to feel familiar. Aujla and Bloomstein see the future of the space as ever-changing—an allowance for teasing out new ideas and communing with friends and strangers. Back at home, flat-footed in my room, I think fondly of the uncertain pit in my stomach.
Green River Project LLC opens October 14 at 204 East 7th Street, New York. Appointment only.
Craving more culture? Sign up to receive the Cultured newsletter, a biweekly guide to what's new and what's next in art, architecture, design and more.