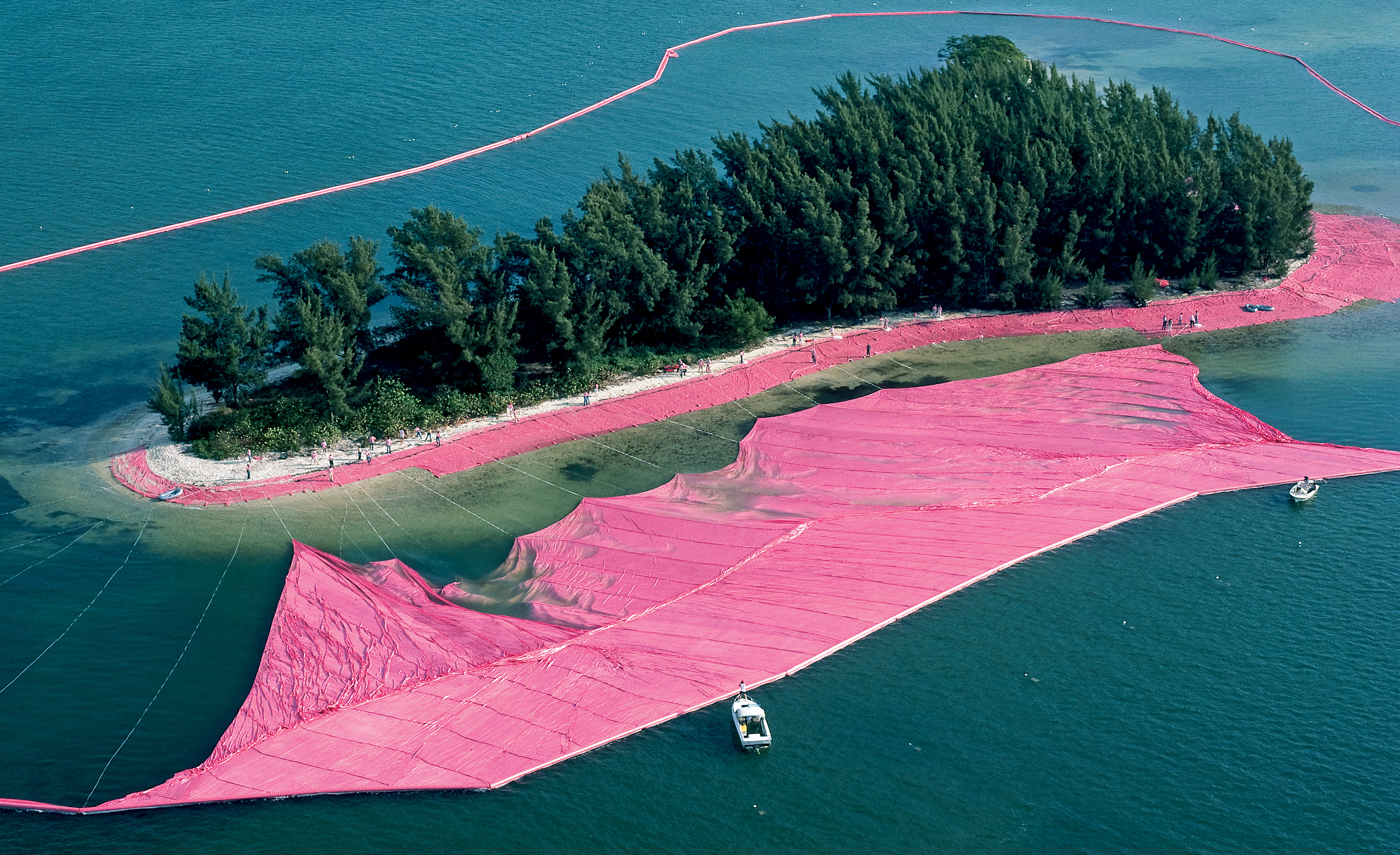 Thirty-five years after wrapping the islands of Biscayne Bay in unforgettable swaths of pink, Christo is back for an exhibition at the Pérez Art Museum Miami celebrating the monumental Surrounded Islands. Here, he discusses his life and work with PAMM director Franklin Sirmans.
Franklin Sirmans: What was the impetus for you to become an artist?
Christo: I owe everything to my parents, like every child of course, but for me it's ver y important because my mother was involved with ar t. She was working for the National Academy of Arts in Bulgaria. She told me that when I was a little boy I was drawing all the time so she decided that I needed private lessons. After school I was going to the studio of a real painter who painted with oil paint, making sculptures with wire, acetate to make scale models, cut-outs, everything. Ever y day instead of doing what children usually do, piano lessons or something, I was going to artists—not from the school, real professional painters. After that, in high school, I was seriously interested in world art and studio art, even during the communist time when things became very difficult. When I finished I applied to the Art Academy in Bulgaria, the School of Visual Art. I was accepted but the school was under a very old-fashioned system. In Bulgaria, everything in the early 20th century was modeled after the Kunstacademie in Vienna and Munich. You did an eight-year study, like medical school. The first four years you study everything: painting, sculpture, decorative art, architecture. I even had two semesters of medicine and depiction of the human body. After these four years, you decided what to be: architect, painter, sculptor or in the decorative arts.
FS: And you went to paint.
C: In the early '50s. Around '52, I was going to this school, but it was the height of the Stalinist period, just before Stalin died and after, when the doctrine of fascism was being very strongly implemented in art school. I was suffocated. Bulgaria had no historical art collection and nothing about modern art. Even Van Gogh was considered a decadent artist. I had relatives in Prague, and I was really desperate during these first four years at art school because there weren't any modern shows to see. I thought I should do everything possible to go to another country, but because my family was persecuted by the communists, I did not have any rights to do anything, not even rights to learn another language. I was only learning Russian and speaking Bulgarian. But that urge to go out was so unstoppable that I did, finally. During the summertime I decided to try my chances and go to Prague. I bought a train ticket, but in the summer of '56 something incredibly important in my life happened—there was a Bulgarian revolution in Budapest. There was an uprising against the communists, and when summertime arrived in Budapest, there was a huge fear that World War III would start and there would be no way to go to Prague by train. The only way was by plane, and I remember at the last moment I desperately tried to find money to buy a ticket to fly from Sofia to Prague, which was the first time I had taken a plane in my life. I arrived by myself. I had my student card from the University of Art in Bulgaria and I was thinking even if Prague is still a communist country, it's better and I'd like to stay there. This was the first time I had the chance to see original works of Picasso and Paul Klee. They were in the basement of the National Gallery.
FS: So you were able to stay?
C: My idea was to not go back to Bulgaria. I was surviving by making paintings of friends and people in Prague and then I was eventually able to get to Vienna, not speaking anything except Bulgarian and Russian. I survived doing all kinds of odd jobs, washing cars, working in garages. In Vienna I became stateless with no passport, no nationality. I was a refugee. I wanted to go to Paris where everything was happening. I made portraits for the refugee officials of their children and families and they advised me to try to find my way to Geneva, Switzerland. In late August or September of 1957, I arrived in Geneva and I started to make money making portraits of friends of the UN people, and I worked very hard and finally, thanks to them, I was able to arrive in Paris in March of 1958.
FS: And you were able to continue painting the whole time?
C: Yeah, signing with my family name "Javacheff." The abstract work or modernistic work I was signing with "Christo."
FS: So you knew you were doing something very different between the representational work and the abstract work?
C: It's like a writer who writes with a pseudonym to write books that sell very well. I was "writing" portraits of children, wives and gentlemen and very big French families. Jeanne-Claude's father was the huge hero of the French Resistance, he was a four-star general and a personal friend of General de Gaulle. That was how I met Jeanne-Claude. Actually, I did a portrait of Jeanne-Claude for myself and signed it Javacheff, then I wrapped that portrait with plastic, like my wrapped magazine, and signed on the wrapped portrait Christo. This portrait is in the collection of the Museum of Contemporary Art in San Diego.
FS: This is the sign of a very different artist. How did the work change from being about painting and where you came from?
C: I was already doing these abstract pieces. I had the address of a friend of my father's, a German friend who studied in Vienna with my father, called Mr. Rosenkranz. And when I arrived in Paris I wrote to him that I was in Paris, and one good day Mr. Rosenkranz arrived at my little room—one room with no water. In the summer of '58, he bought the first wrapped can, a little tube.
FS: What made you wrap the can? To start?
C: I started right away. I was not a painter. When we wrapped the Reichstag, the first critic the New York Times sent was not an art critic but an architectural critic. In truth, the wrapped Reichstag was a type of new architecture from the start. I had not yet decided what I am.
FS: Absolutely, you do something very different.
C: The way the projects are built is very similar to how architects today work, how they build bridges. They're completely outside of the milieu of how normal art is practiced.
FS: Completely! Just like the Miami project, Surrounded Islands, in 1983.
C: The sculptures were very free and the work required a high level of skill. I involved readymade objects like a paint can, sometimes adding buttons of yellow fabric—but they're very free, not static sculptures. They can be arranged differently. All these early and late '50s pieces now belong to the Tate Gallery. I remember they bought it at auction, but I gave the original collector instructions that the piece can be composed differently—there's not one way to do it.
FS: What was the first installation you and Jeanne-Claude did together?
C: We had our first exhibition in Cologne in 1961. That's when the galleries had a little space on the ground floor and I would put little cans or wrapped bottles like goods in the store windows. The gallery, like all the galleries, was in a very industrial area near the harbor of the Rhine River. They were closed Sunday and Monday, and Jeanne-Claude and I decided to do a temporary installation in the harbor yard using the merchandise and some stacked barrels. This was the first temporary installation we did together. And the people over the weekend could go see artists working outside, not in a gallery or in a museum.
FS: It's a completely different way of thinking about art.
C: It is historical in a way because that summer, something extremely important was happening in my life, related to many other projects: The Berlin Wall was built. And of course, I was a political refugee. I left Germany thinking like in Soviet times, we won't go with Germany. They were fighting and there were these horror stories. Everybody thought a third world war would start. I went back to Paris and I proposed in September of 1961 to do our Iron Curtain, blocking this small street in Paris, Rue Visconti, with barrels.
FS: The idea that the work existed outside of galleries or outside of normal art that you look at on a wall is very important, but the other idea that you say here is that you had such a concern for people and humanity and what was happening in the world.
C: I was concerned about myself, to be very frank. I thought I'd be sent to Siberia—I was so scared! For 17 years I lived like a political refugee. It's not real life, it's horrendous pain and suffering. For all those years I didn't see my parents. I'm very allergic to politicizing the works of art. They should be as they are, that is the true work of art—instead of becoming propaganda. Because I was scared of the Berlin Wall, I was so much a part of the boulevard and what was happening there at the time. I wasn't thinking "Ah let's do something because the Berlin Wall's happened." I don't do commissions because I cannot imagine other things than what I am.
FS: So, you met curator and museum director Jan van der Marck right after getting your green card! He later invited you to Miami for the New World Festival and introduced you to Beth Dunlop. He was our founding director and opened the museum a year after Surrounded Islands. How did you meet him?
C: Oh, much later. I was living in Paris as a refugee with very little, trying to sell my modern Christo works. In 1961, before Rue Visconti, the new art dealers started to come from New York to Paris and started to see the new European artists. This is how I met the important dealer Leo Castelli. He saw my work and told me that if I went to New York, he would put me in a group show in his gallery on 77th Street. He became a good friend, and Jeanne-Claude and I started to dream about going to New York as soon as possible. To put money aside we started to sell works, and finally in February 1964, we arrived in Manhattan. Leo was organizing a spring exhibition for four young artists. He had one big room in his 77th Street location that was like a box without windows, just four white walls. He invited four artists: me, Richard Artschwager, Robert Watts and Alex Hay. Each artist had one wall and for my wall, I decided to do storefronts. I only had to do the show window. I built a little storefront façade, with materials I found on the street in Manhattan and in my little room in the Chelsea Hotel. I put together doors, two parts of the glass and the storefront. I even wrapped an air conditioner above the door, and that storefront was exhibited by Leo in 1964.
FS: Wow, so is this how van der Marck saw the work? C: Yes, it was a spectacular storefront. It is one of those rare pieces I did between 1963 and 1967. That storefront period is very important because it was when I started moving away from the architectural façades. Two years later in 1966, I did a personal exhibition for Leo, where I built four corner storefronts, which is a very important piece I own. Unlike other artists, I don't have exclusivity with any gallery. I worked with many galleries originally, but no one was willing to take care of our, my, things, and then, Jeanne-Claude and me, we had a big collection—thousands of pieces, like 3,000 pieces or more that we own. This is an enormous treasure that is mostly in Basel, but there's a big storage in New York, too. FS: Yeah, I saw so much in Basel.
C: I was in New York in the spring of '64, living with Jeanne-Claude in the Chelsea Hotel, and we came back to our little boy who was four years old with his grandparents in Paris. We returned to Paris and after seeing what was new, I told Jeanne-Claude, "We should go to America." We came with our Rietveld chair and all of these little things to America, like tourists, but after three months we became illegal aliens. For three years we were illegal aliens, but finally I got a green card in 1967. In 1973, I became an American citizen.
FS: And this was when you met van der Marck?
C: We had a call from Jan van der Marck, who was the curator of the Walker Art Center in Minneapolis. He was organizing an exhibition there where Martin Friedman was the director. They were trying to do an exhibition titled "Eight Artists/Bigger Image," and I lent them plenty of pieces. The exhibition started in '67 or '68 in Minneapolis and traveled to St. Louis, where Emily Rauh was the curator. Meanwhile, my first solo exhibition in a museum was in Holland. While we were living in Paris, we became friendly with the great Dutch collectors Martin and Mia Visser who lived in Eindhoven, Holland. We also became friendly with the director of the Van Abbemuseum, Jean Leering, who was very eager to make my first personal exhibition happen of the storefronts, wrapped trees and all the packages in the spring, April '66. It included the great storefront that was done here in one big room in the Van Abbemuseum. Another room was the wrapped trees and many new other pieces. In 1961, still living in Paris, I tried to install the Iron Curtain. I also tried to wrap big brick buildings. I photographed little scale model packages and cut out people with cars and bicycles to make a photomontage called Wrapped Public Building, and a little text explaining what I was doing, how it should be wrapped, and how the ideal building to be wrapped should be a real public building, prison or parliament. Of course, there was no chance to do a prison or parliament. But the idea was known to a number of museum people and when we arrived here, Bill Rubin was the chief curator of MoMA. We were rotating the wrapped packages and the wheelbarrow and Bill was organizing a landmark 1968 exhibition at MoMA called "Dada, Surrealism and their Heritage." It was a huge exhibition; he emptied the entire MoMA to hold it. Knowing that I did Rue Visconti, we tried to do a temporary transformation of the museum while it was closed, using that two weeks' time—when nobody went—to wrap the museum and install Iron Curtain on 53rd Street between Fifth and Sixth Avenue, called Barrels. Of course I did scale models and drawings, but the insurance company and the museum never gave permission. Then, in 1967 or 1968, I became friendly with a young Swiss curator who was very interested in my work: Harold Szeemann.
FS: Ah, my friend, yes.
C: He was preparing a show for the 50th anniversary of Kunsthalle Bern and he worked very hard to get the permission from the trustees and fire department. The first public building was wrapped, the Kunsthalle Bern in Switzerland, in 1968, which was also the year I proposed wrapping the coastline in California. I was very close to Maurice Tuchman and we were working to wrap the coastline in California. We then had a visit from a young Australian art collector and businessman, John Kaldor, who wanted us to come to Australia to give a lecture. I said to him, "Mr. Kaldor, you have the longest coastline in the world, help us to wrap the coastline." This is why in 1968, John found the coastline and in 1969, we wrapped the coastline near Sydney, Australia.
FS: The momentum was picking up.
C: Yes, and meanwhile, we started to sell more and we made many important friends including the publisher Harry Abrams, who was crazy over our works. He bought works or did trades with us. Because we were speaking French, we also became very friendly with the de Menils, who were then trustees of MoMA.
FS: How did you end up in Miami?
C: We arrived in Miami when I was involved in an exhibition around Dade County.
FS: The New World Festival.
C: They invited us to do something. They said, "You're with the architectural writer of the Miami Herald, Beth Dunlop. You have a car, and she will drive you around Miami-Dade County to see what you'd like to do." I'd never been driven over the causeway, this big bridge—we asked Beth to drive us over it several times, crossing back and forth. Initially, we wanted to wrap the bridge on the causeway because we'd tried to wrap the Pont Neuf, but couldn't get permission. Before Miami, in 1974, there was another art historian who became a good friend, Sam Hunter, who was organizing an exhibition in Newport, Rhode Island called "Monumenta." He invited ar tists to do something outside in Newpor t's surroundings, the harbor, etc. We covered the beach area of the coast with fabric in the summer of '74. That was the prelude for the floating fabric in the water. Then in Miami, Jeanne-Claude saw all these islands, and said, "Look, this is the perfect space to surround the islands—there aren't any problems with the coast." She said, "There are so many," and this was how the thing started.
FS: Why pink?
C: You know, I was not very easy with that color. We started to meet many Hispanic people there and that energy, that dynamic and also the color, that very humid air—I was making drawings, little sketches with a very shy pink because I was not at ease with that shocking pink. But because the air is so full of water, we saw that from far away it needed to be a much stronger color—if not, you wouldn't see it. From the very light pink, it became a deep, very strong pink, but to do that it was another huge work. We always try to buy the fabric in the United States for a US project, but that was the biggest amount of fabric we'd bought for any of our projects, 6.5 million square feet of woven fabric. We had to find a fabric that is lighter than the water and could float. The pink color came from iron, which is heavy, and it is very delicate when you try to make a floating material heavy. That project was an incredible engineering feat.
FS: Was it two weeks because of the materials, specifically?
C: No, all projects are two weeks. The most expensive part of the exhibition was the payroll—all the security, police, traffic control, etc. After two weeks Jeanne-Claude would say, "it's enough."
FS: Two weeks is perfect. It leaves an impression in everybody's imagination forever.
C: That will never happen again. I will never wrap another island.
FS: But now we get to celebrate it with the exhibition.
C: The exhibition expresses a lot of the invisible aspects of the project. We have these incredible archived materials and also real components— not just photography, but the real anchors, the real things. You can see how we engineered something marvelous. The fabric moved up and down with the tide and kept the exact proportion of the configuration of the floating material.
FS: Sometimes we talk about the work, or art critics and historians talk about the work in relationship to land art, and this idea of big projects outside in the landscape, to solitude and to the large expanse. You're the opposite.
C: There are two ways I work: urban projects or rural projects. We need to have a human scale. In the countryside, we need to have a house, a telephone pole, a bridge, to see how high and how wide the project will be. Running Fence and Surrounded Islands are both rural projects. You see the houses, the bridges, the little settlements, farms, all kinds of things. We're borrowing that space to create a "gentle disturbance" for a few days.
And while we're in the space, we inherit everything about that space. We didn't invent the ecology of Biscayne Bay, but we're in the real bay, not a photograph of the bay or the water or the island. We don't invent the politics of the Reichstag, because we have the real Reichstag. There are sketches, drawings, films and photos, but for 14 days, our work was the Reichstag. There are photos, but for 14 days it was the real Biscayne Bay, the real wind, sun, everything—ver y close to all these elements that are inadvertently in the image of what kind of project is done. The work is related to that physicality of the human living in the space.
FS: So many different ways that the work is acting with us.
C: They're existing and we're witnessing. The different relations and ways that people engage with it—each time we do a project we learn more.
Craving more culture? Sign up to receive the Cultured newsletter, a biweekly guide to what's new and what's next in art, architecture, design and more.