Driven by a need for creative inspiration—and the simple desire to live among objects that bring happiness—these five collectors seek out the cutting edge of contemporary art and design. They prioritize emotional resonance over prescribed style and are drawn to artists whose stories need to be told.
Beth Redmond Home base: Los Angeles Profession: Investor, curator Institutional Affiliations: LACMA Director's Circle and Collectors Committee, MOCA Director's Forum
A few favorites from your collection: Daniel Arsham's Blue Calcite Eroded Phone Booth; Ivan Navarro's Cobalt Neon Infinity Door; Alexander Yulish's Epiphany from his show "Out of Order" last year at Ace Gallery; Nir Hod's The Life We Left Behind in oil on chromed canvas; Gregory Siff's abstract The New Schedule which I have in my dining room; all of my Marilyn Minter and Tracey Emin pieces because they are both badass women who set the path for female artists. The first piece of art that moved you? Seeing Basquiat's work for the first time was incredibly moving. He is one the most thought-provoking and influential artists of his time. Also, Cy Twombly's Rose (V) from 2008, which is in the Broad Collection, always hits me. That poem is one of the most beautiful things I've ever read.
The first piece you acquired? I collected a few pieces here and there in my 20s, but I think Gregory Siff's I don't know how many I have left in me from 2012 was really the beginning of the collection I have today.
Is there one that got away? Gregory Siff, who also happens to be one of my best friends, had an incredible piece called Deals in his show two years ago and another one of our collector friends got to it first. We still talk about to this day. It belongs in my home!
Most recent acquisition: Chris Schanck's Puff & Stuff chair from "Unhomely," his show earlier this year at Friedman Benda in New York.
Who are you most excited about right now? Chris Schanck. He is on fire right now and his work is absolutely unique. His ability to create insanely stunning pieces using common materials is incredible. I just got my fourth piece from him and everyone that comes over to my home is blown away by them.
If you could live with any piece in the world, what would it be? My dream is to own a large abstract by Christopher Wool. I loved his show at the Guggenheim in 2013.
What is the ethos of your collection? It's all very instinctual. I know from the first few moments if a piece captivates me. As I've grown as a person and collector and moved from New York to LA, the environment and energy of the city has also become part of how the works are seen. I have murals on the outside of my house in the Hollywood Hills and sculptures and neons as well. The paintings and pieces all take on a synergy that make the space a unique experience in the eyes of the collector and viewer.
Why do you collect? It's a wonderful thing to share work with people that respect and understand the power of art. And because it is fun for me and has brought me some of my closest friends. I love beautiful things and expressing myself through the pieces I collect. They all have a story to tell in this journey of life.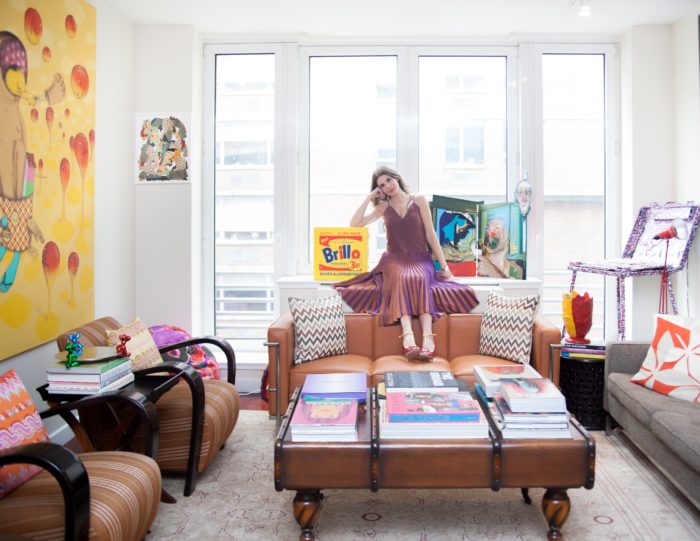 Maria Brito Homebase: New York City Profession: Creative designer, curator Institutional affiliations: Creative Time's Producers Council, Founding Member of the new Whitney Museum
What are a few favorites from your collection? I truly love 99 percent of what I own. My large Os Gemeos canvas is super important since I bought it in 2010, before Os Gemeos were as sensational as they are now. Also, my husband gave me a gorgeous Vik Muniz for my first Mother's Day: it's called The Daydream and it's the image of a girl from a 1930s Manuel Alvarez Bravo photograph which Vik recreated with toys. The first time you were moved by a piece of art? Visiting the studio of Jesús Rafael Soto with my dad at the age of six. I was moved by everything in it, but mostly by Soto himself. The first piece you acquired? A Keith Haring print out of the Keith Haring Pop Shop in SoHo in 2000.
The one that got away? There are many! Usually not for lack of decisiveness, but because I needed to use the money for something else!
Most recent acquisition? During Armory Week in March I got a stunning canvas by New York artist Azikiwe Mohammed which depicts images of his African-American family. I also got a portrait by Iranian artist Amir Khojasteh.
Who are you most excited about right now? I'm excited for women artists, black artists, gay artists, trans artists, Middle Eastern artists. I'm excited for the artists I have always been excited by: the underrepresented, the minorities.
What is the ethos of your collection? My collection is mostly representational with a lot of it being female figuration. I have a lot of women artists in my collection: Cindy Sherman, Marilyn Minter, Katherine Bernhardt, Nina Chanel Abney, Mira Dancy, Mickalene Thomas.
How do you know the difference between something you love and something you want to live with? There's nothing I love that I wouldn't live with.
If you could live with any piece in the world, what would it be? Frida Kahlo's Two Fridas or Self-Portrait as a Tehuana or Self-Portrait with Loose Hair, or any Frida really.
Why do you collect? Collecting is part of my identity, my livelihood. It makes me happy, human, vulnerable. I can get lost looking at art, become more empathetic, push my boundaries, expand my perspective.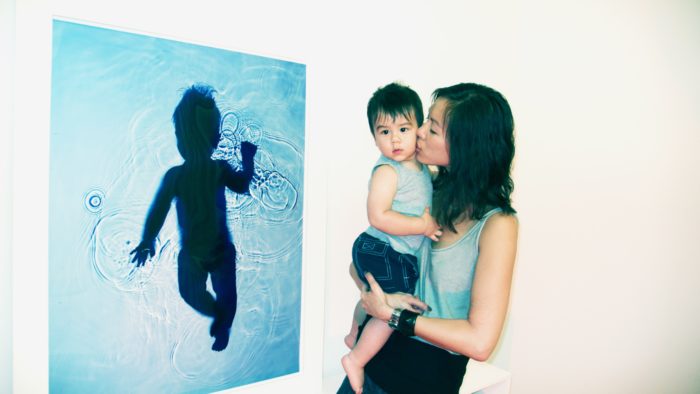 Olivia Song Homebase: Brooklyn Profession: Designer and project consultant Institutional affiliations: Brooklyn Museum, Solomon R. Guggenheim Museum
A few favorites from your collection? My Do Ho Suh Specimen Series door handles. He really inspired how I now view residential design. Another favorite is a Weegee distortion of Jackie Gleason. He was ahead of his time and bold in his experimentation and I admire his ability to be silly after his day job as a serious photojournalist.
The first time you were moved by a piece of art? I remember realizing the Disney animations were all hand-painted and spending a lot of time rationalizing how they created the viewers' perception of perspective. In middle school, I discovered The Ambassadors by Hans Holbein and was inspired by the symbolism and image distortion. A friend visited the National Gallery in London and sent me a postcard of this painting. I still have the postcard, but I don't know who it's from—it's signed "B." The first piece you acquired? A Harold "Doc" Edgerton Football Kick photo print. His work is at the intersection of art and science and representative of how I was raised. He used analog equipment to create seemingly impossible images that we would now use CGI to fake.
Is there one that got away? Toyin Ojih Odutola! What an incredible human and artist. I met her well before her solo show at the Whitney and wanted one of her ballpoint-pen ink portraits very badly.
Most recent acquisition? A Studio Job Tit Sconce. After more than two years of keeping it in a box that I defended against my children, movers and finally the electricians, this anatomically giant droopy breast is my wall trophy and tribute to the 46 months I nursed my two children.
Who are you most excited about right now? I continue to be inspired by Do Ho Suh's memory-inspired art. His work is the finest intersection of cerebral, emotional, and aesthetic. I love Rogan Gregory's passion and ability to make everything. I'm obsessed with this painter Genieve Figgis and love the humor and narrative she commits to her paintings through very minimal gesture.
What is the ethos of your collection? I actually collect more design now than art, however we define that division. As someone who thinks about space constantly, I enjoy the physicality of design more. I also like being able to interact with objects with my hands, not just my eyes.
If you could live with any piece in the world, what would it be? I would love to have a version of Tom Sachs' Bodega 245 in my kitchen. The coffee was awesome, the snack selection was perfectly edited and my kids and I got our Swiss passports a couple of times (one set to save, one set to play with).
Why do you collect? As a designer, I'm always looking for visual inspiration. Sources like Instagram or print publications are great, but the real-life experience and memory making is why I collect and what drives my creative process.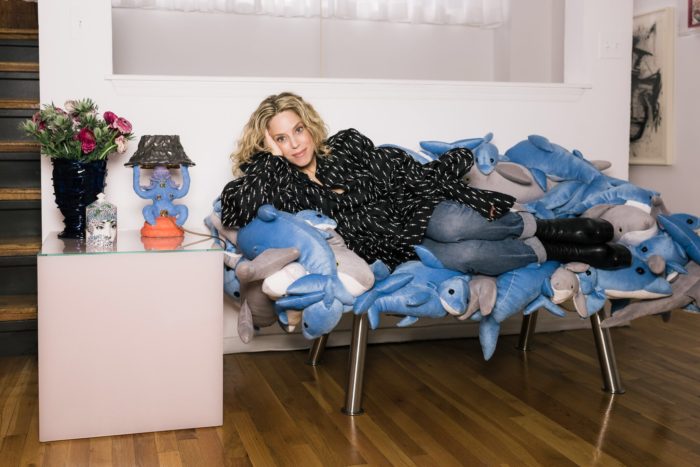 Karen Robinovitz Homebase: New York City Profession: Serial entrepreneur working on launching a new start-up, co-founder and former co-CEO of Digital Brand Architects. Institutional affiliations: Board of Advisors of the Brooklyn Museum
What are a few favorites from your collection? Toyin Ojih Odutola's Island of Selfdom; Donna Huanca's Fowlerite and her Ateidnem Scar; Emily Mae Smith's Sentinel Madonna (Monument Valley); Tracey Emin's intimate drawing Blacked Out Smile; Mira Dancy's neon Yes // Now; and Marilyn Minter's Barbed.
The first piece of art that moved you? Picasso's Woman with Yellow Hair. I remember seeing it when I was a child of maybe six or seven years old. I had such an emotional reaction. She seemed to be peacefully resting; I wanted to understand what she was thinking or dreaming about. There was an "other" kind of beauty to her that felt incredibly real and imaginary at the same time. I used to make up stories about who she was. That is exactly what art still does to me.
The first piece you acquired? A fashion illustration by a young French designer/artist named Matteo. I bought it in Paris. It is an elongated female figure, wearing Dries van Noten. I still have it. I must have been 25 when I bought it. It was the beginning of my collecting addiction.
Is there one that got away? So many! Early Nara, Murakami, Kruger, Mutu and sadly, they're all out of reach for me now. Most recent acquisition? A lovely Loie Hollowell pastel, a Genesis Belanger porcelain teeth bowl and a work on paper by Rebecca Ackroyd.
Who are you most excited about right now? Women artists. I keep finding myself drawn to works that are made by women. I'm loving Julie Curtiss, Genesis Belanger, Christina Quarles, Ivana Bašić, Tschabalala Self, Amy Sherald, Melike Kara and Loie Hollowell.
What is the ethos of your collection? At first I was more attracted to the rawness of street art combined with glamorous polish, but over the last few years the collection has become a lot more painterly, fluid and hyperfeminine with punches of surrealism. I also love surprisingly funny pieces. Erwin Wurm, for example, does it for me every time. If you could live with any piece in the world, what would it be? I would either want James Turrell to create light through my living environment, or maybe a Cecily Brown mural. I could look at one of her works forever.
Why do you collect? Art is the number one source of inspiration for me, creatively. I love seeing how one's creation is a reflection on sociopolitical, anthropological and personal experiences. It always opens my eyes to glimpse the world through art.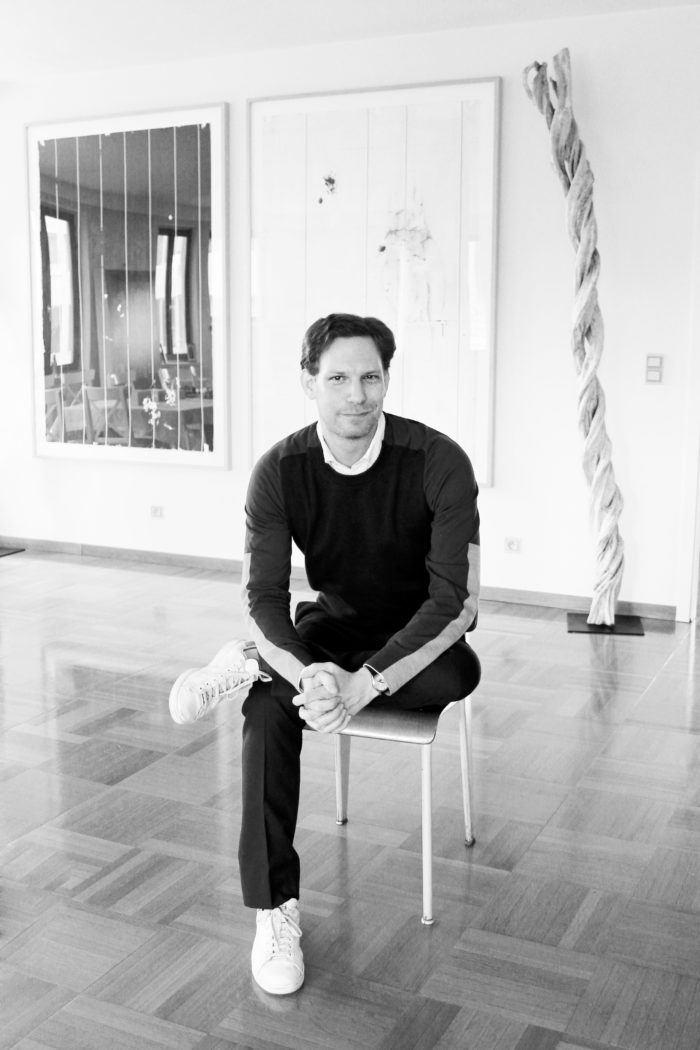 Ronald Rozenbaum Homebase: Brussels and New York City Profession: Mergers and acquisitions advisory Institutional affiliations: Wiels Contemporary Art Center, the Cinematek and the Jewish Museum in Belgium.
A few favorites from your collection? Sherrie Levine's False God bronze and a Dan Flavin neon from 1969. The first time you were moved by a piece of art? My parents owned a frame shop so I was exposed to modern masters as a child. I got to see Klimts, Magrittes and Chagalls up close on a daily basis. With contemporary art, I had my first profound experience walking through a Richard Serra in Bilbao in 2002. It was a magical and transformative moment where my sense of reality was altered in a way my Cartesian mind was not used to. It left me craving more.
The first piece you acquired? A Sterling Ruby collage at Art Basel Miami Beach in 2011. It was the right moment, after two years of touring museums and art fairs and reading a lot of art history and some career advances that allowed for the acquisition. The stars aligned. The Ruby piece encompassed a strong presence of both chaos and order and it spoke to me, reflecting what I was feeling.
Is there one that got away? A Bruce Nauman neon. It is still a dream piece.
Most recent acquisition? A collection of six artist portfolios from the 1960s called S.M.S. (Shit Must Stop). It was a time that artists were experimenting with new distribution formats and looking to push the limits. The portfolios were an edition of 2,000 and include works by Marcel Duchamp, Claes Oldenburg, Yoko Ono, Lawrence Weiner, John Cage, On Kawara, Walter de Maria and Nancy Reitkopf.
Who are you most excited about right now? My fiancé and I have been working on The Embassy since 2016, which is a project space we run in our house in Brussels. It was previously a consulate and is now a private residence with a floor dedicated to presenting ambitious artistic endeavors on special occasions. We are always bouncing around ideas of younger artists we admire, like Rachel Rose, Hayden Dunham, Josh Kline, Anicka Yi and Nairy Baghramian as well as planning exhibitions of established artists— a Picasso show is always a dream!
What is the ethos of your collection? I am drawn to great works by those who have shaped art history and collect from modern to contemporary.There is a strong focus on the conceptual work across various movements, from Carl Andre and John Baldessari to younger artists like Matias Faldbakken, but I also love poetic and painterly works. I also have a great passion for books, periodicals, and ephemera from the 1960s and 1970s.
If you could live with any piece in the world, what would it be? Picasso's Les Demoiselles D'Avignon.
Why do you collect? To breathe.