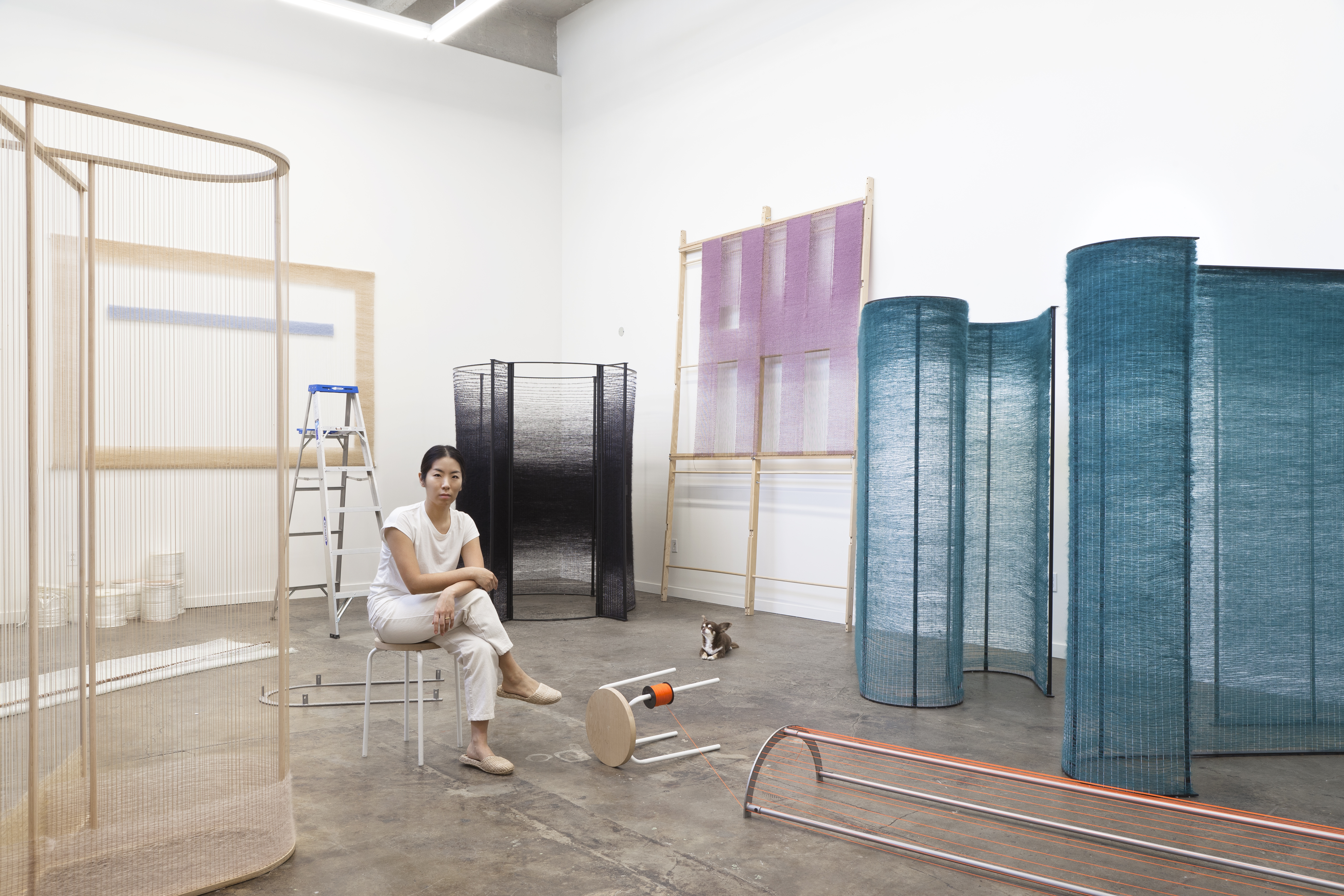 During September's London Design Festival, Mimi Jung presented what she calls "the most functional piece" she's made as an artist. Her highly conceptual three-person sofa, Have A Seat, stripped the Kvadrat upholstery from its center cushions until it was almost transparent, exposing the textile's individual strands.
"The idea was that in public settings, people skip a seat in their desire for personal space," Jung says, surrounded by woven wall hangings and loose threads in her Downtown Los Angeles studio. Despite having shown at exhibitions like LDF, Design Miami and Collective Design fair, her practice is less concerned with producing functional furniture than exploring the conceptual elements of privacy in public space. In 2015, her Four Teal Walls—curving, diaphanous room partitions painstakingly handwoven from mohair threads—caught the attention of Jeffrey Bernett, the curator who eventually commissioned her for the Kvadrat exhibition.
"The forms that make up her pieces—screens, boundaries and 3D objects— display a kind of rigorous structural narrative coupled with the delicacy of yarn and weaving, subtle and light in away that only working in textiles allows," says Bernett, comparing Jung's work to "the richness of Sheila Hicks's." Much like Hicks's, Jung's work blurs the distinction between art and design. Using natural fibers, and more recently synthetics, lanyards and metal casts, she weaves vivid gradients that ebb and flow between different levels of color and translucency. Surprisingly, weaving is a relatively new skill for Jung. She studied at both Cooper Union and HGK Basel, briefly pursuing a career designing graphics for art books and exhibitions. "It was the closest I could get to the art realm, and so at one point I realized that this was not what I wanted to do," she recalls. Weaving, as it turned out, would be a relatively inexpensive medium to adopt. The craft was one of the many specialties of Brook&Lyn, the design studio Jung founded in New York in 2009 that encompassed jewelry, furniture and interiors. In 2012, her husband Brian Hurewitz joined as partner, and the two moved to Los Angeles, eventually changing the company name to Early Work to avoid geographic confusion. Throughout, Jung's weavings remained a personal endeavor.
L.A. seems to have had a transformative influence on Jung's work. She replaced the elaborate fringe and knobbed surfaces of her early wall hangings with the delicate panels of her room partitions, and her recurring themes of privacy began to dominate her work."That's why L.A. appealed to me," she says. "In New York, I felt like you didn't have room to breathe. The pace here allowed me to step back and figure out what kind of practice I wanted and to explore every single avenue until I landed where I am."
Find more inspiring designers to follow here.