Brazilian design company Saccaro is celebrating a decade of American success. Today, Saccaro's Flagship Midtown Miami Showroom is a wonderland featuring a comprehensive collection of decorative accessories and rugs. In April, Saccaro will celebrate its 10-year anniversary in the U.S. with the launch of the Spring 2017 furniture collection at their Miami showroom. Cultured sat down with co-owner Katia Silva and designers Myrna Porcaro and Bruno Faucz to discuss their newest collections, Miami's creative forecast and the company's collaboration with the BrazilFoundation.
How does it feel to celebrate the tenth anniversary of Saccaro's Flagship Miami Showroom?
Katia Silva: We are very excited and proud of this achievement. The US market is the dream market for any international company but only few manage to succeed. During this period, we consolidated Saccaro's image in the design community and have hundreds of satisfied customers that come to us because of our high quality products and impeccable customer service.
Myrna Porcaro: I feel great to be a part of this celebration at the Flagship Showroom. In Brazil, I worked as an interior designer, and have worked alongside Saccaro on creative projects for many years. But this event is by far the biggest and most important collaboration of our partnership in America.
Did you expect to find such a strong and committed community of clients, architects, interior designers and developers in Miami?
KS: We were certain of it when we established the US operations. However, with the buzz around Art Basel and the real estate development that happened alongside of it, the internationalization of Miami as a brand and a cool place to visit and live, it surpassed the best of our expectations.
MP: Actually yes. In July of 2012, I was here on vacation and realized the city of Miami I knew in the 90's had totally changed. Some friends of mine in real estate showed me new condo presentations and city plans that would architecturally change the city in the upcoming years. Through research, I found out that Miami would become one of the biggest and most beautifully designed cities in the world, and an absolute paradise for architects and designers. That week, I decided to move my life here and so, here I am!
What exciting developments can we expect from Saccaro moving forward now that the company and its products have established themselves in this market?
KS: Saccaro's new collection is the preface of a new level of sophistication that we are adding to the line. A Saccaro product stands out from the competition today—and will continue to.
How did the collaboration with the BrazilFoundation's "Women for Women" campaign begin?
KS: As Brazilians living in the U.S. we appreciate the amazing job that the BrazilFoundation is doing here to create awareness and help people in need in Brazil. We want to contribute to their mission as best as we can, and we believe this is the beginning of a long-term collaboration.
In what ways do you find inspiration from the survivors of violence that the BrazilFoundation provides services and support to?
KS: Brazil is a country of contrasts where the richest and the poorest live side by side. Brazilians are warm and friendly but as a huge country it faces enormous challenges when trying to equalize these discrepancies. We are aware of the news that comes from Brazil everyday and how that affects the lives of millions, mostly women and children that are the immediate victims of it. We can't change reality but we can contribute a little bit to create an opportunity that may make a difference in their lives.
MP: These people are truly extraordinary and show us everyday how strong human beings can be and how nice it is to help others. It is helping the less fortunate that allows us to appreciate our own lives. We learn from them to see the value in the little things, to keep our families safe, to maintain healthy bodies and minds, to always be connected with God, and to see a brother and sister, a son or daughter in every single person, people we should care and fight for.
Your furniture design draws from an eclectic array of influences. How do you go about seeking inspiration for your innovative pieces?
Bruno Faucz: I believe design is a profession as rational as it is emotional, as analytical as it is intuitive, for that reason I see the importance of having as much information in the creative process. I try to absorb all this information around me; the peoples taste, their desires and feelings related to life, as well as all the analysis and technical possibilities that will be available to each new project. Soon the new projects come from the everyday life, end up being more rational and analytical, however always with the intuitive look for the aesthetic. I have great respect for the modernist period, I believe that it has influenced my quest for the aesthetic.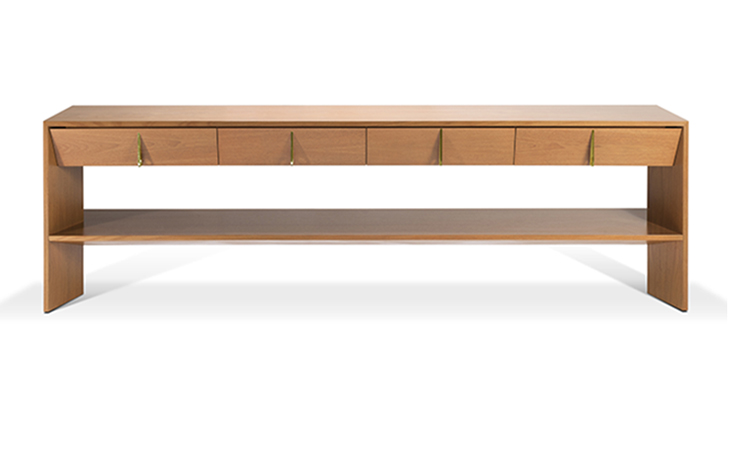 Related Stories