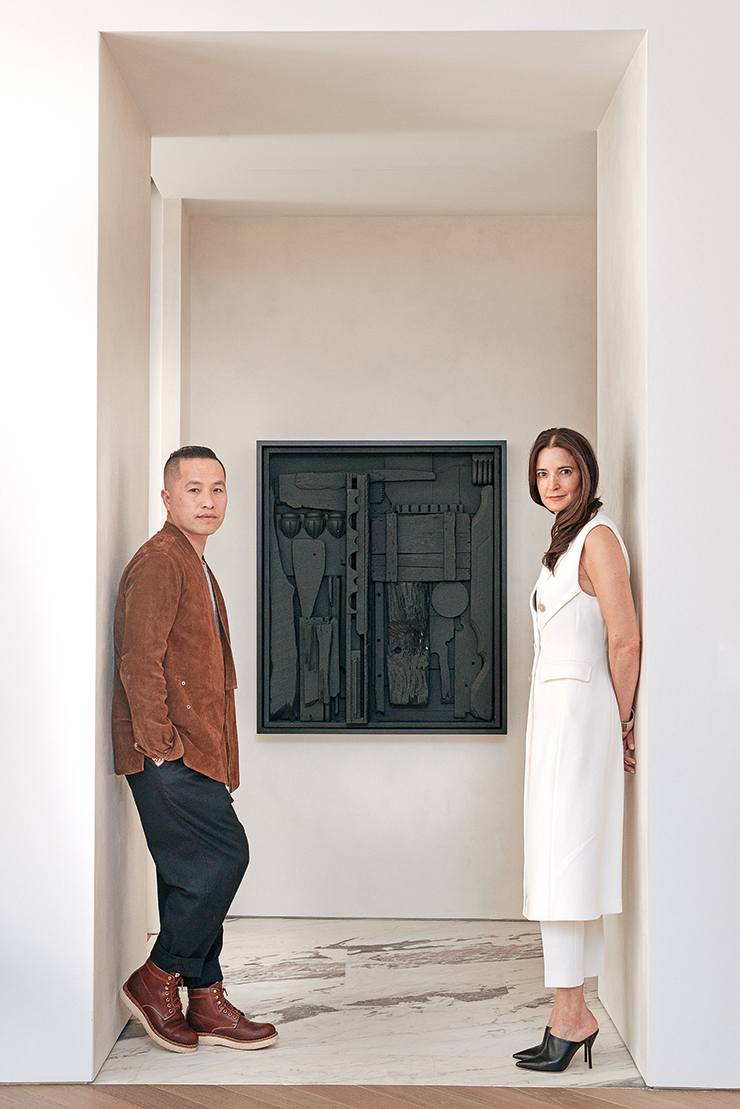 Phillip Lim and B.J. Topol met at the fashion designer's first New York boutique on Mercer Street. Lim happened to be in the store, rearranging the windows, while Topol hunted for something to wear. "Maybe I asked you a question and you came over and started helping me," Topol says, Lim's friend and art advisor going on 10 years. "Immediately you understood what I needed."
The duo's chance encounter revealed a shared interest in the work of Hiroshi Sugimoto and ended with a promise to meet up soon. Topol followed up with an invitation to "7 Days / 7 Nights," Sugimoto's 2008 solo exhibition at Gagosian gallery. "I remember walking into the gallery and she said to just respond to things—and I did—like a child might," Lim says. "I remember we opened the door, and I was like 'I want that piece.'" The work, a shadowy image of a Richard Serra sculpture by Sugimoto, now looks over Lim's dining room table.
Lim and Topol seem to have a story for every piece—at least that is the feeling I get when I tour the designer's well-appointed loft in SoHo. They single out a Louise Nevelson framing the foyer, it is a piece Lim spotted at Sotheby's during his first trip to the auction house. They also point out a set of Cy Twombly tulip prints and a cabbage sculpture by Claude Lalanne—both of which Topol tracked down. "Usually when I have something in mind already, it ends up not being the right piece, but instead end up with something we discover on the journey," Topol says, who describes her role as more of a facilitator than a prescriber. "A lot of the works in his collection are by strong female artists like Louise Bourgeois, Nevelson, Lalanne, Joan Mitchell and N. Dash."
"I never noticed that," Lim laughs.
One of the youngest artists in Lim's collection is Dash, who he began collecting when Topol took a gamble on a studio visit. He now owns pieces from four bodies of work including an abstract self-portrait from the artist's grad school days. "Dash is so special," Lim says. "I haven't encountered another young artist who has that kind of maturity and weight. You can see the evolution of her work becoming more powerful—a gathering storm."
Lim keeps two pieces from Dash at home, but the rest of her work can be found at his New York headquarters. Her Commuter series adorns the conference room. Lim identifies with the frenetic energy of Dash's obsessively folded and refolded pages. "That's why I make pockets in dresses, to hide nervousness, to mask emotions," he says. There are also works by Robert Longo and Jim Hodges; Lim likes to surround his staff with subtle influences. Topol even stops by occasionally to take the office on field trips to galleries and museums. "They love it," says the designer, beaming. "Topol is part of the family."