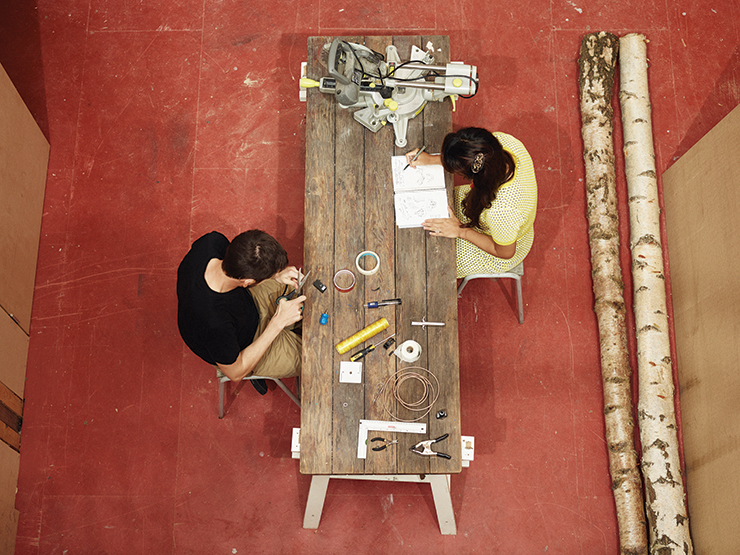 In the early 20th century, American auto tycoon Henry Ford constructed the pastiche of a Midwestern industrial utopia in the midst of the Brazilian Amazon: a bastion of rubber production, perfectly straight roads, and even straighter-laced living. In a stroke of hubris, he named it Fordlandia.
Fast forward through its failure in the 1940s (causes include, but are not limited to: the discontent of his culturally oppressed indigenous workers; a poor understanding of the Amazonian ecosystem; a population boom in rubber-consuming caterpillars, etc), and Fordlandia today still stands, albeit as a crumbling American anachronism in the depths of the jungle.
"The massive factories still have tools on the shelves, labeled and stamped from when they were delivered from Detroit in the 1930s," recalls artist Alexander Groves, who co-founded Studio Swine in London with architect Azusa Murakami in 2011. For their latest furniture collection, they took Fordlandia's overgrown industrial remains as a source of inspiration, creating a suite of seating and lighting that extolls the unsung sex appeal of rubber, the precious natural resource that drew Ford into the jungle in the first place.
Rods of Brazilian ebonite, a jet-black, ultra-vulcanized rubber with the characteristics somewhere between wood and plastic, have been sculpted into the graceful arcs and wild squiggles reminiscent of the works of Oscar Niemeyer and Joaquim Tenreiro; of 1940s Ford cars; of tree roots and of aerial views of a river slicing through a dense wood. And with the help of the World Wildlife Federation, Groves and Murakami were able to source their wild rubber directly from the forest as well, along with the gridded leather of the mammoth pirarucu fish's skin, palm leather and ipe wood.
The finished pieces are almost a byproduct of Studio Swine's practice, an intrepid research lab of cultural immersion, material development and historical recordkeeping, in addition to producing the short, atmospheric films that accompany each collection. (In 2014, they took second place in the Young Directors category at Cannes.) Their name, after all, is a fitting acronym: Super Wide Interdisciplinary New Explorers.
"They have all the parts—the intellect, the furniture pieces, the incredibly well-made films—that encompass what I think young people are going to do in the arts now, which is everything," says Zesty Meyers of New York gallery R & Company, which will show an extended Fordlandia collection this year. "They are among the first generation of makers that will break down all of the boundaries."
Murakami and Groves first heard of Fordlandia during a seminal trip to Brazil in 2011, just after graduating from London's Royal Academy of Arts and shortly before marrying each other in 2013. Knowing no one ("We contacted every institution and every residency program with no response," Groves recalls), they slept on the floor of an unfurnished room and ate raw food for lack of stove. Yet they were able to develop Can City, a project invoking São Paulo's roving street trucks that could melt down disposed aluminum cans, which resulted in a love of cast furniture.
This process of immersion and subsequent creation has since repeated itself throughout the world; a six-month stint in Shanghai produced Hair Highway, a collection of furniture and accessories made from human hair that plays on the supply route, or Silk Road, of China's wig industry; they also spent 10 days one autumn on a boat trawling for ocean detritus they would later melt down and reshape into luxury accessories.
Studio Swine's unique output is a culmination of both extreme adaptability and a certain hunger. Their statement for the Fordlandia collection, in fact, references the late poet Oswald de Andrade's concept of Manifesto Antropofagico, or Cannibalist Manifesto. It states that, "Brazil's great strength is in 'cannibalizing' other cultures, digesting them and producing something entirely new." A concept that certainly resonates with a studio by the name of Swine.