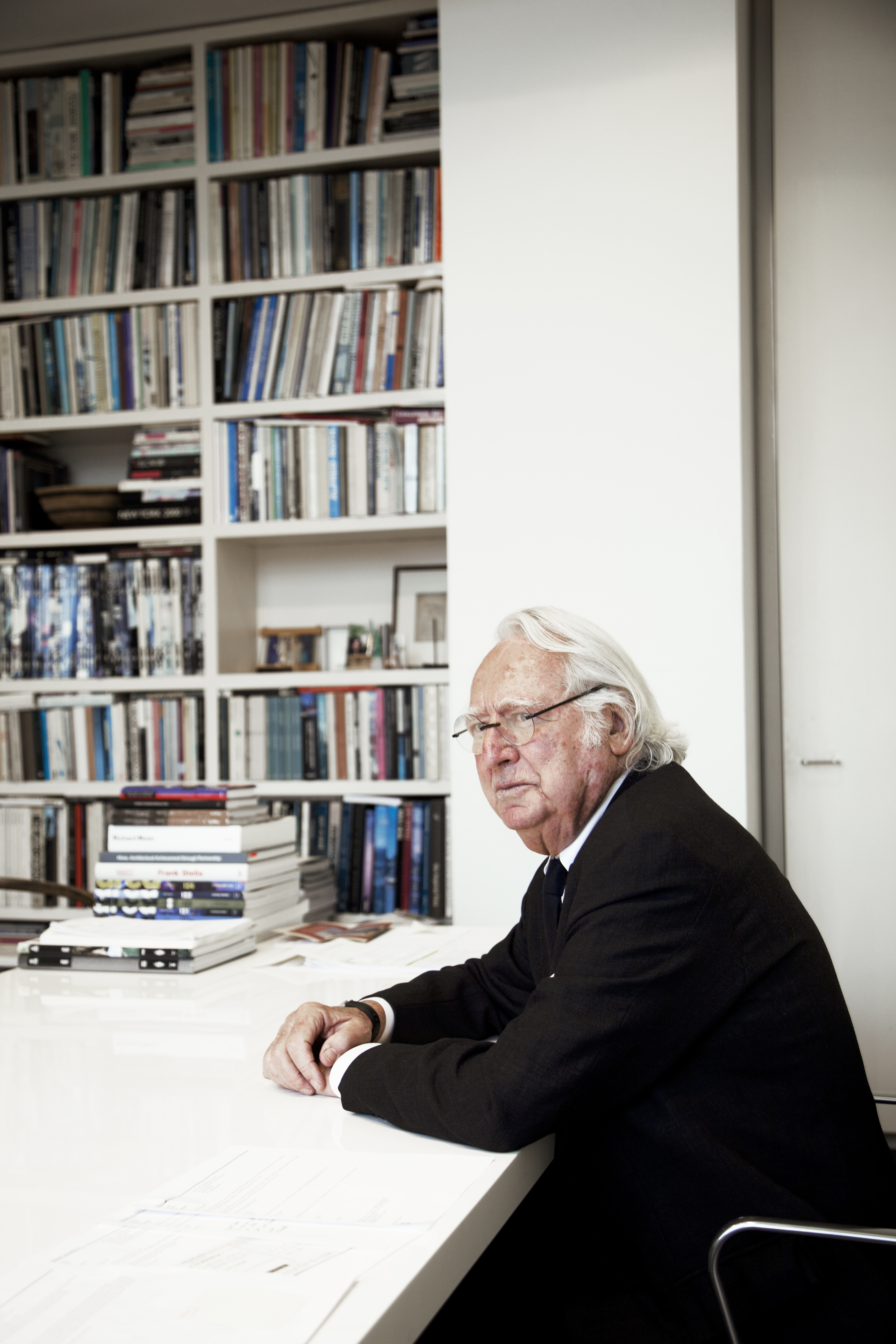 It could be said that Richard Meier's architecture career truly began, more than five decades ago, on the water. His first credited project was a modest beachfront cottage he designed on New York's Fire Island for artist Saul Lambert and his wife. A simple rectilinear box, with abundant glass and an open interior, the house reflected Meier's unshakable commitment to the modernist ideals espoused by Le Corbusier and by the young architect's boss at the time, Marcel Breuer. "This small house, which was built in just nine days for a total cost of $9,000, was strongly inspired by what I'd learned from Marcel Breuer," recounts Meier. The only thing the precut-timber structure lacked was the white palette he would become so famous for.
Within a year Meier founded his namesake firm in New York City, and he soon established a reputation as a designer of strikingly elegant residences that combined bold geometric volumes, dynamically intersecting planes and exquisitely minimalist surfaces. The most refined of the so-called New York Five architects—a group that also included Peter Eisenman, Michael Graves, Charles Gwathmey and John Hejduk—Meier was awarded the Pritzker Prize in 1984, when he was just 49, shortly after completing the High Museum of Art in Atlanta. Coveted commissions for courthouses, campus buildings and more museums followed, notably his most famous project, the sprawling hilltop Getty Center in Los Angeles—which turns 20 this year.
Not atypically for an architect of his stature, Meier has had numerous opportunities to build on prime plots, and waterfront sites in particular have been a recurring theme across his long career. For one thing, his distinctive, crisply sculpted forms look particularly arresting and iconic set against blue expanses of water and sky, their white surfaces changing with the varying light conditions. And because of their emphasis on light, transparency and openness, his buildings are tailor-made for such settings, from the Ackerberg House on the beach in Malibu to the Perry Street condo towers overlooking the Hudson River in New York City to the recently completed Seamarq Hotel with panoramic lake and sea views in Gangneung, South Korea. "When I look back over 50 years, it's amazing the number of projects I've had on the water, from private houses to hotels," says the architect. "I've been very lucky to have worked on sites where the light reflected off the water changes with the different times of day and different seasons."
It's perhaps surprising, then, that Richard Meier & Partners is only now realizing its first project in Miami, given the city's abundance of water and compelling light. Of course, it was only a matter of time before the Pritzker laureate joined the roster of celebrated architects who've contributed buildings to Miami's runaway real estate boom. Enlisted by the developer Fort Partners, Meier has overseen a much-anticipated expansion of the Surf Club, the storied private getaway in Surfside, just north of Miami Beach, that opened in 1930 and once welcomed Frank Sinatra, Gary Cooper, Elizabeth Taylor and Winston Churchill, who liked to paint in the ocean-facing cabanas that snaked gracefully along the sand.
Opening in April, the new Surf Club is a dramatic update from the old one. The original building, designed by Russell Pancoast in Mediterranean Revival style, with stucco walls and a terra-cotta tile roof, has been restored. But Meier, working in consultation with Miami architect Kobi Karp, has added an eye-catching trio of metal-and-glass structures. At the center, a tower housing a Four Seasons hotel and residences (with interiors by designer Joseph Dirand, known for his own sensuous brand of minimalism) rises above the Pancoast building, which will feature two restaurants. On either side of the building are large, 12-story asymmetrical towers—one has a curved façade, while the other is stepped—containing 150 airy condos finished in warmly spare, classic Meier style. The complex also boasts a spa, four swimming pools, gardens designed by Fernando Wong and some 40 beach cabanas arrayed in a serpentine pattern, nodding to the original.
The idea from the outset was "to keep the new buildings as minimal as possible and let the old Surf Club be the jewel in the operation," says Bernhard Karpf, the project's associate partner-in-charge who has worked in Meier's offices since 1988. "Ultimately, the contrast between the old and new, in terms of scale and material finishes and detailing, works really well."
In the end, the architecture is all about amplifying the setting and having 1,000 feet of unobstructed beachfront in Miami was a rare luxury. "I couldn't imagine a more interesting site than this one," says Meier. "With views out to the bay on one side and ocean views on the other, the quality of light is incredible."
Looking ahead to other Meier projects slated for completion in 2017, there are residential towers in Tel Aviv, Tokyo and Taipei as well as a high-rise mixed-use complex in Mexico City. That last project, known as Reforma Towers, promises to establish a new landmark on one of the Mexican capital's busiest thoroughfares, with the larger of the two buildings (40 and 27 stories) distinguished by a large wedge-shaped void spectacularly cut out of its middle, creating, as Meier describes it, "a sort of a plaza in the sky." The terrace, which will likely feature a restaurant, not only offers views in virtually every direction, but it also serves the functional purpose of bringing natural ventilation into the building and reducing the need for air conditioning.
It's notable that so many of the firm's current projects are residential and office towers—something Meier wasn't especially known for during the first decades of his career. Many of them are also in locales where Meier hasn't previously worked. To a large extent these shifts have to do with global economics, but it also reflects how the practice is evolving under the leadership of the six partners not named Meier, who include, in addition to Karpf, James R. Crawford, Michael Palladino, Vivian Lee, Reynolds Logan and Dukho Yeon.
Not that Meier didn't want to build tall buildings earlier on. Pointing to his 1987 proposal to put a 72-story skyscraper atop Madison Square Garden, he notes, "We've had designs that have never been built, and it's nice now to have a number of these things coming to fruition. Good things come late in life." At the moment, Meier has two residential buildings—each 460 feet tall—under construction on both coasts of Manhattan. One is part of the Riverside Center development on the West Side, while the other, on a parcel overlooking the East River just south of the United Nations, has received much fanfare as his first-ever black building. "It wasn't my choice!" explains Meier, gamely noting that "even though the glass is very dark, there's a still a transparency about it, and the interiors are all white. You could say it's like living in a white building with sunglasses."
After all these years, Meier says the most rewarding part of his work—other than seeing people enjoying a completed building—is still the early design stages, when he is conceptualizing and sketching. Despite the advances in digital modeling, Meier has never taken to working on a computer. He retains a deep love of physical, three-dimensional models, and dozens of the ones his firm has created are now on permanent display—as the Richard Meier Model Museum—at the Mana Contemporary space in Jersey City, New Jersey. Numerous exhibitions have been devoted to Meier's prolific output—both his architecture and the spirited collages he continues to make. "You know," remarks Meier, "some people take a day off and play golf. I take a day off and go work in a studio."