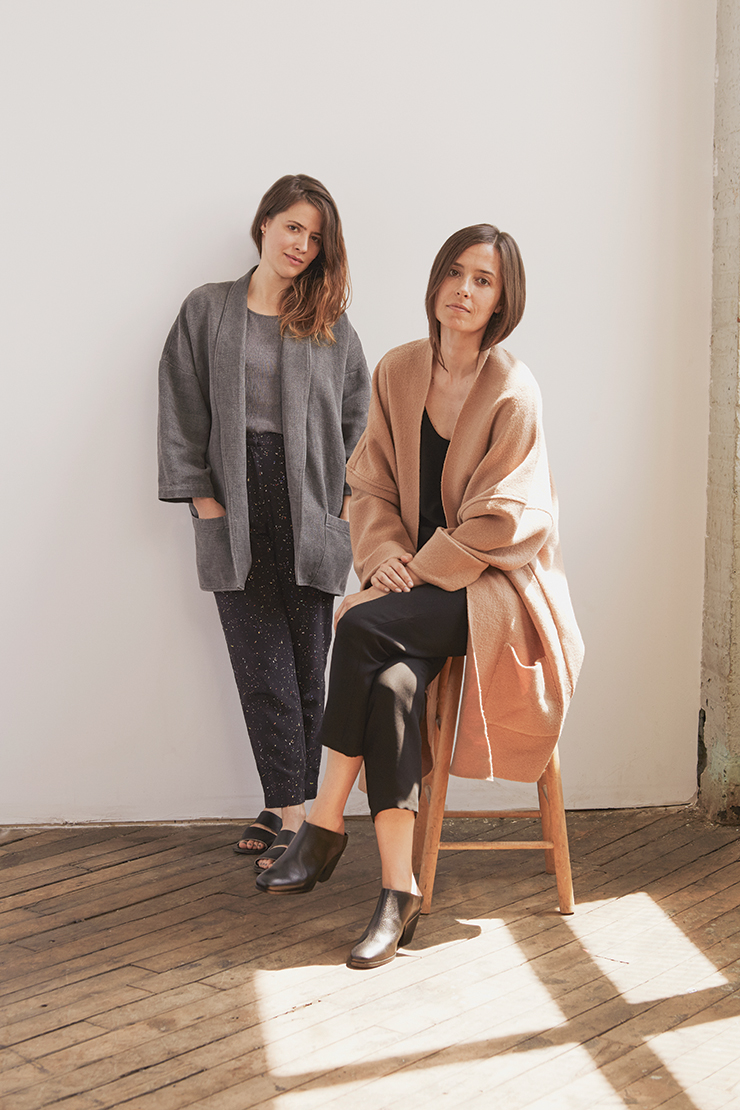 We're not calling ourselves designers—we're reissuing existing designs that are timeless," explains Mariah Nielson, co-founder of the new luxury label Permanent Collection. "A curatorial impulse lies at the heart of our line," adds co-founder Fanny Singer. The tightly edited debut collection of four coats, a scarf, a pair of sandals and a set of porcelain cups speaks to the label's namesake concept: In the spirit of a museum's core acquisitions, each item has been selected for its uncompromising quality and versatile elegance.
Hailing from rich artistic childhoods in Northern California (Nielson's father was the wood sculptor J. B. Blunk; Fanny's mother is celebrated chef Alice Waters), the pair met in 2012 while completing graduate school in England. At a party for the Queen's Diamond Jubilee, each noticed the other's vintage navy coat, sparking an impassioned pursuit of wardrobe and home essentials that would reflect their trans-Atlantic sensibilities and rigorous understandings of craftsmanship. "We both grew up in total environments attuned to the integrity of materials and objects," says Nielson. "So we felt an immediate affinity," continues Singer. Add to such upbringings thorough programs of formal art training and curatorial experience in a dizzying array of prestigious institutions—among them Yale University, the Victoria and Albert Museum and the Serpentine—and you have the perfect synthesis of theory and practice realized in an architectural three-quarter sleeve or a lightly elevated leather slide.
"European sophistication with a Californian soul" is the way the two friends describe their brainchild. Produced in specialty ateliers across Paris, New York and Oakland, the pieces are aptly named after artists—the custom-loomed Asawa scarf an exquisite homage to Ruth Asawa's woven wire sculptures, the oversized Sturtevant jacket evocative of Elaine Sturtevant's boldly brilliant conceptual works. It's why Singer and Nielson can call their clients "collectors" without irony: Each item is a meticulous application of the skill of contemporary makers to the archetypal forms of historic originals. "You really can't pin a date on, say, the Agnes coat," says Nielson. "There are stylistic elements from the 1940s and the 1980s." The collection's subdued palette of blues, browns and black further enhance each item's perennial appeal. The materials, sourced from Italian, Dutch and Belgian mills, are made to last.
Today, the founders continue to live in London, though Nielson also divides her time in Inverness, California, where she manages her father's collection and family home. "We remain scholarly engaged," says Singer, citing a string of curatorial projects such as Nielson's architecture exhibition at the Museum of Craft and Design in San Francisco next year, and a joint proposal to show J. B. Blunk and artist David Ireland in the U.K. Accompanied by a biannual journal whose contributors will be drawn from all ranks of the art and design world, Permanent Collection launched online this month.