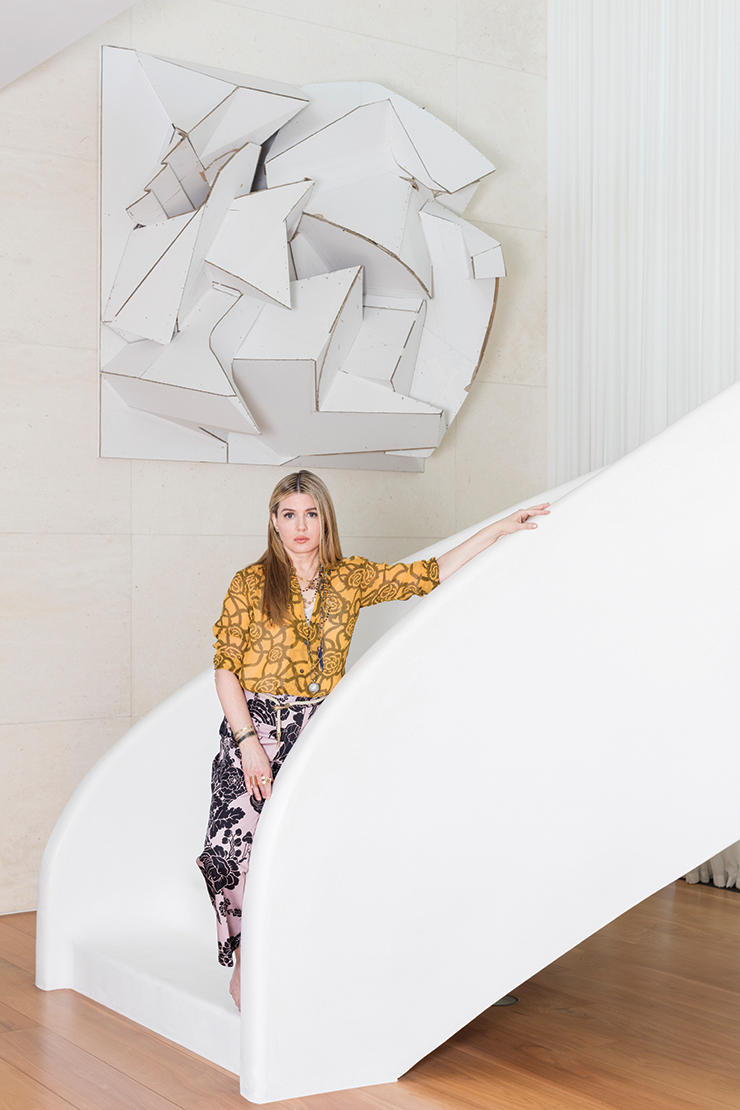 Kook is a word that we've used around my studio for years," says interior designer Kelly Behun, who's debuting her new collection of home furnishings in a pop-up shop aptly named A Kook Milieu at Barneys New York flagship store this fall. "It's that element, that object, that color that is so wrong that it's right and it makes everything somehow weirdly work.
Behun, who earned her chops working for hotelier Ian Schrager's design team in the late '90s, is known in super-chic circles for her sophisticated, quietly eccentric style. So it makes sense that her pop-up would pay homage to another icon of aesthetic derring-do, the art dealer and collector Holly Solomon. "I'm very inspired by this woman. She couldn't imagine a home without art in it, but she wasn't precious about it. She was irreverent and fearless," says Behun.
A glamorous fixture of New York's art scene in the '70s and '80s, Solomon, who was famously immortalized by Warhol (as well as Roy Lichtenstein and Robert Rauschenberg) was a risk-taking patron to dozens of artists, including those of the Pattern and Decoration movement, whom she championed in the '70s when Minimalism ruled. Reacting against the austere geometry and barren white walls that defined Minimalism, the painters of Pattern and Decoration elevated decorative arts from around the globe to create explosions of color and ornamentation. It's easy to see why Behun, with her fondness for rich patterns, materials and techniques—marquetry, lacquer—from far-flung locales, connects with Solomon. "In some small way I'm trying to do what she did by collaborating with artists and designers," she says.
Taking over an approximately 900-square-foot space in the store's Madison Avenue location through October 31, the shop, arranged as a series of tableaux, features 40-some objects from Behun's luxurious new collection. And yes, "kook" is a good indication of what we'll find. Mohair club chairs are a purplish color that the designer is calling "bruise," while a candle has the fragrance of an extinguished fire. "It's about taking a risk and doing something that might sound like a really, really bad idea on paper," she says. Among her collaborators is quintessential Pattern and Decoration artist Kim MacConnel, whose new wallpaper is a tribal pattern in juicy colors. Anchoring the whole display, says Behun, is an original neoprene curtain from 1987 painted by Holly Solomon Gallery insider Izhar Patkin that once hung in Solomon's dining room on Park Avenue (and later traveled to the Venice Biennale). "When I set out to do this shop I immediately thought of Izhar's curtains," she says. "I was just blown away not only by the technique, but also by how radical it was that he did it on on rubber."