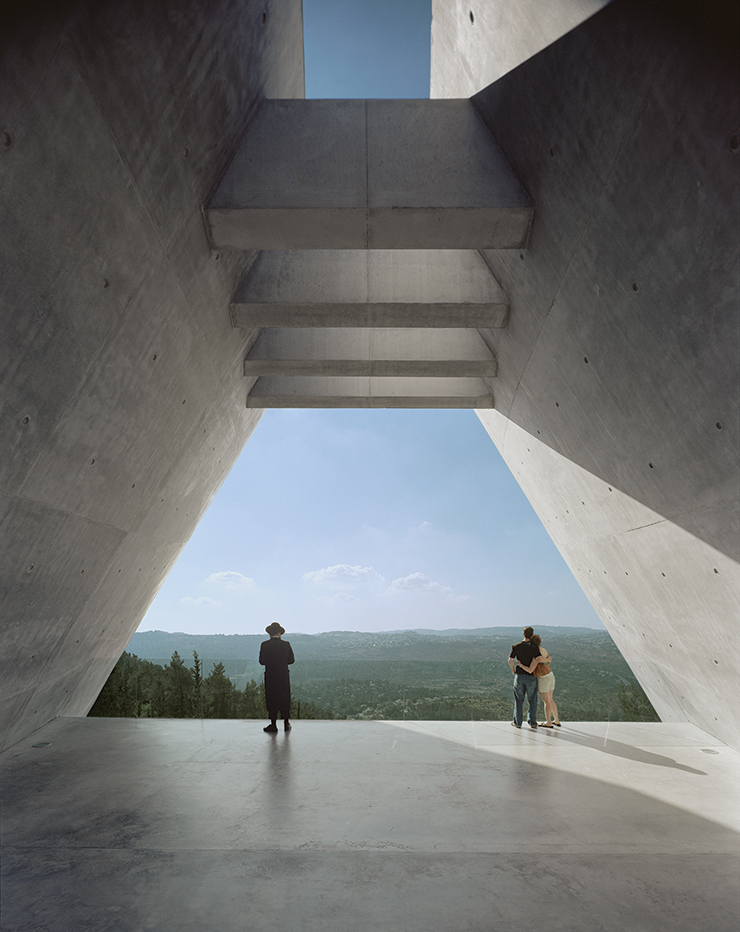 Architect Moshe Safdie has spent half a century rethinking the way we live. From modular low-income housing to vast urban developments, he has continuously provided new models for accommodation and its surrounding environment—each time with a site-specific spin.
In May, the Cooper Hewitt, Smithsonian Design Museum recognized this contribution by announcing Safdie as the winner of their Lifetime Achievement award. "Here is a master architect, urbanist and educator who continues to shape theory and push the boundaries of his practice," says Mariana Amatullo, a jury member and co-founder of Designmatters at the ArtCenter College of Design. "In assessing his long-lasting impact in the field, we not only wished to celebrate Mr. Safdie's iconic buildings and his remarkable versatility and global reach, but were also intent to recognize how powerful the place of empathy from which his work emerges remains: This is a body of work deeply attuned with a sense of community, locality and culture from which we all stand to learn."
When asked what he felt his greatest achievements are, Safdie says: "Lasting five decades in the profession is achievement enough."
Safdie was born in Haifa, Israel, in 1938. He moved to Montreal in 1953 and graduated from the city's McGill University in 1961. It was here that he developed his thesis for a new type of modular high-rise housing. His career is roughly divided into three phases. The first revolves around his research, resulting in the Brutalist Habitat 67 scheme which Safdie notes as one of his most significant projects.
"It had to do with trying to rethink what multi-level housing is all about, both in terms of construction and prefabrication and in terms of the environment," Safdie says. "Basically how to give each apartment a quality of life of a house."
Presented at the Expo 67 in Montreal, the seemingly haphazard stacks of 354 concrete cubes were arranged to offer each residence its own garden. Many subsequent iterations of the pioneering Habitat proposal were never realized, but the project gained Safdie international exposure and birthed his architecture practice.
His second phase involved work in his native Israel, which began in the 1970s and involved "changing the face of Jerusalem over time." The Mamilla project called for the urban renewal of the neighborhood between the old and new city, connecting the two with a mall, luxury condos and more recently a five-star hotel.
"It got me very interested in how architecture can respond and belong to a setting and its heritage, and still be authentic," said the architect. He also completed the Yad Vashem Holocaust museum in Jerusalem, describing it as one of his "more emotionally charged" projects to date.
At the same time, Safdie worked on a string of major cultural buildings in Canada and the United States. His works north of the border include Ottawa's National Gallery of Canada, Quebec's Musée de la Civilisation and the Vancouver Public Library. In the U.S., they include the Skirball Cultural Center in Los Angeles, the Kauffman Center for the Performing Arts in Missouri, Arkansas' Crystal Bridges Museum of American Art, and the United States Institute of Peace Headquarters in Washington, D.C. All vary greatly in physical form and building technology, thanks to their settings and requirements.
"There was a whole series of civic and cultural buildings, which were very into the specificity of programs and place, and many of them symbolically charged in one way or the other," says Safdie. "The work is so focused on giving a unique response to the program, to the site and the location, to its cultural setting, that there's an enormous physical difference between them."
Phase three of his career began with Marina Bay Sands, a trio of towers linked by a dramatic cantilevered SkyPark on Singapore's harbor. Upon its completion in 2010, Safdie says the resort "instantly became a symbol for the city," and led to the commission of several more large-scale projects in the region.
Upcoming projects include Jewel—an overhaul of Singapore's Changi Airport, which aims to integrate the commercial aspects with natural elements. "It will change the way we think about airports," says Safdie.
Rapidly rising in China is the vast Raffles City mixed-use complex in Chongqing. Like Marina Bay Sands, its towers are connected by a curving sky bridge. The 10-million-square-foot project is set to be complete in two and a half years, and Safdie believes "it will become one of the most important and symbolic projects in China."
The architect's latest work also includes a number of housing projects, which are finally being realized in the spirit of Habitat 67 almost 50 years later. "It's full cycle," he says.