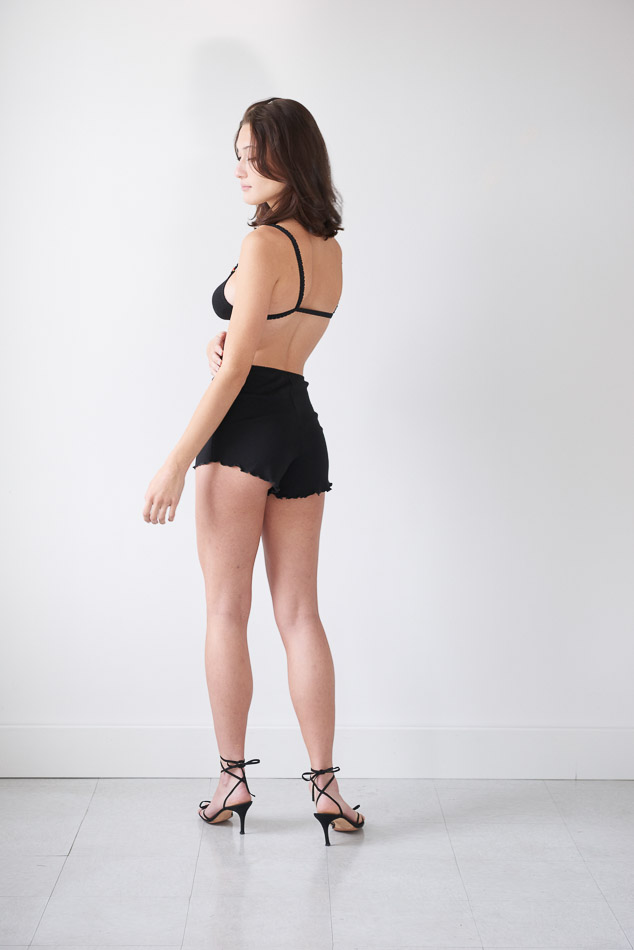 Greer Simpkins graduated from Parsons School of Design directly into the 2009 recession. In school, she had been lucky, landing internships that aligned with her major in management and design as well as a paying job at a high-end fashion boutique. The designer made friends in the industry: it's where she partied, attending shows regularly, yet all fashion offers couldn't fully hold her attention until senior year when she became interested in female psychology. "I was just feeling a little bit lost as many people do when they graduate," she says. "It wasn't a clear-cut career path for me."
Eventually this hopeful foothold in New York's Astor Place would turn into her Achilles heel. "My little side jobs weren't really cutting it anymore," Simpkins explains. "I just needed to come home and reevaluate, and then maybe come back to New York. I remember crying in the U-Haul with my dad when I made the decision." The separation didn't last long. Simpkins mended her relationship with New York when she decided to manufacture her Boston-based lingerie line, Hello Beautiful, in Queens Before the pandemic she was traveling there as much as once a month—a balance she recommends.
Hello Beautiful is a one-woman show although Simpkins describes it more like a parish, a church that was founded with expert sewers and suppliers, both of whom were chosen after extensive research and prototyping. The joint crusade that binds them is the revival of American-made cotton luxuries.
"At Parsons they taught us that good design solves problems," Simpkins says. "There's a lot of beautiful underwear out there but I was just having a really hard time finding a cut that made me feel sexy without trendy colors, logos or brand names, and that was also hundred percent cotton made in the USA." She blames growing up in the halcyon of 1990s Gap advertisement, Michael Stars henleys and early Juicy Couture for her fixation on essentials and ultimately the birth of Hello Beautiful. She points out that all three millennial brands were made, at least for an eclipse, in the United States and because of that they carried a different gravity that could be felt by the wearer but also resonated on a different register.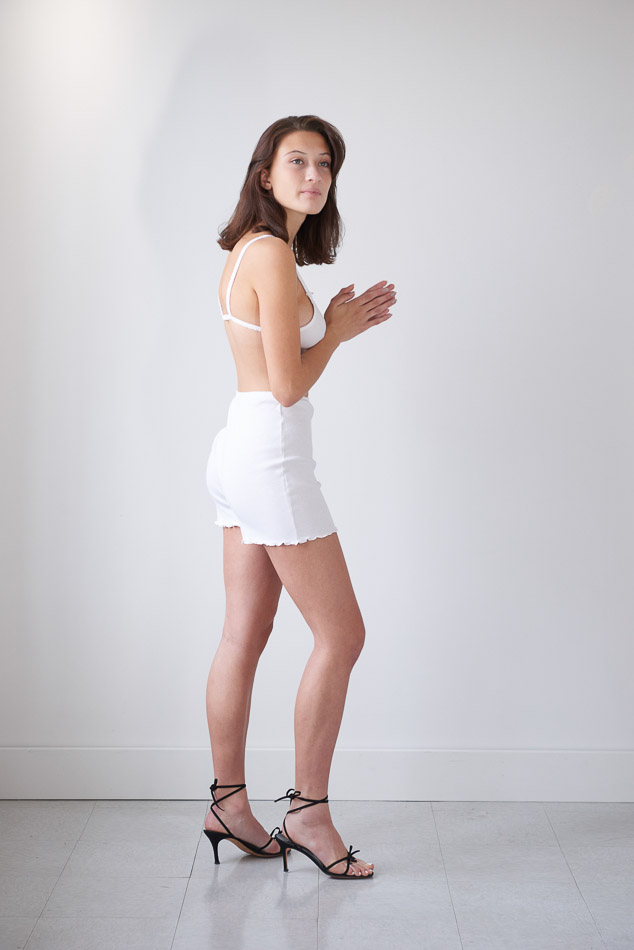 "It's important for us as Americans to have places where we can go to make our creations come to life," Simpkins says. "There is a soulfulness that comes from making things in your own country but that is not the only thing at stake. The pandemic showed us manufacturing is a national security issue." She then rattles off examples: hospital workers wearing trash bags; people making their own masks out of necessity; backorders for essential linens. "We need to invest more in our manufacturing and making things for ourselves," she says. "If we're just consumers buying from China or other countries, what happens when we need masks and gowns and we don't have the factories to make them for ourselves? That's a goal of mine to keep sounding the alarm and paying more attention to what is happening and doing my best to support what we have now because when it's gone, we will lose know-how and skills that are hard to rebuild."
Simpkins believes part of the issue is around the story we tell ourselves about factory work. "Working with your hands is different than sitting behind a computer all day. You can listen to music. You can see the ends of your labor. There's something nice about it that somehow got lost in the conversation. People think nobody wants these jobs and actually they do. We need them. They're essential," she states.
Simpkins is especially thankful this year to her cohorts who are still standing after a nail-biting ride together through the pandemic's highs. She's been working with the same women since the beginning. She points out that government loans were critical to many and wonders aloud if similar help during more normal times would allow for American garment outfits to compete with abroad competitors, who have been subsidized by their own governments to such an extreme that they've been able to sell clothing under the true material and labor cost. But prices are on the rise even in China, Simpkins points out: "It's not a free market. It's impossible to sustain the norms we created."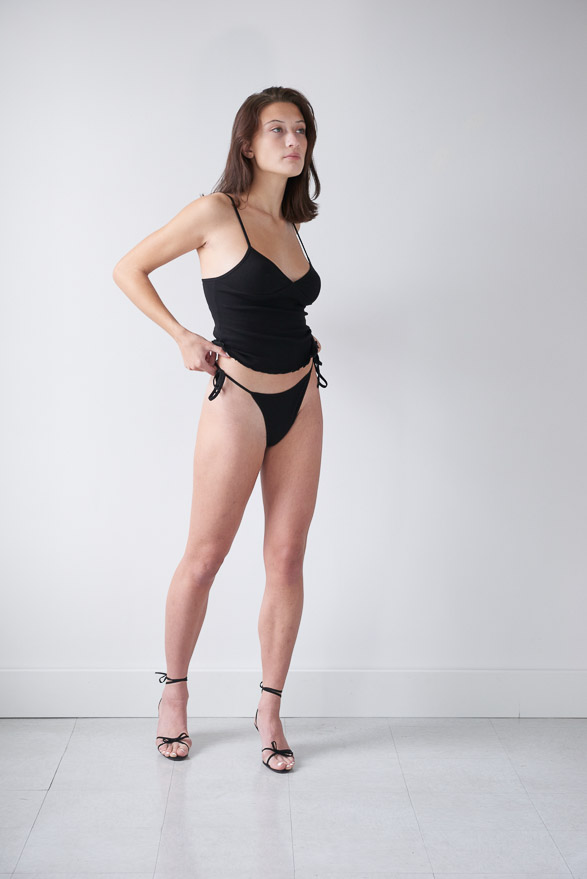 Hello Beautiful is out to set new ones. One thing that sets Simpkins apart is the pace of her output. The company's first French cut panty, which rides high on the haunch à la Nicole Kidman in Eyes Wide Shut, propelled Simpkins into minor celebrity. She translated the initial buzz into seven years in the business. Her secret to sustainability is only acting when necessity strikes and producing pieces that live up to her word. "I want to keep growing but I'm in it for the long run," the designer says. "I'm only gonna launch things that I think people want rather than just adding to an already crowded market. I try to distinguish myself. I design what is missing. It's a problem for us that we can't find a great product in a nice healthy fabric."
This weekend, Simpkins drops a new capsule she's been working on for years. It includes the top to the Kidman ensemble—a to-die-for spaghetti string tank and matching shorts, which the designer suggests could go to bed as easily as it could out in the world as a frisk sunsuit. Among the new offerings will be a micro0-bikini set, an idea that arrived in Simpkins's inbox directly from her customers. There is a sensuality to all of Simpkins' styles that has kept celebrity sex symbols like the Kirke sisters coming back.
In the future, Simpkins would love to be able to scale to a level appropriate to bring her prices down. She can also see herself experimenting with natural fibers like silk but for now she still sees so much potential in the material in front of her. Overall, her plan is to continue flagging for the preservation of American-made essentials, in the "wholesome sexiness" her lingerie exudes.
Craving more culture? Sign up to receive the Cultured newsletter, a biweekly guide to what's new and what's next in art, architecture, design and more.