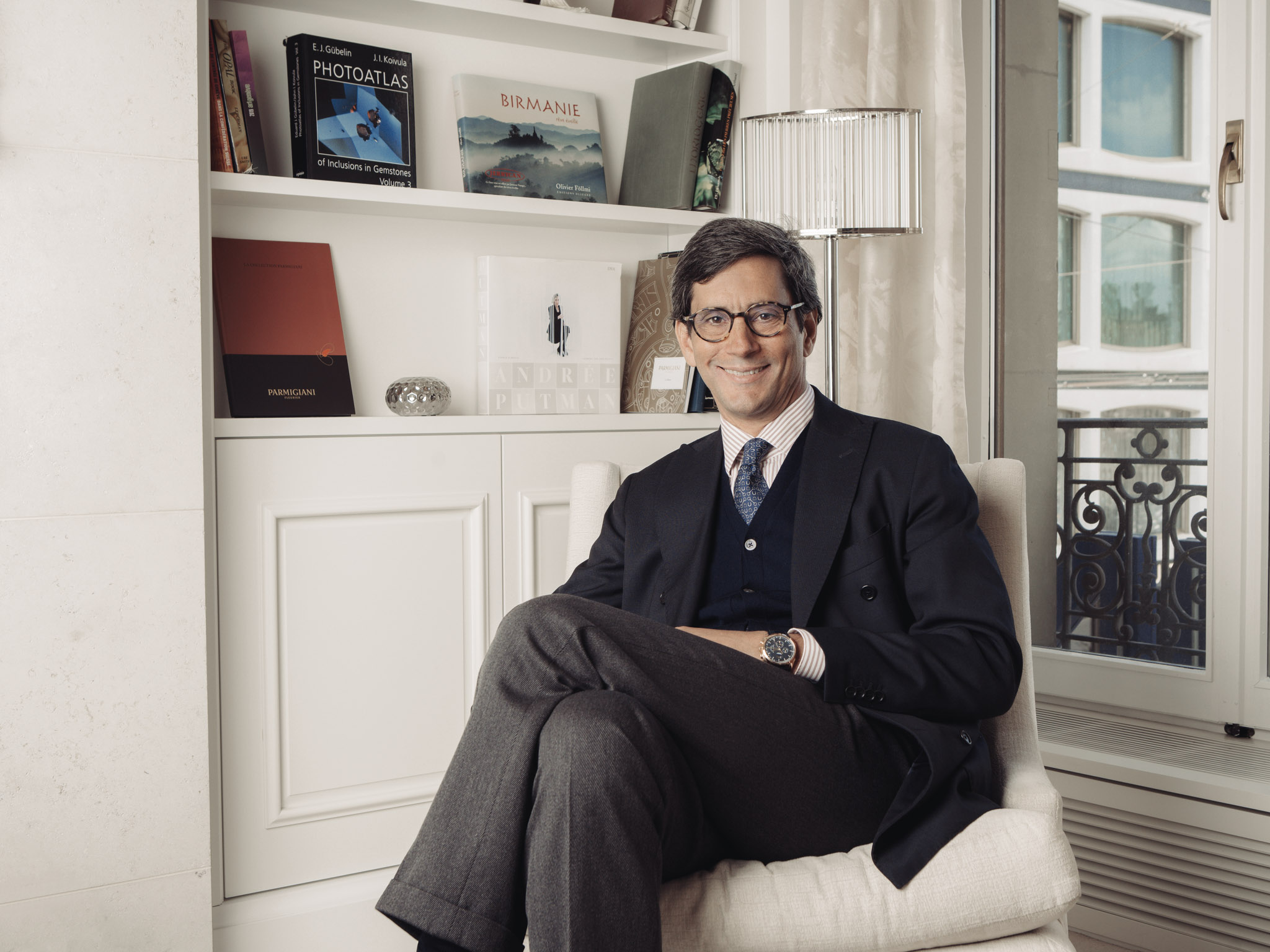 Watch connoisseur Davide Traxler, CEO of Parmigiani Fleurier, talks about the skill of restoration, his personal favorite watch and what makes up the DNA of the perfect timepiece.
Davide Traxler knows watches. Having worked at Bulgari, Chopard and Corum—all top luxury brands—he was nothing if not prepared for his new position as CEO of Parmigiani Fleurier. Known for its expert restoration of priceless timepieces, Parmigiani is the premier innovator in the field. Both he and founder Michel Parmigiani believe in sharing the brand's knowledge, an unusual practice in the watchmaking world. Traxler gives us a glimpse into that world here, acting as an insightful guide to both Parmigiani and the global watch market.
Can you tell us about your background and experience in watchmaking?
I was born in New York, and then we moved to Africa, then Europe, then South America, so I was always bouncing around. It taught me to shut up and listen early, to understand the culture and people around you. That's been very interesting, learning all my life to listen to the people and what they have to say, to try and understand the differences from culture to culture. I started in the watch business at Chopard, before that I was at Bulgari. I worked at Chopard for 13 years, then I moved over to Corum; it was an 18-month turnover for the company, and we made it profitable within those 18 months. It was the first profitable year and the last. When I got a call to be interviewed by Parmigiani, I was aware of Michel Parmigiani's philosophy of watchmaking, and how he developed micro-rotors. It was an interesting moment, and it corresponded with the change in the foundation that owns Parmigiani, a generational change, in which the elder generation was exiting and the younger generation was taking over. They had a will to make the company profitable, closer to the market. That was the mission that's been given to me. The foundation has invested a lot of money in us, and the companies around us, and now there's also an investment in talent. The board that's been put together comes from Milan and Deloitte and Iran and Switzerland so there's a great culture of compliance and respecting general rules, governance. On the other side, we brought in a gentleman who ran a multinational company in the food industry and then ran a foundation. We wanted someone from the watch trade, so we brought in Daniel Riedo who used to be chief of production at Rolex and then CEO of Jaeger-LeCoultre. It's great because we speak daily, and everybody on the board talks amongst themselves, and they have all the skills to give the answers and make the decisions. It's a very active, very talented board, which is a huge support.
What would you say makes up the DNA for the perfect watch? Do you have a favorite watch?
To me, a watch means mechanical. To me, it also means that it has to be a smart watch. It has to be smart, because it has a rotor and it charges itself so I don't need to put a battery in, or charge it every night. I like it to be automatic. It has to have something of what watchmaking is all about. I wear a Toric Chronomètre because it has all the finishings that are the most traditional expression of Swiss watchmaking. I think at the end of the day, you have to wear something you're comfortable with. The smart consumer is someone who is self-knowing, confident, aware. He knows brands, he chooses something that he or she wants, and they don't need to follow a brand, they're not a first-time consumer who will get something that's mainstream. They have a maturity, they've gone through different brands and now they've made their own choice. When you get to that, you know what you want. I think the Toric is one of the most beautiful expressions in the market of classic Swiss watchmaking.
Since your time with Parmigiani have you seen a shift in the market for collecting these watches?
There are three big categories. There's preowned, which is big in some markets, but nonexistent in others. Europe does not have a big preowned market, so preowned merchants buy in hundreds in Europe and sell in the US, where the preowned market is huge. There's the new market, which is strong in countries that still celebrate success. That's the key to the market—you have a personal success, you buy a watch, or you buy jewelry. Then there's places that don't have that culture. If you look at Southern Europe—I tend to see it as Catholic countries versus Protestant, the Catholic countries are not into the celebration of success, the Protestants are. So Germany and England have a different spend than France or Italy or Spain. It's not about wealth, but the mindset. The US has that kind of feeling, when you have success you want to celebrate and enjoy it and share it with someone else. In Asia, we see that also. Restoration is a whole different world, it's about the patrimony of a watch. We had a piece last year that came in that was given to a king and someone found it on the market and was having it restored to give to the current king, two generations later. It's not about the value of the watch, but about the symbolism of it. Our job is to restore it using identical technologies to those that were used when it was made, so that the next restoration a hundred years down the line will be able to go back to the original condition, to make sure it's not just being repaired, but really brought back.
Parmigiani is one of the finest restorers of timepieces. Is your team working with new technology to restore these products?
What's interesting today in the restoration department is that we have a lot of young people coming in. It used to be the expert watchmaker with great experience who knew things through his own growth and interest. Now we have young people who studied restoration and come in with very clear rules of what they want for the future of that piece, how they want to maintain it, and how they want to document it. That's a whole part that maybe the restorer of yesterday was less focused on. The documentation is very important. When we restore a piece, we make a full booklet that shows every single passage; what it looked like when we opened it, when we took it apart, this is what each piece looks like, we reproduced them with this technology, and that goes all the way through. So the documentation is better. The technology does not evolve backwards, it's about looking for the instruments with which the pieces were made back then.
What was your relationship with Michel Parmigiani before joining the team last year?
No real relation, then we met, and since then it's a working relationship. Today he is president of the board, he's the inspiration of the whole hub, and what I think is interesting about the inspiration of the hub is when you start from restoration—we restore any piece from any time, which is a unique offer than no other brand has. The other thing is, when they built all the factories, they were built to serve our colleagues from other brands. So we don't only serve the past by restoring anything, we also serve the future of watchmaking by supplying all our colleagues. Not competitors, but colleagues, because their success is our success. It's positioning the company as the golden heart of the industry. Sharing the knowledge, know-how and tools. The tradition of watchmaking was always, I want to do it my way. Each watchmaker had his own know-how. But Michel had a different vision. He said, let's make everything available to everyone. I think that as a foundation gives us a very special and different positioning that is unique.
I've read that one of Parmigiani's focus is shifting from Europe to Asia. Can you tell us about the Asian market and its importance?
The market is becoming more of a global market. Even ten years ago, the market in China was completely different than the market in the States. Now it's all coming together. I would say the Chinese market matured in 10 years as much as the European and US markets did in 30, in terms of passing from a very classic style to a more sporty design.