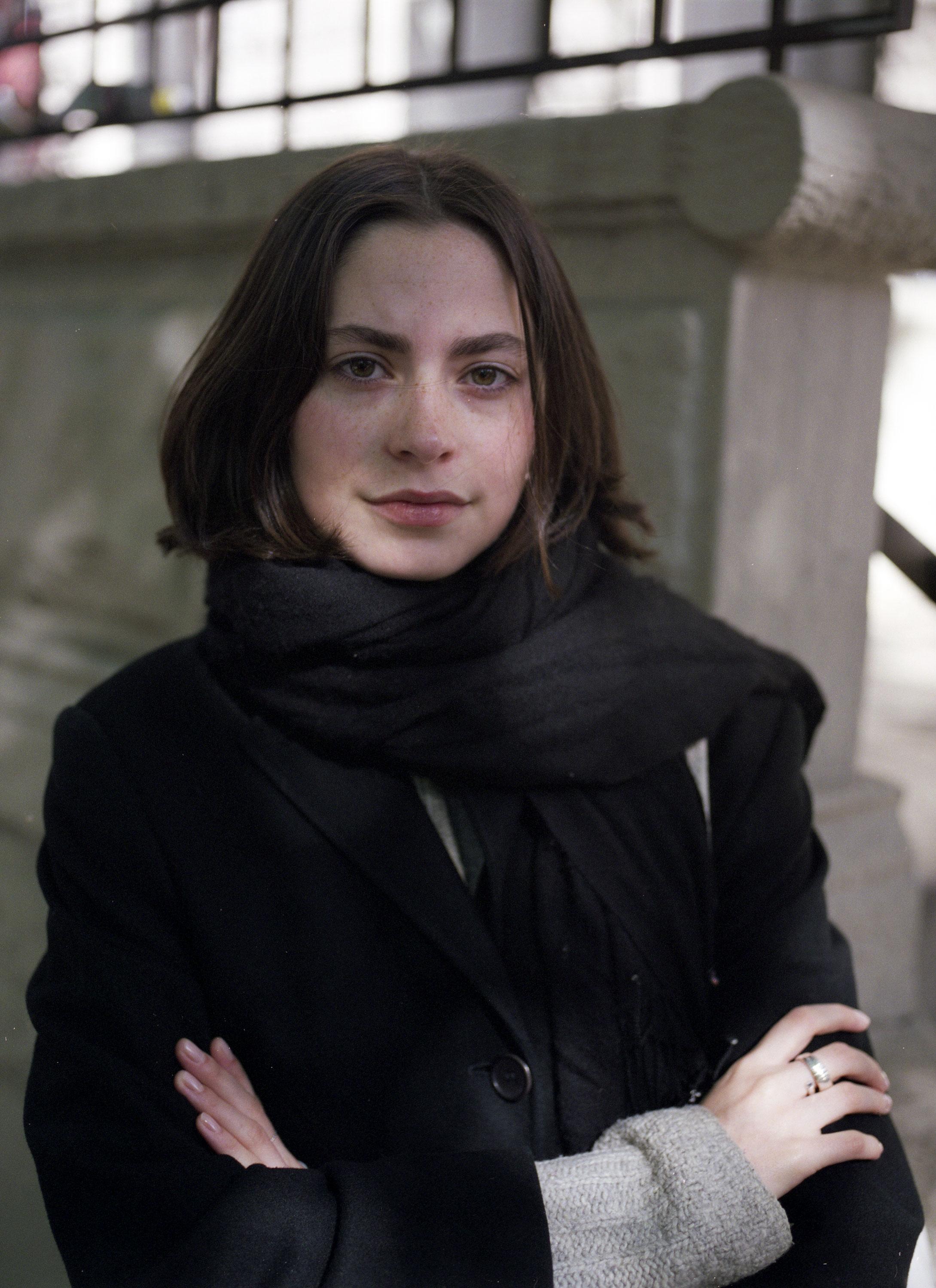 A sheer column of lace hung by its squiggle of a neck. Perhaps it was love at first sight this September when I stumbled into Cafe Forgot's Tribeca pop-up possessed by this ghost in the window, but I'll never have a chance to live that fantasy out. Because once inside I learned the dress already had a home and was just milling around for the new owner to pluck it off the acrylic fishing line, and maybe wear it home.
Little did I know that this garment's story extended beyond my own desires and that of my envied stranger. It was the first dress Onea Engel-Bradley ever made for sale—a fact she tells me over drinks at Saraghina in Bed Stuy, her local. "I was living in Berlin for what became a year." Engel-Bradley tells me (She is now freshly graduated and 23). "On a walk around my new neighborhood I found a Polish-owned fabric store, one I see myself returning to time and time again."
A silk bolt follow her back to the flat she shared with an older German woman who lent her a sewing machine, emboldening Bradley to experiment. It was a trial and error process, one which led to a first capsule of gauzy gowns inspired by the philosophy she was in the midst of studying.
As Engel-Bradley lays out her creative evolution, what becomes clear is that fabric is a language for the artist, one of many avenues, she is curious to explore. "My design decisions are constantly fluctuating, I like to think that's a good thing," she says. "The capsule at Café Forgot was inspired by my more poetic and philosophical educational background: thinking critically about the ways in which 'strong' women are characterized in fashion, I wanted to develop works that were not simply the 'power suit,' but that ranged from sheer romantic dresses to tailored, menswear-inspired trousers."
The desire to push back against convention is a strong theme woven into Engel-Bradley's first outputs, as is her interest in the hand. Each piece she's sold is made entirely from scratch, creating a proximity to her audience that breaks with industry standards. This intimacy is her reward system at least for now—as it stands, she knows exactly who each of her customers are—a relationship that mirrors the arts more than fashion, and one the artist is grateful for.
As Engel-Bradley's technical skills improve she has dared to move farther afield. For instance, a bias-cut slip that appears on Coco Gordon Moore in Onea Clare's first campaign: a black and white B-roll number of the model basking in the thick of a New York summer. "That bias almost killed me," the designer laughs in the face of technical feat.
For now, this is as official as Onea Clare is going to get. Selling her work through Instagram and word of mouth, the New Yorker is busy enough as it is without any mention her full time gig. "I'm not sure where this will go," she admits. "The idea that my designs and ideas fluctuate but my desire to fulfill other's fantasies, through collaborative efforts in making intersectional and multi-media work possible, is a constant desire, one that I hope will continue into my future as an artist."
Personally, I pray for more apparitions.