If you're traveling to Bogotá for ARTBO—one of the largest art fairs in Latin America—then get ready to be pleasantly surprised. The fair, which offers a diverse range of established and emerging galleries hailing predominantly from Latin America, delights with dynamic, large-scale installations, a curated exhibition offering a platform to women and queer Latinx artists, and ample opportunities to explore the region's most compelling talent. With nearly 60 participating galleries, the up-and-comers at ARTBO suggest that the city is truly poised to become the next art capital of Latin America. These seven presentations are certainly among the fair's most compelling.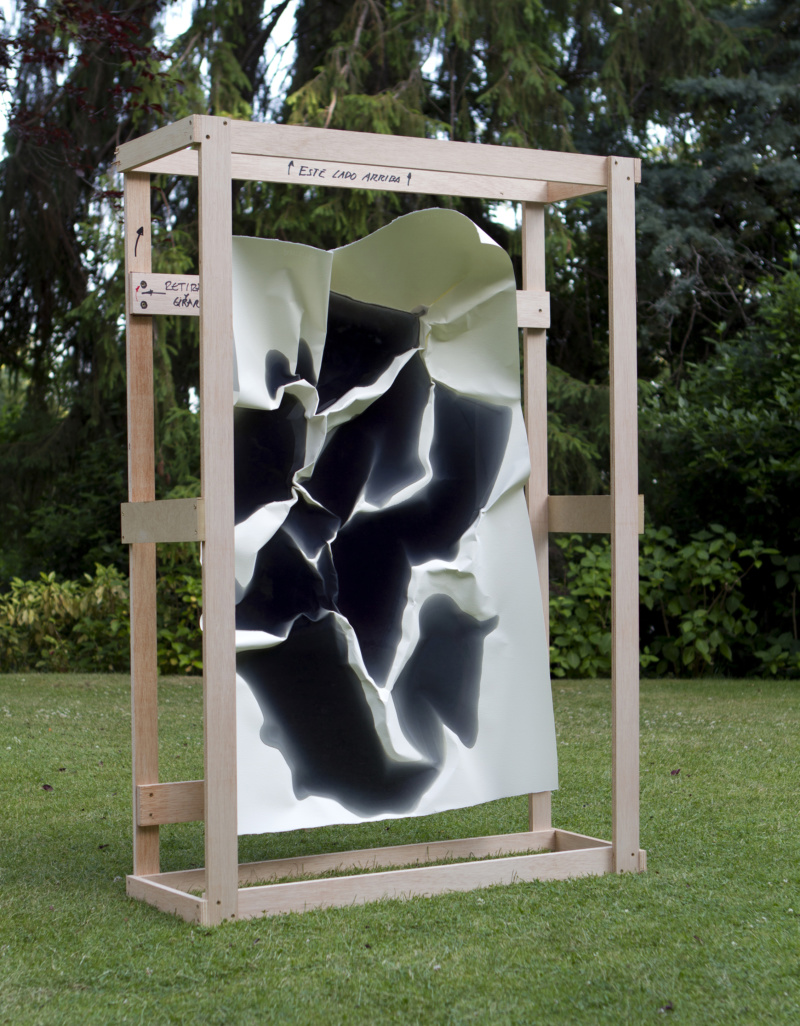 Miler Lagos at Max Estrella
The Colombian-born artist Miler Lagos presents one of the most buzzed-about works at ARTBO. Rainmakers (2017), a towering wooden wheel, begs viewers to step inside and take it for a literal spin; submerged in a pool of water, the wheel eventually rains atop its guests. While this particular installation was organized as part of the fair's site-specific installation component, Lagos' works at Spanish gallery Max Estrella—large paper sculptures that crumble in the center to reveal lacquered black resin—showcase the artist's versatility.
Instituto de Visión
As one of Bogotá's most recognizable galleries, the Instituto de Visión highlights promising emerging artists while showcasing artists from the 1970s and 1980s that never quite got their due. On view at the fair is a colorful, feathered dreamcatcher by Carolina Caycedo, whose decidedly political practice aims to draw focus toward Colombia's harmful environmental practices. The gallery also presents work by Miguel Angel Cardenas, a pioneer in video art, and Oscar Murillo, one of the most recognized contemporary Latin American artists.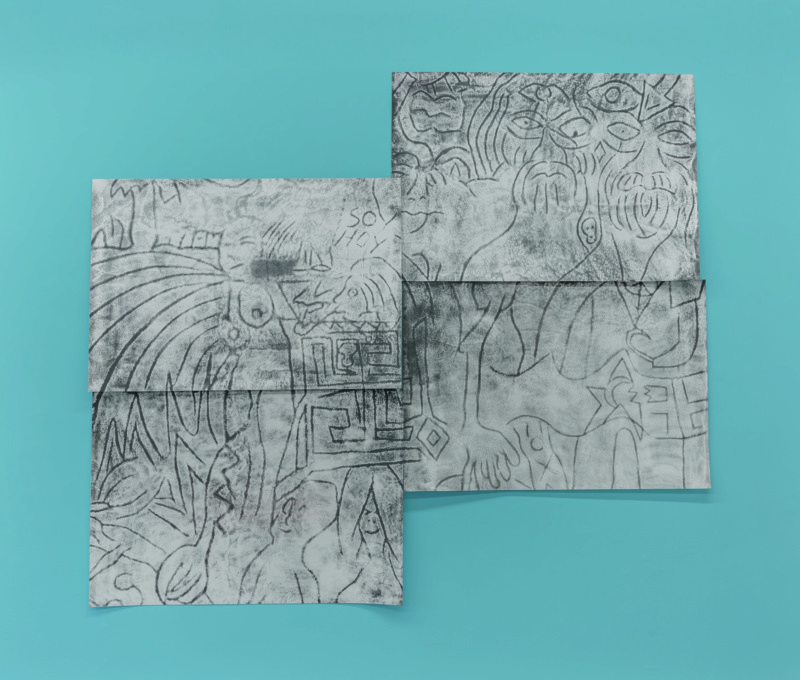 Liberia
Located in the city's San Felipe neighborhood, this newly established gallery happens to work with some of the region's most recognizable artists. Colorful, misshapen sculptural works by Miguel Cardenas hearken the coveted ceramics of today. Meanwhile, Ivan Hurtado's geometric, architectural sculptures raise questions around nationalism and political strife, yet reflect vibrancy with a neon color palette.
Mariela Scafati at Isla Flotante
Isla Flotante attracted the lion's share of attention during September's Art Basel Cities program in Buenos Aires, and will participate in Art Basel Miami Beach this year. At ARTBO, the Argentine gallery is showcasing the work of conceptual artist Mariela Scafati, whose work was also included in "Hopscotch," the titular exhibition during Art Basel Cities. Building upon that work, Scafati arranged a series of paintings into human-shaped figures, dressing each piece with clothing. According to director Leopol José María Mones Cazón, the work is a nod to the traffic-stopping protest culture prevalent in Argentina's capital city.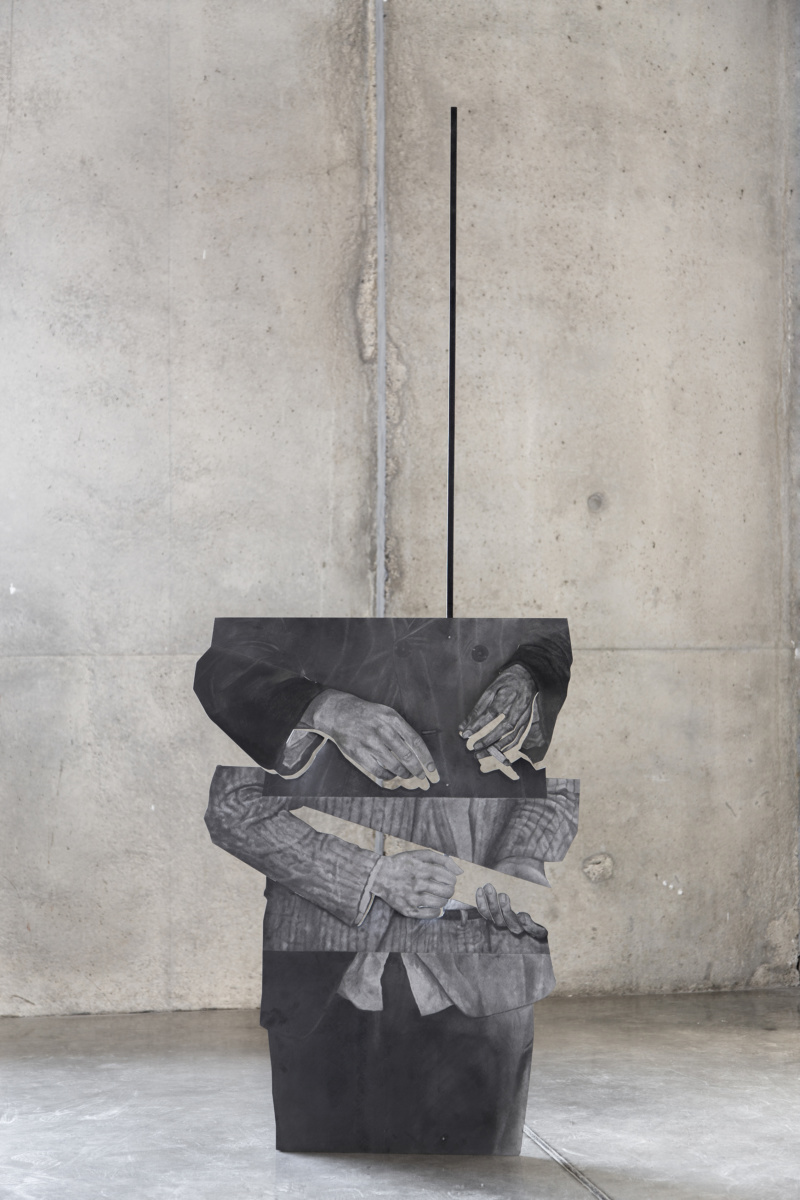 Mor Charpentier
Based in Paris, Mor Charpentier gallery has deep ties to Colombia—one of its co-owners hails from Bogotá. Perhaps that's why they're decidedly focused on exhibiting Colombian artists at ARTBO. Artist Daniel Otero Torres, who has never before exhibited in his own country, offers a dynamic display of sculpture and works on paper. A standout work includes Escaleras 1, which fuses architecture and figure to denote the fragility of human existence.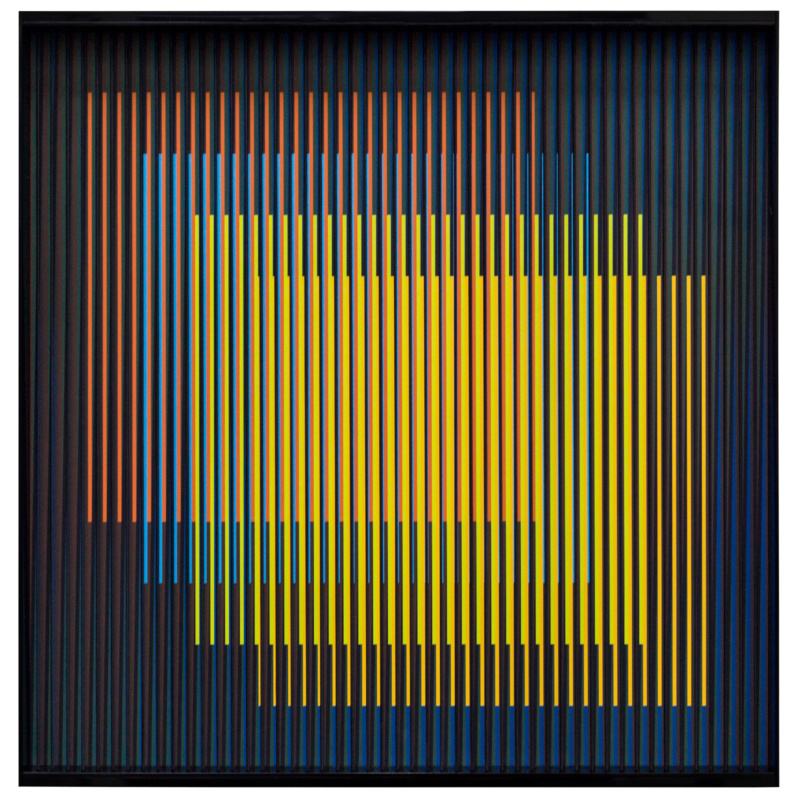 RGR + Art
One of the few galleries presenting blue-chip works at the fair, RGR + Art has a dynamic array of op art wunderkinds like Julio LeParc and Carlos Cruz-Diez, whose Transcromía (1976/2017), a colorful labyrinth composed of laminate sheets, is the highlighted installation at the entrance to the fair. The Mexican gallery also presents works by some of Cruz-Diez's counterparts, including Jesús Rafael Soto and Rafael Barrios.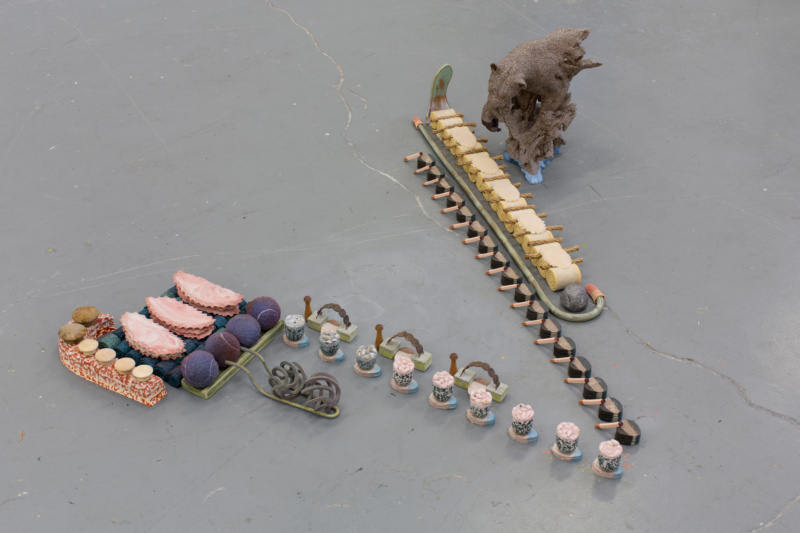 Juan Pablo Garza at Abra Galeria
Juan Pablo Garza, a Venezuelan-born, Miami-based artist who currently works out of the ArtCenter South Florida, is exhibiting work alongside Abra, a recently established project space in Caracas. Garza, who has completed coveted residency programs at the Skowhagen School and Ox-Bow, presents a series of sculptures using found objects and ceramics shaped like eggs, beans and body parts. Abra was invited to the fair to exhibit within its 21-square-meter section, reserved for young, cutting-edge galleries that show enormous promise.