Ingrid Best is an LA-based wine négociant and art collector. After working for Diageo, the former EVP of Combs Enterprises's Spirits Division (owned by Diddy), she has now launched her latest venture, IBest Wines. A visit to South Africa to source and bottle her nascent label had the entrepreneur walking away not only with a new project, but also with the foundations of a diverse and colorful art collection.
What do you think makes the Los Angeles art scene distinct?
The LA art scene is thriving. It's beautiful to see it blossom into a place where art has an authentic ecosystem of artists, collectors, museums, galleries and most importantly a community that represents all the beautiful layers of the art world.
Where does the story of your personal collection begin?
At a HallMark hotel in Johannesburg, South Africa where I saw a work of art by renowned artist Nelson Makamo—I couldn't stop thinking about the piece! I sought out to find him and I did. I own multiple of his pieces and am blessed to call him a friend. So a Nelson Makamo original is the first piece of art I invested in. [It] represents so much to me. It represents my entry into a community that I love and that inspires me.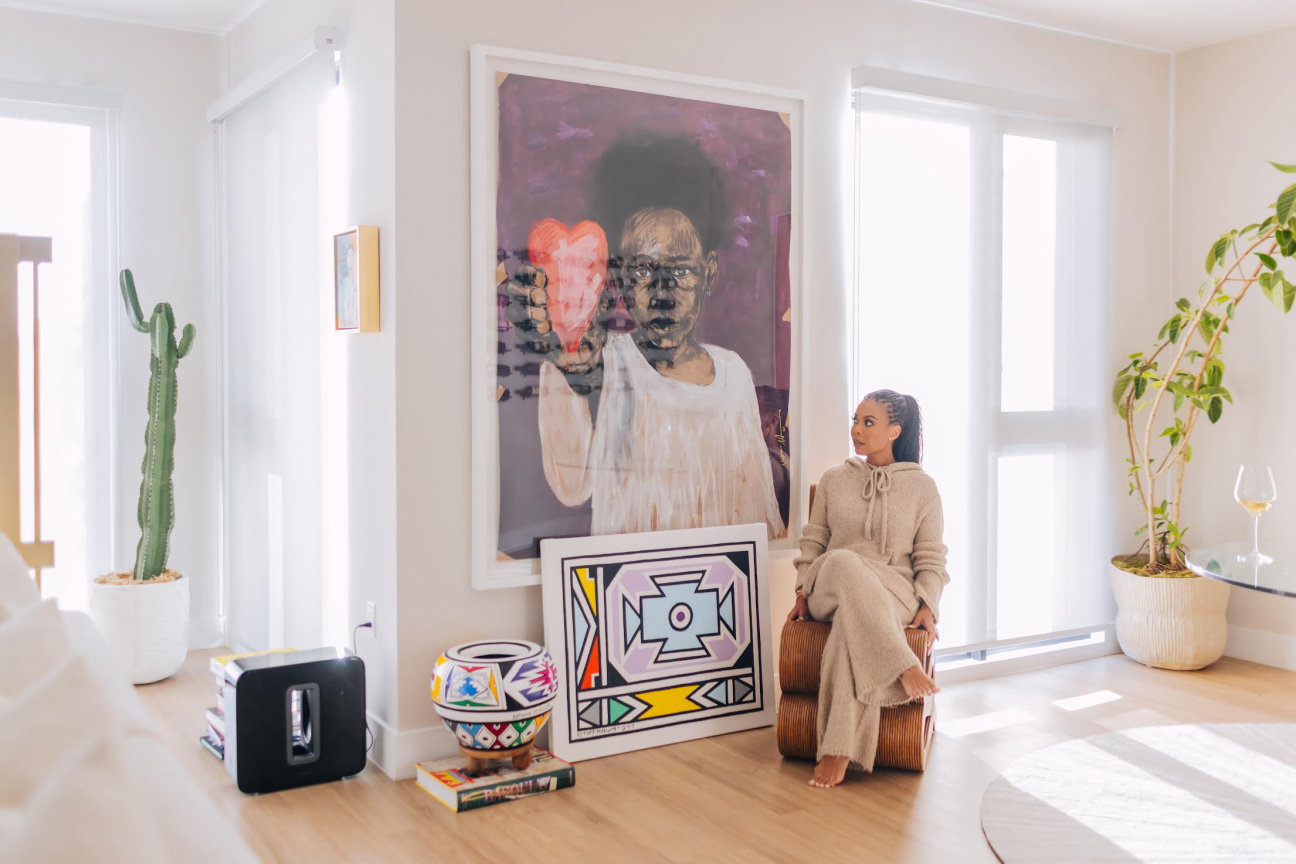 How would you characterize your collection?
Fun! It's a collection of stories from all around the world of artists I sought out to meet, support, and develop friendships with. It will tell the story of me and my life when I am long gone.
Which work provokes the most conversation from visitors?
Brandon Deener's Side Eye through Tortoise Shells [2020] is a conversation starter. It's a masterpiece that wows everyone who sees it. It's massive, and it hangs in my dining room. It's like she is staring you down while you chow down. LOL.
What factors do you consider when expanding your collection?
First and foremost, can I afford to buy? I've never financed art or done payment plans. I buy what I can afford. And only what I love.
Do you have any favorites in your collection?
They are all my favorites. I'm grateful I have been blessed to collect art and expose and educate others around the value of supporting artists and about conscious buying decisions. It's simply another beautiful way to build and preserve the legacy you want to leave behind for generations to come.
How has the local art scene influenced your collection?
Meeting other collectors has really influenced me. I recently acquired works by Harmonia Rosales, Bisa Butler, and b. Robert Moore with my collecting crew. I'm constantly learning from other collectors, and I love it.
How do you discover new artists and work?
I'm obsessed with finding new artists, so I spend time talking to collectors, other artists, [on] Instagram, and when I travel I seek out where the art is. I don't just mean museums and galleries; I find artists and go to where they are, their communities, their homes, their studios.
Which artist are you currently most excited about and why?
South African artist Lulama Wolf. I'm obsessed with her work, and she's an incredible human. Her Instagram profile says "Vividly playing with my senses." I can't describe it better than that! Her work is a beautiful language.
What was the most challenging piece in your personal collection to acquire?
Luckily, I haven't had any challenges, and I've met almost every artist in my collection. I don't want the art if there is drama or challenge to get it. It just means it wasn't for me.
Is there one piece that got away, or that you still think about?
A piece by Ronald Jackson that is part of a recent fundraiser for Black Maternal Health. I simply opened up the PDF too late, and it was gone!
What was your biggest influence in fostering your passion for art?
I was influenced by how much I enjoyed connecting with a new community of people I didn't know and [who] didn't know me. So many incredible new friends. Art is also so connected to my world. Collecting art and collecting (and making) wine requires patience and is a way to create generational wealth. They are the perfect complement to one another.
What feelings would you like your collection to inspire in the people who experience it?
When people see my collection, I want them to feel and know art is for everyone and our homes should be a "museum" of experiences and a life well lived. When people walk in my house they often say, "It's like a museum in here," and I love it! My art takes them on a journey around the world, from LA to South Africa.
How has your collection changed as your home and space has changed?
I realized art often requires a lot of wall space. There's art everywhere: in my kitchen, bathrooms, closets, on the floor, everywhere. Now I think about how my home can work for my art, not the other way around.
Want to read more from collectors around the world? Read Oleg Guerrand-Hermés on his six-step process for discovering new artists, David Cancel on helping Puerto Rican artists find their way into museums, or Bernard Lumpkin on using his collection as an educational tool.